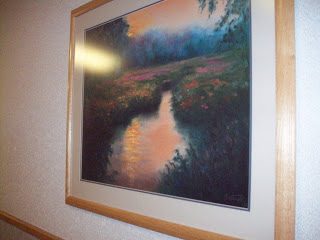 I can't even remember who sent me this photo of a thumbs up painting, but I do remember it was sent one day a year or so ago when I needed a little sign from God that everything was going to be okay!
Today, as I walked through my bedroom it was scrolling across the computer screen's "screen saver" collection! It is the first time I have seen it in soooo long, and again it came on a day when I needed that little reminder that God is with us through this journey with Nick.
For those of you who don't know, Nick has brain cancer. Two and a half years ago a tumor came back after a wonderful four-years of Nick being cancer free. We were devastated. After his surgery, we began taking photos of friends and family with their thumbs up to let Nick know we felt GOOD and knew everything was going to be okay!
Then a couple of weeks later, my mom was driving to our home from hers and in the sky saw the most unbelievable cloud that was a perfect hand with a thumbs up! She was able to get out her camera while driving on the interstate and snap a photo that only missed the bottom of the hand. You can see the photo by going to Nick's website (www.nick7-11.zoomshare.com) and scrolling down on the home page!
Since that day, we have had thumbs up after thumbs up appear in our life and in the lives of so many others! It has been amazing!
We have also had people from all over the world send up thumbs up photos of themselves and their friends and family! It has been so encouraging.
I just knew today as I walked through my bedroom and the screen displayed the photo above that God was saying, "Everything is going to be okay!!!"
Thank you for all of your prayers for Nick!!
Love, Tammy
Psalm 126:5-6 was part of my daily Bible study a week ago, and I had never heard these verses and felt so connected to them before in my life: Here is what they say:
Those who sow in tears will reap with songs of joy. He who goes out weeping, carrying seed to sow, will return with songs of joy, carrying sheaves with him.
I honestly feel that these verses sum up our family's life journey and the awesome power of God to bring joy to replace weeping.
Nick, the son furthest to the right, is battling cancer and has been since he was seven. Today he had an MRI, and we found out the devastating news that he has a 6th tumor. This makes his fifth brain tumor (one was on his spine). Nick will have surgery next Wednesday, May 21st. He will turn 13 on the 22nd and spend his birthday in a hospital bed. This is bothering him more than anything.
I know that God promises to never give us more than we can handle, so I know He will give Nick every bit of courage and strength he needs to make it through the next week and the next surgery.
I feel that the Psalm mentioned above promises that we will reap songs of joy if we continue to "carry the seed" as we weep. So, I will forever share God's Word with all who will listen as I journey through this nightmare with my baby boy.
If you are facing times of tears in your life, my prayer is that you will find comfort in His promises. He truly does give a "peace that passes understanding." Have a wonderful day and thank you for your prayers for Nick. God bless you all! You'd think that a human being could easily overcome the strength of a mousetrap! After all, they are designed to catch small, furry creatures who don't even weigh in at half a pound.
But, I found out this weekend that the devil is pretty sly! He not only allowed a mousetrap to catch me, he allowed it to, in many ways, ruin my Mother's Day!
See, one of my son's was given the assignment of making a motorized car that was only powered by the energy of a mousetrap. So, after weeks of looking at various YouTube videos on the subject, Todd and I ventured out to get supplies.
Irritation sat in very early when my husband arrived on the scene knowing nothing about all of the research we had already completed. Now my husband has many gifts. He can do the most difficult tax return you hand him; he can write and deliver eloquent sermons that touch even the hardest heart; he can assist college students in grasping difficult concepts in finance, accounting, and marketing. But he is not a carpenter.
So, one thing led to another and after three days of "pretending" we could pull this project off, I set out in search of a true carpenter. By this time, though, I was angry. Childish, I know, but I was feeling all sorts of ugly things that were not from God.
As I look back on this project, I see so many traps we all fell into. I fell into the traps of stubborness, insecurity, and anger. My husband fell into the traps of pride, impatience, and defensiveness. Todd fell into the traps of procrastination, impatience, and laziness. Put all of these traps together and you can spell….DISASTER!
Fortunately, we have a merciful Father who truly causes each day to be NEW! And just as He is our answer in times of need, such as the need to be freed from our traps, our friends were there for us to help us pull together our research and supplies and create a very awesome race car!
I guess I am writing this as a confessional. I hate when I fall prey to the "wiles of the devil!"
Ephesians 6 says,
10Finally, my brethren, be strong in the Lord, and in the power of his might.
11Put on the whole armour of God, that ye may be able to stand against the wiles of the devil.
12For we wrestle not against flesh and blood, but against principalities, against powers, against the rulers of the darkness of this world, against spiritual wickedness in high places.
My prayer today is that I can store this memory away the next time I feel that I am being set up in some sort of "trap!"
Next time, I hope that I am fully clothed in the armor of God!!!!!!!!!!!!!!
Praying "trap-freedom" for all of you who read this!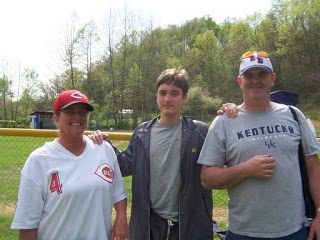 I was so excited to show up at the ball field one afternoon to find the principal from school along with her husband, escorting one of my students from last year back to their car.
See, Jon was one of those students who had everything going for him! He was bright, athletic, funny, and sensitive. Most days the first thing he would ask me was, "How's Nick?"
Then one night last February I received a call telling me that Jon had been involved in a car accident. A drunk driver had hit the car that he and his sister were in. The past year has been filled with everything from life support to physical therapy for Jon. Simply walking to and from the ball field was an accomplishment for him on this particular day.
But Jon is one of those kids who is a fighter! And he has grandparents who are prayer warriors! So between Jon's determined spirit and his grandparent's neverending prayers, Jon keeps getting stronger and stronger.
Life is challenging, but Jon is up for the challenge!
Isn't that how we should all live?!?! Life on this planet will never be easy. Jesus said, "In this world you WILL have troubles." He didn't say we "might have troubles." Without hesitation, He said, we "will." So, people like Jon inspire me, because he keeps on keeping on in spite of life's troubles. And his grandparents inspire me, too, because they don't complain and they aren't angry. They have accepted this tragic event as something that life has given them for a reason, and they just keep on keeping on!
My challenge for you today is to do the same! Don't be surprised when things go wrong….you are on planet Earth! But do turn to Jesus, because He promises that He has "overcome the world!" I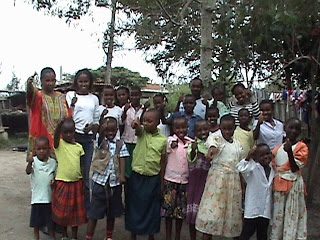 I think God's ability to pull together Christians from all of the world to pray for the same thing is simply AMAZING!!!!!!!! This group of children and their teachers are sending our son Nick a "thumbs up" to let Nick know they are praying for him in his fight with cancer.
They know nothing about Nick except what they were told by our friends on a mission trip, but they know the same God that we know and they believe in the same power of prayer!
So from Haiti to Zimbabwe to Alaska to the Netherlands to Mexico to Germany to most every state in the continent and many other countries, Nick is being lifted in prayer to His Heavenly Father. It gives me goosebumps to think of the different languages speaking Nick's name to the same God and Father of all who hears all and understands all!!
Thank you, Lord, for hearing every prayer from every tribe and every nation! Thank you, Lord, for loving and caring for us! We "cast all our cares upon You," because we truly know that You care for us!!!!!!!!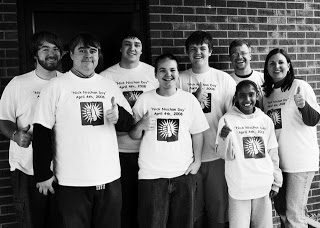 I think I am shrinking! This is a picture of my family (yes, they are all my kids except for my husband – to my left- and my brother – far left in front).
We certainly fill a photo lens, don't we?!?!
This was the night of Nick's big day! Our town hosted Nick Nischan Day where Nick was given a key to the city and was surprised by a visit from Mike Furrey, wide receiver with the Detroit Lions! Nick has been battling cancer for nearly 6 years (he is the one in the front center).
I was just looking back through pictures and thought I'd share this little memory with all of you.
I guess I am just realizing how amazing God is, and how He can take a horrible situation and make it exciting and rewarding.
God is like that! I love the verses in Psalm 126 that say, Those who sow in tears will reap with songs of joy. He who goes out weeping, carrying seed to sow, will return with songs of joy, carrying sheaves with him.
We have truly had many tears in the Nischan house, but we have determined to continue to carry the "seed" (God's Word) along the way….and God has been faithful to continue to give us songs of joy in return!
I hope that whatever you are facing, you will determine to face it with God's Word alongside you! You will be blessed if you do!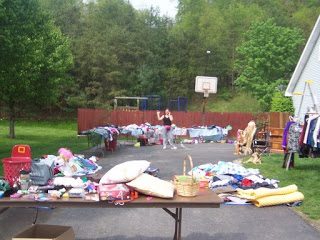 We've all heard the saying, "One man's junk is another man's treasure." Wow! Today at my yard sale, I watched this saying come to life in an entirely different way. Several times throughout the day, I found myself brought to tears. Yes, that's right. I cried at my yard sale.
See, there's something about having Casting Crowns playing in the background of a group people I do not know and realizing that God is right there in the midst of my chaotic driveway!
And then to meet people who within minutes are sharing their life struggles in such vivid ways-everything from divorce to cancer to miscarriages…my heart was aching and being led to prayer time after time. How God opened the doors was amazing!
At one point a young, rough-looking man picked up a biker-style bandana that had been given to Nick during his chemo treatments. As I watched him walk around with it, I was thinking, "That will look nice on him. It is just his style." And I smiled to myself as I thought about how amazing it was that even at my yard sale there would be something this man might want. When he and his wife came to pay for the items, he suddenly said, "I don't think I'll get this," and he went to put it down. But as he did, I heard him say under his breath, "I thought I might get this for my uncle who is going through chemo." Oh my. I grabbed his arm and through my tears said, "Please take it." From there we were able to talk about cancer for a while, and I told him I would pray for his uncle.
Later, a woman came looking for a couch. As she stood there with me she began to share about her family's financial problems, and I quickly realized this lady was hurting. I was able to tell her about a "free store" the college has where my husband works, and again I told her I would pray for her.
In the afternoon, an elderly lady came who had heard me speak this week. She began sharing about how in her early life she had lost several babies and couldn't understand what God was doing. One day she received a call asking her if she wanted to adopt a little baby boy whose mom could not take care of him. She said, "Then I knew what God was doing."
Wow! What a day! As I reflect on these stories and so many more, I realize that "one man's junk" is actually what life gives us so many times………..and "one man's treasure" is what God gave us on the cross!
Oh, to be able to sit with each of these people again and really talk about the hope that comes from God and God alone!
I guess my heartfelt prayer tonight is that each of us will make the most of every opportunity to share His love with a hurting world………and trust me, we live in a hurting world! Have a yard sale, turn on some Christian music, and listen to the hearts of your shoppers!