 Psalm 38:13-18
I am like a deaf man, who cannot hear, like a mute, who cannot open his mouth; I have become like a man who does not hear, whose mouth can offer no reply. I wait for you, O LORD; you will answer, O Lord my God. For I said, "Do not let them gloat or exalt themselves over me when my foot slips." For I am about to fall, and my pain is ever with me. I confess my iniquity; I am troubled by my sin.
Oh, dear friends who take time to stop by and read my ramblings, please bear with me.
It's been a few days since I posted, and I tried to start writing tonight without sharing the truth, but I can't.
If I ever get to a point in this blogging journey of my life where I don't share what's really on my heart, then I feel I have failed you all……..
So as you read these next few words please know that I share them only to hold myself accountable to my blogging conviction of not putting on a mask to hide my heart.
See, this journey with Nick is a lot like the wheel on a bike. There are many different spokes that are spinning at the same time.
Each of our children is a spoke, and while we deal with Nick's cancer every day we are also dealing with normal parenting issues along the way. Some I have shared before. Some I have not-mainly to spare my children any type of embarrassment. But, trust me, like you, we deal with simple parenting issues and we deal with very difficult and painful ones as well.
Other spokes include work issues, finances, church involvement, and so many more.
But the one spoke that is affected the most at times is my marriage.
The divorce rate for couples who have faced the death of a child (which we faced in 1992) or a life-threatening illness of a child is very high. Statistically, Tim and I should not be together anymore.
Our commitment to each other and to God and to our children thankfully has kept us from doing what on many days would be very, very easy!
So, I write tonight to say, "Please pray for our marriage." The stress of the last few weeks has absolutely been horrendous on our relationship. Because of this stress over the past few days especially, the thought of writing some wonderfully encouraging words to any of who stop by to read seemed impossible and honestly fake.
So, I write tonight simply to free myself from the chains the devil has tried to tie around my heart. And in so doing, I am confessing and asking for prayer. Prayer that I can be the wife God longs for me to be……..a loving, appreciative, gentle, and thoughtful wife. When I become stressed or fearful about Nick, I often lash out at Tim. Tim, who spends hours researching Nick's illness, talking with doctors from multiple hospitals, working two jobs so that I can be home with Nick, ministering to others who are hurting, visiting others who are in the hospital, trying to be a good dad to all of our other kids, and constantly trying to show love to me in spite of myself.
I know that when I click "publish post," I am going to feel embarrassed in some ways for admitting my fault. At the same time, I believe that I will feel great relief knowing that I have confessed and asked for prayer. This relief will allow me to write from my heart tomorrow knowing that I have not withheld from you a critical part of this journey.
Please pray for every spoke on our family's wheel as I also pray for yours!
Blessings and love to all of you for accepting me like Jesus does, "Just as I am!"

147 I rise before dawn and cry for help; I have put my hope in your word.
148 My eyes stay open through the watches of the night, that I may meditate on your promises.
It's just amazing to me how I can look back at some of my past blog entries and read words that sound so strong………..Did I really write those words about "going for for the gold?" Honestly, tonight, I feel about as genuine as a bubble-gum machine ring!
Nick has been struggling emotionally tonight. He is so tired of doctors and hospitals. Right now he says he doesn't want to go the radiologist tomorrow if it means they will make any marks on his body. He remembers all of the markings that had to be done for radiation to his brain, and he does not want any nurses near his hip and/or leg area.
I don't blame him! He is 13!
His eyes teared up tonight as we talked to him on the back porch. Seeing him there in the wheelchair with his lip shaking just tore at my heart. Tim promised that we would not force him to do anything, and I assured him that we would never leave him alone with a nurse or a doctor or allow anything to happen to him that made him feel violated in any way.
But the truth is, he feels so out of control right now. And so do I.
So I have stayed up tonight doing laundry, cleaning out the frig, pullings books and stack of papers and cards from every shelf in every room and organizing them, and the list goes on and on. Anything to keep my mind busy with things that don't really matter.
As I finally collapse thinking, "I should have tackled the freezer too," I look at the pile of empty thank-you cards next to me that need to be written and mailed. I think of the phone calls I need to make tomorrow. I remember that Olivia's school pictures are tomorrow, and we have to get up early so that we can get her hair all ready. I look at the clock and realize that it is already nearly 2! Then I remember Nick , who is sleeping in our bed because he cannot get upstairs to his room anymore and suddenly – nothing else seems to really matter.
So maybe the reason I am up this late isn't really because I wanted to stay up this late. Maybe it is because God needed to talk to me when it was quiet. So as I sit here now in the darkness of the night with only the sound of our dog breathing softly nearby, I am going to do what the verses above say. I am going to cry out for help. I am going to put my hope in His Word. I am going to keep my eyes open just a little longer, forgetting about the cluttered freezer, and meditate on His promises.
Thank you, Lord, for pulling me back to You once again. Father, God, please keep Nick's spirit free from the devil who so desperately wants to rob, kill, and destroy his joy. In the Name of Your Son Jesus, I proclaim freedom for Nick's spirit and healing for his body, Lord. I know You love Nick. I know Your plans for Nick are not to harm him but to give him a hope and a future. So in the name of Jesus, I claim these promises for him. In Your Son's Precious and Holy Name, I Pray, Amen "When he has tested me, I shall come forth as gold…." (From Job)
As I read this verse last night, I thought about gold as we see it in our culture even today.
Valuable. Beautiful. Standing the test of time. Eye-catching. Genuine. A great gift. Worthy of being used for a wedding ring. If lost, you search til you find it.
I also thought about things that are gold-plated.
Temporary beauty. Easy to chip away at when put under stress. Less expensive.
Then there are metals that look like gold but have no gold in them at all.
Rings and earrings that turn your skin green. Sold very inexpensively. If you lose them, you just replace them.
How do I really want my soul to be seen by God? As gold, gold-plated, or imitation. Gold, of course! Unfortunately, I think the Bible makes it very clear that in order to come forth as gold we must pass the tests life gives us. We must endure the fire of trials.
Without these tests and trials, there is really no way to see what we are made of.
So, this morning as I prepare to leave the Ronald McDonald House (save your pop tabs by the way and donate them to your local McDonalds restaurant) and head to the hospital to see my precious Nicholas, I want to remember that this is one of our family's tests.
I want us to come forth as gold in the eyes of God.
He continues to bring a level of peace that allows me to stand on my two feet and still smile at strangers. He even gives me the strength to comfort others around me who seem to be having a harder day. God's mercies are never-ending.
For that I am thankful.
Please take time today to do your seven laps of praise and celebration for our God and Savior!!!!!!! He is the Lord of Lords and King of Kings….and ONE DAY this world shall end and a new world will begin where we will receive our reward for how we passed the tests of this life.
GO FOR THE GOLD!!!!!!!!!!!!!!!!! I love you all so much!!!!!!!!!!!!!!! Dearest Prayer Warriors and Jericho Marchers,
Today was the first time in the surgery waiting room where after Dr. Kosnik came out to talk to us we all just sat numb and speechless.
Basically, they didn't do the hip surgery today. The orthopedic surgeon here did not feel that he could place a pin in Nick's hip and wants to talk to us about it later. (They didn't even make an incision to try, so Nick won't have any recovery in that area at this time.)
Dr. Kosnik removed us much of the cancer in Nick's brain as he could, but he gave us the impression that there was quite a bit he could not get to. Because of this, he did not put in the chemo wafer. He said he didn't want to make Nick any sicker than necessary. He also said that he left one bone of Nick's skull loose to help with pressure from the tumor.
We are at a place in this journey that we have never been before. A place of fear and uncertainty incomparable to any we have ever felt.
Yet, with this reality we are also very aware that just as in every other situation along the way, GOD IS NOT SURPRISED AT OUR NEWS.
Somehow, He has already gone before us smoothing ways we don't even yet know that we will walk.
He promises that His mercies are new every morning.
He promises to never leave us or forsake us.
He promises perfect peace to those who trust in Him.
So, as we wait to see Nick in recovery, we will hold our heads high knowing that we have a Great Physician who will lead us to a Rock that is Higher than any place this hospital can take us. He will lift us from the slimy pit, set our feet on a rock, and give us a firm place to stand. He will put a new song in our mouths, a hymn of praise to our Lord!
And as the Psalm continues, "Many will see and fear and put their trust in the Lord!"
We love you all.
We thank you for every prayer.
Keep marching!
Every night!
Remember to check around in Grayson for the final days marching time. It is either 2:30 in the afternoon or 8 at night. I'm not sure.
Oh, we love you all so much.
Turn to God for us. Not with complaints, but with praise for He has a beautiful plan! We are going to keep taking one more step and one more step so that we can walk from strength to strength!
Pray for Nick's speedy recovery and for his spirit.
You are our messengers to the throne.
Please keep pleading on Nick's behalf! As I did my Jericho Walk tonight which has been condensed to my living room and kitchen, I thanked God for my friends who are here to help me right now. I also thanked him for my blogging friends.
Both sets of friends mean so much to me.
See, my local friends are my Jesus with skin on. They are right here to cook, clean, babysit, talk, whatever I need at the moment. I couldn't make it without them. Thank you for everything!
Then there are my bloggy friends! They visit me – often without me even knowing. They sometimes leave words of encouragement but not always. They email me. They pray for me and most of all they share my needs with their friends taking my needs to an even larger crowd! Thank you, thank you, thank you!
So, tonight, as my eyes are very heavy but my heart is overflowing with thanksgiving, I have to take a moment and tell God thank you for the gift of "friendship!" Friendship in all of its forms. I know that my local friends are a phone call away and my bloggy friends are in email away! WOW! Isn't God amazing to give us both!
I look forward to Heaven when we can all be together to hug and laugh and remember the tough things we prayed each other through. Please let me know how I can be a friend and a prayer warrior for you! Well, I guess that's what He was saying.
As I find myself in my bed tonight recovering from an emergency appendectomy on Monday, I have decided that God wanted me to STOP. Stop cleaning, stop doing laundry, stop mowing, stop driving, and the list goes on and on…..
Sunday afternoon I began experiencing severe stomach pain which led to excruciating pain by 4 in the morning. At one point I was on the floor in the bathroom trying not to get sick and hearing the loudest ringing and rushing wind sound in my head. My whole body became very hot and prickly, and I thought, "This is how I am going to die." I really thought my appendix had ruptured at this point and poison was spreading through my body. I was able to hold onto doors and furniture and fight the loud sounds in my head long enough to make it back out to the living room where I went down on the couch and was finally able to say my husband's name loud enough for him to hear me. He came out and immediately knew something was very wrong. He wanted to call an ambulance, but I wouldn't let him. He called my friend, Brenda, and she drove me to the emergency room. From there, I was taken to surgery and am now back home!
Thank the Lord for wonderful nurses and an amazing surgeon!
I will share our latest news on Nick soon-I had to miss his appointment in Cincinnati today because I was in the hospital. Oh, I cried so much Sunday night and Monday morning, fighting the reality that I was going to be laid up.
I don't know why this has happened right now, but I do know that God wants me to once again find the bright side.
For now, the bright side is that I am home and I have permission to just cuddle with my kids.
I love you all and I will share Nick's next phase in this journey a little later. We are getting ready to watch a movie.
Thanks for praying and loving us through this time of testing.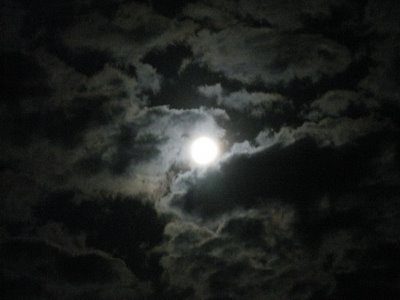 Yes, this is what the moon looked like last night over our house! It was as bright as the sun and the clouds reflected the beauty!
I couldn't help but remember the chapter in Psalms (121) where it says,
'The Lord will watch over you, the Lord is the shade at your right hand. The sun will not harm you by day nor the moon by night."
Right now, I dread nighttime. I never know how much pain Nick will be in. I never know if Nick or I will be able to sleep all the way through the night. Sometimes I wake up and cannot sleep for five minutes, other times hours, and then sometimes……..I don't wake up til morning! I never know. But I do know that as evening approaches and the darkness comes, I start to feel different than I did during the day.
But last night as I drove to get a snack for the sleepover Olivia was at, I saw the moon and I was reminded that God is with me day and night. I called a friend to have her look at the beautiful moon, too. Later she called and told me to go out and look at the light reflecting on the clouds. As I did I was thinking, "That is just a reflection of the sun's light,but it is so bright!!" In a few minutes my friend called and she was thinking the same thing! Then she went on to say that it was the first time she had realized that we are never really without the sun……..which of course is true of God's Son as well! What a beautiful analogy!
So, as I sit here reflecting on last night's God-moment, I am thankful once again for a Creator who speaks through day-to-day events as simple as the moon hanging in the sky.
Oh, I love you all so much! Look for Him as you live each day. He is longing to speak to you!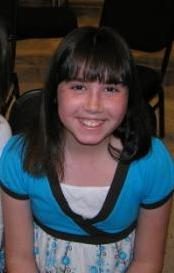 "Those who wait upon the Lord shall renew their strength…."
This passage has never been so meaningful to me in all my life. Seeing Nick bound to a wheelchair or the bed or couch has made me realize in an even deeper way the power of the words……….."They shall run and not grow weary, they shall walk and not faint."
As I move throughout the house, I am so much more aware of the blessing of simply walking and not fainting. I look at Nick who absolutely longs to walk and cannot. I think of Natalie who is also bedridden right now. It is almost more than I can bear, and then I remember this verse and I know………….
Nick has to wait upon the Lord. Natalie has to wait upon the Lord. The Lord will renew their strength.
I am still praying for a miracle for Natalie and for Nick.
The Jericho March starts Monday. You choose your time and your path. Read below for details about the Scriptures and see the link to the website that talks about the history of the Jericho March. I am so excited! I believe that God will do great things through this march in all the lives of those who participate. Dearest Prayer Warriors,
If I had every adjective in the world that describes "special, amazing, irreplaceable," and so many other words in my heart, I could never begin to describe how I feel about all of you. I love you so much.
I know that God is still working in spite of our news today.
We learned today that Nick's left hip is actually fractured. Also, it appears that there is cancer in both of his upper legs and hips. After conferring with our oncologist and our pediatrician, we are planning to stay in Grayson until Monday evening as planned and then be at the hospital by 6:30 a.m on Tuesday for Nick's MRI of his brain and spine. After this we will have a lot of decisions to make. Nick knows. He was upset at first and then within minutes was playing a video game with his brother Evan. God is so good.
Until then, Nick must use a wheelchair and crutches. He can have no weight on his left leg. We have some other things coming this evening to help out in the bathroom. We just don't want Nick to fall.
Please pray specifically for his pain to be minimal.
And continue to pray that the doctors will have wisdom as they make critical decisions about surgeries/treatments/etc. The Jericho March will still begin on Monday, the 18th. Simply walk around your block or workplace or somewhere and pray that the devil will not rob, steal, or destroy our family by things like worry, fear, loss, anger, etc. Please also pray for Natalie as you pray for Nick. Also, please continue to pray for a miracle on this planet. We know that with God all things are possible.
For now I have rearranged furniture and made the downstairs wheelchair-friendly. We are determined to embrace this weekend with laughter and love. I dread the darkness. So pray for our nights to be peaceful.
I do want to tell you how God showed Himself to me today and why, once again, I feel peace.
Just this morning as I sat in the waiting room (only one person could be with Nick at a time-Mamaw was with him), I was praying for Nick and praying that God would send someone I knew to the hospital for a little comfort or peace.
I was leaning my head back when I heard the nurse come in and say, "Grace Word." I popped up my head and thought, "Where? That's Kathy's daughter. I jumped up and went out in the hall and looked around, because I knew I hadn't seen them anywhere. Sure enough after looking two different places, there stood Kathy! I couldn't believe it. See, Kathy is a friend who I became close to seven years ago when we worked together. I grew to love her passion and her prayers. When Nick was in the hospital for the first time awaiting his first brain surgery, they were having trouble with his veins. In the middle of the night, I was crying and reading the Bible and felt this nudge to call Kathy at 3 a.m. and ask her to pray. When I did, she answered like it was the middle of the afternoon. As I was telling her the situation, a nurse came down to me (I was on the floor) and asked if I was okay. I nodded my head "no" and she sat down in front of me. I told Kathy good bye, and this nurse began to talk to me. She quoted a Scripture. She told me she was in charge that night and usually never left the floor but had a nudge to go get a snack. It was such a God-moment. And she came in to do Nick's next bloodwork. As she finished she said, "Thank you, God." So today when I saw Kathy, I remembered His presence six years ago and I knew He was still with us. He loves Nick. Kathy talked with me and prayed with me. It was wonderful!
Now, looking back on this morning, I know that God was preparing me for this afternoon.
Please pray for Nick. He is scared and full of questions but he is also amazingly at peace at the same time. He is so special.
Pray for our other kids as they learn of the news.
I was just trying to add a photo of this morning and just had another amazing message from God. I couldn't find my flash drive on the "attach a file" list, so I copied this email to start over. When I went to a new compose email and clicked "paste" this is what came up:
I am he who will sustain you. I have made you and I will carry you; I will sustain you and I will rescue you.
I have not idea where this would have been saved and how it would have come up with no explanation. The words that are in bold were in bold when it popped up. I am speechless. I just keep looking at it and thinking, HOW DID THIS HAPPEN?
I do believe and will always believe that God has a plan in each and every thing that happens in our lives –
good or bad.
He is working. He is working in my heart, Tim's heart, Nick's heart, Erich's heart, Evan's heart, Todd's heart, Olivia's heart, and I pray your heart.
Oh, I love you all.
I do believe the words above which I know must be a Scripture. I am going to go look it up right now.
Thank you for every prayer.
I love you all so much.
Tammy (and Tim) As I checked my emails tonight, I was floored to receive a very harsh scolding from a lady I have never met who was basically saying that I needed to realize that their are many people whose lives are worse than mine.
The email was very long and very painful to read. My heart feels so ripped apart and yet I am trying to glean from her words something good…..something that will help me grow in my walk with the Lord.
She referred to me as "arrogant" because I had mentioned in my last email prayer journal entry that last night I left in the middle of church because I just couldn't handle trivial conversations.
I didn't leave angry. I left with a friend who is going through a divorce to have a cup of coffee. Her life is tough too, and we both needed some talking time.
But I am aching that ANYONE on this planet would consider me arrogant or as she said "superior" in my suffering. Oh, that hurts.
From this painful email, I am trying to find a lesson.
I know that there are many with much more difficult situations. When I know of them, I pray for them. I know that I am not the first to walk the road I am walking. I feel horrible that I could have portrayed anything less.
I am writing this blog to ask for forgiveness if I have ever caused anyone to feel that I am in any way "arrogant" in my family's suffering.
With humility and love,