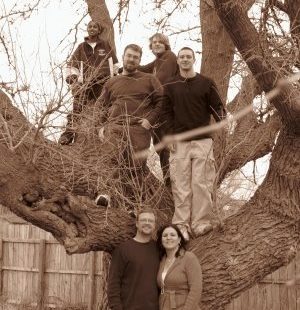 Well, Christmas Day came and went.
The reality of Nick's absence rang in my ears constantly-sometimes like a clanging cymbal other times like the light ringing of a gentle chime.
This is a photo we took in my Aunt Earlene's back yard on Christmas Day.
Our first "family picture" without Nick.
I'm not sure that I'll ever get use to looking at a picture of our family without Nick's radiant smile.
I can't help but think that somewhere among the branches he is grinning and sharing this moment with us. I know he was in my heart.
So, what do you do on Christmas Day when you are grieving?
You embrace the day.
What else can you do when you have the hope the Heaven?
If Nick could have made the choice of spending the day with us climbing an old tree to say "cheese" or of spending the day in the presence of the One for whom we celebrate the holiday, Our Lord and Savior, I just have to believe he would have chosen praising Jesus.
So, as Nick's mom, I have to honor my son by choosing to spend God's Son's birthday praising Him as well! Nick would have wanted nothing less from me.
I have much to share about our wild trip across America.
I'll save stories for another time.
Just had to write in the wee hours of this morning to say, "We're home. We made it through Christmas. We are thankful. We love you all so much!"
God bless you as you walk into 2009.
May it be a year of many blessings, laughs, and love! The lodge we are staying in has one computer with a 30-minute time limit!
Yikes!
I just checked my email and wanted to quickly say "hi" and tell you we are having a very nice time.
We have our moments when we talk of Nick and feel very sad, but thankfully we feel your prayers in such a strong way. We BELIEVE and KNOW that Nick is where we all long to be!
We know his Christmas will be better than we could ever imagine.
Oh, we miss him so much.
I just wanted to tell you that we love and are so thankful for every prayer.
We are taking lots of pictures……
I'll write more later.
Love and Christmas hugs and blessings to each of you! Shew.
That seems to be the first word out of my mouth lately…….
Or in my texts to friends……….
Or in my emails………….
Shew.
I'm just taking deep breaths in and deep breaths out.
Sometimes the simplest things become the most difficult when you are walking the road of grief.
Packing, for example.
We decided that staying home for Christmas would simply be too difficult. Too many traditions that Nick loved and looked forward to.
So, my husband, Erich, Evan, Todd, and Olivia (our four kids) are leaving at 4 a.m. for Oklahoma to go see my grandpa, aunt, and cousins.
My parents, who live "on the way" are meeting us at an exit a few hours from here and traveling along with us in their car.
We will be driving 13 hours tomorrow and spending three nights in Branson, Missouri, on the way to the panhandle of Oklahoma.
Then on Christmas Eve we will drive 6 more hours and arrive at our next hotel in time to go spend the evening with family in Beaver, Oklahoma.
Shew!
So, here I sit.
I just had to stop and say, "Packing is so hard when you're grieving."
I miss Nick so much and not packing for him has been so hard. He loved trips. He would have been right here reminding me of things we needed, asking if I needed help. He was just that kind of kid.
And walking through his room, I long to stop and help him pick out jammies, video games, and other things he would definitely want to bring along.
So tonight has been a night of tears. I took a bath and just cried and cried. Then I thought I had regrouped when my mom called to remind me of something to bring, and I found myself losing it on the phone with her.
Shew.
Oh, Nick, I miss you. I miss your great big smile and gentle spirit. I miss your hugs. I miss your sweet hand rubbing my back as I walk by.
In the midst of my sadness, I came across a burned CD that Nick had titled, "Nick's Amazingly Awesome Music CD." I put it in the CD player in the kitchen and was reminded again of just what a fun boy he was! When I get home from this trip, I am going to list all the songs on the CD. I promise it will lift your spirits like it is lifting mine right now!
Thank you, God, for continuing to remind me what a great blessing Nick was and will continue to be to me. Thank you for the hope of Heaven!
I'm not sure how often I will be able to write this week, so I had to take a minute to let you know I'll be away from the computer………
Thank you for every prayer for our family.
Lifting all of you to our "Amazingly Awesome" Father, II Corinthians 10:4
-5
The weapons we fight with are not the weapons of the world. On the contrary, they have divine power to demolish strongholds. We demolish arguments and every pretension that sets itself up against the knowledge of God, and we take captive every thought to make it obedient to Christ.
I truly don't know how people walk the road of grief without the hope of Heaven.

I am struggling………

even while I have this hope.

I can't imagine where I'd be without it.

Christ says,

"If anyone is thirsty, they should come to me and drink." (John 7:37)

"I am the light of the world. Whoever follows me will never walk in darkness, but will have the light of life." (John 8:12)
"If you hold to my teaching, you are really my disciples." (John 8:31)
And regarding a man blind from birth, Jesus says,
"Neither this man nor his parents sinned," said Jesus, "but this happened so that the work of God might be displayed in his life." (John 9:3-4)
I believe these words….all of them.
I really do.
But somehow grief, like some sort of monster, plays games with my minds.
I feel parched spiritually even though I stay deep in the Word.
I feel darkness around me even though I strive to stay in the light.
I do not feel like one of Jesus' disciples even though I love Him more than anyone in this world.
I feel guilt even though I KNOW I did not cause Nick to be sick.
Oh, grief.
You are cruel.
So, I look to II Corinthians and I keep praying this passage.
Lord, demolish all arguments that set themselves up against Your knowledge. Take all of my thoughts captive and make them obedient to Your Son.
Captive, Lord. I long to take all my grief-driven thoughts captive. Put them behind bars. Lock them up for life.
And yet I know that somehow because of the evil of this world and the somewhat limited and yet often effective power of the devil, the bars are loosened time and time again……….
Freeing my thoughts to wander, scramble, stray, doubt, fear……………
So, my prayer tonight is that every time I feel the door swinging open I will become more and more equipped to shut it quickly and bravely.
When I am afraid, I will trust in You
In God Whose Word I praise!!!!!!!!!!

I woke up this morning feeling very blue. Visions of Nick danced through my head to the point that I thought I would not be able to face the day.
I managed to get Olivia and Todd off to school and start on some laundry.
Then I sat down to have my quiet time and remembered that last night I had found Nick's IPod and had plugged it in to charge. I picked it up and turned it on and began looking through his song list when my eye caught the title of the song "Seasons of Love."
I turned it on and immediately felt Nick's spirit as he so often sang along with this song at the top of his lungs (as my mom even reminded me later today and our youth minister's wife reminded me tonight at the Christmas play). Nick loved this song!
As I listened to the words and then did a search for the lyrics, I realized that God was sending me a gentle reminder that while I may be very sad, I also have a life to live with my children who are here………….I still have seasons of love to be shared just as I shared so many seasons with Nick.
None of us knows what our tomorrow holds.
But as the saying goes, "we know Who holds tomorrow."
If I truly believe that God holds tomorrow in His hands (and today and yesterday), then I must embrace this season of life……..this season of love.
Yes, I know I will still have sad days, hard days, lonely days, long days………….
However, I have to keep walking and talking with Him and listening for His still small voice…….
For God can speak even through an IPod!
Thank you, Lord, for using Nick's IPod to refresh my hurting spirit.


SEASONS OF LOVE

Five hundrend twenty five thousand

six hundred minutes

Five hundrend twenty five thousand

moments so dear

Five hundrend twenty five thousand

six hundred minutes

How do you measure, measure a year
In daylight, in sunsets, in midnights,

in cups of coffee, In inches, in miles

in laughter, in strife,
In Five hundrend twenty five thousand

six hundred minutes

How do you measure a year in the life
(chorus)

How about Love

how about love

how about love

measure in love

seasons of love

seasons of love
Five hundred twenty five thousand

six hundred minutes

Five hundred twenty five thousand

journeys to plan

Five hundred twenty five thousand

six hundred minutes

how do you measure the life of a woman

or a man
In truth that she learned

or in times that he cried

In the bridges he burned

or the way that she died
Its time now to sing out

though the story never ends

lets celebrate remember a year

in the life of friends
You can hear the song by clicking on the link below:
http://www.youtube.com/watch?v=84KcSyZbg0w
Thankful, once again, for a God Who never fails to provide just what I need to make it through another day, Our phone rang late tonight……….
It was an elderly lady from church asking if my husband could stop by to see her brother (who lives with her) some time tomorrow. He has cancer, and he is scared.
I had Tim come to the phone to pray with him, because they wouldn't let Tim drive to their home tonight.
Fear-it grabs us, consumes us, and often controls us.
I can remember so many days and nights of feeling fearful as Nick faced medical tests, new treatments, pain, and oh, so many needles.
And I remember memorizing a verse that kept me from drowning in my fear time after time….
When I am afraid, I will trust in You
In God, whose Word I praise.
In God I will trust, I will not be afraid
What can mortal man do to me?
This Psalm brought comfort when nothing else could. It reminded me over and over again that clinging to God's Word was truly my only HOPE!
It reminded me that NO MATTER WHAT this world throws at me, I cannot be overtaken with God on my side. And neither could Nick.
So, tonight, as I head to bed-
Another day of life soaked up with heartache, yes, but laughter too, and time with Tim, Erich, Evan, Todd, and Olivia………and a few visits with friends, and a nice phone call with an old friend, and lots of emails from encouragers and blog posts from even more encouragers
I feel thankful.
Thankful that God keeps His promises.
Yes, that's right.
He is Faithful.
Faithful to provide just what we need when we need it most.
So tonight, I ask all of you to pray for a man in our church who has cancer and is scared.
I just know God will send the peace He needs tonight. Grief has a way of taking over my mind sometimes.
So strongly that even words are hard to string together into sentences.
Thoughts swirl in my mind………….
Good memories
Tough memories
Sad memories
Feelings of confusion
Feelings of anger
Feelings of loneliness
Questions with no answers
Then I step away from my thoughts and can almost see them swirling beside me. As I watch them swirl, I look around at other things that have created their own little "cyclones" …….
Evan's heart
Erich's heart
Todd's heart
Olivia's heart
Tim's heart
My mom's heart
My friends' hearts
All hurting, all unsure of how to regroup or what to say, all broken in different ways……..
Grief is not a simple emotion that can be faced one day and then quietly pushed away.
It is complex and long-lasting. I remember.
I remember losing Adrienne.
And while I know deep inside that eventually the pain lessened and life became somewhat "normal" again, I guess I just can't bear the thought of life without Nick ever being easy……..
That's where I'm at today.
Hurting and yet not wanting NOT to hurt. That probably makes no sense, but in my heart it does.
I have been so full of grief this weekend that even coming here to share seemed like a daunting task………and yet your prayers and words of love and Scriptures are what I need so desperately.
It's almost as if the devil pushes me down and stands on my chest in some sort of victory stance from time to time, and I have to somehow figure out how to push him off of me and stand back up again.
The devil loves grief, I am sure. He loves its power to immobilize and anger God's people.
But deep inside I know that God loves it too, because it drives me back to Him time and time again…..in spite of my questions and my sadness……..
Searching for joy today, knowing that somehow God will send it,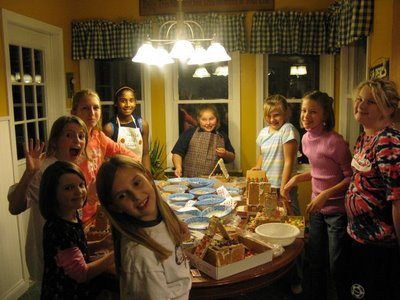 Jeremiah 32:17
"Ah, Sovereign LORD, you have made the heavens and the earth by your great power and outstretched arm. Nothing is too hard for you."
I woke up yesterday feeling so very blue. I hadn't really cried since Monday night.
I guess the pool of tears had just built up to overflowing.
Everytime I opened my mouth to talk, I would choke up and cry.
Thankfully, the Lord knew I was going to be having one of those days and sent friend after friend and text after text to keep me busy and remind me that I was not alone!
Last night Olivia had 8 little friends over (all of the girls who had stood beside her throughout Nick's visitation and service as well as some more) to make gingerbread houses. I have to admit that deep inside I was thinking, "I am NOT up for this!"
But as it would turn out (of course), it was medicine to my soul. We turned on Christmas music and the girls sang and giggled the evening away. I asked them to name their houses at the end, because I wanted to photograph each of them with their new creations. These little girls are such sweeties………little did I know they had devised such a special surprise for me!
I saw them whispering and then passing around some paper plates.
The next thing I knew they had lined my kitchen counters with gingerbread houses, creating a village they named, "Thumbs Up!" Then they wrote, "We "heart" Nick" and signed another paper plate and hung it over my stove! And still another that said, "In Memory of NYN!"
I was overjoyed. It was a perfect night! Oh, I love these girls so much! And I know they truly love Nick. He loved all of them so much and got the biggest kick out of each them when they would come over to stay all night!
Evan got home from college last night for Christmas break and Erich got home today, so I have been knee-deep in laundry! The washer and dryer haven't stopped all day!
Olivia and I made a run to WalMart today……
Our first trip since losing Nick.
Shew! I didn't realize how shopping had become so centered around his needs.
Everywhere I turned I thought of him and what he would like and want and wouldn't like and wouldn't want.
Thankfully, we made it through the shopping experience without tears. (Olivia holds me to a pretty high standard in public places!)
Tonight we are headed to a friend's house to help make baskets for shut-ins from church. When we get home, the older boys are going to watch Chevy Chase's Christmas Vacation with us. It is one of Tim's favorites, and I am praying we can have a good family time.
Nothing is easy. And yet God never fails to be right here………..to lean on for comfort and hope.
Thank you for sharing in our grief and helping us smile……………
Even through gingerbread houses!
Nothing is too hard for you.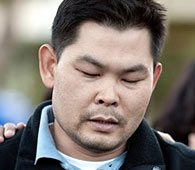 And so, Lord, where do I put my hope? My only hope is in you.
~ Psalm 39:7, NLT
Tonight as I opened up my computer one of the headlines in the news caught my eye. You've probably read about the gentleman in San Diego whose wife, two young daughters, and mother-in-law were all killed this week when a military jet crashed into their home.
As I read the story, I couldn't help but think of a couple of things.
First, this man has a heart of forgiveness. He is asking everyone to pray for the pilot, because he doesn't want him to suffer because of the accident.
Second, this man has a heart of patriotism. He stated that he knew the pilot was "one of our treasured for the country." I thought that was such a precious way of referring to someone serving in the military.
Third, this man is hurting. As he stood by his minister and siblings and wondered how he would make it, he said, "Please tell me how to do it. I don't know what to do."
Tonight as I think of my sweet Nick and how I miss him, my heart is also aching for a man that I may never meet who is experiencing extreme grief tonight.
I am hoping that all of you will take the time to read the news article below and then take a minute to not only lift up the pilot in prayer ( I am sure he will experience extreme feelings of guilt even though it was an accident) but also lift up Dong Yun Yoon.
My prayer is that he will look up and put his hope in the only One who can carry him through such a tragedy.
Love to all of you who visit here today,