 It's beginning to look a little like India……
All through the house…..
Thank you, Connie, for mailing me "Indian clothes" to wear while traveling…..
We had to try these on the other night when we had company!! Special prize to anyone who knows everyone in this picture……(sorry about that for those of you who haven't visited Grayson)
Our house is finally beginning to show signs of an approaching trip.
A mixture of suitcases and supplies for Nick's Foundation ministries -Basket of Hope, Nick Nooks, and Adrienne's Angel Memory Boxes- cover our living room floor and furniture.
God has definitely opened the door for so many opportunities to reach out to others who are hurting. We are thankful even though we would trade all of this for Nick's presence with us.
We fly out of Cincinnati at 4 p.m. on Thursday and then out of New York at 11 p.m. We land in New Delhi, India around 7:00ish pm (India time) on Friday evening.
We lose a day as we are flying, which truthfully boggles my mind.
I told my mom that if you can lose a day and stay on this planet, then there is no telling how time really works in Heaven.
The Bible says that to God, "a day is like a thousand years." I truly believe that!
Someone told me recently that if that is literally true, then a lifetime on earth is just a few hours in God's time, so Nick and Adrienne may only be "waiting" for us for a couple of hours at the most!!! I love that thought!!!!!!!!!
Well, I just wanted to send a little note and let you know that I am not sure how often I will be near a computer after tomorrow and how much time I will have to blog until Easter Sunday, but I will write in my journal the entire trip and pray for you all constantly.
When I get home, I will share all of my memories with you.
I am praying that God will use this trip to touch all of our children's lives in very significant ways and that we will feel Nick and Adrienne's presence with us constantly.
I am praying that this trip can form a bond of ministry between Nick's Foundation and the orphanage that will help the children there in very special ways.
Who knows? Some of you who are reading this may very well be traveling to India some day to do a week or so of mission work! I'll be praying about that too!
I really can't imagine what we are going to see and experience.
I am nervous, excited, sad, happy, anxious, calm, and every other emotion rolled into one…….
This is God's trip. I'm going to have to totally lean on Him for my every need.
I'll write one more time (at least) before we head out Thursday.
Love you all so much,
I will write again tonight, but I just wanted to send a quick note to tell you that in the midst of our packing and planning, you are all on my heart and mind.
Thankful for all of you,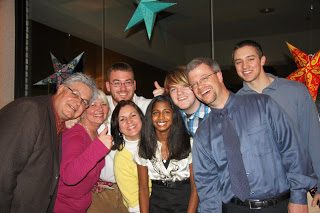 I just recently received all of the pictures from Nick's first annual Night to Remember (thank you, Lesa!!).
I wanted to share a photo from that special evening of our family (along with my mom and dad.)
Behind all of these smiles there is a depth of sadness that words can never express.
But there is also a spirit of thanksgiving because of the knowledge and oh-so-certain belief that Nick is in Heaven with His Heavenly Father cheering us on as we strive to "not grow weary in doing good."
My prayer for all of you today is that you will feel love, joy, peace, and hope as you walk with Him!
Smiling, not because of life's circumstances, but because of Him,
A list of names I knew I had.
For all to win….I wanted….bad!
So carefully I took each name
Wrote with care, and cut the same.

Said a prayer as I filled my bowl.
Asking for joy to fill each soul.
Then took the names to my little sick one-
She drew with care until she was done.
I wanted all to be able to win
But three books is all the publishers did send-
So until we draw again, don't be blue.
You never know-next time-it might be YOU!!!
I will be sending a copy of One Wish for You to the following three wonderful women:
Karen ???
Christine Larrabee
Zoie's Mom
Congratulations!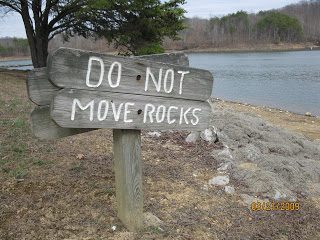 This sign caught my eye at Grayson Lake a couple of weeks ago.
DO NOT MOVE ROCKS….
What is it about rocks that tempts us to want to pick them up and see "how far we can throw them," or "how many times we can skip them across the top of water?"
I guess if we pick up enough of these rocks and try one of these feats, eventually the hill underneath these rocks begins to erode and the beach begins to wash away.
The camp rangers at Grayson Lake must have decided that they had to put up a sign in order to remind people that moving these particular rocks was not a good idea!
Just a few days after taking this picture, I was reading in Joshua about the time he was told to take rocks from the bottom of the Jordan River (after the miraculous crossing) and build a monument to remind the generations that would follow of God's faithfulness, I was struck by God's Words that said,
JOSHUA 4:9
Joshua set up the twelve stones that had been in the middle of the Jordan at the spot where the priests who carried the ark of the covenant had stood. And they are there to this day.
Wow!!! Those rocks are there to this day!!!
Now those are some unmoved rocks!
In the New Testament, Jesus has this conversation with Peter in Matthew 16:
5″But what about you?" he asked. "Who do you say I am?"
16Simon Peter answered, "You are the Christ, the Son of the living God."
17Jesus replied, "Blessed are you, Simon son of Jonah, for this was not revealed to you by man, but by my Father in heaven.
18And I tell you that you are Peter, and on this rock I will build my church, and the gates of Hades will not overcome it
Jesus Christ is the Son of the Living God!!
Now there's a Rock that hasn't changed or moved!!!
I think of all the things in my life that seem to so easily slip away…….right from underneath my feet.
And then I think of Jesus!!! And I think of the promises in His Word!
Psalm 62
5
Find rest, O my soul, in God alone;
my hope comes from him.
6 He alone is my rock and my salvation;
he is my fortress, I will not be shaken.
Over and over again, God's Word reminds us that Jesus is the Rock on which we must stand and that this Rock cannot be moved.
Psalm 40
1
I waited patiently for the LORD;
he turned to me and heard my cry.
2 He lifted me out of the slimy pit,
out of the mud and mire;
he set my feet on a rock
and gave me a firm place to stand.
3 He put a new song in my mouth,
a hymn of praise to our God.
Many will see and fear
and put their trust in the LORD.
Oh, thank you, Father, for being my Rock.
Even when I feel as if everything that matters in my life is being washed away around me, help me find comfort in knowing that my feet are firmly planted on You!!!
My Rock, My Fortress, My Salvation.
You are the one Rock I pray I will never try to move! You have another day or so to enter the give away by posting on the "giveaway" blog below.
The package hasn't arrived from the publisher, so I'm not sure how many copies they are sending me yet.
I'll post winners just as soon as we find out how many to pick!
Love you all,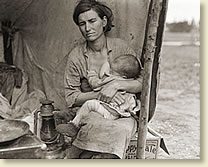 Col. 3:1-2 (The Message)
"So if you're serious about living this new resurrection life with Christ, act like it. Pursue the things over which Christ presides. Don't shuffle along, eyes to the ground, absorbed with the things right in front of you. Look up, and be alert to what is going on around Christ—that's where the action is. See things from his perspective."
I was sitting in an 8th grade gifted class yesterday observing students as they "interviewed" each other to try and discover the "mystery history person" they were impersonating.
As the kids were talking, laughing, and learning, I looked at the board and this photograph struck me as so powerfully.
I walked up to the board to read the description below the photo and felt as if for some reason higher than mine, I was suppose to photograph this photograph. It just spoke to me.
This morning I did a little "google search" of the photographer's and read the most amazing story of how Dorothea Lange had been on a month-long assignment for the Farm Security Administration when she was traveling back home and happened upon a tiny, fabric tarp propped on sticks in the middle of a field with this mother and her seven children (there is a baby in her arms) huddled inside.
They were living off of frozen vegetables on the land and birds that her children could kill. They were pea pickers and all of the peas had frozen, so they were jobless.
The precious lady pictured above with some of her children was only 32 at the time this photograph was taken.
The photographer wrote about her decision to go back and photograph the family after driving by at full speed. She shared the thoughts that were going through her mind:
"Dorothea, how about that camp back there? What is the situation back there?
Are you going back?
Nobody could ask this of you, now could they?
To turn back certainly is not necessary. Haven't you plenty of negatives already on this subject? Isn't this just one more if the same? Besides, if you take a camera out in this rain, you're just asking for trouble. Now be reasonable, etc. etc., etc.
Having well convinced myself for 20 miles that I could continue on, I did the opposite. Almost without realizing what I was doing I made a U-turn on the empty highway. I went back those 20 miles and turned off the highway at that sign, PEA-PICKERS CAMP.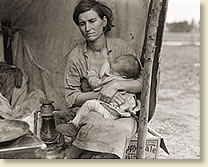 "Destitute in a pea pickers camp,
because of the failure of the early
pea crop. These people had just sold
their tent in order to buy food."
I was following instinct, not reason; I drove into that wet and soggy camp and parked my car like a homing pigeon"
She went on to share that the woman allowed her to take pictures of their situation as if she knew that these pictures may in some way help her family.
Wow.
I hope they did.
I wonder what happened to this lady after the picture day in 1936. I am struck at the thought that yesterday was Olivia's picture day at school and I was able to help her curl her hair so that she felt "pretty" and excited about being photographed.
Then I look at this photo and think, "Am I thankful enough? Do I really thank God enough?" "Are my kids thankful enough?"
And I also think, "Do I ever have the right to be negative or complain?" No wonder God does not like grumbling or complaining….He sees the sufferings of all. He knows how blessed we are even when EVERYTHING around us may seem dreadful at times….He knows how much more dreadful it could become.
Oh, thank you for this middle school teacher who is sharing the hardships of the past. I hope the students are as moved by this picture as I was.
Thank you for this woman who years ago allowed herself to be humble enough to be photographed at her lowest point in order to help her family.
I have a feeling that she has helped more than just her family in the past 70+ years since that photo was taken.
I know that yesterday she helped me.
Thank you, migrant mother.
Forgive me, Father, when I complain. Keep this photo forever in my heart.

Phillip got in on the "holey" jean action and sent these pictures tonight to his buddy Ian!!!
Thank you, Phillip!!
I also wanted to let everyone know that the publishers of "One Wish For You" have asked if I would like to give away a few copies of this new book!!
So, if you post a comment with your email address you will be in a random drawing that I will have this weekend!!! I am not sure how many copies they are sending, but I will announce the winners on Sunday and then email you to get your mailing addresses!!
Love you all so much!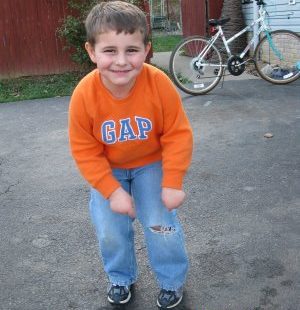 My nephew Phillip lives five hours away……
When he comes to visit, he loves to play with Olivia's friend's little brother, Ian. They are "best friends" according to Phillip!!
The other day Jennifer emailed to tell me that Phillip is going through this stage where he'll only wear jeans if they a hole in one knee!!!
I just about lost it when Ian walked up to our house to get Cameron the other day and had on a pair of jeans with….
you guessed it!!!
a hole in one knee!!!!!!
I had to take a picture of Ian!! Now I'm hoping to get one of Phillip in the same pose!
Isn't that the great thing about friendship……you don't even have to "know" what each other is doing to share a special bond!
I had to run to Cameron's house tonight to pay for Girl Scout cookies and Brooke (Cameron and Ian's mom) was on my blog. Ian was looking at the pictures of Nick and saying, "I miss Nick…" Cameron came out of her bedroom and was wearing her "Remember to Celebrate My Life – Nick t-shirt." The whole experience just touched me so deeply!!!
Nick's spirit is everywhere!!
When I got home from paying for cookies and stopping at the store with Olivia for "school lunch supplies," Nick's buddy Brandon was at the house(at 9 p.m.) to show me a "thumbs up" picture his girlfriend had found under her mouse pad in the computer lab at school today!! WOW!!! Brandon, I enjoyed our visit so much! You are one of my boys, you know?!
Nick……
You still amaze me. You are with me every second of every day…and truly I think you are with so many more than just me!!!
I've only had one meltdown today…an unexpected one….
Driving by the outreach center, I just had a flashback to all of the times we went in the back door for blood work and then waited to see if Nick needed another transfusion….
He was such a trooper…and the nurses were amazing….
Thank you, Roxy, for being on the other end of the phone when I called the middle school about a meeting I had……..you let me cry…….and that meant the world to me…..thank you, Nicki, for coming out to the car for our "meeting." You saved me from facing the masses….that meant the world to me, too!
Thank you Grayson Church of God and Karen for having me out tonight to talk about….
Peace…when the river runs wild!
Your prayer circle around me will never be forgotten! I feel blessed.
Ian, you asked if I would put a heart on this blog for you……
Look what I found!
I "heart" Ian!!! I love you, sweet little b
oy!!! I love you, too, Phillip!!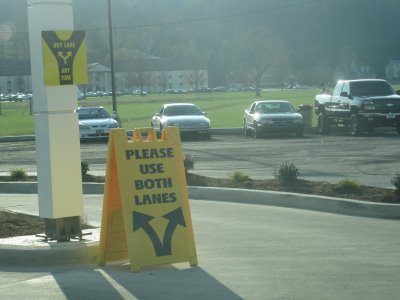 Joshua 24
14 "Now fear the LORD and serve him with all faithfulness. Throw away the gods your forefathers worshiped beyond the River and in Egypt, and serve the LORD. 15 But if serving the LORD seems undesirable to you, then choose for yourselves this day whom you will serve, whether the gods your forefathers served beyond the River, or the gods of the Amorites, in whose land you are living. But as for me and my household, we will serve the LORD."
If you have ever visited a McDonalds with one of these kinds of drive-thrus you have experienced what many of us experience in Grayson every time we want a large diet coke or cheeseburger………

a mild sense of road rage…….

The concept behind the drive-thru is that everyone gets in one line and then as you reach this portion of the drive-thru you branch off into whichever lane is open next. But sometimes a customer will come barreling past all waiting customers and "cut" into the right lane…..nothing against you if you've done this…..I've probably even done this…..

But I've been in line when I've had friends further behind me in the line who have actually called me and said, "Can you believe some people!?!?!" It's hilarious! I might start out in the line just wanting a diet coke and the next I know I'm judging people's motives and feeling injustice of some kind…..

By the time I get my diet coke, I am often thinking, "Was it worth it?!?"

But I guess my point is this………

Every day we have choices to make.

Personal choices.

And sometimes a choice that is right for me might not be right for someone else….but truly as long as we are going the same direction……towards God and not towards the world…..then we are okay to "choose either lane."

However, there are some decisions that scream……ONE WAY ONLY!

We know deep inside that making the other choice is AGAINST GOD!

So, this morning I was faced with a dilemma…..

I have to leave early for an observation at a school. I stacked all my books into my container and there sat my Bible. I moved it quickly up onto the desk thinking to myself, "God, You know I Love You….I'll read when I get home…"

I felt so guilty.

Then I called my friend whom I was going to caravan with and she had already left. This meant that I could come out a little later giving me a more flexible schedule. Now the choice sits before me again.

Take time to be still or keep on rushing……

I am going to have to choose "to be still"

I feel like God gave me a second chance to spend some time with Him.

As you face decisions today, I hope you can do the following things:

First of all, as hard as it is sometimes, try to worry about your own decisions…not other people's (I'm talking to myself on this one too!).

Secondly, know that sometimes both choices might be acceptable in God's eyes, so just pray for peace as you decide on one them.

Thirdly, watch for red flags along the way alerting to things crossroads that say, "ONE WAY ONLY!"

Praying we all can "drive thru" today pleasing God along the way,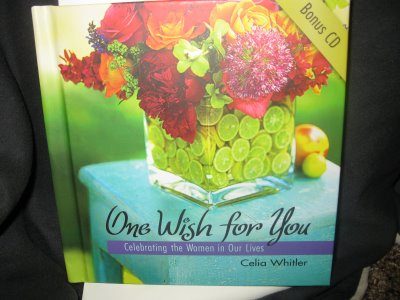 Several weeks ago I was contacted by a publisher about writing a review on my blog about this new little book written by Celia Whitler. I've never done anything like this before and to be honest, I was a little nervous…thinking, "what if I don't like the book?"
So when it arrived in the mail, I was very anxious to see what it had to say!
First of all, I was so excited because not only was it a great little book but it also had a bonus CD which has some very powerful songs on it! Wow! Celia, you have a beautiful voice!!
As I began to read through the pages….
I was touched by the presence of Scripture as I turned every page and soaked in every wish.The photography accompanying each Scripture wish was perfect too! I truly felt as if someone had written the book just for me…..
full of heartfelt wishes based on Scripture!
This little book is easy to pick up and simply savor one page at a time. Short, sweet wishes, wrapped in Scriptures. That's what you find on each page.
I imagined slipping this into my purse to take to a doctor's appointment.
Or mailing a copy to a friend who is having a difficult time.
Or tucking in my daughter's backpack so she'll remember how much I love her and that more than anything my wishes for her are all rooted in His Word!
Or handing a copy to any of my children's teachers (Sunday school or school) or coaches……just to let them know I'm cheering them on with Heavenly wishes.
If you're looking for a little something to place in an Easter basket or to brighten a girlfriend's day or to give your mom on Mother's Day, this would be a great option!
Thanks, Julie, for allowing me the chance to preview this book of treasures!
Check out this link if you want to know more:
http://www.cokesbury.com/forms/ProductDetail.aspx?pid=739967
As I read Celia's bio, I couldn't help but wonder if she knows my friend Lara…..they are both from Franklin, TN!!! Wouldn't that just be something?! I could see God doing that!
For tonight, my wish for all of you who have clicked open my blog is this:
A week….
showered with moments of love because the Creator of the Universe loves you!
wrapped in peace because the Prince of Peace promises nothing less to those who trust in Him!
filled with hope because you KNOW who holds tomorrow!
sprinkled with joy……..in all things at all times……..because the Joy-Giver walks beside You….transforming your heart as you turn all things over to Him!
Thankful to share life with all of you,