As we drove to Huntington yesterday morning for our first hospital visit, I knew that in spite of my inner struggle it was the journey planned for me on this particular day.
I had shared with Angela before we left the fact that I was feeling oppressed, discouraged, and somewhat confused about why Nick had to die in order for these good things to happen……I believed so strongly throughout Nick's entire illness that he would be healed….that God would use him in mighty ways…..
And if you followed our journey through cancer you know that I did my best to praise God NO MATTER WHAT the news was for that day or what we as a family or Nick as a sweet patient had had to endure.
However, in spite of all of that, for some reason I may not totally grasp until the day I stand before my Heavenly Father, Nick's life was ordained to last 13 years. I love Psalm 139,
15 My frame was not hidden from you
when I was made in the secret place.
When I was woven together in the depths of the earth,
16 your eyes saw my unformed body.
All the days ordained for me
were written in your book
before one of them came to be.
This passage gave me such strength when we lost Adrienne too. Knowing that God had ordained 6 weeks for her to be with us before one of her days came to be. It gave me peace so that I would not always wonder things like, "What she would have been, what she would have looked like, etc." I just knew that God never, ever planned her life past 6 weeks. She was a 6-week gift that changed my life in amazing ways.
Now I have to come to grips with the reality that Nick was a 13-year gift. A precious gift.
And as I do, I have to enjoy and cherish all of the things that both Nick and Adrienne have brought not only to my life but also to the world……..things that are eternal.
So, after talking a bit with Angela we prayed and headed on our way to Cabell Hospital with Kim, a friend whose son has also been down the chemo road.
When we arrived at the hospital, we were told to go to human resources. A room had been reserved. We were a little early and the room was not quite ready, so Janet took us up an elevator to her "plan B" conference room which, as God would have it, was also being used by someone else. By this time we were all kind of chuckling as we wandered around looking for a free space…..a waiting room, anywhere to sit and talk. Janet found a conference room in one hall with no light on and we walked in and sat down. I couldn't believe it when I lo
oked on the table and right in front of me lay…………….of all things………………
a penny!!!!!!!!!!!!!!!!!!!!!!!!!!!
Wow!!!
I knew so deeply in my heart that God had directed our steps and that Nick was affirming our journey!!! I didn't have a meltdown in front of this lady I had never met, but I wanted to!!
I saved my tears til I got back to Grayson, and then I just let them pour in the privacy of my living room!!
Oh, God, You just amaze me!!
Thank you, Father of Nick, Father of Adrienne, and Father of all my other children as well as Father of all of us, I can't imagine surviving this life without You! You are my Sustainer, Provider, Comforter, Shepherd, and so much more!
Today is Yours again, Lord. Help us live it for You and You alone. In Your Son's Precious and Holy Name of Jesus, Amen
Today we head to another hospital….actually in just 15 minutes so I had better finish getting ready!!
Tonight is our big assembly tonight! 100 baskets!!! I'll take lots of pictures.
And I promise that after we get through this adventure, I'll get back to sharing India!
Thankful for each of you! Don't forget to sign up for the give away below!
Love, This is a huge week in our town. We are kicking off our local branch of Basket of Hope (www.basketofhope.org).
Angela Brunette, the Executive Director, arrived in Grayson yesterday from St. Louis, and I was able to spend the entire evening with her. It was wonderful! I know that God will use this ministry to encourage many children and families in Eastern Kentucky throughout the years to come as they face the news that their child has been diagnosed with a life-threatening illness.
Today Angela and I, along with a friend of mine whose son just recently finished his journey with chemo, will be visiting several area hospitals to present this volunteer ministry program. Tonight we're having our first basket-delivery and training session and tomorrow night the goal is for our community to assemble our first 100 baskets!!! Churches, a girl scout troop, and schools have collecting items for the last month, and our town is "pumped up" about making a difference to hurting families.
So why am I surprised that Tim and I are both "crushed in spirit" right now?
Why am I shocked that last night of all nights Olivia had to find a "summer picture" of herself for the school play and Tim and I walked through as she was going through all of the pictures from Nick's Make A Wish trip to the Bahamas.
There was Nick's precious face on the computer screen.
Smiling. Beaming. So happy at the ocean.
I found Tim later crying in the bathroom.
I found myself not being able to get to sleep.
And now, less than an hour before I leave for a full day of hospital visits and time with two precious moms whose children are thankfully cancer survivors, I am struggling with self-pity.
Why am I surprised?
The devil just can't stand when someone is trying so desperately to turn something bad into good. He just can't rest when God is up to something bigger than he thought possible.
So, as I read the Bible this morning, I was comforted with words like,
We are hard pressed on every side, but not crushed; perplexed, but not in despair; persecuted, but not abandoned; struck down, but not destroyed.
II Cor. 4:8-9
Absolutely nothing can get between us and God's love because of the way that Jesus our Master has embraced us. Rom. 3:29 (The Message)
Brothers, we do not want you to be ignorant about those who fall asleep, or to grieve like the rest of men, who have no hope.
I Thess. 4:13
5And hope does not disappoint us, because God has poured out his love into our hearts by the Holy Spirit, whom he has given us.
Romans 5:5
So, as I cling to the only Words that have life………the Word of Life……..I am determined to step forward today with a smile on my face in spite of the anguish in my heart.

Nick may not be with me physically, but I know he is with me in my heart……

And more than that I know that he is with Our Father….who somehow loves him even more than I do!!!

Lord, I trust you with my pain and my sadness. Fill me up with Your joy and peace as You have time and time again. I am resting in Your unfailing arms. Keep the devil far from my thoughts. Help me to take every thought I have captive and make it obedient to Your Son Jesus Christ. Father, without Him I do not know where I would be today………..In His' Precious Name, Your Son who Suffered for All of Us, Amen



Many time when Olivia gets home from school, I find her carrots and her sandwich still in their sandwich bags. She has chosen to eat her fruit snacks, her chips, and her other goodies first and then either become full or ran out of time.
This morning as I was packing her lunch, I said it again, "Be sure to eat your sandwich first…"
Then as I closed the lunch box I couldn't help but think of my habits. Not in a literal sense with food (although that's an entirely different subject that probably would require an entirely different blog!) but in a spiritual sense with God.
It never fails. If I choose to clean the house first or run errands first or even exercise first, I often find myself "running out of time" for the most important part of my day….my time with God.
Time with God is like our carrots or our sandwich. It's the part of life that matters, that strengthens, that makes a difference, that keeps us sustained.
Reading a secular magazine or book, cleaning the house, running errands, watching something on TV….
These are the fruit snacks of life.
For the most part, they really don't do anything for us that is going to make a difference in an eternal sense.
Mom and I like to say that life is really just a time of "staying busy" until we go Home!! And I believe God calls us to a life of His-kind-of busy….Kingdom busy!!!!
This morning as I was reading about Gideon I learned something that I never had realized before. After God had weeded down his army to just 300 men (God didn't want the Israelites bragging on their own strength), He told Gideon to "Get up and go down into the camp for He had given Gideon the victory over them."
But then God says, "But if you are afraid to attack, go down to the camp with your servant Purah. Listen to what the Midianites are saying, and you will be greatly encouraged. They you will be eager to attack."
Here comes the part I love!!!
The next verse doesn't say that Gideoan attacked the Midianites. It says,
"So Gideon took Purah and went down to the edge of the enemy camp"
Gideon was afraid!!! He wouldn't have gone down to listen if he wasn't!!!!!
WOW!!!
After hearing straight from God.
After watching God work in mighty ways in the past.
After hearing God say, "I have given you the victory over them."
Gideon was still afraid.
I don't know about you, but that makes me feel so normal! So accepted by God!
And it also reminds me that God wants to send that extra confirmation when we need it…..even when we feel that so much has already been confirmed!!!
Thank you, Lord, for using men like Gideon who trusted You and yet were still afraid.
Thank you for promising to give us just what we need so that we can put our trust in You…..confidently!!!
I'm listening, Lord. Speak to me. Show me Your will for my life. Many times I feel afraid.
Fearfully Trusting Him and Thankful I ate My Sandwich First….I needed it!!!
If you've followed Nick's journey for long enough, you know how significant the "thumbs up" has become to our family!!
From pictures we began taking of friends and family after Nick's successful surgery in August 2006 to the thumbs up cloud my mom saw shortly thereafter……………..all the way to the ultrasound of one of my friend's daughter's baby…………..we have had thumbs up signs all along Nick's journey. You can look back through blog posts to find these pictures.

Well, you can imagine how we felt the first day in India when Tim received change that included this rupee coin!!!
Later we discovered that this coin was just issued in 2008, and NOONE we met had ever seen it before we arrived!!!!
We truly felt that God was giving us His "thumbs up" on our entire trip's purpose and that Nick was putting in his "two cents worth" (the value of this particular coin!) from Heaven. Leave it to Nick to somehow influence the Indian government's choice for a coin decoration.
I would love to share this little message from God with you, so I thought it would be fun to do a little give away! I will draw 7 names from the comments left on this particular blog entry this Saturday night at 11 p.m.
So just leave a little post that includes your email address, so I can contact you for your mailing address, and your name will be added to the drawing!!!
I love you all so much!!
PS Karen, I mailed your book today!!! And Christine……I missed you at church Sunday. Zoie's Mom is getting her book Wednesday.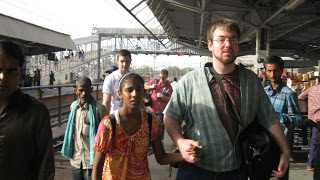 Phil. 4
19
And my God will meet all your needs according to his
glorious riches in Christ Jesus.
20To our God and Father be glory for ever and ever. Amen.
One chair……
dehydration…..
all of this mixed together had made for
and these two chairs!
One of which had held
an Indian gentleman who graciously gave it up so that I could sit by Olivia.
Thank you, Lord, for not only providing for our every need but for also giving us just a little more!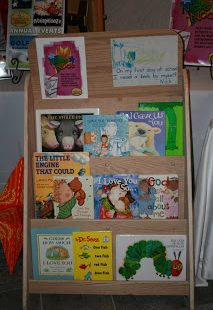 One of the ministries of Nick's foundation is to provide wooden book display cases filled with children's books to doctor's offices and hospital waiting rooms across America. These cases will also share a little about Nick's life as well as about the hope that comes from a relationship with Jesus Christ.
For the next two months we will be having a book drive for this outreach program. If you have any new or used children's books (for any ages) that you would like to donate, please contact Trish Brammell through her blog (www.trishbrammell.blogspot.com). Just post a comment on any of her blog postings and she'll get back to you. She, along with Jenna McGuire, are heading up this ministry, and I am forever thankful!!!
I am convinced that Nick's love for reading was a gift from God as he was able to "escape" into the wonders of books so many times when things were tough.
If you know of a doctor's office or hospital that would be interested in having a Nick's Nook, please let us know! We are taking orders at this time.
Special thanks to the Carter County Vocational School for your time and talent! Also, thank you, Tony Collier, for building our model after hearing about our dream. Isaiah 53
3
He was despised and rejected by men,
a man of sorrows, and familiar with suffering.
Like one from whom men hide their faces
he was despised, and we esteemed him not.
4
Surely he took up our infirmities
and carried our sorrows……
It seems that coming home this week from such an emotional trip and then being so sick on top of my exhaustion has heightened my depth of sorrow in Nick's absence from our lives.

Yesterday as Tim and I were trying to clean off the back porch, I stumbled across memory after memory of Nick…

his first cowboy boots,

his well-used football,

a notebook full of questions for the oncologist…..

The swing seemed to sway emptily crying out for Nick's presence, his smile, his joy, his love for the simple things-like watching Tim and me clean!! He would have loved yesterday!

So last night as I curled up on the couch to check my email, my heart was extra-saddened to read of a tragic death of one of my friends' friends' grandson. A troubled seven-year old boy who had been found in Florida dead from what appeared to be a suicide.

Then this morning I again was saddened to read of the passing of yet another child from my online brain tumor support group.

Tears fill my eyes as I prepare for Sunday school, confused by the sadness that seems to fill this world so easily.

And yet behind me Olivia and her little friend giggle as they eat their French toast sticks and prepare to straighten their hair.

The faith of a child…………..

That's what is required to survive this life.

That's what Nick had that inspired so many.

True, deep, abiding faith!

So, as I venture off to finish getting ready, my prayer is that I will remember that Jesus understands my pain. He was well-acquainted with grief.

And my prayer is that the families who are suffering new and painful losses will feel His presence as they walk the difficult days ahead.

Lord, I love You.

Help me understand the purpose behind our suffering. Help me to trust You until the day I embrace Nick again…………….forever!

Thankful to serve the One and Only God of the Universe and thankful He understands my pain, Opening my life story up through a blog is something I never thought I would do…….
But here I am a little over a year into my "open book" life and I am realizing that part of what makes a blog "real" is when the author is able to share the good, the bad, and the ugly.
It's so much safer to just share the good….or at least the somewhat pleasant part of life.
Even sharing my spiritual struggles has been therapeutic for me.
But, this has been one of those weeks when I have realized that there are just some parts of life, even as the daughter of the King, that are so far from anything I would ever label as "royal!"
You know me well enough by now, though, to know that I try desperately to look for th
e spiritual application in everything I face, so here is what I've learned this week.
First, when Cinderella is sick, the step-sisters (or in my case the children/husband), don't necessarily step in and do the chores. I will add one level of grace to this comment. Tim was trying to finish up tax season, so he was working from morning til dark (most of the time) and Todd and Olivia were swamped with homework and extracurricular activities……..Needless to say, when I did come to my senses I think I spoke up for Cinderella's throughout the kingdoms of this world!!!! There is a new list of daily responsibilities on the dry erase board for the kids!!
Second, it is difficult to spend time at the Father's throne when you are sitting on your
own…….endlessly…..sorry, it's just the way it was. You can ask anyone who talked to me over the past few days-I have been near dehydration and simply not totally present on this planet.
Which brings up my third discovery of the week.
If you are seriously dehydrated, don't count on your husband to make you drink. Sorry, Tim, but at this point I am thankful for my friends who popped in from time to time and who even called from out of town. I still love you, Tim. I'm just saying, "I don't think accountants would make the best doctors."
Fourth, I am blessed to have a doctor who is also a dear friend. Thank you, dear friend (I'll leave your name out because I don't want to cause you to have to start a new business), for realizing how sick I was and getting me started on an antibiotic!!!
Fifth, when a battle is over and the victor receives his "spoils" it may not always be what he was expecting. I decided I was up to cooking last night and really hadn't been to the store since we got back from our trip. I found two boxes of taco "Hamburger Helper," which Todd thought sounded good. So, I headed out to our deep freeze, which I quite thankfully had filled with a 1/4 of a cow that I had recently purchased with a friend….thinking that in some way I was being a great Proverbs 31 woman preparing my family for the months to come with grain-fed beef at a great price. When I opened the deep-freeze on our back porch, I noticed no ice arou
nd the edges and then a fly coming towards me followed by a horrible smell (talk about being dethroned from any sense of motherly pride). Yes, somehow our deep-freeze had either bit the dust or been struck by lightning (I did hear there was a terrible storm while we were gone) and everything in the freezer was ruined. Ugh!!!!! Is it even worth it to try to be organized?!?!?!!?!??! (You know I love you guys by know…..this is me after being sick for several days and discovering my bovine nightmare.)
So, I'm back in my somewhat "normal" mind. I am thankful beyond words. The devil has done a good job of distracting me from the passions of our trip and the upcoming responsibilities with Basket of Hope.
In spite of his efforts, I can honestly say, that once again, God has turned the devil's plans against himself. I have realized how thankful I am to have my friends. I have realized that when I can't, others can…….and do………………..what needs to be done in order to make something a success!
I have learned that while beef may come and go, God never leaves or forsakes me.
I am determined to moooooooooove on from this week of "royal flushes."
Yes, Cinderella is feeling better.
And Prince Charming has learned that sometimes Cinderella looks and acts a little less like a princess than he had hoped or dreamed……
That's life in the real world.
It's good. It's bad. And yes, it's sometimes very ugly.
Thanks for praying for me.
Oh, I never received any "report" on the diagnosis……I just know that either the antibiotic worked or I had the worst virus I could have ever imagined possible……if I hear any details, I'll let you know!!
Thank you for accepting me….
Warts and all…………..(and I do have one right now!), I have barely been awake in the past 36 hours.
Our doctor come to the house yesterday to bring some test kits and hopefully we'll know today what is wrong.
I just wanted to let you know that I am still here.
I'll write more when I'm better.
Much love,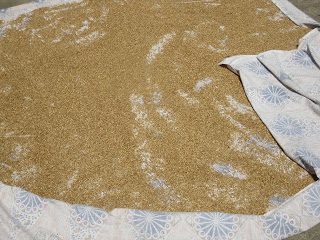 31
"Simon, Simon, Satan has asked to sift you as wheat.
32
But I have prayed for you, Simon, that your faith may not fail. And when you have turned back, strengthen your brothers."
I took this picture at the house where we stayed for three days while in India
. Angela takes wheat and literally dries it out in the sun on their concrete and then has it ground for flour.
I hit a wall about the fourth day of our trip. An emotional wall. I had seen so many disturbing things. I was tired. My whole body ached from the train ride, and I had a little meltdown in our room. Truthfully, I was ready to come home.
It's weird when you're up against such a looming wall. I knew that there was no possible way to run from where I was……an 12-hour train ride and a 14-hour plane ride just to get back to America……getting "out" of where I found myself was not possible. So, I had to make a choice. A choice to be miserable or a choice to embrace where I was.
It was amazing how God knew just what I needed when the devil had tried so hard to pull me down. I had looked at Tim on this particular morning after he had said, "How are you doin, baby?" And my reply was very sadly, "I want to go home."
It was just within three hours of saying this that we were taken to a village women's meeting where we had the opportunity to spend an hour or so with a group of women who live day in and day out with very little. Foot-pedal sewing machines, bare walls, dirt roads, no vehicles, no luxuries………
And it was in this hour that I was revived. I saw happy women. Thankful women. Smiling women. Women who loved Jesus…..no matter what. Ladies who were not quitters.
When we were introduced and the story of Nick's death was told to them, tears began to fall down my face and one Indian woman touched my arm and said, "No cry….no cry….," as she continued to smile at me and rub my arm. I smiled back through my tears.
As we pulled away from the home where the women had been meeting, I waved out the window looking so many women right in the eye as they lined the street waving and smiling. In their eyes I saw the love of Jesus.
I saw genuine faith in action.
I saw hope for India.
I saw new friends we will all share Heaven with.
I saw God saying, "Tammy, you can make it through this trip…."
And from that moment on, I was reenergized.
Thank you, Lord, for allowing satan to sift me like wheat….but for being there to help my faith from failing.
Now, my prayer is that I can strengthen others who are trying to walk close to you,