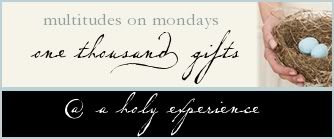 Sleep came labored last night. Pain seems to recur with this surgery more often than I ever dreamed…..
3 a.m. awoke me, signaling a need for Ibuprofen. There's something about 3 a.m. It's not the first time I've been wakened at this hour to hear things from God that I may not have heard in the busyness of the day……so I stumble to kitchen and shhhhhhh….Nick's wind chime is going wild outside. I even turn on the floodlight. Did I think I might see him there grinning? I felt crazy but hopeful.
Crawling back into bed, I know that sleep has left me lonely. Eyes wide, I reach for my Bible. I read more of God's Words to Job. Fire-breathing dragons???? Did God really talk so much about them? I had forgotten this chapter's details.
Like Job, I'm left feeling speechless. Who am I to question God's plans?
So I reach for a book about thankfulness…..my new book by Ann Voscamp, A Thousand Gifts. As I read I am sure that we are twins somehow separated at birth. She struggles, she says thank you, she feels grace, she struggles more………Oh Ann, to hug you. A dream I hope one day comes true.
I can't stop reading. Page after page until I reach the end…..like a hungry wolf I devour the book and long for more. But finally, sleep returns quickly and says, "Enough reading.""
I awaken to the alarm realizing that even though the doctor will not release me for at least two more weeks to work, I must help with Olivia. Oatmeal, orange juice, lunch……I say "thank you" for the chance to serve. Thank you, Ann, for reminding me that this is a gift.
Returning to my covers after the house empties, I fall fast to sleep. But early morning deep sleep often brings a friend…….vivid dreams.
I dream of walking up a sidewalk to a beautiful house, music playing loudly from inside. I ring the doorbell, certain that no one inside could hear it; but the door opens!
And there is my sweet Nick! Grinning in his jammies! We hug and hug and hug…….and he is well! No misshapen head from tumors, no pain, no wheelchair! My whole Nick grinning!!!!!!!!!!!!
Then a voice awakens me. My friend has come to help me with my morning medical treatments for my incision, and in a fog I look to her and remembering my dream, I start to cry. I'm overwhelmed with the reality that Nick is not here….and for a while my heart is broken.
Then saying bye to Tiffany, I know I have a choice today. Choose sadness or choose to be thankful.
I see a lamp in my bedroom casting light both up and down and I know that God lights the way for me on the up days and on the down days.
So I do what I've done so many times before, I grab my camera and start a journey. I want to know where God is casting light for me today.
I journey to the deck because I have heard that there is ice today.
I wonder what the Bible says of ice, and I smile when three of the four verses are found in Job.
The breath of God produces ice,
and the broad waters become frozen.
(Job37:10)
Do we witness God breathing and simply call it ice? Thank you for allowing me to see Your breath today.
I look across my yard as I hear the clinking of the windmill blowing as He breathes…..my windmill.
A reminder of my Oklahoma roots-my childhood days of running on my grandpa's farm. Thank you for my windmill moving with the breeze.
I turn to my kitchen and find myself unable to stop snapping pictures.
From telephone poles….another Oklahoma memory.
Thank you for insulators that remind that words have travelled so many different ways.
My favorite quote, never flipped to read another. Thank you for my scars.
Get well cards from funny friends. Thank you for smiles that come from greetings.
Scriptures lining my kitchen window. Thank you for Your Word that carries me.
A snowman's message and reminder….."Heaven is under our feet as well as over our heads." Thank you for helping me feel Heaven's closeness when it snows.
Just a few of my Willow Tree figurines….each with a special story from a special friend. Thank you for gifts wrapped in meaning.
His Word over my stove reminding me that He truly doesn't ask the impossible. Thank You for making Your desires clear.
Mom's special Christmas recipes….Thank you for a mom who inspires me with her love.
A special sign Tim bought me one day when I was journaling Nick's fight with cancer through emails to the world……Thank you for email but mostly for knee mail.
Words to enter by……Thank you for all four.
A reminder of how I want to live and how I feel when I am living in that way.
Simply = Well
Thank you for not making it difficult and forgive me when I do.
Nick's bird clock. He wanted one like Mamaw's for his bedroom. I moved it to the kitchen after he died so that I could hear the promise of Spring every hour. Did Nick know I would need the promise of Spring after Winter? God did. Thank You.
Memories…….thank You for all of them even the tough ones.
A special day……thank you for Erich's happy marriage to Mallory.
My old chalk holder loaded with key chains and laynards….and the ornament I bought after Christmas that I might not put away……Thank You for all.
So I end my morning tears with a smile. I think of my lamp, my first morning photo, and I realize God often lights up the low places so that we can then look up. I choose joy today knowing Nick is in the house of God and he is grinning. I hope that in some small way I have "passed joy on to you."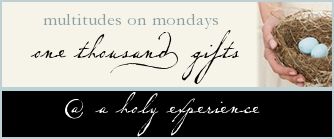 In His Arms, I decided to push ahead and consolidate several short chapters into one post so that I can hopefully complete the book study of Battlefield of the Mind in the next week!
The last ten chapters of this book are broken down into different thought patterns that keep us stuck in a "wilderness mentality." 
Remember, the Israelites wandered for 40 years in the wilderness making a journey that should have only taken 11 days!!!   Let's don't repeat history as we try to reach our promised land!
The wilderness mentalities we are going to look at today are these:
"I can't help it; I'm just addicted to grumbling, faultfinding, and complaining.
"Don't make me wait for anything; I deserve everything immediately."
"My behavior may be wrong, but it's not my fault."
Have you ever found yourself feeling negative, impatient, or unable to admit your mistakes????  Oh, I kind-of hope you say, "Yes," because if you don't then I'm going to feel like a real loser admitting that I still struggle with all three of these ways of thinking.
I want to be positive, patient, and able to accept responsibility for my actions; but many times I fail.  Many times. 🙁
I don't know about you, but I think I need to print out the wilderness mentalities and hang them in several places throughout my home.  I sure don't want to wander in the wilderness whining for 40 years when I could be experiencing an exciting adventure with God that draws me closer to Him every day. The thought of walking closer and closer to His Presence sounds so much more attractive to me than walking in circles of self-pity and doubt day after day.
A wilderness mentality stirred discontentment in Eve.
A wilderness mentality pushed Sarah to offer her maid Hagar to Abraham as a mom for their child.
A wilderness mentality rose up in Esau as his hunger overcame his brain causing him to give up his birthright for a bowl of soup.
What wilderness mentality do you battle?
Take a minute today to think about what you think about.
Are your thoughts drawing you closer to God or are they driving you away from His peace and comfort?
Praying for you as you strive to live with a Promise Land Mentality!
A Fellow Sojourner, My copy of Ann Voscamp's book, A Thousand Gifts, arrived yesterday…
Turning each page and uncovering the journey of a Canadian home-schooling mom reminds me that all over this world stand women just like me.
Searching
Longing
Hoping
Dealing
Coping
Wondering
And thankfully, discovering……………
Job 31 arrives in my daily Bible reading and the words, "Let the Almighty answer me.  Let my accuser write out the charges against me.  I would face the accusation proudly.  I would wear it like a crown.  For I would tell him exactly what I have done."
Ouch.
Did Job really say that?
Have I said that in my grief?
Yes, I humbly admit that I have. 
The fear that losing two children somehow shouted to the world that I needed punishing catapulted me to stand up and scream, "I am innocent. Why did this happen to me?" Not just once, but many times I've asked in different ways how the God I live for and love so much could send me down this road of pain.
Then I remember who I am and I remember Who He is, and I am silenced.
Like Job, I finally say,
"I am nothing-how could I ever find the answers?  I will cover my mouth with my hand.  I have said too much already.  I have nothing more to say."
And in the silence, I hear God whisper,
"For my thoughts are not your thoughts,
   neither are your ways my ways," 
           declares the LORD.
"As the heavens are higher than the earth,
   so are my ways higher than your ways
   and my thoughts than your thoughts."
Is. 55:8,9
So the question rises, "If I believe these words are true, then what?"
What do I do with my pain?
What do I do with my questions?
What do I do with my fears and insecurities?
What do I do with everything I do not understand?
Once again, I know that the answer is not easy, but it is a choice I have to make daily.
Leave them unanswered and trust Him.
And in that simple trust, thank Him for being there in my dark, unanswered places.
So, I rise from reading a little Watchman Nee, a little bit of Job, and a little bit of Ann, and I determine that looking for answers must be replaced with looking for ways to say, "Thank you."
So, like Ann, I grab the tool that helps me see more clearly than my glasses, and I begin walking around the very room that surrounds me.  And I am thankful……….
For books that fill me up when I am empty……..
For stacks of laundry that remind me "I am blessed."
For a basket of medical supplies that continue to help me heal and for the hands of those who use them to help me……..
For random cords, pans, gifts from a friend who has traveled to another country, and even more medical supplies that try to cover the words "And they lived happily ever after" but can't cover the truth we're trying to live…
For Christmas cards that still sit out near February reminding us we're loved.
For memories locked behind glass…..Todd and Nick freely flying down a coaster, Olivia bolting down the basketball court, Aunt Earlene inspecting a stranger's dreadlocks, Great-grandpa's water source that surely moistened many a dry farmer's mouth…….
For words on walls that remind me of what I need to do today…….LIVE.
For memories of India stuffed in a bag……..a bag that holds Olivia's heritage, her story….so we can share it with classrooms and churches and with Olivia when she wants to look back……
Today, I rise up thankful.
I hope that you do too. Shhhhh……
What do you hear when you close your eyes and listen?
Dishwasher running
Washing machine signaling "I am finished"
Pages turning in the kitchen as a book is being read by Robert
The springs of the swing bouncing as Marbles, our cat, hops up to look in the window
Horns honking
Interstate traffic moving
Life moves all around me….
Without me helping, it keeps moving…….
I'm learning in the stillness that it's okay just to listen-
Allowing things to run and move and change and happen……
without me.
It's okay.
I tend to be a mover, a changer, a runner.
But I'm learning to be a listener.
And I love what I hear.
I hope you'll close your eyes for just a minute and listen to the world around you…….
And allow it to move without you if even for just a few minutes.
Soaking in the stillness, As I poured a cup of coffee this morning, I thought I'd take my Ipod and see if any of my friends or family had played in our on-going Scrabble games.
As I sat down to look, I must have bumped the screen somehow. When I looked at the screen, I was so surprised to see that it was unlocked, had somehow opened my music library, and was set to play the song below. I've never even listed to music on it before. Tim loaded a bunch of CDs for me a few weeks ago, but that is as far as I had travelled in my music journey.
I went ahead and pushed play and this song washed over me and oh my goodness, I felt so connected to God………
Truly, I knew without a doubt that this song was no accident.
It blessed me so much that I want to share it with all of you in hopes that you, too, would be blessed.
First push play on this song and then immediately pause it so it can load. Then scroll down and pause my blog music then scroll back up and start this song. Close your eyes and enjoy.
I love you all so much! It's been over a month now since I've driven a car.  My December 22nd surgery has been followed by some setbacks and the recovery has turned into quite an ordeal.
Clean pajamas are the wardrobe choice for each new morning.
Purpose has become mangled with self-pity.
I read, I write, I think, and then I think and think and think some more.
What is God teaching me on this journey of pain?
I'm still asking, listening, trusting (most of the time).
Well, yesterday one of my college friends from Ohio and a friend from her church (remember the clowns who visited me this fall?) thought it would be fun for us to play a game of Yahtzee over Skype. How could I pass up a chance to do anything with these two girls???
(HERE'S A PICTURE FROM LAST FALL WHEN THEY CAME TO SURPRISE ME!)
As soon as our game was over, Todd needed things ironed for his senior pictures, so I thought, "Why not iron as a princess?" even though I'm feeling about as far from royal as I  can get…….well, except for some royal pain. (smile again)
Today, I hope you can find a reason to smile in spite of the pain in your life…….
I'm going to try again.
It felt good.
Love you all so much!
Phil. 4:4
Rejoice in the Lord always.  Again, I say, 'Rejoice!' After my surgery, I spent several days in bed.
Light doesn't pass through our bedroom window very easily, so mom made the most of what I had hanging on my wall to gently lift my curtain……
An old part of Grandpa's plow.
For years this tool broke hard, dry dirt and surely lightened the load for Grandpa.
If the tool could talk we'd probably hear stories of heat and rocks and other painful things it faced as it dove into the Oklahoma soil of Grandpa's farm.
Today it has a gentler purpose –
Helping light pass through my window………
Helping brighten up my bedroom.
If the tool could talk as it simply pulls back my curtain, we may hear stories of air-conditioning and simply "hanging around," and maybe, just maybe, we would sense that the tool doesn't feel like its purpose is quite so noble………
But to me, the precious sight of Grandpa's plow hanging on my wall combined with the sweetness of how it allows light to peek through my window give me more than enough reason to whisper, "Thank you."
When I think of this tool possibly feeling anything but useful, I think of me and you and how so many times we feel this way too.
It is so important to remember that in life we will sometimes be called to tough seasons in life……
with pain that just about breaks us.
While other times our load is a bit easier, maybe even comfortable and air-conditioned.
Remember God uses both kinds of seasons if we allow Him too.
My prayer tonight is that no matter what season of life you are facing, you will allow God to use you.
II Timothy 4:2
Preach the Word; be prepared in season and out of season; correct, rebuke and encourage-with great patience and careful instruction.
Eccl. 3:1
There is a time for everything,
   and a season for every activity under heaven: He arrived at our house at midnight last night.
Hands and teeth aching from a stressful drive on treacherous roads.
But he was smiling. 
Tim met him in the driveway and asked, "Was it worth it?"
With a grin, he replied, "YES!"
And he's finishing his journey from the north to a town in the south to visit her…….
the girl he met at our son's wedding.
"The Beginning"
After we gave him a hug good bye and made him promise to call when he arrived at his final destination, I walked through the back yard (very carefully) this morning and looked for love………
This is what I found.
There's a precious boy on the road today driving four more hours to visit the girl he just might love.
Today, my prayer is that I can see love everywhere I look, because it is on the road traveling, it is in my yard growing, and it is in the things men have built.
Because I see love, I want to show love.
Love is why we have hope.
Love is Him.
John 3:16
"For God so loved the world that he gave his one and only Son. that whoever believes in him shall not perish but have eternal life.
John 13:34-35
Love one another. As I have loved you, so you must love one another. By this all men will know that you are my disciples, if you love one another."
Loving all of you today, What is it about the word "awakening" that makes me feel excited and hopeful?
I love the word.
It sings of hope and an awareness of something not yet known.
Last night after youth group, Olivia shared with me about the lesson they had studied.
She told me about a conversation with a friend where they both had shared that praying was hard for them because they felt like they always said the same things.
Then, so unexpectedly, I listened to Olivia talk about sharing in her small group about having an "awakening." That's exactly the word she chose to use.
She told her friends and leader that she realized one day that talking to God is just like talking to a friend, so now she just pretends He is in the room with her when she is getting ready for school and she just talks to Him.
I sat there thinking about where I was in my walk with God when I was only 13, then I watched with amazement as Olivia continued to talk about her evening at youth group.
I remember when Olivia was only four. We were sitting in the kitchen one day when she said, "When I grow up, I'm going to go back to India and teach them about God, and Jesus, and Spirit…."  I was feeling so overwhelmed with joy and pride when she stopped and looked at me with a very serious face and asked,
"What is Spirit?"
She made me laugh.  She had a passion for wanting to share God even before she really understood what everything means.  Oh, to have that kind of passion even now when I still don't understand everything about God's ways.
I'm thankful for her deep faith and yet find myself asking how this happened, because in many ways I feel like I haven't always been a spiritual leader in her life.  We don't pray every night before she goes to bed.  We don't have regular family devotions.  We don't force spiritual moments.
So what has caused this little girl to be who she is today?
I'm not sure. I don't think I could ever point a finger to one thing that has made her so confident in her faith, but I do think I can think of events and moments that have pushed her to know Jesus more.
Watching Nick fight cancer so bravely changed her.
Watching our family and community rally around Nick,staying positive and hopeful even on the darkest days, compelled her to want that kind of hope.
Watching us walk the road of grief in victory not defeat has surely helped her sleep at night.
Attending church regularly and seeing so many teachers and friends attend church too has inspired her.
Seeing kids who don't have the Lord long for Him and ask her questions about Him has caused her to want to learn more.
Olivia teaches me something every day which reminds me of a verse my students memorized in class at the Christian school I taught at years ago,
I Timothy 4:12
Don't let anyone look down on you because you are young, but set an example for the believers in speech, in life, in love, in faith and in purity.
Today, I'm thankful for Olivia's "awakening."
In many ways, I feel "awakened" by her childlike faith.
I'm praying you do too. I've decided that somehow God has paced my reading of this book to match the journey of my life.  I hope that because of the sporadic nature of this book study you have been able to gain insight at the appropriate times in your life as well.
Today we will look at Wilderness Mentality #3:
"Please make everything easy.  I can't take it if things are too hard!"
As a mom and teacher, I have watched a generation of kids develop this kind of mentality, haven't you?  As soon as a math problem gets a little tough, kids are begging for calculators.  Multiple choice tests instead of fill-in- the- blank questions seem to be the norm anymore. At least this gives kids a chance to see the right answer as an option……but even then many kids choose to guess, simply so they don't have to read every word on the paper in front of them.
Have you ever thought about how easy we have it in our lifetime compared to the generations before us?
As I was reading in Genesis 36 a few days ago, I was reading about the genealogy of the people of Edom.  Name after name was listed as descendants of different tribes. In this list was a man named Zibeon who had two sons, Aiah and Anah (I would have loved to have heard their mom calling them to dinner).  Anyway, out of this long list of tribes and clans the only special note comes after Anah's name.  It says in parenthesis next to his name:
This is the Anah who discovered the hot springs in the wilderness while he was grazing his father's donkeys.
As I read these words, it struck me as odd that out of all the things that all those men had probably done in their lives the author of Genesis chose to mention this as a highlight in a long list of names.
I have mulled it around in my head a lot since then, and yesterday as I had determined to have a day of being thankful for the little things in life, something hit me as I was stepping into the shower………hot water! 
I realized at that very moment that possibly before the day that Anah stumbled upon that hot spring that just maybe people had never known what hot water felt like unless they had boiled it over a fire.  And I'm just thinking that big pots were not easy things to make back in those days, so having the luxury of a hot bath was probably not something many people ever experienced. 
I would have loved to have seen the faces of his family as he ran home to tell them what he had found.  Can you imagine being his brother, Aiah?  The rest of their lives he was probably referred to as the brother of Anah who discovered the hot springs in the wilderness while grazing his father's donkeys. 
I say all of that to say two things:
First, we need to be thankful for how easy and comfortable our lives are even when they seem very difficult. As we rode in the back seat of a taxi while in India, I was overwhelmed with the sights surrounding us on sidewalks and streets.  Women bathing children right next to beggars.  Men being shaved by barbers who had simply hung mirrors on sides of rock walls.  Elderly people huddled against trees waiting for someone to offer them a bite to eat.  If you have access to Internet, I'd say you are one of the most fortunate human beings alive.  Not because of the Internet but because that probably means you also have electricity and running water.
Second, God sometimes allows us to discover new things when we are simply doing "the next right thing."  I don't think Anah set out to find a hot spring.  He simply found it while grazing donkeys.  He was doing the work he was asked to do and because of his willingness to be where he was suppose to be when he was suppose to be, he found something that changed history enough for it to be mentioned beside his name in a genealogy list.  I think that's pretty special!
For me this journey of healing from my surgery has been a real soul-searching experience.  My passion in life is writing and helping people find purpose in their pain.  Teaching middle school kids combined with the stress that is placed on teachers by state regulations often seems to keep me so far from removed from my passion.  I easily find myself second-guessing my future and feeling overwhelmed and discouraged.
And then I sit down to read the next chapter in Joyce's book and suddenly a light goes on as I realize that what I'm feeling about teaching is truly a wilderness mentality.  I want teaching to be easy, and it's not.  I want to make a difference in the world without any sweat or tears, and I cannot.
Joyce talks about how we must lean on God as our Provider and Comforter as we face tough challenges.  If life were too easy, we would have no need for God.  The Bible says, "Do not grow weary in doing good."  This tells me that when we choose to do good there is a high probability that eventually we are going to get tired.  We must press on toward the prize.  We must take times to be still and rest.  But we must not ever allow ourselves to get to a point where we stop moving forward because life is too hard.
Joyce discusses the fact that we never read in the Bible about a time when Jesus talked about how hard His life was.  He didn't complain about not having a place to lay His head or about the fact that He had to come to the earth so that He could die for our sins.  No.  He lived.  He loved.  He chose not to have a wilderness mentality in spite of all the reasons He could have had one. And He set an example that we are suppose to follow.
The chapter ends with one of my favorite verses.
Phil 4:13
"I can do all things through Christ who strengthens me."
The question today is one I am asking myself,
"What is my mind focused on?" 
Am I looking to Christ for strength or am I focused on myself and feeling weak?
I'm thankful for people like Anah who did what they were called to do even when it was grazing donkeys.  I'm sure there were days when heading out into an open field with a bunch of animals was not the most fun career path he could have chosen. 
However, God did a mighty thing through Anah when he least expected it!
What tedious, difficult or even mundane (because sometimes doing something that isn't very exciting can be just as challenging as doing something that is physically or emotionally draining) have you been called to do today?
Whatever it is, do it as if you were working for the Lord, your Heavenly Father.
Anah was grazing his father's donkeys when he changed history.
You never know how what you're going to do today that may make life different for generations to come!
Thankful for each of you in a very special way,