 We started a new book in class yesterday. A book in which there is mystery, humor, and loss. Pre-reading discussion always helps kids get excited about a book, so I started in my normal way.
We discussed the author, the book cover, the title……
We made predictions…….
And then I asked a few questions to help them feel connected to the main character.
"Have you ever been on a long road trip in a car?" I asked. Hands shot up all through the room. Oh, the stories I heard about kids going as far as Florida and as close as Huntington! These kids crack me up. I shared my memories of riding in the back seat of our family's car back and forth to Oklahoma as a little girl and how my sister and I were always sure the other person had more room…we would draw an imaginary line to make sure the boundary was not crossed by even a toe!
Then I asked, "Have you ever had a friend or relative move far away or pass away leaving you feeling very sad?"
Faces changed, but hands went up in the air again.
"My papaw, my uncle, my aunt, my mom"…….and the list went on and on……..so I shared too.
I shared briefly, but I shared enough to let them know that I was a grieving mom. Most of them didn't know. I told them that there might be times that I wouldn't be able to read. I told them there might be times when they wouldn't want to read. I want them to feel safe in my room.
Safe with their tears and safe with not wanting to have tears.
I know my kids on a different level now. We've laughed deeply and we've shared sad memories deeply.
Opening my heart was risky, but I am glad I did. It would have been hard to read with the students about sad things knowing that they did not know I was still sad deep in my heart.
If you have sadness in your life, please open your heart to someone. It is freeing just to say, "I am still sad."
I am.
. . . weeping may endure for a night, but joy cometh in the morning" (Psalm 30:5).
(Thank you, Susan, for sharing this verse with me today.)
Trying to live in joy even as the tears fall this morning, I'm reading a book right now called, "Igniting a Passion for Reading."  I'd love to work in the same school as the man who penned this amazing guide for teachers. 
He inspired me to teach this last nine weeks of reading in a whole new way, allowing my students to devour books as gifts not simply as another way to answer questions on a test.
I long for all students to have a quiet place where they can become part of the book they are reading-travel to different lands, become people they may never have the chance to be.
I want this for my own children.
I hope you will find a few minutes today to curl up with a good book.. 
Here's my transformed classroom.
My happiest moments at school are when I catch a glimpse of a student smiling as they read a book. 🙂
Happy Reading, Tonight another family said goodbye to a precious daughter, wife, friend, teacher, and so much more.
Laura Parsons went Home this evening.
Prayers for a miracle were answered in a way we will not understand until the other side of this life.
Truly, Laura won.  Our community lost.
Tonight, I am praying for all of those who are left with hurting hearts and empty arms.
Psalm 56:
Record my lament; list my tears on your scroll–are they not in your record?
I Cor. 15:45
When the perishable has been clothed with the imperishable, and the mortal with immortality, then the saying that is written will come true: "Death has been swallowed up in victory.
Psalm 116:15
Precious in the sight of the Lord is the death of his saints.
May her light shine through all of us as we strive to live for Him until the day we are all reunited, Sixteen years ago, Tiffany and I were both expecting new little babies.  Kathryn arrived in December of 1994 and Nick joined this world in May of 1995.  Our kids grew up playing together and being in the same classroom for their entire school career from preschool to fifth grade!
They were even chosen to play the parts of Mary and Joseph in the Christmas play at church when they were about six years old……..precious memories fill my heart as I think of Kathryn, the bubbly social butterfly, and Nick, the contemplative listener, who we just knew would be the perfect husband for her some day…..
I'm laughing now as I realize that I am not even sure why Tim photographed Tiffany and me holding a can of coffee….maybe because we both love to enjoy a cup together, no matter what the brand or the occasion. (This was just the first picture I could find of us together…we are usually covered in paint or some other kind of messy project supply.)
Tiffany walked a tough road with her marriage at the same time I was walking a tough road with Nick's cancer, and we are constantly amazed at the similarities in our grief, our heartache, our agony, our pain…….
We both have over two years of pain behind us now, and thankfully, God has taught us a lot about faith, hope, and trust even when life doesn't make sense.
Saturday, I had the privilege of watching Kathryn compete in the Miss Grayson Outstanding Teen pageant where she chose Basket of Hope as her platform.  In her interview, she shared about what Nick meant to her and how she wants to help others who are fighting cancer.
I screamed when they announced the winner of the 2011 Miss Grayson Pageant!
Number 8!!
Miss Kathryn Wilhoit!  Isn't she beautiful!!!?!!?
She's like a daughter to me, and I don't think I could possibly be prouder!
As I thought about the whole day's experience, I realized this:
While Kathryn is now a queen, Nick is in the presence of the King of Kings!!
They are both winners, and for that reason alone, I smile with every part of my heart and soul!
I'll let you know how she does in June in the Miss Kentucky Outstanding Teen Pageant!!
I Peter 2:9
But you are a chosen people, a royal priesthood, a holy nation, God's special possession, that you may declare the praises of him who called you out of darkness into his wonderful light. I love having the opportunity to share books with all of you, but I am always sad to have to announce only one winner.  I wish I could mail copies to all of you who entered the drawing!
This week's drawing for the book, How to Really Love Your Adult Child, goes to Renee Stewart!  Congratulations!
To everyone else, please stop back by for some periodic thoughts from my reading of this book as well as for the chance to enter another drawing!  I will be having another give-away very soon for two other newly-published books!
Renee, email me at tammynischan@yahoo.com and I will get the book to you ASAP!
I'll write more tomorrow!
Much love and prayers to all of you, If you would like to be entered for the Sunday drawing for Dr. James' Dobson's newest book, How to Really Love Your Adult Children, please post your name and email address in the comment section of this blog post. I will include your names with the ones who posted on March 19th!
I will be reviewing this book next week and look forward to sharing what I learn!!!
Today is a wild day at school!
Puppet shows all morning and a reward day in the afternoon. The University of Kentucky plays tonight at 9:45, so you can't walk far in the halls without being reminded………our principal declared today "Blue Day," so most people are wearing UK shirts. Wouldn't it be neat if the world could get this excited about sharing their love for Jesus with everyone around them!?!? You can feel the UK energy everywhere you go. 🙂
I've been pre-reading Renee Swope's book, A Confident Heart, and I love her insights into overcoming shadows of doubt that the devil casts over us. I will let you know when the book is released, because I think it is something all of you will enjoy!
I'm speaking in a few weeks on the topic of "waiting on God." I'm continually amazed at how God opens my eyes daily to ways that he strengthens us when we truly give our lives to Him and simply "wait."
You make known to me the path of life;
you will fill me with joy in your presence,
with eternal pleasures at your right hand.
Psalm 16:11
I say to myself, "The LORD is my portion;
therefore I will wait for him."
The LORD is good to those whose hope is in him,
to the one who seeks him; it is good to wait quietly
for the salvation of the LORD.
Lam. 3:24-26
Praying for you all as you wait on Him,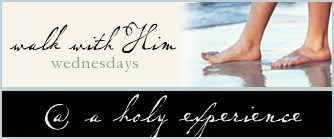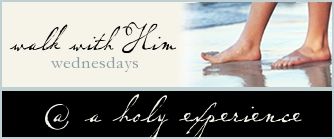 I do a lot of running these days.
Running to school, running back home, running to golf practice, running to church, running to the store, running around the house picking up dirty laundry, running to the doctor with sick kids…………
Sometimes I envision myself as an ant running back and forth on her ant hill. I wonder what I'm really accomplishing that is going to last longer than the sandy mound on which I'm climbing. We all know that ant hills can accidentally be wiped off the earth by the unknowing swipe of a shoe. So where am I running that endures more than an accident?
When I run to Jesus, I find a moment of peace.
When I run to His Word, I find purpose and passion.
That's the only running that truly stands the test of time.
For me, my "Walk with Him Wednesday" ran right into Thursday (IMAGINE THAT!).
If I stop running long enough to acknowledge that life without Him………without running to Him…….. is pointless, I suddenly feel better.
Something inside of me calms enough to allow me to close my eyes and simply say, "I love you, Jesus."
I hope that on this Thursday you will find to walk with Him rather than run everywhere else……………………….
Close your eyes and know you are His, Jesus Christ is the same yesterday and today and forever.
I am thankful today for a Savior who never changes. No unexpected alterations in His plans. No surprise twists in how we get to Heaven. No last-minute challenge to make sure we really earned our salvation.
No.
Jesus is the same today as He was the day He walked in the Garden of Gethsemane. He is the same as the day He gathered small children around Him and called them, "Blessed." He is the same as the day He hung on the cross for our sins.
And the best news is this:
He'll be the same tomorrow!
We don't have to wonder, doubt, question, worry, or stress about who holds our future in their hands. He does. And He is more stable than the most solid foundation we can imagine. He is our Rock, our Higher Ground, our All in All, our Everything…………….Provider, Redeemer, Comforter, Protector, Counselor, and Friend.
I'm tired today. The fire department was at our house at 11 last night because a repair on our hot water heater had left some type of gas leak which did not smell safe for sleeping. I'm feeling a little queasy today and the thought of being "up" for a day full of teaching is not sounding too attractive.
But I'm leaning on Him who promises to give me strength when I am weak.
I am so thankful that even though my energy level changes, my moods change, and my passions change, I serve a Lord who NEVER CHANGES!!!!!!!!!!!!!!!!
Leaning on Him today as always,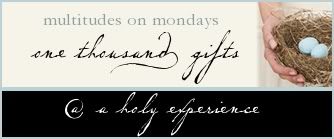 If you interviewed any of my relatives you would discover that I am not a great card sender, I am not a great deliverer of school pictures, I am generally filled with more "I'm sorrys" than "Be sure to check your mail!"………………………..
Life seems to burst with "things to do," keeping me from the "things I want to do," so today as I realize that it is Wednesday and I have once again forgotten to share blessings on Monday I thought of the old saying,
"Better late than never!"
As I reflect on reasons I am thankful as I sit at my desk during a short little break, I want to say,
"Thank you, Lord, for……………
birds chirping outside my classroom window,
the breeze blowing through my room rustling papers and reminding me that your Spirit moves even here,
teachers talking in the hall, laughing and sharing life,
pictures on my computer of my children…………….all busy with their own lives today yet covered in Your love,
my Jesus Calling book right beside my left hand-my own only way to start the day,
my sweet student who just leaned in to see if I remembered to buy a fan-of course I forgot-so now I am thankful for mercy and for tomorrow!!!
all of you who stop by to read and how your presence in my life brings a fullness I couldn't live without!
a Savior who promises that no matter what today holds He is there to hold it with me!"
Yes, it's Wednesday, but I am just as thankful as I was on Monday, and I had to take a minute to share!