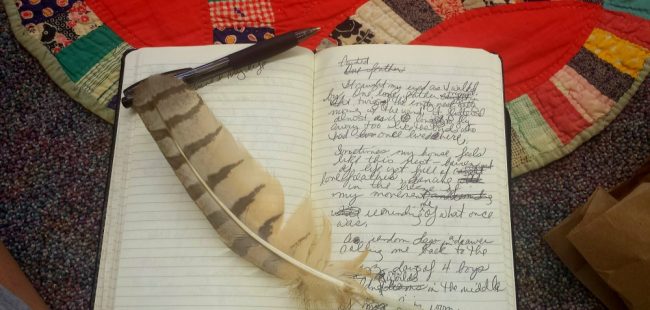 The past two weeks have been anything but normal for our family.
My unexpected fall followed by two weeks of  intense writing at Morehead State have kept me away from home most of my waking hours.
On top of all of this we have juggled Olivia's coming and going from weeks at CIY, church camp, and now a mission trip to the Dominican Republic with Tim.
So many mornings I've started to blog and then had either a technical issue or some type of setback here at the house, so my writing time at home has not been near as meaningful as my writing time at MSU.
I did spend some time yesterday reading part of the manual that explains my new blog site, and I figured out my password issue!! YAY!!
So, I determined that this morning I was going to write a post NO MATTER WHAT!
I have so much on my mind, so much I'd like to say, but I think I'll share something I wrote this week because I feel such a burden for moms with young children and the reality of how busy life can get and yet how quickly time can fly by.
I'm hoping that in reading these words, some mom will hold her child a little closer, leave the toys out a little longer, or find a reason to celebrate today just because it is TODAY!
And I'm hoping that other moms like me who are facing an empty nest will embrace the next season of life with beauty and grace hanging on to all the can but letting go of all they should so that their baby birds can fly high and happy and beautifully into this great big amazing world!
Here was our writing task:
Choose one item from the quilt and begin writing.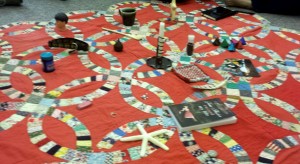 In the midst of family photographs, old jewelry, random household knickknacks, and other miscellaneous things brought by writing project students, I spotted one lone feather.
As I looked at the feather, I thought of the bird that had flown away leaving this as its only memory.
I thought of the mommy bird who may have found this feather and from that thought,
I wrote this story:
It caught my eye as I walked by – one lone feather trapped in the twigs of an empty nest.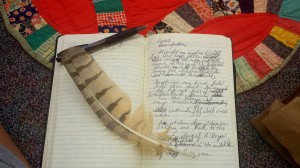 Gently moving with the breeze, it seemed to flutter as if longing to fly away like the bird who had once called this nest his home.
Some days my house feels just like this empty nest – barren of life yet filled with lone feathers dancing in the breeze of my movement, reminding me of what once was.
A random Lego in a drawer calls me back to the days of four young sons building new worlds in the middle of our living room.  I grimace as I recall the pain of my bare foot coming down on one of these hard blocks; and I realize that sharp pain doesn't hold a candle to the ache in my heart caused by this one stray block today.
An action figure tucked under a dish towel in my kitchen drawer.   Chipped paint on his arms and legs becoming the scars from many under-the-table battles.  I lift him out of the drawer slowly not wanting to shake away any lasting memories he may hold.  Staring into his expressionless eyes, tears begin to fill my own.  Who hid you here?  Who sent you in search of a villain and was then called away to another place, another season?  
A Happy Meal toy randomly stored with my office supplies.  Was I happy when I picked you up and stuck you in this drawer or was I frantically cleaning for the hundredth time, picking up every loose object I could find around the house, hiding it in hopes that unexpected company might believe I held my life together much better than I really did.
Would the momma bird come back and find the lone feather?
If so, would she sit and sulk over what once filled her nest with chirping and joy or would she pry the feather loose with her aged beak and let it go too?
I'd like to know.
I'd really like to know.
Be thankful today for every stray Lego, every misplaced action figure, and every random Happy meal toy spread throughout your home.
Be thankful today for every lone feather in your nest.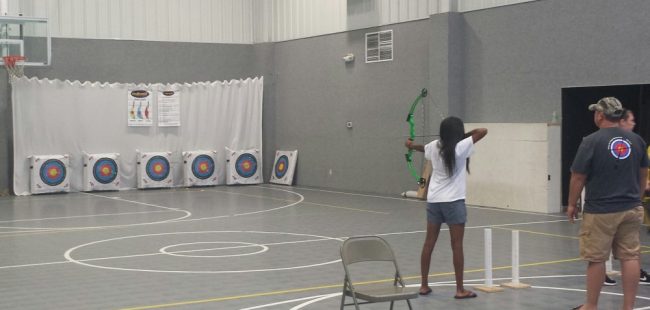 "God is the bull's eye of life," Noah said with a grin as we wrapped up the devotion time at archery camp on Saturday.
"And the devil is all the white stuff," another boy quickly added.
It was a precious moment.
 A moment when I saw with fresh eyes just how easily kids "get it."
Why do adults make God's plan so complicated?
Why do we add "what ifs" and "whys" to His very simple plan?
Focus.
Shoot straight.
Watch your form.
Keep Him the main thing.
Your center.
It's so easy to get distracted by the "white stuff" of life,
but there's nothing more freeing than regaining a view of life that is totally focused on Him.
Therefore, since we have so great a cloud of witnesses surrounding us,
let us also lay aside every encumbrance and the sin which so easily entangles us,
and let us run with endurance the race that is set before us,
 fixing our eyes on Jesus,
the pioneer and perfecter of faith. For the joy set before him he endured the cross,
scorning its shame, and sat down at the right hand of the throne of God.
Hebrews 12:1-2
I'm praying for a focused day today.
Love you all!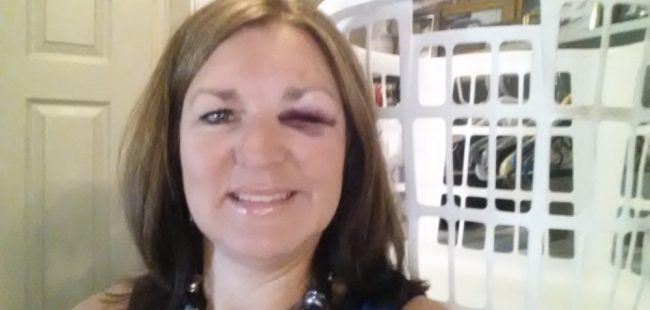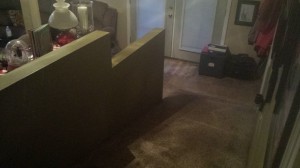 I've walked down this ramp hundreds of times over the past six years.
 It's the entryway to our family room that used to be our garage…………………before Nick got terribly sick.
We designed this room so that Nick could travel easily in his wheelchair from the main part of the house to this little retreat area.
A room where he could get away from all the visitors and the busyness of our family and just have a quiet place to spend time and read or watch television.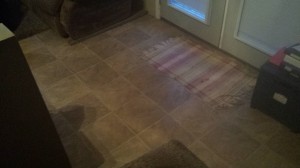 This ramp is part of our house that is extra special to me.
When new people come to visit, it's easy to share about Nick without seeming like I'm just trying to bring up our past; because the ramp almost demands an explanation.
Kids love it.
They roll down it.
They crawl up it.
I've always thought of this ramp as Nick's continual gift of entertainment to all of our future friends with kids and future grandchildren.
I love this carpeted ramp that bridges the gap between our old life and our new.
But Saturday night, this ramp (combined with a large load of laundry) became the beginning of an extremely painful and unexpected journey for me.
The carpet, which has worn down over the years, can be extremely slick if you're not careful.
I guess being cautious was far from my mind as I moved from the laundry room to the family room carrying an over-filled basket of Olivia's clothes late Saturday evening.
I had decided to fold the laundry downstairs, so I could finish watching a movie with Tim and Olivia.
Before I could announce, "Last load!!" I found myself slipping, trying to regain my footing but losing my balance, then toppling sideways, landing on the side of my face at full force.  My arms didn't even have time to let go of the  laundry basket and reach out to soften the blow as I hit the linoleum-covered concrete floor.  I've never felt such an impact on my head in my entire life.
The next few hours are a blur.  I know I screamed as I reached up and felt  my eye, realizing it had swollen to nearly the size of a tennis ball within a split second.  I  know I cried….a lot.  Olivia cried, too, as she saw me fall and then watched me sit up with an immediate injury.   I remember Tim jumping up from the couch and saying all kinds of things to try to calm me down.  I felt so much pain.  I felt so embarrassed.  I felt so mad at myself for being so careless.  I felt so scared.
Somehow Tim and our dear friend Martha, whose house Tim took me to immediately after getting ice on my eye, calmed me down enough to convince me that I needed to have my eye looked at by a doctor.
I didn't want to spend my night in the emergency room, but Martha made it clear that I had no choice.
Thankfully, she called ahead and told them we were coming.  She explained my injury so that our arrival was at least expected.
Lying in the catscan machine in the wee hours of Sunday morning, I blinked away tears as I thought of all the times Nick had done this very thing with such courage.  I wanted to cry.   I wanted to tell the technician my whole life story.  I wanted her to know that all my tears weren't because of my injury.  I wanted her to know this machine meant more to me than she could see with her own eyes.  But I didn't say a word.  Instead, I remained motionless like she had asked me to and held in all my emotion, because in that moment I knew one thing with great certainty:
Life goes on. 
Technicians take care of people every day, and I was just another person who needed medical attention.
So Saturday night, I became the next patient.
The next person to have a freak accident and need to be examined for any unseen injuries.
To the hospital employee I was just patient number "who knows what," but in my heart I was mom of Olivia who needed me at home to help her finish packing for camp (thank you, Donna, for taking my place Saturday night so she wouldn't be alone) and mom of Erich, Mallory, Evan, and Todd, who didn't even know I was hurt yet, and mom of Nick who had proven over and over again that catscans aren't that scary.  I was also wife of Tim had already been through a very long day traveling back from a conference in Washington, D.C. and who was preaching at our church the next morning for Father's Day; but at this moment was leaning his head against the wall in an emergency room trying to stay awake while he waited for me to return from the procedure.
All this danced through my head as I waited for the scan to end, but as far as the technician was concerned I was just a quiet person who was in a lot of pain.
So I smiled and held ice on my eye as she wheeled me back to the room where Tim waited, and we talked about her evening schedule.
Eventually, the doctor returned to my room, smiling and announcing that I had no fracture.  My injury was limited to soft tissue swelling.  With this good news, which was a great relief, we headed back to our house at 3:30 in the morning.
We walked right up the ramp that had caused our evening to turn upside down, and I told Donna the good news, hugged her, said good night, and headed to bed for a few hours.
I've thought about Saturday night many, many times since it happened.  It's hard to forget something that hurts so badly and leaves such a visual reminder on your face.  I've tried to find humor in my injury.  I've even photographed myself with the enemy – my laundry basket.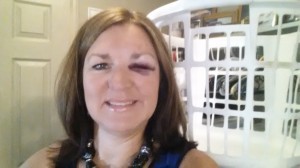 As a matter of fact, I've taken more selfies since this happened than I ever have in my whole life.
 I'd be lying if I said I've never wondered why in the world this had to happen, though.
I've talked to Tim about this very question, and here are his wise words,
"Sometimes in life we are busy doing good things, and we find ourselves falling flat on our face."
So simple, yet so true.
It was just another day in my life as a mom.
I was trying to get Olivia repacked after an awesome week at CIY so that she could leave the next day for one of her favorite weeks of the summer – church camp.
I was doing what any other mom would have been doing that evening but somehow ended up writhing in pain.
So, the last few days I've tried to start a blog post.
I've tried to come up with some great analogy from my injury.
I've tried to find deep meaning in all of this.
But this is all I've got:
As we go through life, we will sometimes fall.
We will fall even when we're not making bad decisions.
Life will hurt even we're not taking risks or being adventurous.
Things will go wrong even when we're trying to do everything right.
And sometimes the pain we experience won't be able to be hidden from the world.
Sunglasses may cover our pain temporarily, but eventually we will take the glasses off and the world will see that life has gotten the best of us.
They will see our "black eye" and  learn that it came from something we trusted in as much as I trusted in our very special ramp.
In life, the things and sometimes even the people we trust most may be the very things or people that let us down in the most painful ways.
Life hurts.
Even when we're trying to smile and celebrate things as simple and mundane as the last load of laundry.
So I guess the question is this:
What do we do when we land flat on our face?
What do we do when we realize we have been hurt by something or someone we trusted and the pain of the injury is impossible to hide?
I think we do what I've tried to do this week after such an embarrassing ordeal.
We get up.
We run for help.
We find out what we need to do next, and then we keep moving forward, trying to find a reason to smile even as we ache.
I've posted about my injury the past few days on Twitter and Facebook.
I've even posted photographs on Instagram.
But it feels good to finally be putting this whole ordeal into words.
I feel as if I've been released from the pain in some small way.
I've freed my mind to think about other things.
Things other than such an unexpected fall.
If you feel as if you've been let down by something or someone you trusted, please know you will make it.
You will survive.
You have the strength deep inside you to push through the hurt and walk again.
Hide behind sunglasses when you need to, but don't be afraid to let the world see your pain.
People are nicer and much more understanding than you might think!
Smile in spite of your swollen eye or whatever it is that is distorting your view of this world.
Even with blurred vision, there's still beauty to be found.
Thank you for all of your kinds words and prayers this week.
They mean more than you'll ever know!
I love you all so much!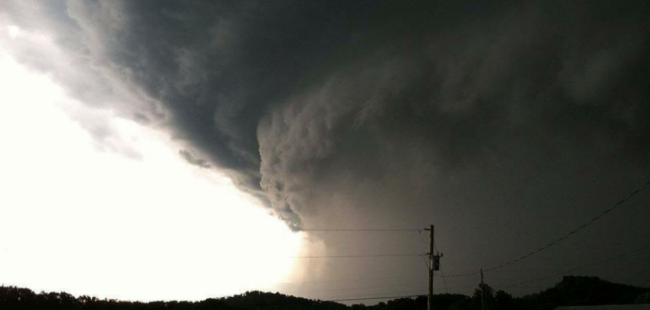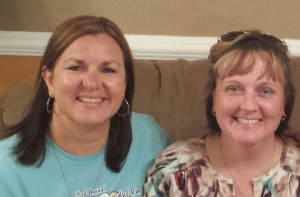 Amy and I had planned to meet for several months.
Our only communication had been through Facebook, but we had a bond that ran deep.
A bond that doesn't form from pretty things.
One that comes from shared pain.
Mutual heartache.
Similar sorrow.
We both walk the road of grief every single day.
Grief that happens after losing part of your heart, part of your reason for being alive.
Amy and I both have children who have gone to Heaven ahead of us.
And it's not easy.
So Tuesday, Amy traveled from her home to mine………….an hour and a half journey…………so that we could talk face to face.
We ventured to Grayson Lake, because I thought this would be the perfect place for an evening visit (even though the sky was growing a little dark).
We found a bench overlooking the water where we could sit and visit, and Amy began to share about her  beautiful 19 year old daughter, Beth, who died unexpectedly just nine months ago.
We hadn't been there long before thunder began to rumble in the distance and a few drops of rain began to fall, so we headed back to my car and sat there talking just long enough to realize we had stayed too long.
Trees suddenly began swaying, sending leaves and small branches into the air all around my car.
The sky was more ominous than words can even express, and we knew we had to get to safety as quickly as we could.
Still seeing a clear sky toward Grayson, I thought we could outrun the worst of it.
Almost immediately, the sky opened up and rain began to pour.
Within seconds, we realized we were caught in a terrifying storm.
Lightning filled the sky and rain and wind came at us from all directions, causing visibility to be almost lost completely as I tried to drive.
As we came around one particular curve in the road, trying to stay right behind two trucks pulling pontoon boats who had rushed out of the parking lot just ahead of us, a tree had fallen nearly blocking our path.
Slowly, we all made it around the obstacle.
With hazard lights flashing, my hands gripped the steering wheel as we crept along, pounded by sheets of blowing rain with every inch we moved forward.
 I knew there was no way to continue to Grayson in this kind of weather, so I squinted and watched for the house of a friend who lived close by and when I saw her house through the blurring rain I pulled up into her driveway so that we were tucked between her home and the rock wall that forms her back yard boundary.
She still doesn't know we took shelter there, but there was something about being between a friend's house and a rock wall that brought us comfort.
I looked at Amy as we sat there in the unexpected monsoon, and it seemed like the perfect time to tell her about my two friends Melissa and Tiffany who I lovingly call my storm sisters because of things we have faced together.
As the thunder boomed in our ears, I looked at Amy, smiled and said, "Welcome to the club."
We laughed because there was really nothing else to do as we waited for the storm to weaken.
Finally, the storm let up enough for us to feel safe on the road and we headed home.
I still feel the aftershock in my body today.
My back aches from the stress of what we faced, and my mind is filled with so many thoughts about how this storm represented so much more than wind and rain and lightning to both me and to Amy.
This storm was our grief.
It caught us unexpectedly.
It was terrifying.
We tried to outrun out it but eventually realized we couldn't see far enough ahead to possibly move forward.
So we did all we could do in that moment
We drew close to friends and found a Rock to keep us safe, and we waited it out.
We let the lightning strike.
We let the rain pour.
We let the wind whip.
We let the thunder roll.
And we laughed in spite of our fear.
Grief is a storm.
It's frightening.
It's paralyzing.
It's overwhelming.
But the intensity of the storm fades as we draw closer and closer to people we love and to the Rock.
 Peace comes in the midst of a storm when we trust Him with all our anxiety.
Somehow He gives us the ability to face the unknown roads ahead with confidence and a sense of purpose.
He faces the storm with us, gently reminding us there will be brighter days.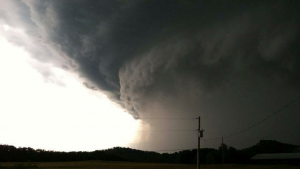 This photograph of the storm we faced on Tuesday was taken by Gina Porter.
Even though I probably wouldn't have taken Amy to the lake had I known what was coming,
I'm so thankful for the memory with her.
God allowed us to experience in an earthly way what we share in a spiritual way.
We talked about our grief the entire evening after returning to my house.
Amy cried as she shared memories of her sweet Beth,
and my heart ached as I remembered and talked about my own Adrienne and Nick.
We finally said goodbye at midnight and Amy walked to her car to drive home.
I stood at my door, watching my new storm sister walk to her car and said,
"We survived a storm tonight, and we will survive this one too."
I love you, Amy.
I love all of you who grieve as I do.
God is with you in your storms.
He is your Rock.
He is your Refuge.
Trust Him today and discover peace that passes understanding.
Peace that allows you to laugh even as the storm rages all around you.
Hear my cry, O God,
listen to my prayer;
from the end of the earth I call to you
    when my heart is faint.
Lead me to the rock
    that is higher than I,
for you have been my refuge.
Psalm 61:1-3 The story of Elijah has so many ups and downs, so many highs and lows.
Just when you think Elijah is on top of the mountain you find him hiding in a cave.
I love that the Bible holds stories about people just like him who listened for God's voice, obeyed His commands, but still struggled with things like confidence and courage.
One part of Elijah's story that jumped out at me this morning was the part where God sent him to live by a brook.
God told Elijah to drink from the brook and eat the ravens He would send for food.
Elijah listened even though I'm sure sitting by a brook all alone didn't feel very purposeful.
Whatever the reason, God knew Elijah needed this quiet time where his sole means of survival was through God's provision.
One day, though, the drought that had been affecting countries all around Elijah eventually dried up the very brook to which God had called him to trust for water.
I have to wonder if Elijah was a little confused.
Why would God call him to a place that would eventually not be able to provide for his daily needs?
When you read on, you learn that God was ready to move Elijah to the next part of his life story.
Maybe Elijah wouldn't have been so willing to move had the brook stayed full.
Maybe Elijah would have become comfortable in a place where survival was so easy.
I'm not sure why God led Elijah to a brook and then allowed the brook to dry up, but I do know this:
Many times in our lives we follow God's lead and we find ourselves in places where the brook runs dry.
We get tired.
We burn out.
We begin to struggle.
We feel empty.
We wonder how many more days we can make it with life the way it is.
Suddenly we are open to God's next plan for us.
We realize that what we thought was a perfect brook has become a thing of the past.
Yesterday's blessing.
So, we seek God's will and walk faithfully into the next chapter of life.
Maybe today you are feeling like your brook has dried up.
Maybe you're struggling to understand how you're going to make it until tomorrow.
Whatever it is you are facing, know that God is with you when the brook is full and when the brook is empty.
He's already planning the next part of your journey.
He's already writing the next chapter.
Today, trust Him with your brook no matter how refreshing or how sparse.
Thank Him for water when you have it and trust Him for the next source of refreshment when water seems difficult to find.
He is with you no matter what your brook looks like today.
And He has a plan. Have you ever found yourself facing something you can't control?
Something bigger than you.
Something hard.
In moments like these, it's one thing to say, "God, I trust you."
It's a whole other thing to really mean it.
I can say I trust God all day long, but if I find my thoughts going back to my situation continually, if I find my mind wandering towards worry or doubt, if I find my heart slipping over and over again, then I'm really just "all words" when it comes to trust.
I've been thinking this morning about what trust would look like if I could see it right here in front of me.
If I could paint a picture of trust, what would the canvas hold?
If I could trace trust in the sand, how would it be shaped?
Trust is so much bigger than a word.
It's deeper than the deepest valley, higher than the highest mountain.
Trust is wider than our mind can stretch, and it's more freeing than the opening of every prison door bolted shut on the planet.
Trust is a child tossed high in the air by a loving father and giggling all the way back into his arms.
Trust is standing on the edge of a cliff, arms open wide, and not feeling fear.
Trust is a mother bird leaving her babies alone in their nest as she goes in search of food.
Trust is casting every single care upon God and then walking away and not looking back.
Maybe that was Lot's wife's problem when she looked back.
Maybe she didn't trust that God truly had a plan for her outside the only city she called home.
I verbalize my trust in God often.
I've learned how to say it and most the time mean it, but lately I've found myself picking back up things I laid down a long time ago.
I've found myself clutching things I need to release.
My grip has replaced His grip, and I want to let go……………………..
So, today, trust looks like open hands, extended high above me.
Trust brings freedom, and I want it today.
If you find yourself holding on to things God longs to take from you, I challenge you to ask Him for help.
He longs to be trusted by you.
In a world where putting your trust in others can be painful, I'm so thankful for a Heavenly Father who is worthy of my trust.
Forgive me, Lord, when my trust in you is less than it should be.  Help me release my grip.
Yes, my soul, find rest in God;
    my hope comes from him.
 Truly he is my rock and my salvation;
    he is my fortress, I will not be shaken.
My salvation and my honor depend on God
    he is my mighty rock, my refuge.
 Trust in him at all times, you people;
pour out your hearts to him,
    for God is our refuge.
Psalm 62;5-8