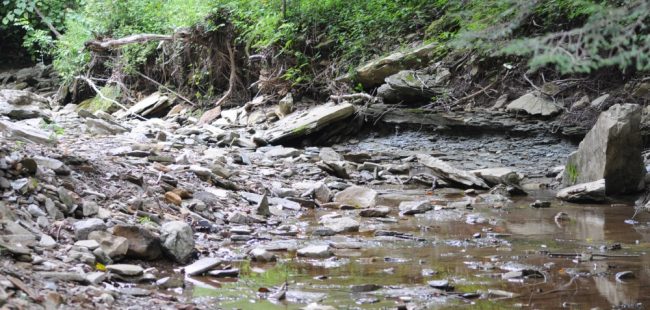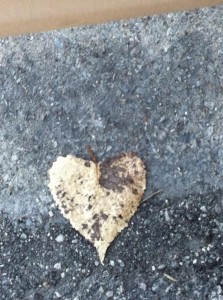 Where has the month of October gone??
I look at the date on my calendar and can barely believe I'm reading…………
10/31/14.
Time really does fly by!
As I think about the arrival of November tomorrow,
I am incredibly aware of the memories that seem to intensify as the colder part of autumn approaches.
Our precious son Nick left this world in November of 2008.
I remember being keenly aware of just how fitting it was for him to slip away at this time of year……………..
Just two days after Thanksgiving.
When the whole world was counting their blessings, our family was forced to say goodbye to one of ours.
But even in the goodbye, Nick was saying so much more.
He was saying,
"Be thankful."
"Be happy."
"Celebrate."
"Love life."
"Live big!!"
"Keep smiling!!"
Nick taught me more than any professor ever could.
He teaches me still today.
This November, I am challenging myself to a month of thankfulness!
Every day in every way possible, I'm going  to intentionally notice and say "thank you" for all that is good around me.
I hope you will accept this November challenge and count your blessings…………….
one by one!
Let's celebrate all that God has done!!
Even in our toughest days in our toughest seasons,
He is there.
And I am so thankful.
Let us come before him with thanksgiving and extol him with music and song.  For the LORD is the great God, the great King above all gods.
Psalm 95:2-3
I always thank God for you because of his grace given you in Christ Jesus.
I Cor. 1:4
For this reason, ever since I heard about your faith in the Lord Jesus and your love for all the saints,  I have not stopped giving thanks for you, remembering you in my prayers.
Eph. 1:15-16
Give thanks to the LORD, for he is good; his love endures forever.
I Chron, 16:34
I will give thanks to the LORD because of his righteousness and will sing praise to the name of the LORD Most High.
Psalm 7:17
And whatever you do, whether in word or deed, do it all in the name of the Lord Jesus, giving thanks to God the Father through him.
Col. 3:17
Give thanks in all circumstances, for this is God's will for you in Christ Jesus
I Thess. 5:18
Do not be anxious about anything, but in every situation, by prayer and petition, with thanksgiving, present your requests to God.
Phil. 4:6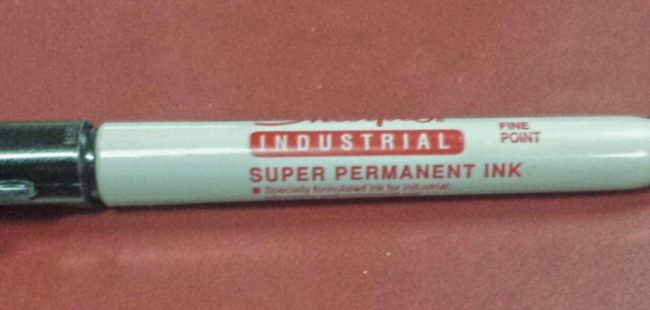 Sitting at a teacher's meeting recently,
I noticed one particular marker sitting on the table in front of me.
At first glance,
it was just another permanent marker.
Just another Sharpie.
I didn't really give it any more thought until we were cleaning up after the meeting,
but as I was reaching down to pick it up and put it back in my school bag,
I stopped long enough to read the label which read,
"Super Permanent Ink."
For some reason,
this made me laugh.
Suddenly, every other permanent marker I had ever used became a little less worthy of its name as I held in my hand a marker that claimed to be even more than permanent.
 I began thinking about all the ordinary permanent markers sitting on shelves in stores all over the world, and I wondered how they might feel if they were able to glance at the box next to them holding not just more permanent markers but "SUPER" ones.
I turned to the person next to me as I held this "super permanent marker" and said,
"I thought a regular permanent marker was permanent.  Now I'm not so sure."
Of course the next thing I had to do was take a picture of this discovery.
It's not every day your whole world view changes just by noticing the label on a writing utensil.
But Monday mine did.
Because in this "super permanent marker" I saw just how hard we as humans try to create something that will really last.
We "industrial strength" everything – trying take it up a notch, make it better, create the allusion that we've gone above and beyond anything ever made before that day.
The reality is nothing on this planet is "super permanent".
No matter what chemicals we mix, no matter how big the miracle, no matter how strong the medicine,
this world and everything in it will eventually pass away…………………
markers and all.
This thought may be more than we want to process.
This reality may be frightening.
Facing the frailty of life and everything around us is definitely humbling.
No matter how many "super" words we add to the front of anything,
we will never be successful in creating one little thing that can truly stand the test of time.
So how do we cope in a not-so-permanent world?
How do we get up and face another day knowing deep inside that there is absolutely NOTHING about our life that is truly permanent?
Every time we watch our children drive away in a car –
Every time we go to the doctor for a routine check-up –
Every time we hug and friend and say "see you soon" –
Every time we lock our house and head out into the day –
we come face-to-face with the frailty of this life.
Maybe this is more than our minds can handle most days, so we pretend that "super permanent" is part of our world.
But the truth is,
"It's not."
So how do we function when we wrap our mind around just how temporary this life really is?
I have to carry with me a deep belief in more than I can see or understand.
I have to walk in the knowledge that there's SOMETHING about this life that truly is super permanent.
When I grasp this truth instead of just a Sharpie,
I find peace to face all the things that otherwise could paralyze me today.
For me, facing the frailty of this life causes me to turn to the permanency of the next life.
And when I'm able to do that,
I can suddenly face whatever today holds.
No matter how devastating.
No matter how scary.
Eventually, I will pass away.
Eventually, you will too.
Thank goodness, we know the One who promises to never, ever pass away.
He is the industrial-strength, super permanent marker we are all looking for…………
Knowing Him is what it takes to face the frailty of this life.
The world and its desires pass away, but whoever does the will of God lives forever.
I John 2:17
Heaven and earth will pass away, but my words will never pass away
Matt. 24:35
Therefore, since we are receiving a kingdom that cannot be shaken, let us be thankful, and so worship God acceptably with reverence and awe.
Hebrews 12:28 It's never really fun when you find yourself needing to apologize for how you acted.
Unkind words
A lack of compassion
A quick-to-speak but slow-to-think moment
Wishing for a do-over – a second chance – it's easy to scramble in search of excuses.
But, one good look in the mirror is all it takes to face the truth.
We messed up.
We fell short.
Our behavior didn't match up with our beliefs, and suddenly we have a choice to make.
Admit it and say we're sorry
or
Build a wall of denial and pride.
Have you been there?
Have you found yourself wishing you could relive a memory and choose differently?
Have you wished for the opportunity to erase a part of your story and rewrite it in a new and better way?
I sure have.
I'd love to say, "One time, I…………."
But the truth is, it's been way more than once, and even though I'd love to add,
"But never again…………."
deep inside I know I'll trip up and fall short again…………….given enough time and enough chances.
This morning as I read about the sinful woman who broke her alabaster jar at Jesus' feet and then washed His feet with her tears,
I felt such comfort in Jesus' response to those who criticized her behavior,
"Her many sins have been forgiven, for she loved much.
But he who has been forgiven little loves little."
This story reminds me that my level of love is in direct proportion to my need for forgiveness.
So the good thing about falling short is that in the falling I am once again longing for and needing forgiveness, and with this need comes the deep awareness of just how little I am and how great He is……………..
and how thankful I am all over again for things like
GRACE
and
MERCY.
So even though falling short never feels good at the time,
the long-term results of not being good enough ultimately outweigh the brief and momentary feelings of inadequacy;
because in those moments I once again come face-to-face with my frail humanity and His Supreme Sovereignty.
And at the end of it all,
that's all that really matters.
He is the Perfect Son of God.
We are the imperfect, but totally forgiven, children of God.
When we grasp how much we need Him and how much He loves us,
we too will fall down, break our jars, and wipe His feet with our tears.
It's in the very act of falling short that we find our reason for falling down.
To me, that's the good thing about falling short.
I'd much rather fall short and find myself at Jesus' feet than never fall at all and miss that moment with Him.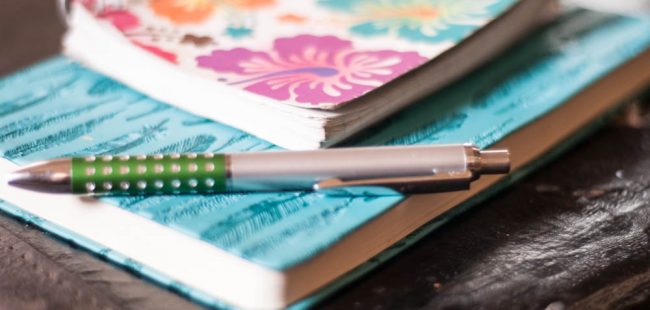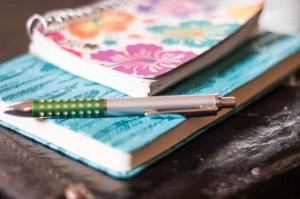 Praise to the teacher who smiles anyway –
who doesn't feel imprisoned by words like "early duty", "lunch duty", or"after-school bus duty",
but instead rises above her duties, seeing the souls encircling her
 -and smiles anyway –
because she knows her job , above all others,
transcends her own lifetime, isn't ultimately measured by data,
isn't limited to core content, and in many cases extends beyond teacher to
mentor
coach
nurse
counselor
and
friend.
Praise to the teacher who keeps on giving when she has nothing left to give and inspires her students to do the very same.
Praise to the teacher who never stops learning as she creates a classroom full of small teachers
every single day.
Praise to the teacher who feels pulled in a hundred different directions……………
but smiles anyway.
If you're a teacher, "Thank you".
If your life has been impacted by a teacher, take time to let them know.
If your child's life has been transformed because of a teacher,
take time to write them a note and share how much they mean to you.
As you think about the future of mankind,
pray for all teachers who are shaping the lives of children in classrooms and homes all over the world.
Ephesians 1:16
I have not stopped giving thanks for you,
remembering you in my prayers. Like one who takes away a garment on a cold day,
or like vinegar poured on a wound,
is one who sings songs to a heavy heart.
Proverbs 25:20

No matter how confident we are in the joy that comes from knowing there is more to this life than "this life,"
we have to be careful when reaching out to others who are hurting.
Flippant cliches like,
"God will bring good from this"
just won't cut it when a heart is breaking.
I think one of the most damaging things we can do as Christians is try to "sing songs to heavy hearts."
Yes, God makes all things beautiful in His time;
but I think it's tempting for us to want to make things beautiful in our time.
When I was first on the road of grief,
I can remember well-meaning friends trying so hard to pull me out of my sadness.
They didn't want to see me so sad, and I knew that.
They truly wanted to help me, and I appreciated that.
I wouldn't trade my friends and all they did for me for any other friends in the world,
but there was something very powerful about times when one of them would simply sit with me and allow me to have a broken and heavy heart.
There's something very empowering about giving friends permission to feel deep sorrow in our presence.
God is good,
but
life can be very, very hard.
Sometimes people just need to know that we too feel the heaviness they are feeling about life.
Today, if you encounter someone who is struggling,
try not to "sing songs" into their painful situation too quickly .
Try not to find "an easy answer" for their pain.
Just be there.
Listen.
Show compassion.
Allow space for their tears and sadness.
Ask God to put a guard over your mouth so that you will allow Him to do the speaking rather than you.
"Oh be careful little mouth what you say,"
is a line from a song many of us sang as young children.
That line always made me think of how I shouldn't say "bad or mean words,"
which is very true.
But, this morning, I'm thinking about the good words that I need to refrain from saying in the presence of someone who is struggling to find any good in a very tough situation.
Lord, help me to not sing songs to a heavy heart.
Give me wisdom to know when it's more appropriate to just be quiet and allow someone to be sad.
You have the power to bring hope and joy and peace in your time.
Help me not to remove a garment on a cold day or pour vinegar on an open wound.
Help me wait on you.
You are close to the brokenhearted, and
You will make a way that leads to joy…….in Your time.
In Your Son's Precious Name,
Amen Consumed.
Obsessed.
Preoccupied.
Burdened.
There's so many different words to describe the feeling deep inside me when I'm struggling with something I cannot control.
Even as I pray, I can tell I'm only halfway handing it over to God in my heart; because at the very same time I'm  already planning the next way I can "do something" to make things better.
If I just………………
or
If I could only……………….
or
Maybe, if I try………………….
The list goes on and on of all the "I"deas I come up with for ways to make things better
while deep inside I know I have no power.
I know it's really not up to me.
And most of all I know it never will be.
So what do I when I'm holding on tightly to something I'm pretending to hand over to God?
What do I do when my mind goes straight to this situation every time I slow down enough to think freely?
First, I have to recognize the biggest problem is me.
I have to look straight into a mirror and come face-to-face with the reality that I am trying to be God rather trust in God.
Second, I have to admit that I'm powerless alone.
I have to face the fact that no amount of plotting or planning on my part will make things better..
Third,  I have to do more than pray.
That's right.
Prayer alone means nothing.
I have to pray and believe.
This means no more sputtering out of empty words.
No more, "Please, Lord," moments followed by hours of  fretting.
If I truly believe in the power of prayer, something has to change deep inside me.
Once I grasp the truth that prayer is powerful I should be freed up to walk away from whatever it is that has been dragging me down………………..
No matter how complicated or hurtful or overwhelming.
This brings me to the last thing I have to do when something in life is getting the best of me-
I have to lay it down.
I have to totally release my grasp, let go, brush my hands off, and walk away.
Not looking back.
Not just hoping for the best.
But trusting in His power.
This is not an easy task.
It's actually the hardest thing in the world for me to do.
But I believe it's the biggest step toward spiritual freedom and the only way to truly free God up to do His mighty work.
So, like Abraham, I take my Isaac (my worry, my problem, my stronghold, my obsession, my decision), whatever it is that I'm holding onto way too tightly, and I lay it down.
I trust that God has a plan – a ram in the bushes, an escape, a way out, an answer……………………
and I walk away confident that He who created me is able to create solutions, bring peace, provide answers, make a way.
Jesus willingly laid down everything for me and you.
No one takes it from me, but I lay it down of my own accord. I have authority to lay it down and authority to take it up again. This command I received from my Father."
John 10:18
Why do I so often struggle to lay down everything for Him?
Then Jesus answered, "Will you really lay down your life for me?
John 13:38
We are not alone in this race.
As we lay everything down, crowds are cheering us on.
Therefore, since we are surrounded by such a great cloud of witnesses, let us throw off  (or lay down) everything that hinders and the sin that so easily entangles. And let us run with perseverance the race marked out for us.
Hebrews 12:1
If you find yourself consumed with something this morning, recognize that the biggest problem may be you, accept the fact that you are powerless alone, realize that prayer is not enough – you have to believe in the power of  your prayers, and then LAY DOWN whatever it is that consumes you.
God has a plan.
There's a ram in the bushes.
He's already made a way.
Trust Him today.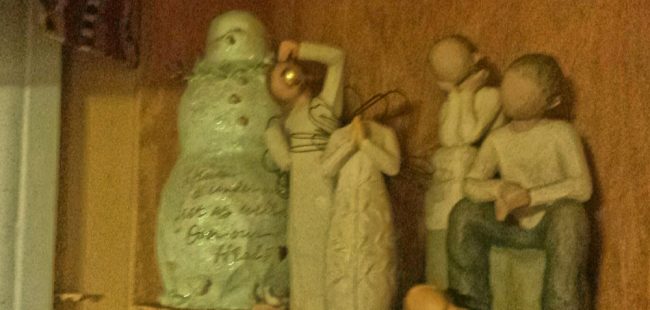 I remember playing this game when I was a little girl where my friends and I would take turns saying,
"If I had one wish………….."
and then fill in the blanks with whatever we wanted most at that moment in our life.
Our wishes were usually very silly, but there was always someone who would think quickly and say,
"If I had one wish, I would wish for three more wishes."
That would usually end the game, but we would all laugh and think, "Why didn't I think of that?!"
Don't we sometimes "wish" we could have just one thing.
A chance to do something over.
A way to save our marriage.
A cure for an illness.
The return of someone we have lost.
The list goes on and on.
Recently, I was cleaning in my kitchen when something fell from a cupboard and knocked one of my Willow Tree angels off my shelf.
I tried to grab her quickly, but before my hand could scoop her up, she slammed into my kitchen counter and literally 'lost her head.'
I stood in disbelief as I realized I had beheaded my angel of prayer.
There she lay.
Headless and  Broken.
And there I stood,
Wondering if even in this moment God was trying to show me something.
I placed her (and her head) back on the shelf where they still wait for glue.
And it wasn't until the other night when I went to take a picture of her to send to a friend in Ohio who I found out also had several beheaded Willow Tree figurines that I noticed that I had completely forgotten about b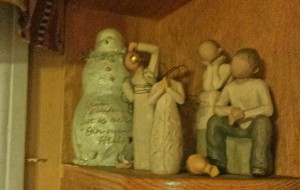 reaking the hand off of my "Angel of Wonder" months ago!
What are the chances these two angels were on the same shelf and I had missed it??
As I snapped the photo to send Laurie's way,
I was overcome with the reality that in many ways these two angels represent who I am.
Broken and separated from all I should be yet too busy to even fix myself.
I'm so thankful God doesn't place me on a shelf and go on His merry way.
I'm so thankful He "holds me together" and is my glue even when I know I look broken to most of the world most of the time.
But if I had one wish, I don't think it would be to "fix" my brokenness.
I don't think I would ever want to go back to who I was before pain.
Before loss.
Before I needed God so desperately that I was incapable of functioning without His constant presence in my life.
I think my wish would be for something more meaningful today.
It would be a wish that changed every second of my past, present, and future.
My wish would be to never again miss messages from God.
No matter how small.
No matter how insignificant to anyone around me.
It would be to see Him in the tiniest moments of life, the moments of beheading angels of prayer and breaking the hands off my angel of wonder.
I want my eyes wide open to every possible way He wants to show Himself to me,
but if I'm really honest an even bigger wish is for that same awareness of His presence to be in the heart of all my kids.
I want God's splendor to scream to them every day whether they are standing in the middle of a beautiful part of His created world or walking down a busy street filled with people they've never met.
I want God to reveal Himself every day to my children.
That's my biggest wish.
And honestly, it's my daily prayer.
I want their eyes wide open to His purpose and plan for their lives,
and I want them to not be easily swayed by the day-to-day disappointments of this imperfect world.
We serve a mighty God.
He offers more than a chance to wish for things.
And I'm so thankful.
I'm going to fix my angels soon.
But for a while I'm going to leave them.
My broken angel of prayer and angel of wonder.
I'm going to leave them right there in my kitchen as a reminder of just how much I'm praying for the wonder and splendor of God to show up every single day in the lives of each of my kids.
That's my wish.
But more than that…..
it's my daily prayer.
Psalm 90:16
May your deeds be shown to your servants,
your splendor to their children.
I'm praying the same for you and your children this morning………………..
that God's deeds will be made very clear to you and His splendor shown to your children.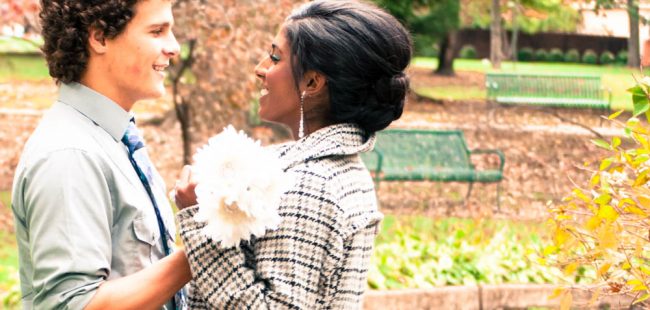 On Friday, I never would have predicted the weekend memory we would make.
It was homecoming at KCU and East Carter High School,
so I knew it was going to be busy.
Company arriving from out of town.
Late-night visits.
Lots of laughter.
Olivia's hair appointment.
The cooking of food for her after-dance party.
Meeting a group of friends for photographs.
There were lots of things to think about, but one of the things on my mind was NOT how we would handle what happened at Central Park.
Tim, Olivia, and I met Luke to take some pictures before coming back to Grayson to meet other friends.
I wanted to capture some memories in the place where they had had their first dance, the place where they often go to take walks or sit on a park bench and talk.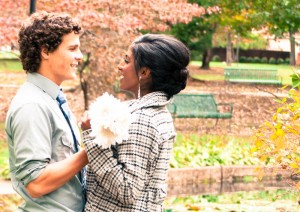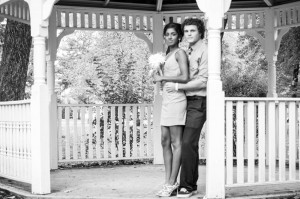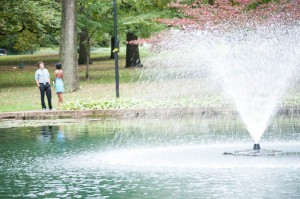 While walking through the park, I stopped and knelt down to look at the view of the pond from a different angle.
It seemed like a beautiful backdrop for a photograph, so I asked Luke and Olivia if they would sit on the edge for a photo.
Olivia wasn't interested in sitting on the concrete edging in her dress, so Tim took off his jacket so that she would have something to protect her…………………..
but she just didn't seem interested in a photograph from this angle, so I decided to have Tim sit here for a picture so I could capture the background anyway.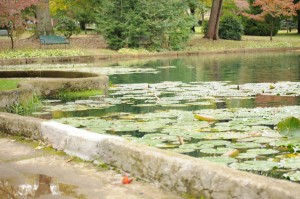 I wish I had a picture of what happened next, but when concrete gives way and your husband goes plunging backward into a pond filled with lily pads it's hard to think straight.
Actually, it's hard to stop laughing long enough to bring a camera up to her face.
Seeing Tim go backward into this water until he was completely submerged was definitely not on any of our lists for Saturday events.
Luke finally ran forward to help pull him to the edge; and as he did, I remember hearing Olivia say,
"Mom, take pictures!!"
I was laughing so hard I could barely stand up straight.
My ribs were literally aching.
Thankfully, Tim was laughing too.
This is the first photo I was able to snap after watching Tim take his unexpected plunge.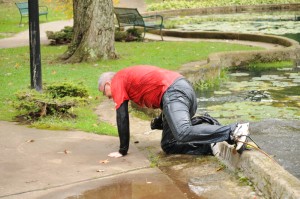 Notice the electrical cords coming out of the water with Tim's shoe!
I think in many ways we were spared much worse on Saturday, and we were left with these memories of laughter.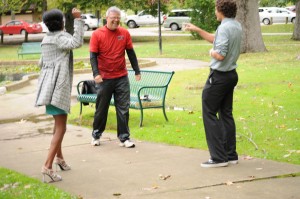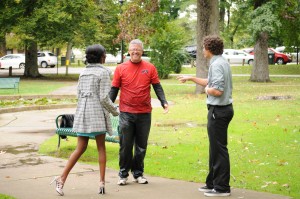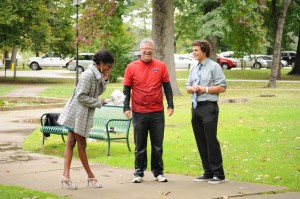 Tim truly showed his inner character in that brief moment.
It's hard to really capture in a picture just how chilly it was Saturday and just how chilled-to-the-bone Tim was as he posed for these pictures.
But he smiled through it all;
and Luke, Olivia, and I laughed until our eyes ran with tears.
It's surreal to walk away from a place where just moments before everything about our day changed.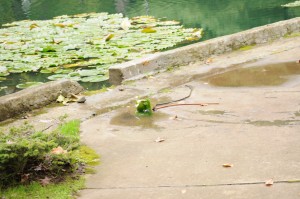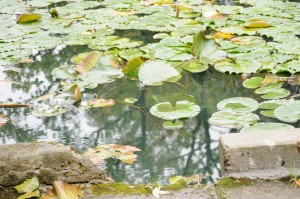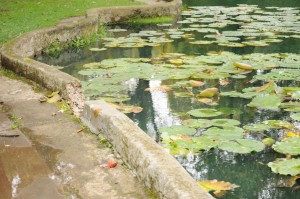 But we eventually regrouped and left the now-peacefully-floating lily pads and the broken concrete edging and moved on to the next memory.
Tim wrapped himself in a blanket from Luke's car, and Luke and Olivia walked away somewhat in shock about how this day had unfolded.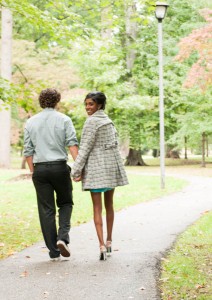 There's nothing extremely spiritual about this memory.
I could make a lot of analogies this morning, but I think I would be trying too hard to force something out of what was really just a very, very unexpected and hilarious moment.
The truth is, we never know what's going to happen next in life.
All we know is that we may only have a split second to decide how we'll react in that moment and how we will look as we walk away from it.
Today, be ready for anything but decide now that  NO MATTER WHAT you will choose the bright side.
Even if your view of life is suddenly the bottom side of lily pads.
Thank you for sharing the laughter of this memory with us!! There's plenty of things about this morning that cause my head to spin and my heart to feel weak.
On my own…………
today would be impossible,
tomorrow terrifying,
and yesterday pointless.
Thank goodness, God knew He couldn't just create us and then slip away, hoping we'd figure things out and make it through this crazy life alone.
Thank goodness, He created us for more than just the pleasure of seeing what He could do with His mighty power.
Like any other artist, composer, or creator of something new,
He fell in love with His work.
We, who are made in His very image, matter deeply to Him,
and He loves being intimately involved in every second of our journey on this planet.
He walks ahead of us, behind us, with us, and beside us.
He literally hems us in.
Psalm 139:5
You hem me in behind and before,




    

and you lay your hand upon me.
As the psalmist soaked in this reality, he was overwhelmed.
Psalm 139:6
 Such knowledge is too wonderful for me, too lofty for me to attain.
This morning, we should find ourselves overwhelmed with nothing less.
Stressful job?
He's right there.
Struggling marriage?
He knows every detail.
Terminal illness?
He's holding your hand.
Consuming grief?
He's cradling your heart.
A huge decision looming?
He's already ahead of you making a way.
Difficult relationships?
He's been there, and He understands the pain.
The devil would love for us to feel alone in our struggles.
He enjoys watching us try to carry everything on our own and come up short.
He thrives on our despair.
He laughs at our anxiety.
He smiles at our sadness.
He relishes our moments of loneliness.
If you feel robbed, the enemy is involved.
If you feel you have no hope, there is a mastermind behind your hopelessness.
But, even on the worse today, we have a reason to feel thankful.
In this very moment, no matter how bleak,
we have a reason to praise the One who gave us life.
Because NO MATTER WHAT,
He is there too.
And He is greater than the enemy or any obstacle in our way.
We can run from Him.
But we can't hide from His love.
The psalmist came to this realization as he reflected on God's love, and he was overwhelmed with thanks.
Psalm 139:7-18
Where can I go from your Spirit? Where can I flee from your presence?
If I go up to the heavens, you are there; if I make my bed in the depths, you are there.
If I rise on the wings of the dawn, if I settle on the far side of the sea,

10

even there your hand will guide me, your right hand will hold me fast.
 If I say, "Surely the darkness will hide me and the light become night around me,"

even the darkness will not be dark to you; the night will shine like the day, for darkness is as light to you.
 For you created my inmost being; you knit me together in my mother's womb.
 I praise you because I am fearfully and wonderfully made; your works are wonderful, I know that full well.

 My frame was not hidden from you when I was made in the secret place. When I was woven together in the depths of the earth, 

your eyes saw my unformed body.
All the days ordained for me were written in your book before one of them came to be.

How precious to me are your thoughts, O God! How vast is the sum of them!
 Were I to count them, they would outnumber the grains of sand. 
When I awake, I am still with you.
My head is spinning this morning,
but when I stop and soak in the reality that I am not alone,
I feel peace.
I find so many reasons to say,
"Thank you," in this very moment.
I hope you will too.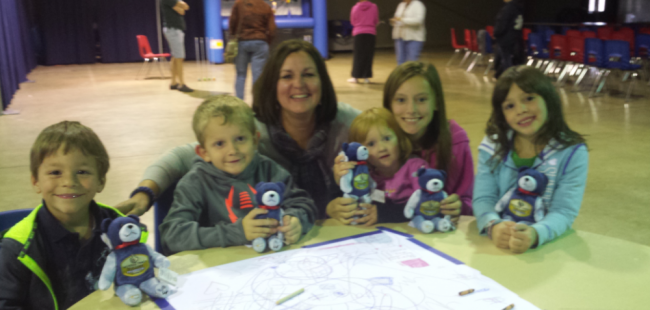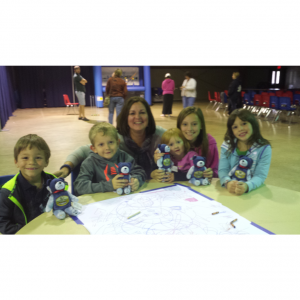 Something deep inside me fills with thankfulness and joy when I see little faces light up as they cling to bears that carry the name of Nick's Foundation.
My friend overhead one of these children looking at the back of their bear as they said, "It says, 'Joshua!'" which is the book that holds Nick's favorite verse.
Joshua 1:9
I love knowing these kids now carry part of Nick's life with them.
His legacy in the form of a teddy bear.
His memory etched into the fabric of a small stuffed animal.
When Nick still causes kids to smile,
he causes me to smile too;
because I know the same God who created Nick is still using him to make a difference on this planet.
Only God can redeem such pain in my heart.
Only God can transform my deepest, most anguish-filled cries into honest laughter and joy.
Only God can use death to bring new life.
Only God can give me a Hope that does not disappoint.
Only God can place in me a peace that passes understanding.
I miss Nick.
I miss his smile.
I miss his humor.
I miss his perspective on life and people.
I miss that chapter in our family's life when all our kids were close and family memories were constantly being made.
But God has worked a miracle in my heart.
He has taught me how to embrace my grief and discover the Hope that comes from knowing this life is but a vapor.
While I'm here, I'm going to choose daily to experience joy.
"Be joyful always; pray continually; give thanks in all circumstances, for this is God's will for you in Christ Jesus."
1 Thessalonians 5:16-18
I'm going to choose to have an abundant life in spite of my losses.
I want to live fully and completely even though I know I'll never be perfectly whole.
God wants to do the same for you.
He wants to use your heartache to help the world experience His never-ending love.
He wants your pain to somehow cause the world to smile.
I can't explain His reasoning.
It will never make sense on an intellectual level.
But I trust that God's ways are much higher than our ways, so I've learned to walk on roads that don't always make sense.
Roads that cause my son's death to lead to smiles on the faces of children I don't even know by name.
How can this be?
I do not have an earthly answer.
Isaiah 55:8
"For my thoughts are not your thoughts, neither are your ways my ways," declares the LORD.
No matter how hard I try to understand Him,
I will always come up lacking.
But in the midst of my questions,
I know He is there.
Offering Joy.
Offering Peace.
Offering Hope.
Romans 15:13
May the God of Hope fill you with all joy and peace
as you trust in Him so that you may
OVERFLOW
with Hope by the power of the Holy Spirit.
I'm praying you feel it all today and smile.
Joy
Peace
Hope