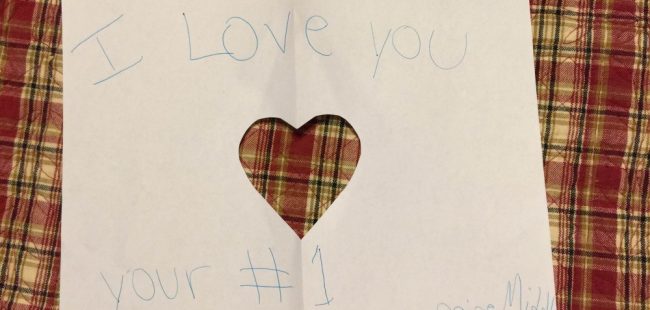 Last week I shared about God showing up in pennies and pencil drawings.
And I said there was more to come.
Today I want to share "the rest of the story."
——————————————————————
After looking at the photograph of the heart with angel wings, I told the students and secretary about Adrienne's tombstone being in the shape of a heart and having the words,
"Gone to be an angel"
on the back of it.
I then left the school to go work with students in another building.
Later in the day, I returned to this school to meet with the counselor about some testing results, and as I was walking in the hall one of the students from earlier in the day passed me and said that her friend had made me something else.
I smiled and told her where I would be in the building for the rest of the afternoon.
In just a few minutes, I saw this student coming towards me with a huge grin on her sweet face,
but I was not prepared for what she would place in my hands.
She had drawn the heart with angel wings again and added the quote,
"Gone to be an angel,"
but the unbelievable part of this story is that she had cut it out around the words in such a way that it looked like a white cloud in the shape of a thumbs up!
I looked at her and said,
"Did someone tell you about the thumbs up cloud?"
And she looked at me as if I had lost my mind.
I went to the window of the secretary's office and held it up, and I wish you could have seen her face!
She literally had to sit down and put her head on her desk for a minute.
If you have never heard the part of Nick's story that includes my mom seeing a thumbs up cloud, please let me know.
I will find the link and share it with you.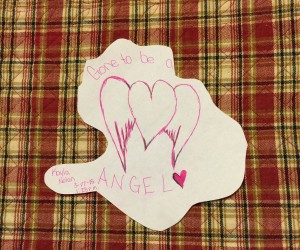 This morning I woke up to a text from a KCU student who is now married and lives several hours from here.
In the text, she included the photograph below: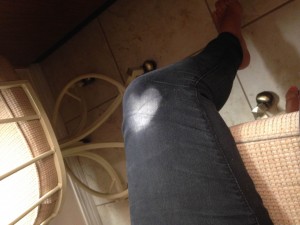 As I looked at the heart on her leg, I was reminded that God's love is everywhere and that often He only provides enough light for the next step, the next moment.
I'm in a different kind-of season in my life.
A quieter, more reflective season where God is calling me to people and places one at a time.
Sometimes I wonder if I'm doing enough or being enough, but I'm learning more and more every day that love can be big and bold or love can be small and subtle…………….
but love is still love.
So today, look for His love in the clouds,
in the rays of the sun,
on pieces of paper
or patches of pavement……
then share His love with the next person you meet each step of the way.
That's it.
Share love.
It doesn't have to draw a crowd.
It doesn't have to wear you out.
It doesn't have to prove anything to anyone.
Love just is.
We love because He first loved us.
He loved this world into existence.
It's now our privilege to love this world while we exist.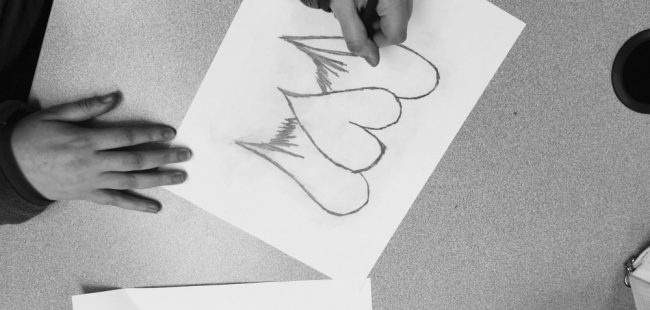 It caught my eye.
The shiny copper coin on the sidewalk seemed to say,
"You're walking in the right direction today."
"Keep moving forward."
If you know me at all, you know I love pennies;
and this particular day I had no idea how my moment with this tiny coin, worth very little in the eyes of an economist, would grow in value over such a short period of time.
As I leaned down to pick it up, I heard a voice ahead of me say, "Mrs. Nischan, I want you to meet someone."
I smiled as I looked up and saw a family standing with one of my co-workers.
The son was the one with whom I would have my conversation.
A high school student, bound to a wheelchair in a way I could tell was more than temporary.
He was able to answer my questions yet rarely able to look me in the eye even though he grinned and seemed to enjoy our conversation.
Math was his favorite subject.
He sort-of liked school.
In so many ways, he was like any other boy.
But in so many other ways, he was never going to be like every other boy.
I didn't realize as we talked that my heart was beginning to ache.
It didn't really hit me until I shook his parents' hands and told them to have a great day.
Yep.
Those were my life-changing words to a couple who looked tired and weary.
Sometimes my words seem so empty.
As I walked into the office of the school, everything began to roar in my head.
When I saw the secretary who I love as a dear friend, I couldn't keep it in.
I tried to say something but found myself struggling to just say, "I'm having a moment."
Tears began to pour and I knew that grief had ambushed me and that the penny may have very well been Nick's way of saying,
"Brace yourself, mom, life is getting ready to get really hard."
Nick.
Wheelchair bound.
I tried not to go there in my mind, but it was too late.
The crashing of today with my own yesterday happened without me even having a chance to say,
"Let me get home first.  Let me handle this alone."
So, I let it all out.
I had a good cry.
I embraced my moment of hurting for these parents, wishing life was different for this young man, and reflecting on my own years with a son unable to walk on his own.
Moving on with my work day wasn't easy, but I managed to blow my nose, fix my mascara, and head on to the next task on my to-do list.
About an hour later, I returned to that same office after spending some time with students reviewing for a test; and this time I was greeted by a girl who had no idea about the incident earlier in the day.
She held up a piece of paper and said,
"Mrs. Nischan, I made this for you."
In front of me was a plain sheet of notebook paper with the shape of heart cut out of the middle.
Around the heart were the words,
"I love you."
I looked at this girl who had been my student about five years ago and said,
"You have no idea how much I needed this today."
I was just about to tell the secretary how I had realized this weekend that Adrienne's tombstone is in the shape of a heart and how maybe the pennies I find are from Nick and the hearts I see are from Adrienne when I saw something that took my breath away.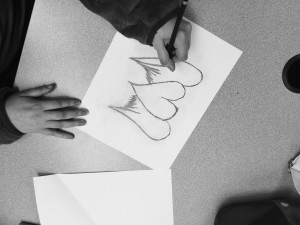 Another student sitting in the office was also doing artwork.
Her drawing seemed to confirm what my heart was feeling.
See, Adrienne's tombstone reads,
"Gone to be an angel,"
and this girl was finishing a drawing of a heart with angel wings.
As the secretary and I looked at the drawing and then at each other, we knew we were in the middle of more than just an everyday moment.
We were certain we were standing on holy ground.
I left that office on that particular day feeling incredibly loved and cherished by a Father who knew just what I needed on a very emotional day.
My penny-on-the-sidewalk moment had blossomed into so much love and hope and joy.
The story didn't end here, but I'm saving the rest for another day.
For now, I'll say this:
Life can be very hard.
Believe me, I know.
But life is also full of penny moments and heart moments that can make all the pain and heartache we carry inside of us transform into a deep awareness of God's presence on the most difficult days.
I believe He sees every tear, and He cares deeply.
Yes,
Life can still be great.
He's able to bring wonderful news and even miracles from time to time,
but for the most part,
He brings comfort in the moments when what we pray for and hope for and long for seems to be answered with an incredibly painful "no".
Look down today……………….find pennies.
Look around today…………………find hearts.
Look up today………………find Him.
He's with you.
I promise.
And He cares.
I've had a fairly wordless week when it comes to blogging, but this morning I had to share part of this story that made one day of my work week a little brighter.
I hope it makes your day a little brighter too.
Happy Friday!
Happy Spring!
You will seek me and find me when you seek me with all your heart.
Jer. 29:13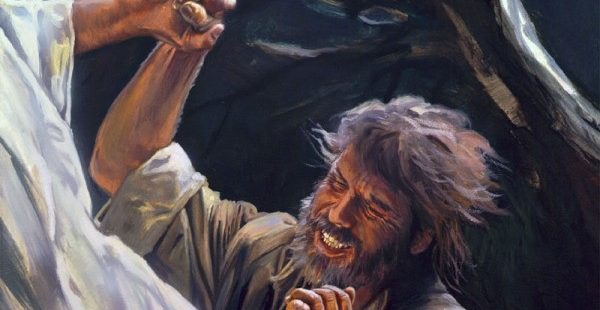 If you read this and happen to also walk somewhat close to me in my daily life,
you know I've been a wrestler for years.
Not a professional one that gets paid to be in a ring (thank goodness),
but rather a wrestler of my  life's direction, purpose, and plan,
a questioner of all that I am and all that I'm suppose to be.
I'm a "wonderer," and it only seems fitting that the very word I used to describe myself isn't even showing up as a real word in spell check.
I'm using it anyway………….because sometimes what we are isn't even available in dictionary options.
I often wonder if I'm on the right road.
I frequently question if what I'm doing in any given moment is the right thing……..the best choice.
I feel called to one thing and yet continue to do another because it seems to make more sense on paper.
Half the time, I walk in confidence.
The other half, I walk in fear.
I have a knack for sort-of walking by faith and sort-of walking in doubt.
I'm a complicated, often wishy-washy, human being who has a tendency to over think everything from what I should wear to who I'm suppose to be.
I've wrestled since Nick died with a desire to not walk in all-consuming grief while never wanting to let go of the heartache of missing my boy.
I've wrestled since Nick died with a longing to make his short but powerful life still matter while trying to be fully present in the lives of my other kids.
I've also wrestled with what I'm suppose to do with all my pain.
I've asked, "Was it just the luck of the draw that sent me into a life that included the funerals of two of my kids or is there a bigger plan and purpose in all of my heartache?"
I've thought, "Do tragic events happen so the people facing them will become stronger or do people just get stronger as a by-product of such things happening in their lives?"
I've met many moms and dads who also ask the same kinds of questions in their own deep sorrow.
I have many friends who wrestle with big life decisions too.
I've decided it might not be the questioning or the wrestling that's really our problem.
It may just be the lack of an awareness of God in all of our tossing and turning that sends us spiraling in confusion.
Everything, even the fights deep within our soul, become easier to bear when we remember He is there fighting and wrestling right along with us.
He's always there.
He's waiting for the moment when we're brave enough to say,
"I'm not letting go of this conflict without a blessing."
He's longing for us to realize that with those very words there may also come a sudden and even painful change in who we are when we get up.
Standing up after a struggle often leaves us shaky.
Like Jacob, who wrestled with God years ago, our walk may include a limp as we step forward in a more confident faith.
That's where I'm at today.
I'm confidently walking forward, fully aware that I'm not the same person I was even a month ago.
Big decisions.
Scary steps.
An uncertain future.
Stepping out of a boat into uncharted waters.
A new chapter.
These are all phrases that describe my life at this very moment; and while I'm a little wobbly, my heart is filled with a peace I haven't experienced in such a long time.
Are you wrestling with big questions today?
Do you feel like there are parts of your life that leave your soul conflicted?
Don't get discouraged in the season of struggling to understand all that has happened and all that is to come.
Trust God even as your hands grow weary.
Refuse to let the battle end without a blessing,
but be prepared for a limp.
Be ready to wobble as you step forward in a more confident faith.
It's in the unstable ability of our own feet that we truly learn to walk in His strength.
Gen. 32:24-32
 So Jacob was left alone, and a man wrestled with him till daybreak.
 When the man saw that he could not

overpower him,
he touched the socket of Jacob's hip

so that his hip was wrenched as he wrestled with the man.
Then the man said, "Let me go, for it is daybreak."
But Jacob replied, "I will not let you go unless you bless me."
 

The man asked him, "What is your name?"
"Jacob,"

he answered.
 

Then the man said, "Your name

will no longer be Jacob, but Israel,

 because you have struggled with God and with humans and have overcome."
 

Jacob said, "Please tell me your name."
But he replied, "Why do you ask my name?"

Then he blessed

him there. This happens every single year.
My chronological Bible takes me through the conquest of the Promised Land.
The destroying of one "ite" after another……………
Amorites, Hittites, Canaanites, Perizzites, Hivities, Jubusites…………
I find myself struggling with this whole story of the Israelite journey.
It makes me sick, really, to think of the justification they had for wiping out cities and people.
No matter how many times I read through the Old Testament, I don't think I'll ever end a day's reading and say,
"Of course!!  I get it now!  This all makes sense to me."
I don't think I'll ever feel good about words like "plunder and destroy."
I'll never get use to phrases like "not sparing anything."
So what do I do?
What do I do with parts of the Bible that really get under my skin?
What do I do with Scriptures that sicken me?
I have two choices really.
I can either stop reading a book that raises the hair on my arms, causing me to feel both sad and uncomfortable;
or I can keep reading and ask God to show up in the middle of all of my questions, complaints, and feelings of disillusionment.
If I stop reading, I'm left hanging with lots of dead kings and villages along with a group of people who, not by their own choice, have been called out to be separate from the world.
I'm left with the beginning of a very twisted story of the history of mankind filled with messed-up people trying to stumble through the pages of a book that has somehow been a bestseller for years and has changed lives and brought hope to many generations even while it has carried so many pages of difficult-to-understand chapters and verses.
Looking back on my own life, my personal losses and pain, I just can't stop reading here.
It's not enough for me to close this book and call it "messed up and wrong" even though my face grimaces at the words I read and the reality of what these words convey.
The truth is –
this world is no less messed up today.
If the stories of our lives were captured in a book for generations ahead of us to read in perfect detail, I think they'd find a lot more "ites" being plundered and destroyed in the name of God.
Sometimes I wonder if our desire to be holy and separate somehow gets convoluted into a feeling of power, almost as if  the name Christian gives us the right to "tear down and take" in order to claim His promises.
Or maybe the "ites" are the battles we face every single day in our own souls –
the self-esteem struggles,
the doubts,
the questions,
the things that may rise up and try to defeat the very part of us that God has called out to be His and His alone.
I really don't have answers this morning for anything I just read in the book of Joshua.
If I'm honest, I've closed this Book this morning with more questions than I've ever had in the last six years as I've plowed through the very same part of my "day-by-day" reading of the Bible as the last six March mornings.
Sometimes I feel like the closer I try to get to Him, the further away I feel.
But I've also found that in these very moments of struggling with "all that was and all that is" something happens.
I wake up a bit to the very moment I'm in, and suddenly everything around me looks a little different.
The pictures of my kids on the wall seem more vibrant, because I know that even in my short little life there's been a story that has been and is very beautiful but at the very same time hasn't always made a lot of sense.
There's been pain.
There's been heartache.
There's been ugly and sad and regretful moments, but in the midst of all of it there's been one constant strand of meaning, hope, and purpose………………
and like the Israelites who wandered in the wilderness and finally crossed over into what they felt God had led them to possess, our family has tried to stay faithful and keep believing even when so much of what we've been called to face has not made sense.
And along the way, we've destroyed "ites" that may or may not have been ours to destroy, and we've messed up and fallen short and even claimed "in Jesus' name" in moments that were really nothing more than moments "in our own name"…………..
yet God has been faithful to somehow carry us through it all and love us anyway.
And if you're family is anything like our family, you'll never be quite perfect and you'll never feel all the way "there" while you're "here;" and every time you think you have it all figured out, you'll turn around and discover you have way more to learn than you'll ever be able to grasp with your small little mind.
Pride is really the only thing that would keep me from stop reading His Word, because who am I to dare to question the plundering of "ites" when I plunder this world every single day with my very own words and thoughts?
I'm trying to reach the promised land, and I'm trying to be holy just like the Israelites long ago,
but I'm just as human and just as lost as they were.
Truth be told, I'm glad I don't understand everything about the Bible, because if I did, I'd be a little more worried about not understanding everything about my own yesterday, today, and tomorrow.
It's the mystery of it all that keeps me turning the pages every single day and waking up every single morning.
It's the wondering "what's next" and "why this or that" that holds me glued to His Word and this life.
I'll never quite get it, but I've decided that's okay………………
neither did Noah or Abraham or Moses or any other Bible character who felt God calling their name.
I believe there's more to this story than my simple mind will ever be able to really "get," and I believe there's more to life than what I'll ever be able to "see" while I'm here.
And this morning, that's enough for me to know.
"Now faith is confidence in what we hope for and assurance about what we do not see."
Hebrews 11:1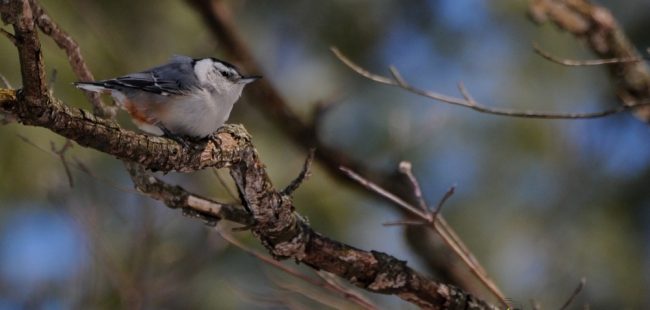 I understand how the garden must have called Jesus' name.
I understand the urge to escape from all that screams and find comfort in all that whispers.
At the very same time, I wonder what Jesus thought about as He walked through the tall grass and brightly-colored flowers?
What was on His mind as birds chirped, drowning out the chaos of the crowds He had just left behind?
Did He ever have a moment where His mind flash backed to the first garden…………
"Let the water teem with living creatures,
and let birds fly above the earth across the vault of the sky."
Did He ever smile as He watched a flower bloom and reflect on these words,
"Let the land produce vegetation: seed-bearing plants and trees on the land that bear fruit with seed in it, according to their various kinds."
He was there after all.
He heard those words the first time they were spoken.
He saw everything appear at the mere mention of its name.
The Creator had spoken so that one day His creation could speak to you and to me.
When doubt whispers in my ear or the craziness of this life makes even one more step seem like more than I can bear,
nothing does my soul better than a good, long walk.
Looking up.
Looking down.
Looking all around.
As I look, I'm reminded that this world is way too amazing for anything but an amazing Creator.
In the  studying of the tiniest detail of all that surrounds me,
I immediately see the depth of planning and creativity needed to make such a perfect world.
Are you struggling?
Feeling down?
Filled with doubt?
Shhhhhh…………..
Take a little walk.
Let creation speak to you today.
"Ask the animals, and they will teach you, or the birds of the air, and they will tell you; or speak to the earth, and it will teach you, or let the fish of the sea inform you. Which of these does not know that the hand of the Lord has done this? In his hand is the life of every creature and the breath of all mankind."
Job 12:7-10
"Praise the Lord from the earth, you great sea creatures and all ocean depths, lightning and hail, snow and clouds, stormy winds that do his bidding, you mountains and all hills, fruit trees and all cedars, wild animals and all cattle, small creatures and flying birds."
Psalm 148:7-10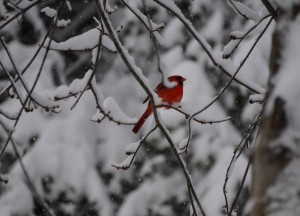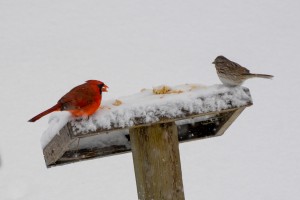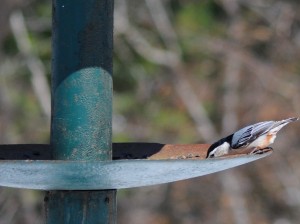 For since the creation of the world God's invisible qualities–his eternal power and divine nature–have been clearly seen, being understood from what has been made, so that people are without excuse.
Romans 1:20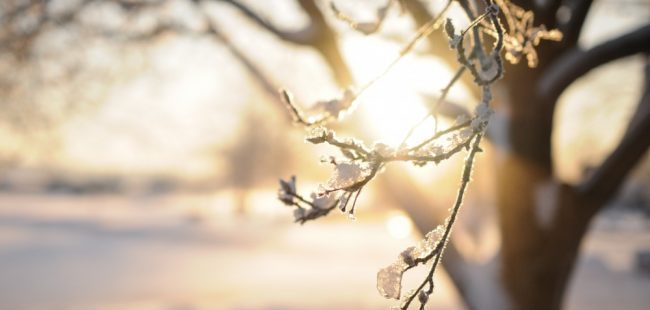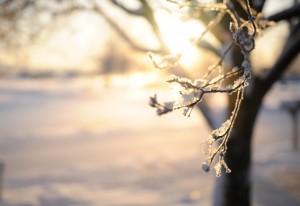 The stillness of it all.
The bitter winds and icy floor.
Hear the crunching as you move.
Feel the sting of the morning breeze on your cheeks.
Don't miss a walk through winter.
Because it's part of His plan.
He's setting the stage.
Almost as if the curtain is drawn in a blanket of snow,
Hiding all that is to come.
Holding us in anticipation of what lies beneath.
And then one day it will happen-
Boldly
Dramatically
Joyfully
Spring will arrive!
Warm sun
Green grass
Chirping birds
Budding trees and blooming flowers
There's beauty in the announcement of a new season, a new beginning.
But I know me well enough to know I would never grasp the beauty in the glorious arrival of spring had I not had the courage to take a good, long walk through winter.
Song of Solomon 2:11-13
See! The winter is past;
the rains are over and gone.
Flowers appear on the earth;
the season of singing has come,
the cooing of doves
is heard in our land.
The fig tree forms its early fruit;
the blossoming vines spread their fragrance.
Arise, come, my darling;
my beautiful one, come with me."