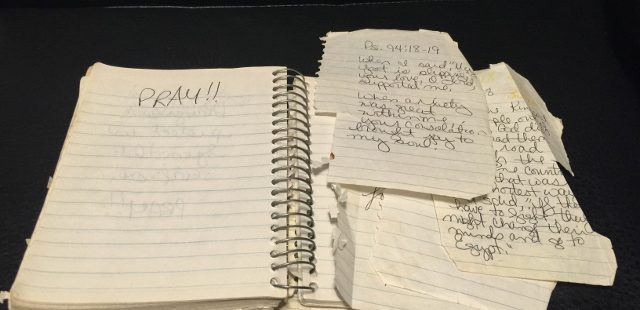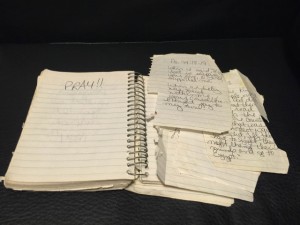 I remember too well the hours sitting in waiting rooms as Nick had yet another MRI, another brain surgery, another chemo treament.
I remember the days and nights in those first few months after he passed away and how I hung on to one small thread of Hope just to get out of bed and get dressed for the day.
As painful as those memories are,
I don't EVER want to forget what I learned in that valley;
 because I've learned no matter how long I continue to walk on this planet there are new ones waiting for me.
Mountaintop experiences do happen occasionally,,
but if I'm really honest there are plenty of days when I find myself walking down below.
Down in the valley.
The valley so low.
No matter how many times I've climbed out of one to see the light of day again, the next one seems just as hard.
Valleys keep me from falling to sleep or they wake me up in the wee hours of the morning.
Valleys make days seem long and nights seem even longer.
 Nick's journey taught me something though,
and when I remember what I learned in those painful years of heartache and pain,
it changes everything about any new valley I face.
What I discovered in the valley of the shadow of death has the power to transform any situation where I am stumbling on a path that is overshadowed by the walls of life.
And isn't that what a valley is?
A path engulfed in shadowy walls.
Pressing in.
Darkening our days.
And blackening our nights.
I've learned I have three choices to make while in the valley.
Three little choices.
________________________________________________
I can choose to keep stumbling along, tripping over the same stuff,
the same problems,
the same worries,
the same burdens.
A choice I make way too frequently.
Or I can remember the other two options.
The ones that have the power to change everything about today because…………
 There Are Really Only Two Places to Turn in a Valley.
__________________________________________
I have found that if I turn to prayer………….
even if I have nothing to say except,
"Help me, Lord,"
I begin to see a light.
I start to climb up one of the shadowy walls beside me, and I find myself a little closer to something with a view.
A view of more than the rubble-filled road that was once my destination.
I've also found that if I turn to His Word for comfort, I also hear His Voice leading me………….
up the other side of my shadowy journey into His purpose, His plan, His presence.
On my own strength, I'm a valley dweller.
My human nature pulls me there.
I'm so thankful God provides two ways out.
I can stay put if I want to………….He left that option open in order for me to feel free,
but deep inside I know
 There Are Really Only Two Places to Turn in a Valley…………if I truly want out.
Praying you'll turn to Him and His Word today if you find the shadowy walls of life pressing down on you………….
and even if you don't.
He's in the valley.
He's on the journey up.
And He's waiting at the top.
"When anxiety was great within me your consolation brought joy to my soul."
Psalm 94:19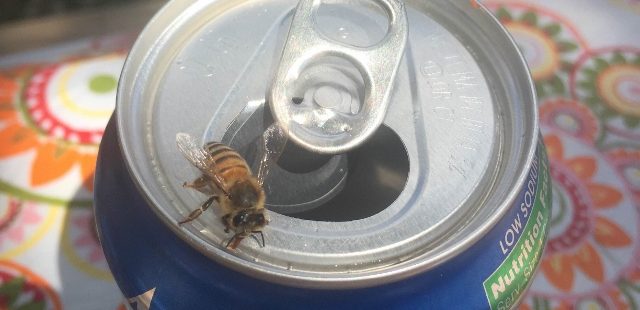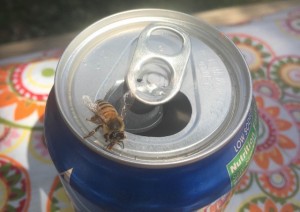 The sugary scent of Sprite must have lured him to the can.
Unaware of how close he was to a fatal swat,
he lingered, soaking up every bit of sweetness he could find.
I had no reason to hurt him.
I was really in his world anyway.
Outside, I feel a bee has a few more rights than I do.
Inside may be another story.
As I watched him move around the rim of what to him was a metal flower,
I couldn't help but think of how close I was to also being hurt.
One sip from the can without looking,
and I would have had a nice big bee sting right on the top of my lip.
So there we were.
A bee and me…..
both hovering over a sweet but dangerous drink on an otherwise beautiful, sunny day.
I'm starting to see life a little more like this moment.
One sip and everything changes.
________________
Words
Actions
Places
__________________
Choose wisely, reap the benefit.
Choose carelessly, reap the cost.
___________________
I've been careless along the way.
I've missed the bee on my Sprite can of life,
and I've felt the sting.
___________________
I've also seen the bee on my Sprite can of life,
and turned the other way.
And it's made all the difference.
___________________
Choose carefully today.
"Bee" careful.
Avoid the sting.
____________________
The tongue has the power of life and death,
and those who love it will eat its fruit.
Proverbs 18:21
Walk with the wise and become wise,
for a companion of fools suffers harm.
Proverbs 13:20
Submit yourselves, then, to God.  
Resist the devil, and he will flee from you.
James 4:7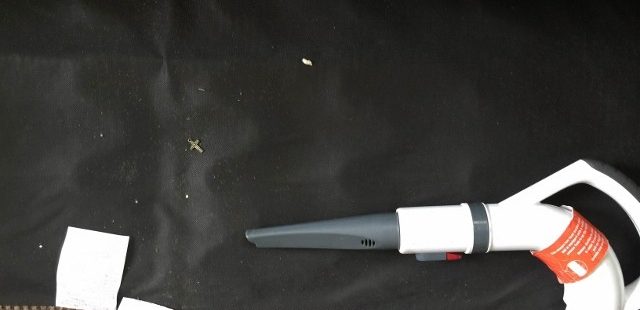 What did it feel like?
Twelve disciples
Five loaves of bread
Two Fish
5,000 hungry men
and
who knows how many hungry women and children
Some estimate the crowd numbered over 15,000
On their own, these men had a big problem.
Daylight was ending and the crowd needed food.
Turning to Jesus, they said exactly what I would have been thinking,
"This is a desolate place, and the day is now over;
send the crowds away to go into the villages and buy food for themselves."
Matt. 14:15
This crowd clearly needed more than the disciples could offer.
It just made sense to send them away.
They were adults.
They knew how to find food.
They just needed to go………..
before it was too late.
Then Jesus said what I often cringe to hear,
"They need not go away; you give them something to eat."
Matt. 14:16
You help them.
You figure this out.
You've got this.
Looking at the size of the crowd
compared to the amount of money in their pockets
(or whatever disciples used for carrying cash),
they panicked.
"It would take more than half a year's wages to buy enough bread for each one to have a bite!"
John 6:7
 Jesus must have grinned.
Here he stood with the men He loved so dearly………..
the very men who had watched him heal the blind and raise the dead.
And what were they doing?
They were looking in their pockets.
They were counting the cost.
I can almost hear Jesus whisper,
"The day will come for counting the cost,
but this is not the day."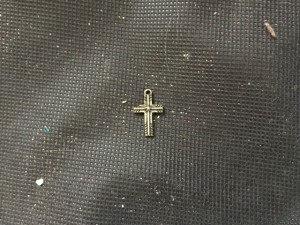 So the disciples turned to the crowd, hoping for help.
Surely some of these people brought supplies.
Surely some of these people thought ahead.
Finding one small boy with a basket, they turned to Jesus.
They held out their tiny bit of resources.
Five loaves
Two fish
________________________________
Jesus saw their eyes.
He understood their frailty.
He loved their hearts, and doing what any good Savior would do in this moment,
He spoke into their desperation just like He longs to speak into ours.
____________________________
His words surely made their hearts leap.
"Bring them here to me."
Matt. 14:18
Jesus, the Son of God, offered His help.
I imagine they almost tripped over each other running toward Him.
Take it, please.
We can't do this on our own.
I've said it a hundred times.
I can't do this on my own.
Then Jesus did what only Jesus could do,
He took the loaves and gave thanks.
That's right.
He told His Father "thank you" for the very thing that seemed to be "not enough".
And I wonder if in that moment the disciples looked at each other and thought,
"Why didn't we think of that?"
I wonder if they ever relived this memory as they faced new days of feeling empty-handed.
What do I do when I look down and find my hands holding "not enough"?
What do I do when I pull back my cushions thinking I'll only find crumbs?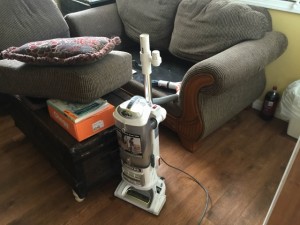 ________________________________
Maybe that's why this miracle is the only miracle besides the resurrection that's recorded in all four Gospels.
The disciples knew that moments of "not enough", moments of "crumbs", would come for me and for you.
And they knew the answer.
Turn to Jesus.
Hand Him your crumbs.
Let Him speak into your nothing.
Find Jesus today.
Even in your crumbs,
let Him be your miracle.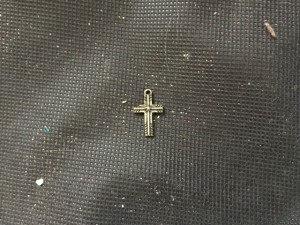 P.S. I'm not sure where this cross came from,
but I'm saving it forever – because yesterday I found Jesus in my crumbs,
and I don't ever want to forget He's always there.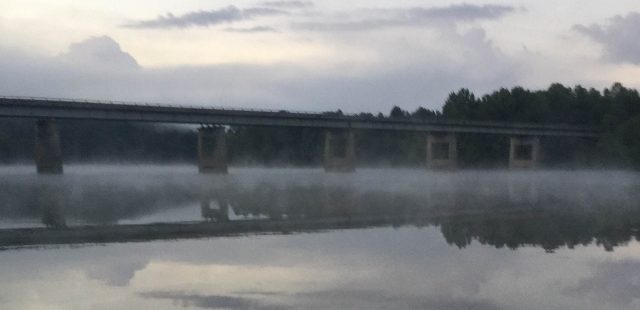 I've thought about this word a lot lately.
Grace.
Receiving something I don't deserve.
It settles over me like a cool morning mist.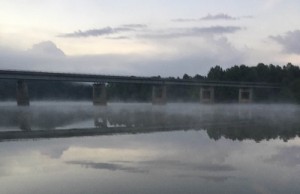 Hovering close.
This thing called grace.
Smoothing out my rough edges.
Hiding my flaws.
God has a way of wrapping me in grace and if I lean back and soak it up,
I begin to feel freed up from everything about me that is so wrong.
But offering grace to others?
That's not always so easy.
I know.
I've withheld grace many times in my life.
I've been a fog lifter.
A finder of imperfections.
A grace thief.
Maybe that's why it's so hard to accept God's offer……………
because the very thing I long for I can't seem to give.
__________________________________________
I'm learning something in my later years of life.
My ability to accept God's grace is
often directly related to how freely I am willing to share it with others.
It's a choice I make, and the consequences are always the same.
Withhold grace.
Struggle to feel God's hand of mercy.
Lifting the fog and exposing the flaws of others ends up pulling the cool mist right off of me,
and I'm fully aware of how it feels to be exposed.
I understand the feeling of having grace withheld.
Vulnerable
Hurt
Weak
Broken
If grace is getting something I don't deserve, I qualify.
I need grace.
I need it every single day.
I also need to offer it to everyone around me.
I have no right to withhold this thing called grace from
the unkind
the impatient
the self-absorbed……………….
because I, too, can be unkind, impatient, and self-absorbed.
The flawed must be extra gentle when handling the flawed.
And I am one of the flawed.
Maybe the lifting of the fog in my own life, the exposing of all that isn't right within me,
is a good reminder of just how much I need to layer my love for others in a good heavy mist of  the very thing I need most……..
This thing called grace.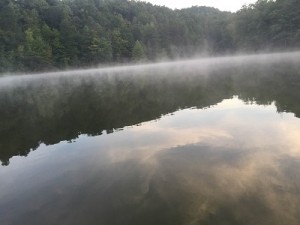 ~ A. W. Tozer, once said, "The cross is the lightning rod of grace that short-circuits God's wrath to Christ so that only the light of His love remains for believers."
May we all be struck by the lightning rod of grace today so that only the light of His love remains.
……for all have sinned and fall short of the glory of God,
and all are justified freely by his grace through the redemption that came by Christ Jesus.  
Romans 3:23-24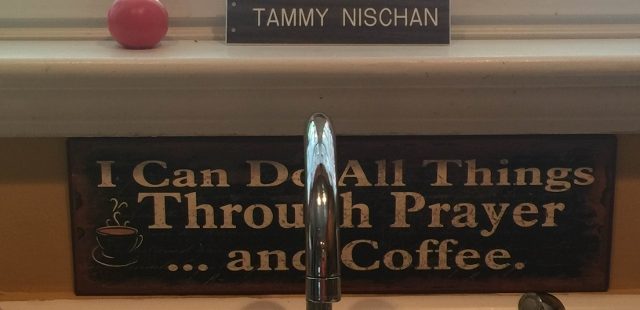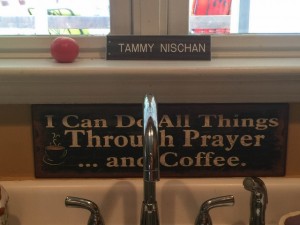 I'm not sure what I was expecting when I stopped by my old office.
My nameplate was down,
and
a new one held its place.
I laughed as a friend handed me the rectangular piece of metal holding my own name.
Tammy Nischan
It's funny how a nameplate seems so insignificant when you're holding it in your hand………….
Or when it's sitting on your windowsill…………….
right next to a tomato.
Honestly, though, it seems so appropriate to see them side by side.
They're both so temporary.
____________________________________
Titles and Tomatoes
They both come and go.
Holding on to either will do me no good.
It's the planting of what's inside that brings new life.
The seeds within that hold the promise.
And isn't that the way life is?
It's not about clinging to what we know as much as it is about releasing everything so we can grow.
I watch my kids take challenging classes, move to new places, start new jobs, put houses on the market……………..
boldly, passionately……………..
not hanging on to what once was but reaching out for all that will be.
And then there's me……………..
the second-guesser of all things, the doubter, the one needing affirmation…………….daily.
As I watch the sunrise with my son, I know he sees the new me,
and
I know he believes in me even when I don't believe in myself.
It's as if he's saying in his own quiet way,
"Live your dream, mom.
It's okay."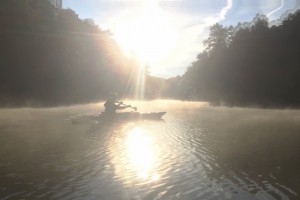 My windowsill tells me too.
Titles and tomatoes.
They come and go.
Today I'm putting my tomato on a salad and my nameplate in a drawer.
I can do all things through Him who gives me strength.
Phil. 4:13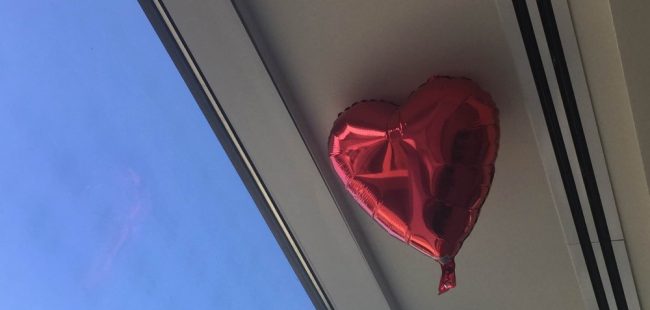 Our plane landed early, and we had some time to spare.
Finding an open bench in a Dallas airport is kind-of like looking for a four-leaf clover.
It's worth the search when you find one!
On this particular day, though, we got super lucky!
One bench was free, and it was right by the exit!
So we rolled our luggage to the corner wall and had a seat……………
that's when Luke spotted love floating high over our heads!
I kind-of think he's teasing me when he points out hearts –  like all my kids –
but I don't care!
When I see love,
I have to take a picture!!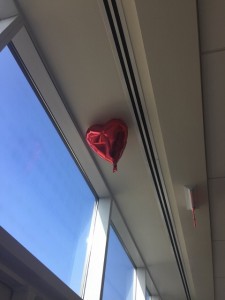 For some reason, though, this balloon seemed too perfect to leave hanging.
I was determined to get it down………………..somehow!
Luke and I went in search of something to stand on…………….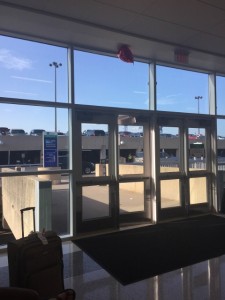 I'm not really sure what we were thinking,
but we headed out anyway!
We walked around the conveyor belt that delivers suitcases.
We looked in every little doorway nearby.
Airports don't seem to think it's necessary to leave things like ladders around for people to use, if needed.
There's probably a reason for that! 🙂
Eventually, Luke went outside to wait for Erich and Mallory with Olivia;
but I couldn't let "love" go.
I had to figure out a way to reach it.
Tim watched from the bench while I walked down a hallway towards a custodian pushing a cleaning cart filled with cleaning supplies and holding a mop and a broom!
I don't think she spoke English very well, but she was very sweet and didn't seem to think I was too crazy when I asked her to come with me.
I showed her the balloon as we were walking closer to where it was floating, and I asked if I could possibly borrow a broom to try and get it down.
Honestly, I don't know what I was thinking because the broom was only going to give me about three more feet of height which was definitely not enough to reach this high-flying love.
But, as fate would have it, just as we reached the door, a very tall gentleman walked right under "love"!
There he was!
A tall stranger plus a custodian's broom equaled a perfect team for the project!
Tim saw him at the same time I did and actually pointed and smiled!
He's finally given up on trying to reign me in, and now he just works as my accomplice most of the time.
I wish I could have read this man's mind as I approached him at the airport doorway holding a broom and pointing up at a balloon!
But, whatever he thought, he didn't seem to show any sign of wanting to run the other way as he took the broom and easily accomplished what I could have never done!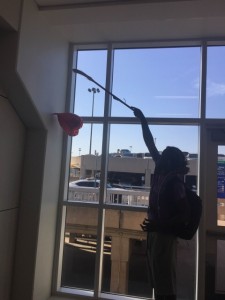 A few whacks  and there it was!
Love was in his hands!!
He was even sweet enough to let me take his picture holding it.
My only regret is that I didn't get a photo with him and the sweet lady who gave up her time and broom to help me!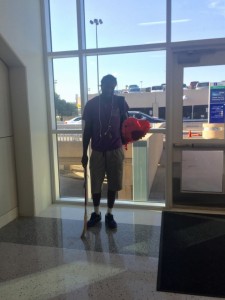 Tim tried, and I guess I was too excited about having "love" in my hands.
I still can't believe it.
Anyway, I told them both thank you and walked outside to show Luke what success looked like!
He was happy, as you can see!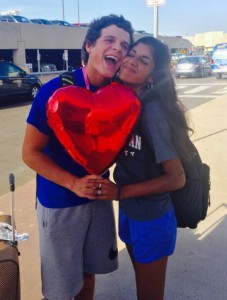 I've held on to that story for a few weeks now, waiting for a time when I felt like it really had a message.
Today, it does.
Today, I'm thinking of several dear friends who are struggling
Friends who need love and hope in their hands…………….instead of feeling like it's floating up over their heads just out of reach.
Friends who just can't quite grasp them on their own.
Life is so hard.
There are days, weeks, months, and even years when it seems like hope and love are unreachable.
What do we do in these seasons?
First, we have to have faith.
Look up.
Love is there!
Hope is too!
Believe there's a way to reach them and then let go of anything holding you back from simply saying,
"I need help.  I can't do this on my own."
God will send a broom
God will send the right person.
God will send just what you need at just the right moment.
But remember this,
sometimes you have to do things that seem a little uncomfortable first.
Be vulnerable.
Share your story.
Hope and Love are just within reach………………….or at least within someone's reach who will hand them to you if you'll just ask.
Praying you'll reach out today if you need help finding hope or love
(even if all you can reach is a broom)!
You have to start somewhere!
God will do the rest!
Ask and it will be given to you; seek and you will find;
knock and the door will be opened to you.
Matt. 7:7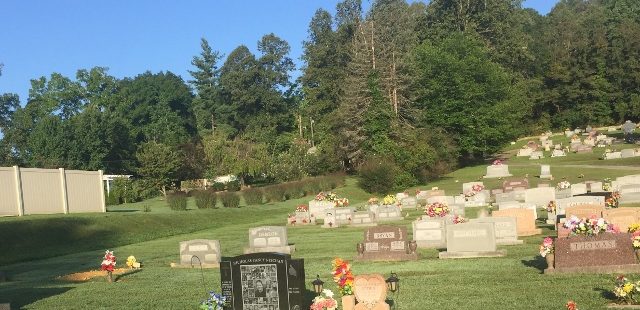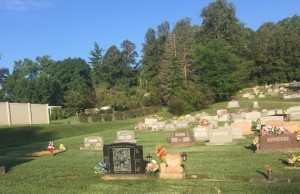 Dinner was finished,
and Tim had headed out to mow.
I needed to get out, too.
Just enjoy some fresh air.
Move a bit.
Get my heart pumping.
As I made my way up the hill near our home, I decided to call a friend and see about her day.
We hadn't been chatting long when I reached the cemetery that holds Adrienne and Nick's graves.
I always look.
Doesn't a mom always check on her kids when she has the chance?
A group of people were decorating headstones,  and I noticed one elderly lady and gentleman standing in front of Nick's.
I could tell they were reading every word, gazing at every picture.
They moved to the back side of his stone, and I watched as they made the connection between the two markers reading "Nischan".
I asked my friend if I could call her back.
I had to meet these people.
I had to introduce my kids.
As I approached the tombstones, I almost turned around.
What if they think I'm crazy?
I couldn't stop myself, though.
When someone takes time to admire my children (here or in Heaven), I have to say "thank you."
I saw some of the other people who were standing nearby look towards me as I grew closer to the couple.
I hesitated for a second and then said,
"Those are my children."
Without hesitation, the elderly lady said, "Oh, I'm so sorry," as if she thought I found her presence there intruding.
I quickly said, "Oh, it's okay!  I just wanted to say thank you for taking time to stop and look.  You just made my night!"
I went on to tell her a little about Nick.
About his sweet smile and spirit.
About his amazing love for life.
I then shared about Adrienne, and we both began to cry.
I gave her a big hug and told her to have a good evening and left to finish my walk.
I don't know who she was or where she was from.
I'll probably never see her again in my life.
All I know is this:
I fell in love with a stranger in the cemetery last night,
because she cared enough about my life to shed a tear with me.
_____________________________________________
Isn't that all we really need in this world?
People who are willing to cry with us when we're hurting,
laugh with us when we're happy,
celebrate with us when we're triumphant,
grieve with us when we're mourning.
I went for a walk to get my heart pumping.
I had no idea I was going to fall in love……………….
in a cemetery.
Whoever you are, sweet lady, know you blessed my heart last night.
You comforted me, and I hope in some small way I comforted you.
I want you to know I love you.
I don't think I told you that.
II Cor. 1:3-5
Praise be to the God and Father of our Lord Jesus Christ,
the Father of compassion and the God of all comfort,
 who comforts us in all our troubles,
so that we can comfort those in any trouble with the comfort we ourselves receive from God.
For just as we share abundantly in the sufferings of Christ,
so also our comfort abounds through Christ.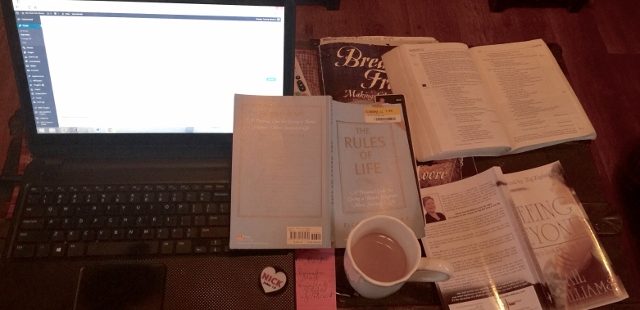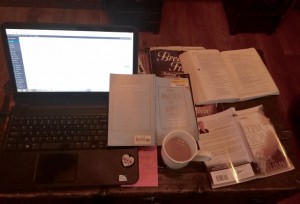 Twenty-six letters in the English language.
More or less in other languages, but still a definite number of symbols for communicating.
I'm amazed at how these symbols can be moved around and brought together to write volumes and volumes of books.
I'm also amazed at the ways we, as humans, blend them together to create so many different sounds and messages.
A finite set of symbols but an infinite number of words
Only God could create humans capable of taking something so small and stretching it into something as endless as our vocabulary.
______________________________
Letters create words.
And as a famous theologian once said, "Words create worlds".
______________________________
It's amazing to me that God spoke the words, "Let there be…."
and then there was………..
His words created our world,
and if that wasn't enough, He then sent His Son as the Living Word to create new life in us…………
every single day.
His Word, Jesus, created our new world and filled it with hope and joy and peace and purpose.
With these gifts, He gave us the ability to create more new worlds with the things we speak and write.
I've been reading some of your birthday messages this morning,
and I've been overwhelmed with the kindness, the memories, the love.
Your words are creating a new world for me.
A world that reminds me that there's still so much good on this planet.
A world that reminds me that my worth doesn't come from a paycheck or a title.
A world that reminds me that the impact we make on others rarely involves the buying of a gift or even the spending of money.
It comes from words.
Kind words.
Encouraging words.
Loving words.
Believing words.
Uplifting words.
Proverbs 18:21 says, 
The tongue has the power of life and death,
and those who love it will eat its fruit.
Our words have the power to create beautiful worlds.
Our words have the power to bring life.
I want to eat the fruit of good words, because I know that what I fill myself up with is exactly what will come out.
Matt. 15:18 says,
But the things that come out of a person's mouth come from the heart………..
What if we had a world filled with people determined to create beauty with their words?
We wouldn't need bullying campaigns.
We wouldn't need near as much therapy.
We would live in a world filled with the right kind of fruit………..
love
joy
peace
patience
kindness
goodness
and
self-control.
Today, think about the kind of words you love to hear and read.
Are they words that bring life?
If so, eat them up!
And become a creator of life and beauty yourself.
I know one thing for sure this morning,
You've definitely created a beautiful world for me!
Thank you so much!!
Phil. 1:3
I thank my God every time I remember you.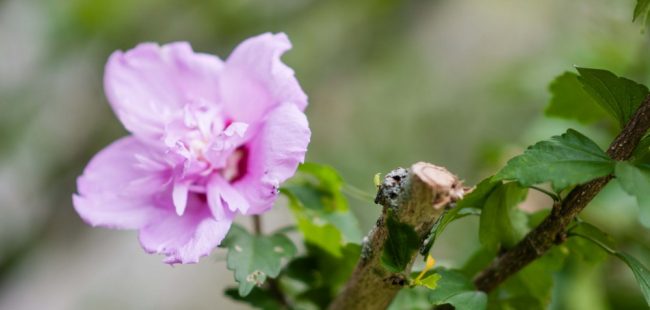 I've stumbled across his name several times today in my reading:
Rabbi Abraham Joshua Heschel
A scholar and author, this man knew grief all too well.
His sister, Esther, was killed in a bombing in Germany.
He mother murdered by the Nazis.
His sisters, Gittel and Devorah, both died in concentration camps.
Fleeing the country just before the invasion,
Heschel chose to never return to his homeland.
He is recorded as saying,
 "If I should go to Poland or Germany, every stone, every tree would remind me……"
There's something about the grief of a Jewish scholar that moves me.
There's something about a man who's overcome such unimaginable horrors that makes me lean in and listen when he speaks.
He once said,
"An individual dies when he ceases to be surprised.
I am surprised every morning when I see the sunrise."
Maybe that's the secret.
Never stop being surprised.
I want to feel fully alive.
I want to be surprised when I walk outside and a new flower has bloomed or a butterfly has landed on the edge of our dog's water bowl.
I want to be surprised when a mud puddle or an old piece of chewing gum is shaped like a heart.
Even if I'm in a big crowd and pausing to take a picture seems incredibly awkward,
I don't want anything to stop me from soaking up the surprises of today.
I want to be filled with wonder just at the thought of looking up and knowing He is looking down and cares.
How much more loved can we possibly feel than knowing this?
Saturday was my birthday.
The big 5 0.
I'm now on top of the hill everyone loves to talk about "going over."
I even asked Olivia and her friends to scream "over the hill" just once in my honor as they rode roller coasters Saturday at King's Island.
I told her,
Just celebrate this moment with me from there, and I'll feel the love.
The more I think about it, though, I'm still climbing.
I think this hill keeps going up!
There's still so much to see……………
higher and higher!
And I never want to stop being surprised!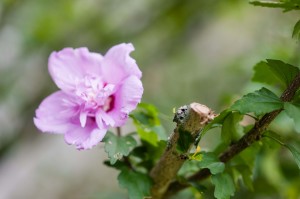 When I look at your heavens,
the work of your fingers,
the moon and the stars,
which you have set in place,
what is man that you are mindful of him,
and the son of man that you care for him?
Psalm 8:3-4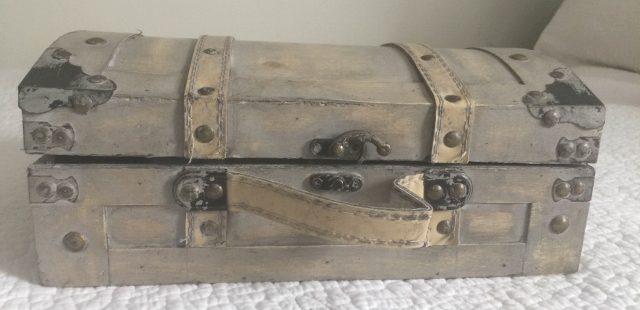 I've done a lot of thinking over the past couple of months about what is really important to me and about who I really am……………..deep down to the bone.
To be honest, there are days when it is difficult for me to look in the mirror when I know the truth about what's going on inside of my head.
I have to "take my thoughts captive" many times every single day (II Cor. 10:5)  in order to feel the peace promised to those who trust in Jesus.
And today is one of those days, because today I'm thinking about aging.
That's right.
Getting old.
_________________________
Not the physical part so much……
Wrinkles
Gray hair
Aching bones
I've learned to live with those things for the most part (or I've figured out a way to hide most of them anyway).
It's the other part of aging that's really on my mind.
The part about how short life really is.
A vapor.
A mist.
_________________________________
Tomorrow I'll be 50.
It feels surreal even seeing those words in a sentence typed by my fingers,
but today just seems like a good day to think about aging and what I can learn from this unstoppable reality of life.
Isn't life just a series of lessons anyway?
__________________________________
Here's the thing about aging that gets me every single time:
I can't stop it.
That's it.
I can't keep myself from growing old.
I could complicate the topic with all kinds of different realities of the aging process,
but for me, just accepting the truth that growing old is a natural part of life is enough.
Because when I accept it,
I begin to realize just how precious every second of life really is.
I'll never get back the time I spent typing these words,
so I want my words to mean something.
I want my words to hold eternal value.
And if that's how I feel about writing,
shouldn't everything about my life be viewed in the exact same way?
_______________________________________
My conversations at work, in the car, around the kitchen table, by the pool, over coffee with a friend, or even in a text……………
how would they change if I saw them all as equally significant?
_______________________________________
I think that's why I love talking to people who have embraced aging.
They understand that every second matters.
They view minutes on the clock as treasures rather than dollars in the bank.
They appreciate the sunrise because they realize it is a undeserving gift……….another day………….more minutes…………..a new jewel in their treasure box of time.
So, for me, the thing about aging is this:
I can't stop it and that's okay.
If I could, I may not cherish today.
I may miss the chance to walk with a friend or have a silly conversation through texting.
I may skip the ball game or the concert or the game of corn hole in the back yard.
I may pass up the movie or the little after-school talk in the kitchen.
I know this is true, because I've done it.
Time and time again.
I've lived years thinking time was somehow on hold for me,
so I could work more and do more and be more.
And all the while,
time was ticking away.
Not in a panicked sense, but in a very methodical, consistent way.
Tick
Tock
Time is passing.
I'm now closer to 50 than I was when I started this post, and how do I feel about the time I've spent writing this?
The time I can never have back?
I feel good.
Because I'm even more aware of how wonderful it feels to know I can't stop the aging process.
Tomorrow I will be 50.
Is that a big deal?
Not really.
It just means I only have one chance to get my last day of 49 right.
I hope you'll get your day right too.
Tomorrow, it will be gone.
Tick
Tock
Time is passing.
Lord, help me learn to treasure every second.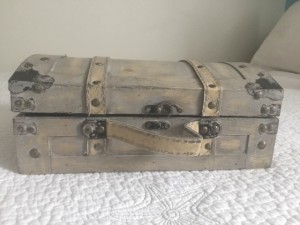 "Lord, remind me how brief my time on earth will be.
Remind me that my days are numbered–how fleeting my life is." (NIV)
Psalm 39:4