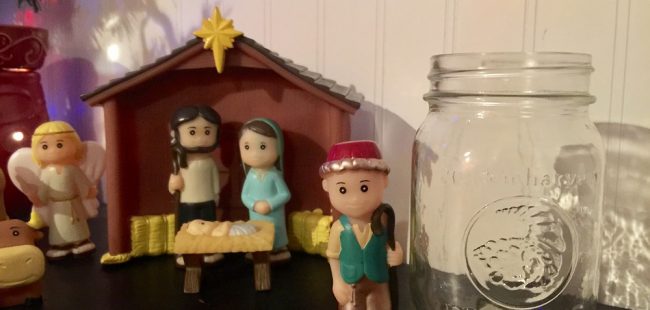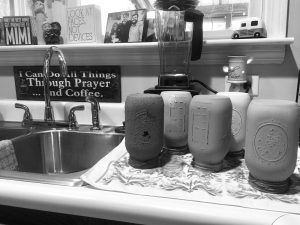 It's funny how a sermon can hit you in an unexpected way………..
cause your mind to wander…………
and the next thing you know you're thinking about what's sitting on your kitchen counter that very second and how maybe just maybe you washed out empty jars the night before not so much to clean them but to somehow prepare your heart for the message the next day.
_____________________________
The widow, at the end of all her earthly hope, came to Elisha and he asked her two questions,
 "How can I help you? Tell me, what do you have in your house?"
Two little questions.
"How can I help?"
and
"What do you already have?"
She skipped the first question.
Maybe she didn't have a clue how to answer or maybe the answer seemed too obvious.
Her husband had recently passed away and now her sons were going to be taken from her because she had no other way to pay her debt.
Desperate.
Scared.
At the end of everything,
she replied,
"Your servant has nothing there at all except a small jar of olive oil."
Nothing……………..except………………
And that's where Elisha stepped in.
He stepped in at her "except"………………..
and said,
"Go around and ask all your neighbors for empty jars. Don't ask for just a few. Then go inside and shut the door behind you and your sons. Pour oil into all the jars, and as each is filled, put it to one side."
I wish I could have seen her face as she heard Elisha's instructions.
I would have loved to have heard the thoughts that surely raced through her mind as she pictured her almost-empty jar of oil at home and wondered if Elisha had truly heard her when this was his reply,
"Go get as many empty jars as you can and fill them up."
I don't know if she hesitated.
I don't know if she went back home and looked at her own jar and thought,
"This is going to be impossible."
All I know is what the Bible said she did,
"She left him and shut the door behind her and her sons.
They brought the jars to her and she kept pouring."

The story goes on to say that the oil didn't stop flowing until all the jars were filled and there were no more empty jars.
That's where my mind wandered…………………………..
The oil stopped flowing when there were no more empty jars.
God's miracle required something.
Empty jars.
God's miracles needed something I had on my own kitchen counter.
Empty jars.
God's miracle needed something I often feel.
Emptiness.
A lacking of completeness.
Inadequacy.
Grief has so many sneaky ways of reminding me I'm not whole.
I try to rise above this feeling.
I try to fill my life to the top with all things good.
But on this particular Sunday, God whispered something I know I needed to hear,
My miracles can't happen if your jar is already overflowing.
I sat there in my church pew……………..
surrounded by friends……………
wondering if anyone else felt as empty as I sometimes do
or if any other minds had wandered to the neighbor's completely empty jars.
Was anyone else stepping outside the story of the widow's faith to the faith of the other characters in this chapter of II Kings??
Was anyone else's mind drifting to the house next door?
I couldn't let the thought of these people go.
The image of two boys walking through their village asking not for oil but for empty jars………….
and how the neighbors must have felt so inadequate handing what they viewed as "nothing" to children who so desperately needed filled.
Haven't we all been asked to give when we feel we have nothing left to offer?
My mind drifted again……………
to the shepherds on the night Jesus was born.
Showing up with nothing more than "empty jars," they bowed down to worship the King of Kings………….
Is there significance in the fact that these simple staff-holding sheepherders were the only ones personally invited by the angels to the birth of the King of Kings?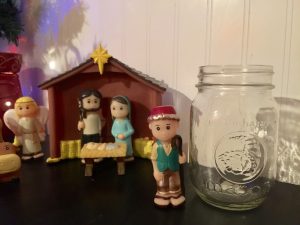 They had nothing to offer but themselves…………….
and they were enough.
Jesus didn't need things.
He's never needed things.
He only needs willing, worship-filled people.
____________________
The wise men came a couple years later with hands full,
but they were sent by someone with an ulterior motive.
Bowing down, they offered treasures……………….and
God definitely used their gifts in spite of the reason they were sent.
But what if the biggest gift given on that particular day was the one the wise men received as they were transformed in the presence of Jesus?
The Bible says they left and went home a different way.
Doesn't my direction change when my heart is changed?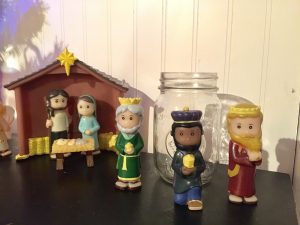 _________________________________
Maybe that's it –
Giving what we have changes us.
Giving what we do not have changes the world.
________________________________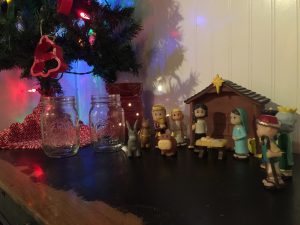 I'm adding a couple of things to my Nativity set this year because
I never want to forget the sermon my heart heard when my mind wandered.
______________________________________
Maybe it really is as simple as giving empty jars.
_____________________________________
Habbakuk 3:17-18
Though the fig tree does not bud
    and there are no grapes on the vines,
though the olive crop fails
    and the fields produce no food,
though there are no sheep in the pen
    and no cattle in the stalls,
yet I will rejoice in the Lord,
    I will be joyful in God my Savior.
Psalm 126:5
Those who sow with tears will reap with songs of joy.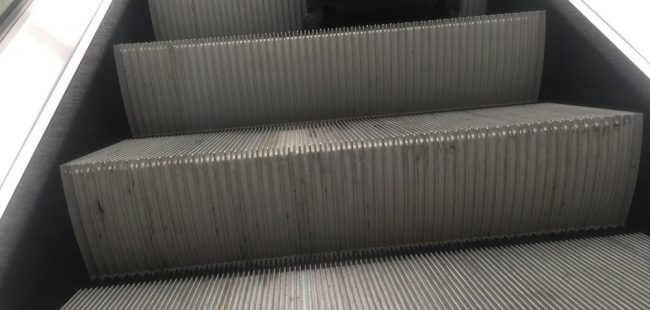 Kids often run full speed toward new things.
Who wouldn't want to ride on "moving stairs?"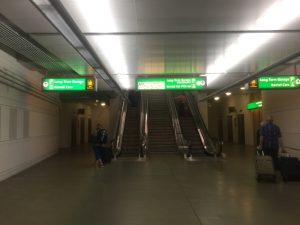 But a lanyard around the neck of a little boy with tiny legs can quickly become an enemy when brought too close to a gap in the moving metal.
Before I could even think, he was way ahead of me,
moving upward,
grinning and leaning down to watch the magic of the machine….
that's when I saw his name tag slip into the temporary space between the quickly-disappearing stairs.
"Help!"
That's all I could scream in that moment,
and thankfully a science museum employee was nearby….
and with the push of a button,
the stairs came to an abrupt halt and my little guy was free.
Unaware of just how close he had been to danger,
he kept on running and we never spoke of it again.
………………………………………………………………………………..
The memory lingers still….
the day we were spared a nightmare.
The day that time, unlike the stairs, didn't stop moving forward.
…………………………………………………………………………………
Not all days move on so smoothly though.
Sometimes the lanyard falls and the stairs keep moving.
Life grabs us.
Pulls us down.
And in a second everything is changed.
Forever.
Yesterday, the stairs kept moving but time stopped for a family we love dearly.
No pushing of a button spared them a nightmare —
and there are no words in any language that can speak into their pain.
I'll never understand these kind of days.
Days when the stairs keep moving but time stops.
I remember so clearly the sound of a lawnmower the day Adrienne was taken from us.
How could grass need mowed when my heart had been so painfully cut in two?
 I remember hearing the sound of laughter not long after saying "goodbye" to Nick.
Would this sound ever come from my mouth again?
Time stopped.
But the stairs kept moving.
I've been forced onto many moving stairs since the day we were spared one tragedy…..
and I've been forced onto many moving stairs since the days we weren't.
I could never find an answer for my pain when we lost our daughter or our son,
and I can't find one today for a family who has lost three generations of love in one split second.
_______________________________
I could spend the rest of my days on this planet trying to sort things out,
but I would never find the right words to make sense of it all.
————————————–
Stairs moving but time stopping –
how can this ever make sense?
———————————-
I'm not sure what to do with all the questions running through my mind.
Why is the emergency button so close some days and so very far away on others?
I do not know.
I'll never know.
All I know is this:
God is there……
whether the stairs stop or time comes to an all-too-sudden halt.
He's in the middle of every averted tragedy,
and He's in the middle of every moment we're sure we'll never be able to face the world again.
All we can do on these days is cry for help…..
and know that He is there.
I've clung to this passage for many years and found it to be true time and time and again.
Psalm 40:1-3
I waited patiently for the Lord;
    he turned to me and heard my cry.
 He lifted me out of the slimy pit,
    out of the mud and mire;
he set my feet on a rock
    and gave me a firm place to stand.
 He put a new song in my mouth,
    a hymn of praise to our God.
Many will see and fear the Lord
    and put their trust in him.
—————
I don't understand so many things about life, but I do know this:
When time stops but the stairs keep moving,
He is still there.
******************
And I'm forever thankful.
******************
"Yet this I call to mind and therefore I have hope:
because of the Lord's great love we are not consumed,
for His compassions never fail.
They are new every morning;
great is your faithfulness.
I say to myself,
'The Lord is my portion; therefore I will wait for him.'"
Lamentations 3:21-24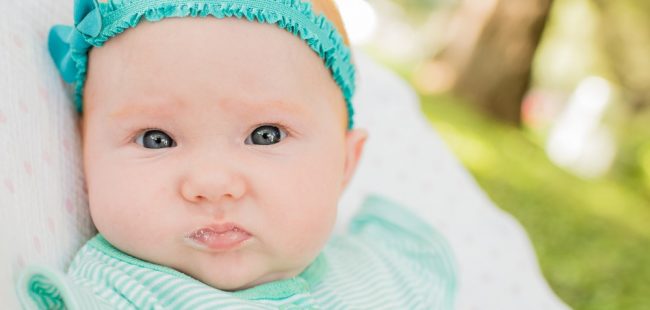 Voicing my political views on social media has never been "my thing."
Maybe it's because I don't feel informed or intellectual enough to carry on a healthy debate,
or maybe it's because so many online debates digress so quickly that a knowledge of what is true or false seems unnecessary in order to keep a "conversation" going.
And who has time for that?
Either way……………
I will continue to avoid the heated political debates.
But I can't let this Monday pass by without saying this………….
Tomorrow matters.
In so many ways,
how we handle tomorrow changes everything about the next day and the next.
After months and months of shocking news reports and unbelievable chaos,
 we will finally stand in lines all across this nation……………..
waiting for our opportunity to truly have a voice that is heard.
Not just the freedom to post a comment on Facebook
or Tweet what we're thinking,
but a chance to say,
"For the next four years,
here's the person I choose to lead this nation."
No matter how insignificant we may feel on a day-to-day basis,
on Election Day our voice will be no smaller or bigger than anyone else's.
Millions of imperfect people will file into rooms
all over America
to cast votes for other imperfect people.
That's right.
We're all messed up.
We've all made mistakes.
So don't expect to find any "perfect" candidates on the ballot tomorrow.
If this overwhelms you or causes you to feel stressed,
there's something you can do today that might help.
Quit listening to all the voices screaming,
"Do this or do that."
Just get quiet.
Take some time to pray.
Ask God for wisdom and peace as you consider what is right and wrong
and as you think about the candidates' beliefs on these very issues.
I look at my granddaughter's sweet little face,
and I want to believe her future is bright.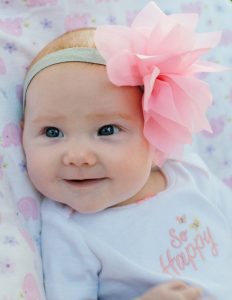 I want to know she's going to be okay long after I'm gone.
As I pray about tomorrow and find perfect peace in the person I will be choosing,
I'm reminded of something that brings a much deeper peace than anything a ballot ever could.
———————————————
The best Person already leads us all.
_________________________
In spite of our views, our opinions, or our beliefs
-and no matter how we cast our votes tomorrow-
We can't change the truth.
We can't undo what was set in motion when time first began.
Maybe our votes do alter the course of human history, but eventually………..
Leaders come and leaders go.
Nations rise and nations fall.
Our vote is powerful and powerless at the very same time.
______________________________
So how do we vote tomorrow?
We vote with confidence.
We vote with peace.
We vote with conviction.
We vote with honest prayer.
But we also vote humbly,
because our voice counts –
but only once –
just like everyone else's.
And at the end of it all,
someone will be chosen to lead this country,
and no matter who it is,
we're still in this crazy thing called life — together.
And regardless of the election results,
we have to join hands and walk in peace.
Because the number of states that end up red or blue will never change the reality that
God wins.
He always wins.
Every day.
Every year.
Every decade.
Every century.
He is the Alpha and Omega.
The beginning and the end.
_________________________
So how do I vote tomorrow?
I calm down.
I take a deep breath.
I pray.
And I vote with my head, my heart, and my soul.
But how do I know everything will be okay?
I never forget that my ultimate leader doesn't need to run for office.
He is already seated on the throne.
And He rules with truth and justice.
If my trust is completely in Him,
I can know deep down in my bones that no matter how tomorrow night ends………..
we're going to be okay.
This nation is going to be okay.
Would someone please say this……………
ABC,
MSNBC,
CBS,
CNN,
Fox News,
BBC,
Drudge Report,
Washington Post,
New York Times,
ANYONE!!!
Please let the nation know!
WE'RE GOING TO BE OKAY!!!
Psalm 146:3-10
Do not put your trust in princes,
    in human beings, who cannot save.
When their spirit departs, they return to the ground;
    on that very day their plans come to nothing.
Blessed are those whose help is the God of Jacob,
    whose hope is in the Lord their God.
He is the Maker of heaven and earth,
    the sea, and everything in them—
    he remains faithful forever.
He upholds the cause of the oppressed
    and gives food to the hungry.
The Lord sets prisoners free,
 the Lord gives sight to the blind,
the Lord lifts up those who are bowed down,
    the Lord loves the righteous.
The Lord watches over the foreigner
    and sustains the fatherless and the widow,
    but he frustrates the ways of the wicked.
The Lord reigns forever,
    your God, O Zion, for all generations.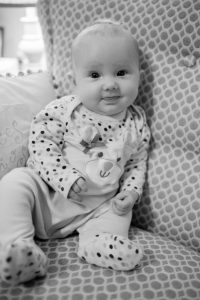 My sweet, Elaine Adaya, praise the Lord!!
You're going to be okay!!!