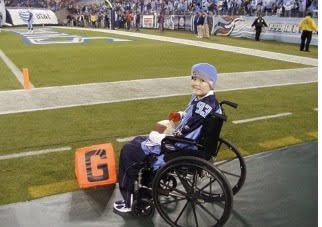 Nick loved the American flag.
I wish I had time this morning to dig through old photos,
because I know I have memories showing his deep love for the red, white, and blue.
————————————–
Nick loved football too.
Even when he could no longer walk,
we made our annual trip to Walmart for the newest version of Madden Football for XBox.
He counted down the days until its release every single summer.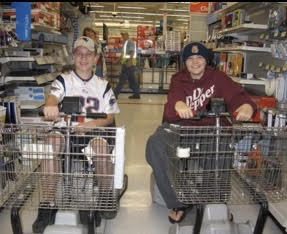 I still find old notebooks around the house filled with football plays drawn up by Nick just for fun.
He loved everything about this sport.
———————————————–
Thanks to a dear high school friend and her husband (We love you, Mike and Carol!),
Nick was able to attend several Titans' games.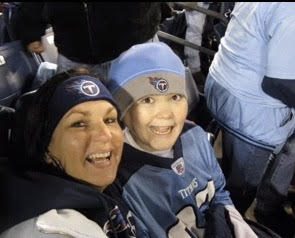 He even had the privilege of siting on the field for an up-close view of the players at the very last game he attended.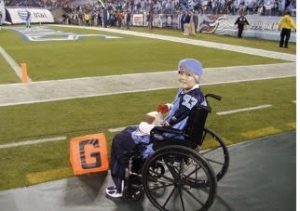 I didn't have time this morning to find great quality pics of these memories,
but I don't care.
I have something on my heart ,
and I want to share it before heading out the door to work.
America needs to wake up.
We're so busy ranting and raving
or standing in silence
or sitting in protest
that we're missing the bigger picture.
I believe Nick represents what we're missing.
We're missing the fact that children are watching.
The sidelines of our adult lives are filled with children,
longing for examples,
needing great role models,
hoping for a future filled with love not hate.
How do we stop this craziness?
Yes, we should have the freedom to choose whether we stand or sit………….anywhere.
That's a free gift in this country.
The flag and our national anthem celebrate this gift, though,
so we need to think long and hard about how we choose to make our point.
I can truly see both sides of this battle,
and I don't know enough to have a long and arduous debate with anyone about it.
But as the mom of a football-loving child who lost his fight to cancer,
leaving our family with only autographed football helmets and jerseys from several kindhearted teams,
I am begging our country to do one thing:
"Stop!"
 I'm also saying, "Stop!"  to all parents who are so busy worrying about their own freedom and happiness that they're missing the lives of the little ones right in front of their faces.
Please stop.
Look around you.
We're surrounded by children in need of love.
Children who desperately long for adults who will settle down, sit down, and share quality time.
I wish I could have one more day with Nick.
One more hug.
One more conversation.
One more chance to throw a football in our front yard.
One more anything……………………
So, if you read this and have any connection with children,
please stop whatever you're doing or fighting for
and fully embrace your time with them.
Now that's a freedom worth fighting for.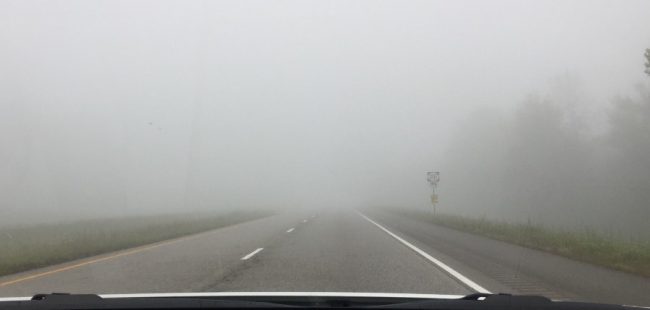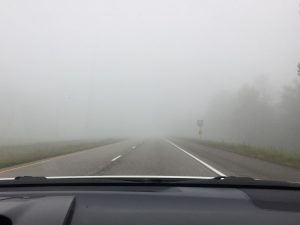 It gets the best of me so often.
The unknown.
The unseen.
The signs up ahead I can't quite see.
Foggy mornings scare me.
So does walking by faith.
Take me out of the driver's seat and everything gets worse.
There's something about gripping the wheel that at least gives me the false allusion that I have a little control over the unknown.
And a false allusion can carry me pretty far.
__________________
God must know I need a lesson now and then.
A reminder of just how little I control.
_________________
I scoot down low and close my eyes,
thinking if I block my view,
keep myself from seeing the scary unknown right in front of me………
then maybe it will all go away.
_________________________
I peek often, though, and breathe deep.
And it's still there.
All the things I do not know.
How does my husband keep moving so calmly into the unknown while I grip the door and fight the urge to scream, "Stop!"
Driving in fog and walking by faith
They're both so scary.
But I'm slowly learning………………
 it's not about how fast you move from here to there along the foggy way
 but how you act as you face one unknown curve after another.
And that's where my foggy faith so easily fails.
Fear wins.
Anxiety scoots me low.
The unknown becomes my focus,
and I miss the beauty of the road right in front of me.
________________________
Now faith is confidence in what we hope for
and assurance about what we do not see.
Hebrews 11:1
_______________________
If I have one desire this morning,
it is this:
To stop allowing fear to keep me from embracing the wonder of a foggy road.
Because life really is a beautiful foggy journey.
And faith means releasing my grip from the wheel.
And trusting the One who's driving.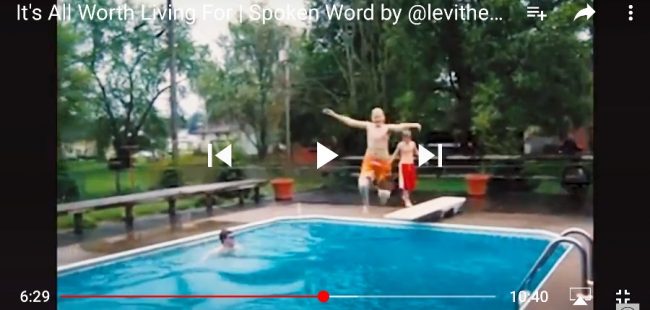 I knew I had a choice.
Dive all the way in or run far, far away.
There was no half-way about the decision in front of me.
And sometimes a "T" in the road feels so scary……………
because either way has a cost.
But this particular moment of decision didn't feel quite like my own.
God had opened doors so strategically that I knew deep inside one option for turning had been blocked with a "Road Closed" sign,
so I walked in…………..
the day after crying most of the morning………..
and determined that if God had brought me to it,
He would surely see me through it.
So I dove in.
Moving furniture and throwing away things left by other people,
I slowly made this little corner of the world my own.
And as I picked up the cleaner to begin wiping down the shelves,
I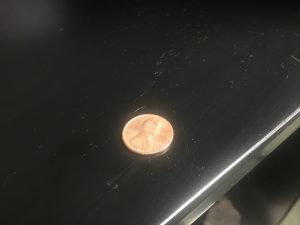 had no idea I would be hearing the sound of metal clinking metal as a penny fell from somewhere above and landed right in front of me.
A bookshelf seems like an odd place for a coin……….
and as I picked it up and read the year, "1991," I couldn't help but think of that year in my own life……….
the year before Adrienne was born………
and then died.
The year before my marriage had felt anguish.
The year before my young self had known such personal loss.
The year before our two oldest boys would stand by their sister's grave and say, "Bye for now."
I felt God whispering,
"I'm just as present with you today as I was then.  Be strong.  Lean on me.  You've been through such bigger life changes."
I smiled quietly to myself and thought, "Adrienne is cheering me on," and that was enough to keep me going; and I slipped the penny into a pocket of my purse.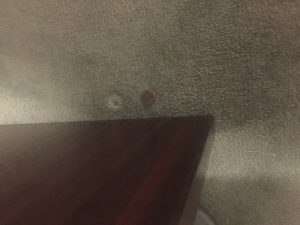 Feeling the presence of God so much closer than I had just minutes before, I turned
to dust off my desk.  My heart stopped, though, as I looked to the floor.
It was as if Nick tugged on my sleeve and said, "I'm cheering too, Mom.  You've got this!!"
I slowly picked up this new little piece of copper and read the year……….
"2000."
Nick was with us in that year.
Whole.
Healthy.
Cancer-free.
Life was good………..again.
Grief still walked with us in 2000, but eight years had passed since Adrienne was suddenly taken from our home and there's something about time that changes sorrow into hope if you keep your eyes on the cross.
It's now been eight years since we said good bye to Nick.
Is that what this penny and Nick were trying to say to me?
"It's okay to be happy.  It's okay to live big again, Mom.  Life is worth living!"
As I slid this penny into my purse right next to the other one, I felt a strange peace come over me.
God had transformed this new and scary world into a sanctuary.
He was there.
Emmanuel.
God was with me.
Why did I ever feel alone?
Thinking my encounter was over, I opened the drawer to see what supplies were already there…………..
and saw this.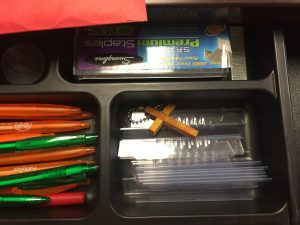 How much more did I need??
Why did God choose to speak so loudly??
How could I be so blessed?
Two pennies and a cross…………
and then the unbelievable happened.
Last night as I was sitting in a friend's living room talking about our days, I received a text from my son in Japan.
All it said was to watch a second-long clip of a spoken-word video he had attached.
He gave me the exact time in the video, so I went straight there, thinking I may see a clip he made while doing mission work.
When I got there, though, my mouth dropped as I watched Nick jump from a diving board…………….
arms wide open
smile huge
splashing his way back into life after having his pic line removed and his first long cancer treatment series completed.
Nick.
Living big!!
Nick.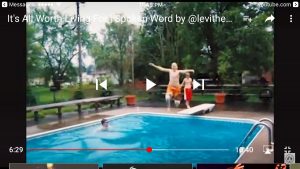 Telling Todd eight years later that the answer to the question,
"Why is life worth living?"
was him………….
jumping high and jumping brave with no hair and pale skin.
Isn't that what we all need to hear?
Living big isn't wealth or fame or money or anything we can touch or spend or own…………….
it's jumping high and brave when our hair is gone and skin is pale.
It's living every moment as if it's our last and even if it is we know it's okay……..because we lived strong and hard and full and deep until God said,
"Well done,"
but not a second before that did we ever say,
"I'm done."
Thank you, Levi the Poet, for writing such powerful words.
Thank you, Todd, for answering his question with such a powerful moment from one of the hardest chapters in our family's life.
So what will I do today?
How will I live?
How will I face more training and more stretching?
I will face it big and brave!!!
Why?
Because every breath is a gift from Him who loves me most.
And I'm forever thankful!!
I'm praying your day is transformed into a place of Holy encounters as you praise Him while you have your being.
Live big!
And if there's a "T" in your road,
turn toward God.
Don't run the other way.
I will praise the Lord as long as I live;
I will sing praises to my God while I have my being.
Psalm 146:2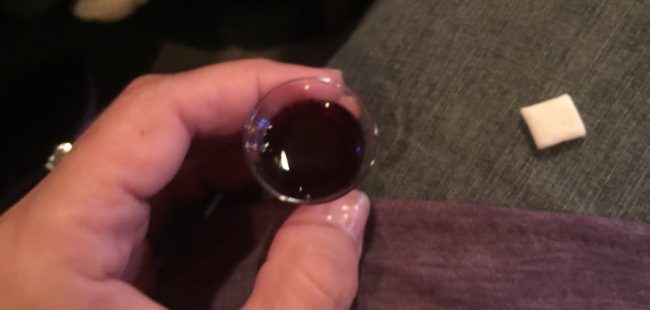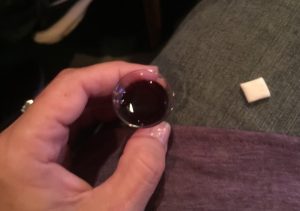 I remember family vacations that included Sundays.
No matter where we were, from a campground to a parking lot,
dad would pull out a bottle of grape juice and a box of crackers.
And right there in the middle of who-knows-what-kind-of-moods we were in at the time,
we would stop everything long enough to eat one broken piece of a Saltine and sip one little gulp of Welch's.
 I remember feeling sort-of embarrassed as the juice bottle and cracker box sat on the hood of our car and dad read a verse about Jesus dying on the cross out loud to us.
"Who else does this?
"Why can't we just wait and do this next week at church?"
I would often think to my teenage self.
Looking back on this image of our classic 70s family, clothes and all, and remembering what a moody, difficult girl I could be at times,
I am forever thankful.
I learned then what I didn't really appreciate until now.
This tiny meal sustained my family.
And it still sustains me today.
Every week as I pick up the little piece of bread,
I'm reminded of His body.
Broken just for me.
I am often overwhelmed by the feeling of this cracker being crushed by my teeth, sticking in my throat as it goes down.
It's hard to swallow the fact that someone willingly died so I could live.
If I could just wash this down…………………remove the pieces of this memory.
And then I remember, I can.
I hold the tiny cup to my lips and I'm thankful for a way to rinse the dry feeling of the cracker from my throat,
but as the liquid goes down I'm reminded of His blood, the blood that washes away my sin.
Only God would choose something red to make something white.
Jesus died for me.
He paid the price for everything I've thought, said, or done.
And every single week He's provided a way for me to remember.
A way for me to reflect on and regroup from every stumbling step I took since the last time I met Him here…………….at the table.
I need this meal more than any other.
I need this tiny cracker and this miniature cup.
They convict me.
They refresh me.
But most of all,
they remind me.
They take me back to a place I've never actually been to experience a moment in history that changed our calendar from B.C. to A.D. and changed our future from despair to hope.
 And he took bread, gave thanks and broke it, and gave it to them, saying, "This is my body given for you; do this in remembrance of me." In the same way, after the supper he took the cup, saying, "This cup is the new covenant in my blood, which is poured out for you.
Luke 22:19-20
It's only Wednesday, and I'm already hungry.
Maybe that's what Jesus was talking about in Matthew 5:6 when He said,
"Blessed are those who hunger and thirst for righteousness,
for they will be filled."
I need this meal weekly.
And I'm thankful my parents did too – long before I really understood why.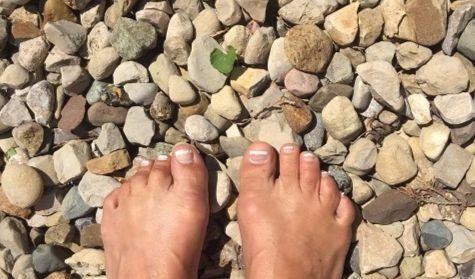 Stepping into an elevator full of people I'd never met,
I wondered how I'd ended up here.
A new job.
A new training.
A new world full of rules and expectations.
I smiled at the faces standing all around me and wondered,
"Are they thinking these very same thoughts?"
As the day passed by,
I learned a few names and heard a few stories,
but deep inside I felt all alone.
It's hard to face new beginnings in the middle stage of life.
___________________
Driving back to training on the second day,
I had KLove playing on the radio.
A song began to play that I had never heard before in my life.
I could feel every part of my heart warming up as I listened to Micah Tyler sing these lyrics,
I don't wanna hear anymore
Teach me to listen
I don't wanna see anymore
Give me a vision
That you could move this heart, to be set apart
I don't need to recognize the man in the mirror
And I don't wanna trade Your plan for something familiar
I can't waste a day
I can't stay the same
I wanna be different
I wanna be changed
'Til all of me is gone
And all that remains
Is a fire so bright
The whole world can see
That there's something different
So come and be different
In me
And I don't wanna spend my life stuck in a pattern
And I don't wanna gain this world but lose what matters
And so I'm giving up everything because
I know, that I am far from perfect
But through You, the cross still says I'm worth it
So take this beating in my heart and
Come and finish what You started
When they see me, let them see You
'Cause I just wanna be different
I just wanna be different
So could You be different
In me
_______________________
This morning my daily Bible reading was from Esther……….of all books.
"And who knows but that you have come to your position for such a time as this?"
Esther 4:14
Did Esther ever toss and turn at night?
Did she ever wonder if she had bit off more than she could chew?
Did she ever second-guess her footing?
Did the path she had chosen ever hurt her feet?
______________________
I'm so thankful Esther kept walking.
I'm so glad she didn't run from the mission God assigned her.
And I'm so humbled that the Creator of our entire universe takes time to send song lyrics and Bible stories just when I need them…………….
Whether you turn to the right or to the left,
your ears will hear a voice behind you, saying,
"This is the way;
walk in it."
Isaiah 30:21
_______________
When Nick was sick, I leaned on so many verses to carry me through all the things I was forced to watch Nick face……….
MRIs
Chemo treatments
Transfusions
Surgery after surgery
But when Nick passed away,  Isaiah 42:16 rose to the top……….
I will lead the blind by ways they have not known,
along unfamiliar paths I will guide them;
I will turn the darkness into light before them and make the rough places smooth.
These are the things I will do;
I will not forsake them.
_____________________
I'm slowly learning that life is a series of unfamiliar roads,
but God is always just ahead.
Leading
Guiding
Sometimes pushing
Sometimes pulling
But always………..
Comforting
Shaping
Stretching
Transforming
And if I lean in to these scary, rough, uncomfortable paths
and fully embrace the mystery of the journey………..
And if I take a good, long look at the rocky road under my bare and often aching feet,
Love is there too.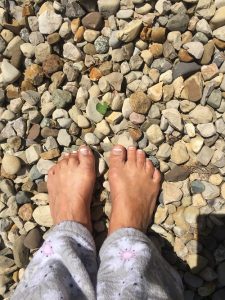 So this morning as I head to day four of new information and new faces on this wild ride called "life,"
I'm sure this is the direction God has pointed my life for now.
And He's saying,
"Walk confidently.  I am with you.  Every step of every day."
If you're finding yourself on a rough road this morning,
and so many in this world are on the rockiest of roads right this minute…………
listen for His voice,
look for His love,
"let the whole world see that there's something different in you"
And who knows?
You may be on this rocky road for such a time as this.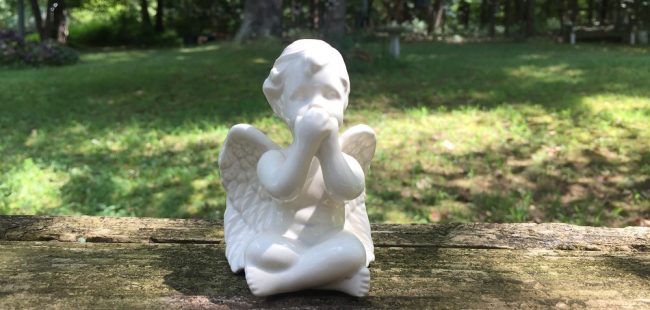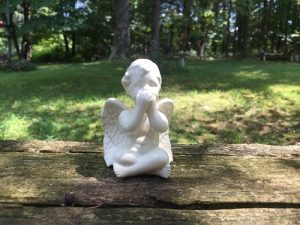 Day after day,
for the past couple months,
my fingers have rested on this keyboard………………..motionless.
Thoughts bouncing wildly around in my mind and
 emotions running deeply through my heart,
yet fingers refusing to budge.
Sometimes finding a way to connect thoughts and feelings into coherent sentences feels like trying to tie a knot in a tiny strand of thread while wearing gloves.
Today, I'm taking off the gloves.
I've fought with my emotions internally for way too long,
Do you ever wake up and just know today is the day to push through the pain?
Jump a hurdle even when it looks much more like a giant wall.
Break the silence in a way-too-loud world.
And maybe that's just it.
Why speak when it feels like the world is screaming?
That's been my excuse every time I've stared at a blank screen.
Words are everywhere.
From street signs to books to social media to texts to emails to news………………
there's no shortage on thoughts, opinions, and facts.
But today I hear a whisper,
There can never be enough of Me.
The One who is Enough gently reminds me that He is so much more.
So I begin clicking,
because He is here,
nudging me…….
guiding my fingers………
helping me rediscover the part of me that has been lost in hurt, anger, sadness, fear, and even joy.
Yes, in the midst of so much in our family's life that has been out of control and troubling,
life has been filled with plenty of happiness too.
And why am I surprised??
Jesus said,
"I am come that they might have life,
and that they might have it more abundantly."
John 10:10
but He also said,
"I have told you these things, so that in me you may have peace. In this world you will have trouble. But take heart! I have overcome the world."
John 16:33
So the juggling of laughter and tears,
hope and despair,
good news and bad news,
kind words and words that cut to the quick,
joy and grief,
hellos and goodbyes………..
it's all part of His plan.
_______________________
What would we even be like if life were all bad or all good?
Unbearable, at best, I am sure.
_______________________
So today, I'm thanking Him for the parts of my life that are filled with peace and love,
but I'm also thanking Him for the parts of my life that hurt.
Because every ounce of burden I carry is actually incredibly light when I remember the One who is willingly and unconditionally carrying me.
The One who said,
"For my yoke is easy and my burden is light."

Matt. 11:30
Sometimes it's hard to feel this light and easy yoke in a world beat up and battered by everything from selfish and angry people to powerful and merciless storms.
It's hard to see the sun when the rain won't stop coming down.
But I'll never stop believing He's here.
Comforting
Calming
Reaching
Speaking
Working
Moving
Transforming
Reminding
Restoring.
Bringing beauty from ashes,
Good from bad,
Joy from pain.
____________________
I can't face today without Him in it,
and
I could never face my tomorrows if I didn't believe He was already there.
_____________________
It's September 1st, 2017,
and I'm determined to keep my fingers moving from this day forward.
Because when I do,
I feel better.
Breaking the silence in a way-too-loud world feels good when it turns me away from the chaos and directly toward Him who confidently says to every storm,
"Peace.  Be still."