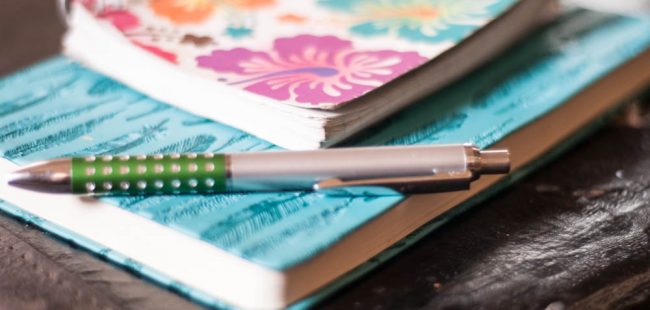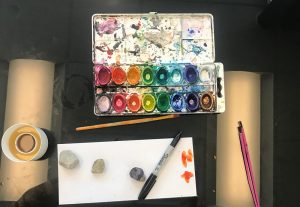 When his mother packed his lunch early that morning,
did she ever dream she was packing a miracle?
And if she'd known,
would she have packed a little more –
knowing Jesus would be looking in the basket
in search of supplies.
And as the little boy headed to town, did he realize what he was holding?
Just two fish and five loaves of barley – yet enough to feed thousands.
____________________________________
What about the widow of Zarephath —
Did she forget what it takes to make bread
when she told Elijah she only had flour and oil at her house?
It's so easy to forget.
Miracles don't require extraordinary supplies.
They just require us…………………
and whatever God has placed in our hands.
In Sunday School yesterday, as we finished another day in our
Made for This: 40 Days to Living Your Purpose book study.
And the question author Jennie Allen asked in this chapter was,
"What are you holding?
My Bible reading this morning included the crucifixion of Jesus.
So many different kinds of people holding so many different things filled up these few pages in the Scriptures.
From swords to spears to coins to signs to sticks,
character after character enters this part of Jesus' story briefly and then exits stage right.
But every person has a purpose –
and what they're holding does to.
Over and over again we read the words,
"that Scripture may be fulfilled."
God had a play for every person.
And the objects they held moved that plan along.
What if we entered today fully aware of what our hands are holding?
Maybe it's a pen or a computer or a phone.
Maybe it's the hand of a loved one who is sick.
Or the steering wheel of our car.
Maybe it's a baby in need of love.
Or a dish in need of washing.
Whatever it is,
what if we considered it sacred?
Could it be that God has entrusted us with
A holy dishrag?
A set apart steering wheel?
A sanctified laptop?
How different would today look if we periodically paused,
looked down,
and asked ourselves,
"What am I holding?"
"And how can God use it?"
How quickly could the world turn right side up if we all decided
on this brand new Monday morning –
this new day of life and gift of another sunrise –
to look down,
exam our possessions,
and then immediately look up,
asking God to use them?
He's got the whole world in His hands.
What's in yours today?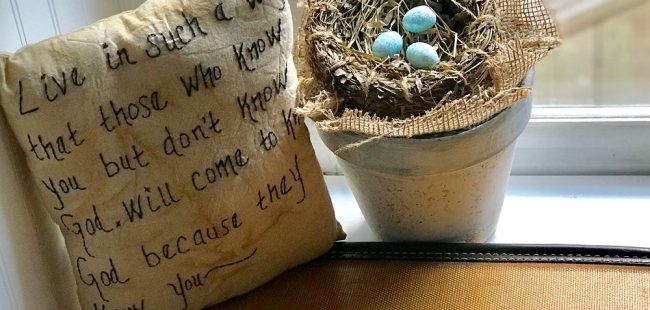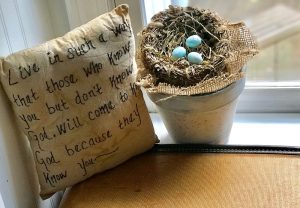 The first bird flew away over a decade ago.
Watching him soar high into the sky,
my heart whispered,
You always have a home here.
This nest is yours forever.
—————————————-
Not long after, the second bird began to flap his wings.
Flying high and free,
the whole world became his home.
But still, a mommy bird wants her little one to remember,
You always have a home here.
This nest is yours forever.
—————————————
The third bird, having watched his brothers take flight,
must have liked what he saw.
Because the day arrived when he,
too,
began his journey into the clouds –
and across the ocean.
————————————-
Three little birds gone,
my heart longed for each of them to never forget,
You always have a home here.
This nest is yours forever.
———————————————-
Time passed by.
One lone bird remained.
Chirping loudly,
she kept us busy.
And refilled our nest with other little birds,
sleeping over and giggling their way through many nights.
Could she read my mind as I watched them play?
———————————
I think she could.
And like her brothers,
she knew it was true.
This nest was their safe place.
No matter what the world might hurl their way.
————————————
But what healthy bird never flaps its wings?
Refuses to take off?
Denies the right to soar high?
So inevitably, her day came too.
Wings flapping beautifully,
she carried herself up and away.
_______________________
And for the very first time,
our nest was truly empty.
But it was still here.
Faithfully waiting.
Ready to fill back up for holidays,
weddings, 
and all kinds of other special events.
———————–
If there's one thing you should always be able to count on,
isn't it your nest?
———————————
That's what I thought anyway.
Until the day God unexpectedly said,
It's your turn.
Spread your wings.
Go.
Fly.
Soar.
Nervously we looked around.
Could this be right?
Is He asking us to leave the very nest our little birds believed was here to stay?
And is He asking us to leave it too?
Every twig.
Every branch.
How do we do this?
How do we find the strength to flap our wings and fly away from every single thing we hold dear?
—————————-
Did Abraham feel the pull to stay?
Did Moses resist for more reasons than a fear of public speaking?
All through the Bible,
God pushed people out of their comfort zones when He was ready to use them in a different way.
And our nest is definitely our comfort zone.
So the day we felt the call,
we hesitantly walked to the edge.
Looked down.
And realized it was time.
He was pushing and our choice was clear.
Flap or fall.
So we said, "Yes,"
and as we did,
something happened.
God began to perform a miracle.
Not a tangible or immediate one
and not one that causes crowds to oooh and ahhhh,
but it was a a miracle none-the-less.
God somehow began to transform our nest.
Every twig became a memory.
Every branch a story.
The empty nest we call our home started changing from walls and windows to a home deep within our hearts.
————————————–
"Yes.  You're going to fly,"
He lovingly said,
"But the nest is flying with you."
—————————-
Suddenly, it wasn't quite as scary.
This decision to journey into a new chapter became just a little easier when we realized we aren't really leaving anything or anyone behind.
Because family isn't held together by twigs and branches.
It's held together by memories and stories and love.
So we called the kids.
And talked to friends.
And realized they already knew what we struggled to believe.
No matter where we settle.
The nest will be there too.
—————————–
Our address may change.
But our love remains the same,
gently whispering to family and friends,
You always have a home here.
This nest is yours forever.
============================
With conflicting emotions but a sense of God's supernatural peace,
Tim and I want to share that after thirty wonderful years of service at Kentucky Christian University,
Tim is exchanging his role as Dean of the School of Business for the position of
Financial Analyst with Northeast Christian Church in Louisville, Kentucky.
We believe God is calling us to rebuild our nest there.
And we invite you all to visit.
Please.
———————————————
I have much more to say about this heart-wrenching decision but for today I want to say this,
Thank you,
Grayson,
First Church of Christ,
and KCU,
for helping us raise our family and for walking so faithfully with us through every high and every low.
You are the twigs and branches of our nest forever.
Where (and who) would we be without you?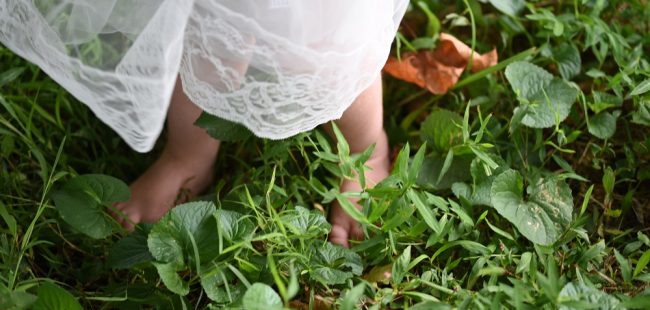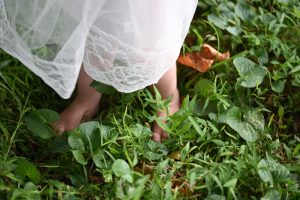 Her little feet.
Running through our yard.
And through our house.
It was a summer to remember.
Forever.
I think about her this morning,
experiencing another culture with her mommy and daddy.
On the other side of the world.
I miss my little Gingersnap.
But I also whisper a prayer of thanks.
She is safe.
She is loved.
And she knows.
_________________________
I wish every child could experience the same depth of love.
Know how much they matter.
Understand how much they're worth.
I wish every little boy and girl all around the world could wake up,
excited about the adventure of a new day.
And fall to sleep peacefully…..
with only good thoughts dancing through their head.
But I know the truth.
This world has a way of robbing some children of these wonderful thoughts and feelings.
They stumble through childhood,
trying to protect themselves from people's actions and words.
And then face adolescence with a defensive courage only a few are able to understand.
Be patient with these children.
They're trying to believe something they've possibly never heard.
They have worth.
Jesus had to remind the disciples of this very thing.
"Do not be afraid.  You are worth more than many sparrows."
_________________________
What if every child could believe this today?
What if every time they saw a bird, they somehow knew….
they're just as special.
Just as loved.
Created for a purpose.
And cared for by their Creator.
Today I hope we all have the chance to let one child know how much they matter.
Just how much they're worth.
"Not one of them will fall to the ground apart from the will of your Father."
How different would this world look…..
if every child could know?
He knows when they stumble.
He knows when they fall.
He cares for them deeply.
And He cares for you too.
If the disciples needed to be reminded,
even as they walked beside their Savior,
I think we all do too.
(Thoughts today from Mt. 10:16-33)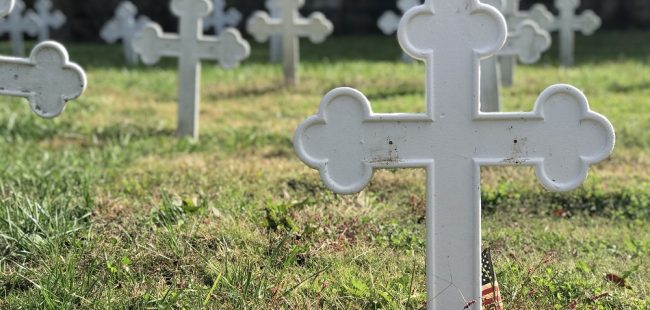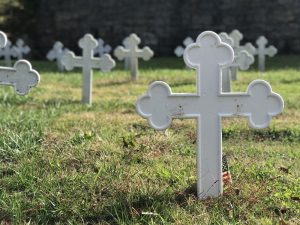 I can see him in my mind.
Jairus.
A synagogue ruler in his community.
A desperate father in the crowd.
His daughter, deathly sick, needs more than medicine and Jairus has heard Jesus is in town.
Pushing through the crowd, he has one thing on his mind.
A miracle from the miracle worker.
As he approaches Jesus, he doesn't take time for informal introductions,
he simply blurts out the one sentence no parent ever wants to say, "My little daughter is dying."
He then asks Jesus to come to his house, put His hands on her and take away her sickness.
Jesus doesn't respond in panic, pick up His pace, or change His plans.
Scripture simply says, "Jesus went with Him."
As He makes His way through the crowd, though, something happens.
  A woman, in need of a miracle for many years, reaches out for the edge of His cloak.
"If I can only touch Him," she thinks, "I will be healed."
Jesus, feeling power leave His body, turns in search of the person responsible for this sensation and takes time to address her faith.
All the while Jairus' daughter is slipping away.
I know firsthand the horror they were feeling as they stood around her bed.
A miracle was needed.
But the One with the power was too late.
Jairus' daughter died.
And Jesus was still in the crowd,
healing a woman who was bleeding.
Could anything be more urgent than a dying child?
"Why bother the teacher anymore?" his friends say out loud as they bring the bad news,
"Your daughter is dead."
But Jesus stays calm even in this moment.
Death does not seem to scare Him.
As a matter of fact, He looks at Jairus and says,
"Do not be afraid; just believe."
I'm not sure how long it took for Jesus to finally make His way to Jairus' home,
but Scripture says He continued on His way only allowing a few disciples to follow.
Upon reaching their house,
He enters the little girls room and with the words,
"Talitha koum!" 
brings her back to life.
"Little girl, I say to you, get up!"
One sentence from a late Jesus and Jairus' family exchanges their mourning for rejoicing!
_______________________
Things aren't quite the same today.
I wish they were.
I wish desperate moms and dads could still push through crowds
until they find the One who holds the power
to save their children.
I wish one sentence could reverse the sting of earthly death.
For many, including me, it can easily feel like Jesus was too late.
Missed His chance to show His power.
And even healed some lesser illnesses along the way for others.
One person's day of praising God is always another person's day of wondering where He is.
Check social media often enough and you'll see the roller coaster of joy and anguish firsthand.
Sometimes Jesus is on time.
And sometimes He seems late.
But I'm so thankful the story didn't end with Jesus walking on this earth.
I'm so thankful His footsteps ultimately led to a place where He became fully acquainted with grief,
forever changing the pain of this world with another powerful sentence.
"It is finished."
In that moment, Jesus was on time.
Forever.
Every sick child from that day forward may not receive an earthly healing but they are guaranteed an eternal one.
Death was conquered once and for all.
November is quickly approaching.
The month Jesus seemed late for our family.
I love to imagine the joy in Jairus' home as they watched their little girl sit up.
I can see Jesus smiling as He shares in their joy.
A joy like none other this world can offer.
Their daughter was dead.
And now she is alive!!
Could anything feel better???
One day, I'll know that feeling firsthand.
I'll see Jesus smile too.
I'll hug his neck and thank Him in person for the miracle of the resurrection.
I hope He's bracing Himself for that moment.
Jesus may have seemed late on November 29th, 2008,
but He was actually on time long before we needed Him to be.
John 11.25-26
"I am the resurrection and the life.
Whoever believes in me,
though he die,
yet shall he live,
and everyone who lives and believes in me shall never die."
When Jesus seems late,
remember this:
He was actually early.
I'm so thankful He knew what our family needed long before we dared to ask.
"Lord, heal our child," was our daily cry.
"I already did," was His faithful reply.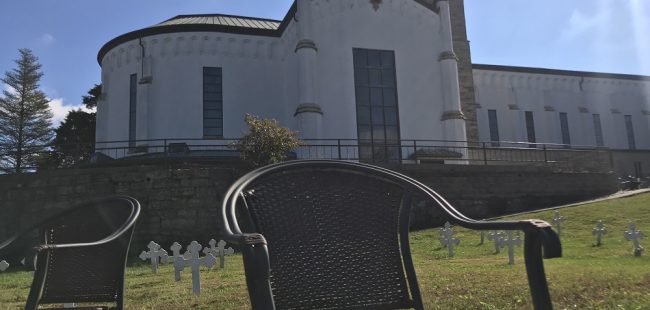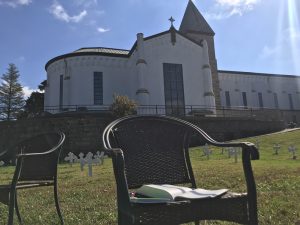 Viewing life as a story has always been "a thing" for me.
Long before learning about the work of Epston and White on narrative therapy,
I saw my life as a series of days broken into sections –
each with a specific purpose.
I  remember sitting with my sister,
when one of us was faced with the break-up of a boyfriend
or some other "dramatic" teenage event,
and saying to each other,
"Well, it's time for the next chapter."
Life has to move on even when we don't want it to.
Turning the page makes it a little easier.
I love to think of the people I encounter,
whether for a day or a lifetime,
as characters in my life story.
Some minor.
Others much more.
But all significant in their own special way.
I wonder sometimes as I read the Bible,
"How did the disciples see their world?"
Did they talk about life before Jesus and after Him
when conversing with friends?
I have to believe they did.
One day a fishermen,
the next a fisher of men.
One day a collector of taxes,
the next a giver of hope.
Talk about a life-changing chapter title –
"The Day I Met Jesus"
I remember sitting in church as a little girl,
learning about a Man who loved me
just as I was.
I didn't understand everything the preacher said,
but I knew this,
"I wanted to know this Man –
more and more."
Time passed.
Church camp
Youth group
Bible college
I had the chance to sit and listen to person after person talk about Jesus.
This Man who came to save me.
I accepted Him as my Savior –
not once but twice.
Being baptized at nine and then feeling as if I needed to be baptized again at seventeen.
The enemy has the power to whisper self-doubt into the ear of anyone willing to listen.
As if I had the ability to take away what Jesus had so freely given.
More time passed.
Various jobs
Marriage
Children
A new home in a new town
The pages of my life were flipping by so quickly.
Short chapters each packed with so much story.
But it wasn't until heartache rocked my world
that the gift of knowing Jesus really took hold of me.
Suddenly it wasn't about knowing Him as much as it was about needing Him.
I was suddenly unable to take one more step without Him.
Right beside me.
Holding my hand.
As I read some of Jesus' parables this morning
and was reminded me of the mystery wrapped up in His delivery,
I couldn't help but think about the crowds listening to His words.
Hearing Him teach but not understanding His words.
They had to be curious if they took time to stand and listen.
But I wonder how many of them walked away unchanged?
I also wonder how many remembered Him later –
when the next chapter of life got hard –
and then ran in search of His presence……once again.
This time needing Him.
Desperately.
I love the thought of Jesus waiting patiently for them to "get it,"
when the right chapter arrived.
_________________
Not much has changed since those early days of  Jesus.
His teaching is still a mystery to many.
Crowds listen from a distance.
Some in churches to preachers.
Some online to writers or speakers.
Some in line behind us at the store.
Curious.
Wondering what's so special about this Man and His message……
but not quite able or ready to understand.
I love knowing their stories aren't finished.
Chapters await –
where Jesus will have the chance
to show up
at just the right time
in just the right place….
just when they need Him most.
___________________
I'm so thankful for all the men and women who introduced Him to me –
long before I understood who He was
or  realized how much I needed Him in my life.
My story will never be the same
since the chapter I invited Him to walk beside me forever.
I think I'm calling this next chapter of my own life –
Parables (and the future) are mysterious.
Jesus is not.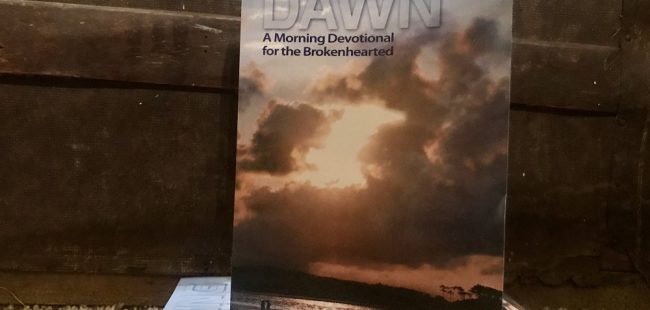 "Sir, I have no one to help me."
the invalid replied when asked,
"Do you want to get well?
Thirty-eight years is a long time to lie next to the answer to your problem.
So Jesus's answer to this man's statement by-passed a long conversation.
It was short.
To the point.
And effective.
"Get up!  Pick up your mat and walk."
I think Jesus knew what He wants us all to know.
Because of His power,
the power is with us.
In us.
Waiting to be activated by us.
I also love the fact that Jesus didn't simply say,
"Get up! And walk."
I love knowing he told the man to pick up his mat before taking the first step.
The place of his pain and waiting wasn't going to be left behind after this miracle.
Jesus knew what I think we all need to know today.
There's something extremely powerful about holding our story in our hands.
And a man with a mat has a story.
Maybe that's why I wrote a book about my journey through grief.
I couldn't walk away from my pain even as I tried to heal.
I needed a way to carry it all the days of my life.
So I penned my struggle.
Day by day.
The anger, the fear, the resentment, the questions, the doubt………
I wrote it all down.
Because sometimes it feels good to look at my "mat" and remember the old me.
The me before Jesus said,
"Get up!"
I wonder if the man Jesus healed at the pool of Bethesda ever sat back down……..
on the very mat he couldn't seem to leave for nearly four decades.
I wonder if he ever ran his fingers over it and reflected on the Jesus who had taken the need for it away.
I hope so.
I hope he didn't just lay it down when he got home…….
and forget.
I hope his mat became his testimony.
I love the thought of him going back to this same pool from time to time…..
carrying his mat……
and inspiring others to "Get up!" too.
It's my reminder of who I once was.
When grief was new……
And my heart was completely broken.
Today, grief is different.
Perspective changes a lot in a decade.
I still get sad.
Tears still come.
Photographs still stir parts of my soul I choose to keep protected most days.
But Facing Dawn will forever be my mat.
And I'll never lay it down.
Because the pages of the book remind me…………………
Those who sow with tears will reap with songs of joy.
Psalm 126:5
And I never want to forget how far I've come.
Since Jesus walked by and said,
"Get up!"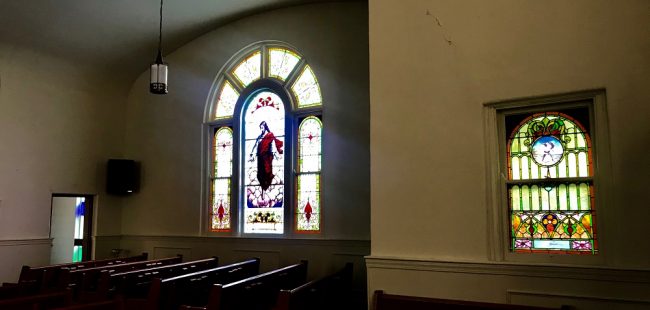 I've read the story a hundred times.
A crowded house.
Standing room only.
Doorways blocked by groups of people gathered around outside.
There was definitely something special happening inside these walls.
And anyone who knew what was going on wanted to be there too.
Word had traveled quickly.
Neighbors were talking.
Jesus had come back home.
If you could push your way through the throngs of people,
the man of miracles was within reach.
And one man desperately needed His touch.
Unable to get to Jesus on His own,
this particular paralytic man needed help.
And thankfully, he had four friends who would stop at nothing.
Unable to find an open door or window,
these men conspired to do whatever it took to make a way.
Figuring out where Jesus was located inside the home,
they climbed to the top of the thatched roof and began digging.
I'm not sure when the crowd below began to notice falling pieces of debris,
but eventually they had to notice a group of men making their way to Jesus from the only way they knew.
There they were.
Four men peering in from the rooftop,
calculating a way to lower their friend into the presence of Jesus.
(I wonder what it felt like to look down on the One who had come from above?
I hope we get to watch documentaries of Bible stories in Heaven.
I will definitely tune in for this one.)
Once the hole was the right size, these four men did what any good friend would do.
They lowered the paralytic man to the One who loved Him most.
When a friend can't reach Jesus, isn't that what we should do?
Help them find a way.
I paused at this point in the story.
____________________
As Jesus turned to face this paralyzed man, lying on his mat,
and realized the deep faith of his friends,
He spoke the words I believe this man needed to hear most of all.
"Son, your sins are forgiven."
The story could have ended here,
and the man would have been carried away ….
still paralyzed….
but rejoicing.
Is there anything more freeing than knowing our sin has been taken away?
But the teachers of the law had watched this happen,
this forgiveness being offered by a man they were still trying to figure out,
and the thoughts dancing through their heads caught His attention.
It was only then that He did more.
Turning to them, He said,
"Why are you thinking these things?  Which is easier:  to say to the paralytic,
'Your sins are forgiven,' or to say,
'Get up, take your mat and walk'?
But that you may know that the Son of Man has authority on earth to forgive sin…"
He said to the paralytic,
"I tell you, get up, take your mat and go home."
Jesus healed this paralytic man physically
only to show the religious leaders
He had the power to heal him spiritually.
Jesus knew what mattered most.
Jesus knew the condition of man's heart and soul supersede any physical limitations.
Prayer requests are generally lists of people in the hospital.
People struggling with one illness or another.
And that's okay.
But today, I'm wondering who needs healed in an entirely different way?
Who needs to know Jesus sees your past, and maybe even your present, and says,
"I took care of that on the cross.  Let it go."
The roof has been opened.
Jesus is there.
Consider yourself lowered into His presence today.
He's within reach.
Don't be afraid to let Him touch you.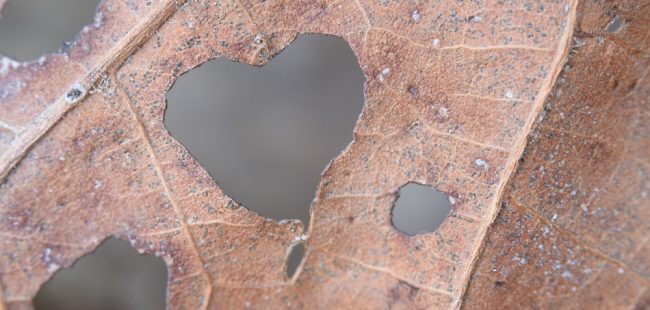 "Jesus,
tired as He was from the journey,
sat down by the well."
John 4:6
Why do I love this image?
Jesus –
the Son of God,
Prince of Peace
King of Kings
 Lord of Lords
Savior of the world
and most of all
 Living Water
sitting by a well.
Jesus was weary.
The One who holds all things in His hands
needed a place to be held himself.
Jesus needed rest.
Of all the things in my reading this morning,
this sentence stood out.
"Jesus,
tired as He was from the journey,
sat down by the well."
The human part of my Messiah touched me.
Not His miracles.
Not the fact that disciple after disciple left everything they knew and everyone they loved
just to walk with Him
simply after hearing the words,
"Follow me."
Not that He was able to turn water into wine.
No.
This morning I needed to know Jesus understands fatigue.
He gets me when I'm moving from one place to the next and feel the need to catch my breath.
He sees the moments when "one more thing" becomes too much.
And understands what it feels like when taking one more "emotional step" is more than I can bear.
Jesus, my Living Water,
sat down by a well.
And even there,
He found a way to help the next person.
From this place of stillness,
He was able to change a woman's life forever.
No big commotion.
No fanfare.
No angels singing.
Just a tired Savior.
I'm not sure what your day holds.
But I know what mine does.
And I'm so thankful to know that Jesus,
the One I follow,
my Living Water,
isn't in a hurry.
I can keep up with a Savior who sits down when He needs to.
And I can trust Him to still use me
even as I'm sitting with Him there.
Breathe in this thought this morning.
When Living Water sits down by a well,
we can too.