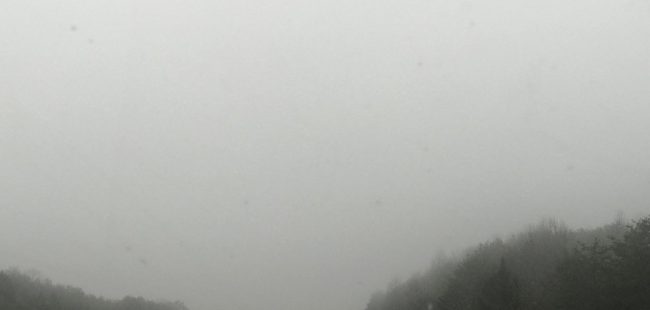 You would think I could find the right words by now;
but when tragedy strikes,
I'm speechless.
I know too well,
Words mean nothing when someone loses everything.
So no matter how hard I try,
there's no stringing together of sentences that can bind what's been broken.
Life is hard.
And words don't make it any easier.
So what do I say when I don't know what to say??
If I'm completely honest,
I'm still not sure.
I just know the One who isn't afraid to speak into these places of unspeakable loss.
The LORD is close to the brokenhearted and saves those who are crushed in spirit.
Psalm 34:18
And I know He's able to go where I cannot go and say what I cannot say.
In the beginning was the Word (John 1:1),
and this Word is still here.
Binding
Protecting
Comforting
Holding
Covering
Doing all the things my words can never do.
_________________________
So when nightmares become reality
and hearts are ripped in two,
I find myself stepping back so He can step forward.
The LORD replied, "My Presence will go with you,
and I will give you rest."
Ex. 33:14
There will be times when our words just aren't enough,
but I'm so thankful His Word always is.
This is how God showed his love among us:
He sent his one and only Son into the world that we might live through him.
I John 4:9
And the Word became flesh and dwelt among us,
and we have seen his glory,
glory as of the only Son from the Father,
full of grace and truth.
John 1:14
And my God will supply every need of yours
according to His riches in glory in Christ Jesus. 
Philippians 4:19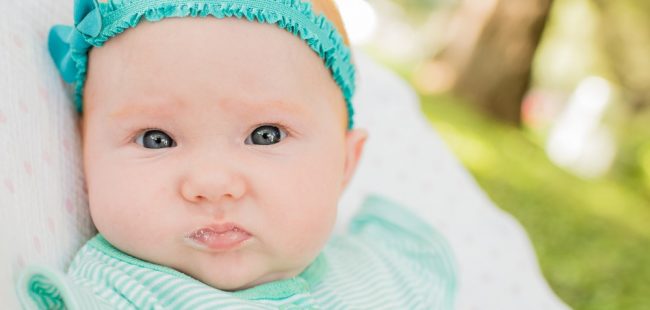 Voicing my political views on social media has never been "my thing."
Maybe it's because I don't feel informed or intellectual enough to carry on a healthy debate,
or maybe it's because so many online debates digress so quickly that a knowledge of what is true or false seems unnecessary in order to keep a "conversation" going.
And who has time for that?
Either way……………
I will continue to avoid the heated political debates.
But I can't let this Monday pass by without saying this………….
Tomorrow matters.
In so many ways,
how we handle tomorrow changes everything about the next day and the next.
After months and months of shocking news reports and unbelievable chaos,
 we will finally stand in lines all across this nation……………..
waiting for our opportunity to truly have a voice that is heard.
Not just the freedom to post a comment on Facebook
or Tweet what we're thinking,
but a chance to say,
"For the next four years,
here's the person I choose to lead this nation."
No matter how insignificant we may feel on a day-to-day basis,
on Election Day our voice will be no smaller or bigger than anyone else's.
Millions of imperfect people will file into rooms
all over America
to cast votes for other imperfect people.
That's right.
We're all messed up.
We've all made mistakes.
So don't expect to find any "perfect" candidates on the ballot tomorrow.
If this overwhelms you or causes you to feel stressed,
there's something you can do today that might help.
Quit listening to all the voices screaming,
"Do this or do that."
Just get quiet.
Take some time to pray.
Ask God for wisdom and peace as you consider what is right and wrong
and as you think about the candidates' beliefs on these very issues.
I look at my granddaughter's sweet little face,
and I want to believe her future is bright.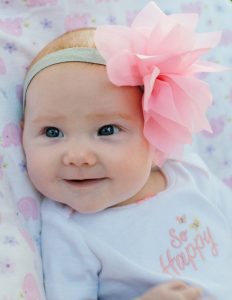 I want to know she's going to be okay long after I'm gone.
As I pray about tomorrow and find perfect peace in the person I will be choosing,
I'm reminded of something that brings a much deeper peace than anything a ballot ever could.
———————————————
The best Person already leads us all.
_________________________
In spite of our views, our opinions, or our beliefs
-and no matter how we cast our votes tomorrow-
We can't change the truth.
We can't undo what was set in motion when time first began.
Maybe our votes do alter the course of human history, but eventually………..
Leaders come and leaders go.
Nations rise and nations fall.
Our vote is powerful and powerless at the very same time.
______________________________
So how do we vote tomorrow?
We vote with confidence.
We vote with peace.
We vote with conviction.
We vote with honest prayer.
But we also vote humbly,
because our voice counts –
but only once –
just like everyone else's.
And at the end of it all,
someone will be chosen to lead this country,
and no matter who it is,
we're still in this crazy thing called life — together.
And regardless of the election results,
we have to join hands and walk in peace.
Because the number of states that end up red or blue will never change the reality that
God wins.
He always wins.
Every day.
Every year.
Every decade.
Every century.
He is the Alpha and Omega.
The beginning and the end.
_________________________
So how do I vote tomorrow?
I calm down.
I take a deep breath.
I pray.
And I vote with my head, my heart, and my soul.
But how do I know everything will be okay?
I never forget that my ultimate leader doesn't need to run for office.
He is already seated on the throne.
And He rules with truth and justice.
If my trust is completely in Him,
I can know deep down in my bones that no matter how tomorrow night ends………..
we're going to be okay.
This nation is going to be okay.
Would someone please say this……………
ABC,
MSNBC,
CBS,
CNN,
Fox News,
BBC,
Drudge Report,
Washington Post,
New York Times,
ANYONE!!!
Please let the nation know!
WE'RE GOING TO BE OKAY!!!
Psalm 146:3-10
Do not put your trust in princes,
    in human beings, who cannot save.
When their spirit departs, they return to the ground;
    on that very day their plans come to nothing.
Blessed are those whose help is the God of Jacob,
    whose hope is in the Lord their God.
He is the Maker of heaven and earth,
    the sea, and everything in them—
    he remains faithful forever.
He upholds the cause of the oppressed
    and gives food to the hungry.
The Lord sets prisoners free,
 the Lord gives sight to the blind,
the Lord lifts up those who are bowed down,
    the Lord loves the righteous.
The Lord watches over the foreigner
    and sustains the fatherless and the widow,
    but he frustrates the ways of the wicked.
The Lord reigns forever,
    your God, O Zion, for all generations.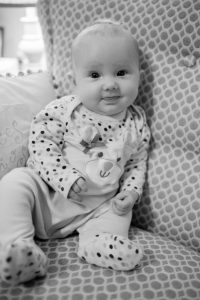 My sweet, Elaine Adaya, praise the Lord!!
You're going to be okay!!!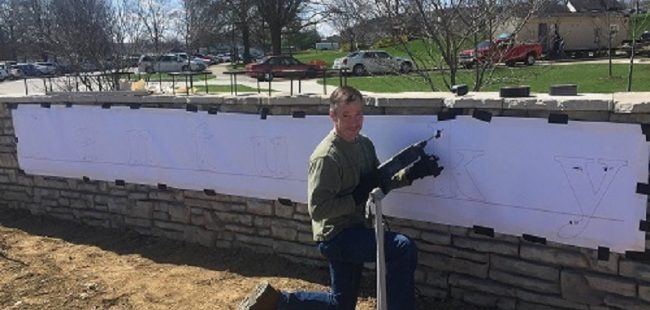 When he left for work this morning,
did he realize the significance of the tools he carried?
Tape
Paper
A drill
Was he dreading the long hours on his knees, steadying himself with only an elbow placed firmly on a sometimes shaky leg?
Or was he able to wrap his mind around the responsibility he held in his hands?
His work would be seen by hundreds in the years to come…………….and even the slightest slant in the paper or misplaced hole could destroy the rock and cause the lettering to be off………..
forever.
His work today would change everything about what the world would see tomorrow.
There was something very special to me about walking by this man as he performed such a significant task.
On his knee, meticulously drilling………………
dust flying as he carefully created space for letters to hang
which would eventually spell out the name of this Christian college.
I was moved as I watched him work……………………
How often does the hanging of history happen right before our eyes?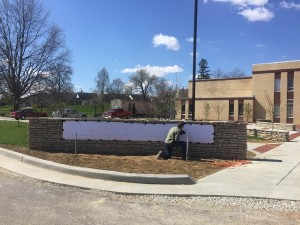 Concentration
Precision
A well thought-out plan
When history is being hung every decision matters.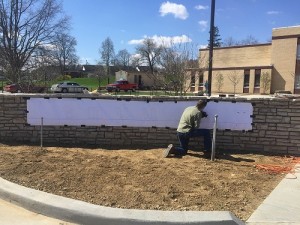 As I approached the sign, he turned toward me,
and I had to comment on the beauty of his work.
Of course I asked if I could take his picture.
He smiled and I hope he knew in that moment just how much he mattered…………..
how much his work was appreciated.
All work deserves recognition…………
and I find the nameless deed doers the most beautiful ones of all.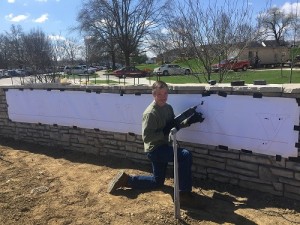 Doesn't everyone need to know they're changing
something about tomorrow
by the work they're doing today?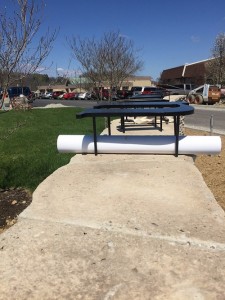 A row of letters waited…………………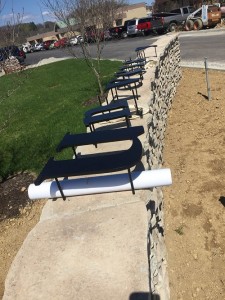 Their position on the wall would be determined by the hands of this man………………..
this man who may have showed up for "just another day of work" only to learn he would be hanging history for years to come.
————————————–
I couldn't help but think of the many things in life we may be called to do today………………….
Feed a baby
Change a diaper
Clean a bathroom
Cook a meal
Do laundry
Sit in a waiting room with a friend
Write a note to someone who is hurting
Create a lesson plan
Take someone's temperature
Make a phone call
Do homework
Text a friend
The list goes on and on of the many little things that may add up to make our day,
but how different these things would seem if we saw each of them as etches in a rock…………..
the hanging of history.
Every word
Every action
Every moment……..
slips out and slips by,
sends dust flying and
changes every single thing about tomorrow.
————————————————
Today, don't underestimate your worth.
You're a hanger of history………………..
And when history is being hung every decision matters.
————————————————–
I walked into my writing room this morning,
and the light coming through the window seemed to sparkle as it hung in the air,
cascading all the way to the floor.
I had to laugh as I realized it was actually sunlight reflecting suspended dust that was causing the beauty in that moment.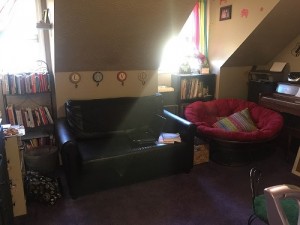 Dust, hanging in space, catching light.
Isn't that what we all are????
—————————————
Only God could take something so simple and create something so complex.
Who else could give the task of reflecting His light while impacting history to something we thoughtlessly sweep into a pan and toss away almost every single day?
The devil whispers,
You're only dust.  Stay focused on your frail existence.
God proclaims,
You're my child, created in my image.  
Shine for me and make the world a better place.
Reflect My light.
Hang beautiful history.
You matter.
Then God said, "Let us make man in our image, after our likeness. And let them have dominion over the fish of the sea and over the birds of the heavens and over the livestock and over all the earth and over every creeping thing that creeps on the earth."
Genesis 1:26
Then the LORD God formed a man from the dust of the ground and breathed into his nostrils the breath of life, and the man became a living being.
Gen. 2:7
You show that you are a letter from Christ, the result of our ministry, written not with ink but with the Spirit of the living God, not on tablets of stone but on tablets of human hearts.
II Cor. 3:3
For God, who said, "Let light shine out of darkness," made his light shine in our hearts to give us the light of the knowledge of God's glory displayed in the face of Christ.
II Cor. 4:5
No matter where today carries your "flying dust of an existence" never forget,
"You're hanging history as you go."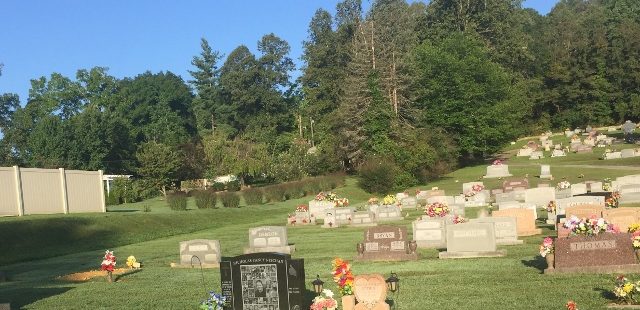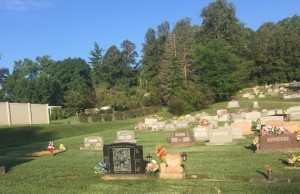 Dinner was finished,
and Tim had headed out to mow.
I needed to get out, too.
Just enjoy some fresh air.
Move a bit.
Get my heart pumping.
As I made my way up the hill near our home, I decided to call a friend and see about her day.
We hadn't been chatting long when I reached the cemetery that holds Adrienne and Nick's graves.
I always look.
Doesn't a mom always check on her kids when she has the chance?
A group of people were decorating headstones,  and I noticed one elderly lady and gentleman standing in front of Nick's.
I could tell they were reading every word, gazing at every picture.
They moved to the back side of his stone, and I watched as they made the connection between the two markers reading "Nischan".
I asked my friend if I could call her back.
I had to meet these people.
I had to introduce my kids.
As I approached the tombstones, I almost turned around.
What if they think I'm crazy?
I couldn't stop myself, though.
When someone takes time to admire my children (here or in Heaven), I have to say "thank you."
I saw some of the other people who were standing nearby look towards me as I grew closer to the couple.
I hesitated for a second and then said,
"Those are my children."
Without hesitation, the elderly lady said, "Oh, I'm so sorry," as if she thought I found her presence there intruding.
I quickly said, "Oh, it's okay!  I just wanted to say thank you for taking time to stop and look.  You just made my night!"
I went on to tell her a little about Nick.
About his sweet smile and spirit.
About his amazing love for life.
I then shared about Adrienne, and we both began to cry.
I gave her a big hug and told her to have a good evening and left to finish my walk.
I don't know who she was or where she was from.
I'll probably never see her again in my life.
All I know is this:
I fell in love with a stranger in the cemetery last night,
because she cared enough about my life to shed a tear with me.
_____________________________________________
Isn't that all we really need in this world?
People who are willing to cry with us when we're hurting,
laugh with us when we're happy,
celebrate with us when we're triumphant,
grieve with us when we're mourning.
I went for a walk to get my heart pumping.
I had no idea I was going to fall in love……………….
in a cemetery.
Whoever you are, sweet lady, know you blessed my heart last night.
You comforted me, and I hope in some small way I comforted you.
I want you to know I love you.
I don't think I told you that.
II Cor. 1:3-5
Praise be to the God and Father of our Lord Jesus Christ,
the Father of compassion and the God of all comfort,
 who comforts us in all our troubles,
so that we can comfort those in any trouble with the comfort we ourselves receive from God.
For just as we share abundantly in the sufferings of Christ,
so also our comfort abounds through Christ. I've spent a lot of years struggling with the fact that "I am what I eat."
I've always had a weakness for sweets, a love for breads, and a desire for diet pop.
About five weeks ago, I gave up pop all together.
It hasn't been the easiest transition, but I'm finally learning to love water……….
About two weeks into my "no-pop life,"
mom introduced me to a blender called The Magic Bullet.
You literally fill it with your favorite fruits and vegetables and within seconds have a delicious drink.
At this stage of the process, it doesn't look  very promising……..
And it doesn't look much more promising when the lid is screwed on tight.
But the final product truly is a delicious drink that has become mine and Olivia's new morning ritual before school.
If you want to know the exact ingredients we place in our smoothie, email me at tammynischan@yahoo.com.
The reason I share this, though, is not because I trying to transforming my blog into a health blog even though that might be a great idea.
I really shared all of this to make a comparison to our physical life and our spiritual one.
The saying, "you are what you eat," runs much deeper than the food we consume.
Jesus calls Himself the Bread of Life in John 6:35,
"Then Jesus declared, "I am the bread of life. Whoever comes to me will never go hungry, and whoever believes in me will never be thirsty."
In Hebrews 5, we are warned that as we grow in our Christian life we have to live on more than "milk" so that we can learn to distinguish good from evil.
We have much to say about this, but it is hard to explain because you are slow to learn. In fact, though by this time you ought to be teachers, you need someone to teach you the elementary truths of God's word all over again. You need milk, not solid food! Anyone who lives on milk, being still an infant, is not acquainted with the teaching about righteousness. But solid food is for the mature, who by constant use have trained themselves to distinguish good from evil.
Paul wants to teach the Corinth church more than he can, but he explains why he can't in the beginning of chapter 3 of I Corinthians,
Brothers, I could not address you as spiritual but as worldly-mere infants in Christ. I gave you milk, not solid food, for you were not yet ready for it. Indeed, you are still not ready. You are still worldly……
Today, I challenge to look at both your physical and spiritual lives.
Where would you put yourself on a scale of 1 to 10.
I have a long ways to go in both areas, but I am feeling challenged lately to move up the scale in both.
I want to be balanced.
I want to physically and spiritually fit.
I want to grow closer to God from the inside out.
I want to be able to handle the hard teachings.
In order to do this, I have to give up some things……….
maybe it's time with some people who seem to pull me away from the person you want to be,
maybe it's things I think about when my mind is idle.
I want God to make very clear the areas of my life where He wants to step in and push other things out.
I'm ready to go up another level.
I hope you are too!
I love you all!
Have a wonderful Monday! When you hear the words "duct tape," you probably don't think of something as cute as a hair bow, but at the school where I teach girls are making cute fashion designs with assorted colors and styles of this heavy-duty hardware supply.
As I was looking at some of their creations the other day, I thought to myself, "If humans can take something like duct-tape and create something cute and useful, why are we surprised when the Bible says that God makes all things beautiful in His time?"
God longs to take every practical part of us and use it for His glory.
Yesterday, Olivia had a good first day at my school. The girls welcomed her with open arms and the teachers embraced her with love. It was a hard day in some ways. She was nervous about the new schedule, the new work. Shew……….what a journey this has been.
By the end of the day, she had made some new little friends that I know will be a blessing for these last six weeks of school.
God is going to turn a duct-tape kind-of spring into a beautiful hair bow for Olivia, and I am thankful.
Ecclesiastes 3:11
He has made everything beautiful in its time. He has also set eternity in the human heart; yet no one can fathom what God has done from beginning to end.
If you feel like you are in a duct-tape season, remember this promise.
We are waiting, trusting, and learning as we continue to cling to Him for our daily strength.
Praying for you today as you do the same.
Thank you again for every prayer.
I love you all so much, Everything seems better when the sun is up, doesn't it? The neurosurgeon on-call came to see Nick this morning and explained that post-op seizures are not "shocking" to them like they are to us. He was very calm. He asked Nick what his phone number was and where he was and Nick could answer both questions easily. Nick does have a fever of 101.4, so they want to take a look at this for a day or so. He still isn't what I would call "my old Nick," but they have him on two medicines which can cause him to be a little sluggish and we think that may be part of the reason. I did ask him what he would say if I shared a "shout out" in an email, and all he said was, "I WANT TO GO HOME!" That made us all smile! Thank you to everyone who has sent encouraging emails and words of prayer. Scriptures always mean the world to me too! They always come at the perfect time! Thank you to everyone who is helping out with Todd and Olivia! Thank you so much!- Ignored: I am heading back up to Nick's room, but I wanted to send a quick update while I was out. Thankful, Tammy and Tim www.nick7-11.zoomshare.com Dear Prayer Warriors,
Thank you for your prayers and all of your emails of encouragment….I am sorry I can't reply to all of them right now. I slip out to send an update and use a computer that can only be used for a limited time, but I read EVERY email that is sent and they make me smile!
We don't feel alone!
Nick has slept all morning. After our trauma this morning with Nick's IVS, I am thrilled to report that his antibiotic continued to go in smoothly with the heating pad and slower pace. When Dr. Kosnik (Nick's brain surgeon) stopped by, I asked him about Nick's IVs and he told the nurse, "Pull them out." I love that man!!!!!!!!!!!!!!!!!!!!!!!!!!!!!!!!!!!!! I also love our nurse! Super Donna is back from last night, and she is hilarious! She has kept us laughing.
Earlier another doctor came in while Nick was sleeping and saw our little signs hanging on Nick's bed that said, "Nick is 13!" AND "Happy birthday, Nick!" She made a sad face and said, "It's his birthday." I just nodded. Then I kind-of grinned and whispered, "Not really…we just did that for sympathy." And then told her I was kidding. She started laughing, and mom said we should have a basket for gifts. She thought that was so funny and told Donna to get a bed pan! Donna went and got the oldest bed pan style she could find and the doctor taped Nick's sign to it and Tim threw in a couple of dollars. Then Donna went and got a dollar to put in it! It was so funny!
As the doctor left, she said, "Can I get you anything?" I just said, "An audience!"
Oh, what a nice break from all of the tears yesterday!
Nick now has one IV out and as I left to send this the other was getting ready to come out. We ordered breakfast and after he eats we will go down to 3TS. I'll let you know the room number when I find out. Last night, Nick was eating a bowl of cereal and said, "I don't mind being here with the free food…it's good." We cracked up. Dr. Kosnik said that Nick looks good!
He is pleased!
I need to get back up to the room. Keep praying!
Keep those thumbs up! We love you all so much!
Those who wait upon the Lord shall renew their strength! We just keep waiting! First of all, THANK YOU to everyone who posted such encouraging notes to me. I was blessed as I read each one! When things slow down I will visit with you more. I am in the ICU waiting room and wanted to post a quick note to let you know that Nick's surgery took 5 hours and 15 minutes, but he did great!
The doctor was able to remove the entire tumor as well as another tumor that had grown under his scalp just beyond the internal tumor. Whew! His head has stitches from one ear up over his head and down to the other again…. it just breaks my heart.
However, NICK IS AMAZING!!!
Only five hours after the surgery was complete, he had eaten an entire chicken and cheese quesidilla! We can't believe it! He keeps slowly lifting his head and turning it from right to left to show us how strong he is! It is precious.
As we face the next few days, it is certainly a faith walk. We just don't know what the future holds….but then again,
WHO DOES!?!?!? I have to keep reminding myself that today is all ANY of us are promised and that we must cherish each day and live it for God! Yes, I have cried…A LOT….today, but I know deep within my heart that God loves Nick and He loves me.
Oh, thank you for your prayers! Thank you so much!!
Please continue to pray for our little man!
Blessings, Tammy
I love this quote someone gave me on a little pillow – "Faith begins where reason ends." Our ability to reason through this ended LONG AGO!!!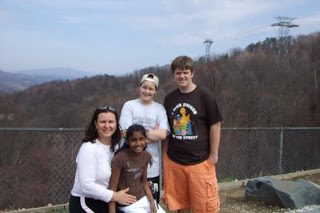 In the Beth Moore Bible study we are doing in Sunday

school, we are being challenged to memorize Psalm 121. The day that my devotions focused on this particular chapter, I had the chance to ride in a tram up a beautiful mountain in Gatlinburg, TN, with my mom and dad and three of my kids.
I couldn't help but think of this beautiful passage as the tram rose higher and higher and the view became more and more beautiful!
1 I raise my eyes toward the mountains. Where will my help come from?
2 My help comes from the LORD, the Maker of heaven and earth.
3 He will not allow your foot to slip; your Protector will not slumber.
4 Indeed, the Protector of Israel does not slumber or sleep.
5 The LORD protects you; the LORD is a shelter right by your side.
6 The sun will not strike you by day, or the moon by night.
7 The LORD will protect you from all harm; He will protect your life.
8 The LORD will protect your coming and g
oing both now and forever.
Thank you, Lord, for speaking to me from a tram in Gatlinburg. Thank you for allowing me to literally raise my eyes towards the mountains and be reminded that my help comes from You, the Maker of heaven and earth!