 Blessed are those who hunger and thirst for righteousness,
for they will be filled.
Matt. 5:6
Saturday night, our dog Peppy woke me up about 3 a.m. whimpering and restless.  
Peppy has been our dog since the kids were small, and his age is showing in many ways.
His back right leg is limp, his eyes look tired, and he can't hop up on the couch anymore (we have to lift him).
But he still follows me all through the house. 
When I go to bed, he's right behind me, ready to climb on his pillow on the floor right next to where I sleep.
So when I heard him whining in the night, I stumbled through the darkness to see what he needed.
He didn't want to go out.
He didn't want his pillow adjusted.
He wanted water.
I went to the kitchen to get the water dish, and he immediately became excited.
As soon as I sat it on the floor, he was gulping.  Snoopy, our other old, faithful dog, joined him and they both began gulping.
I felt horrible, wondering how long they had been thirsty.  We must have let the dishes run out of water during the day.
As I heard them both drinking and drinking, I thought about the verse above…..
Do I thirst for righteousness like my dogs thirst for water?
Am I restless until my thirst is quenched??
I love that God promises that when we thirst (and hunger) for righteousness, WE WILL BE FILLED!!
That means that He is waiting to fill our bowl!
That means that He hears our cries and takes care of us.
We don't even have to wake God up!
Psalm 121:3-4 says this,
He will not let your foot slip-
   he who watches over you will not slumber;
indeed, he who watches over Israel
   will neither slumber nor sleep.
I am so thankful this morning that God is my Master and my Guide.
I am reading a book called "The Dream Giver" right now, and I am so thankful that when God places dreams inside of us He leads the way in making those dreams come true when the dreams involve His glory not our own.
If you are thirsty for righteousness today, there is only One who can truly satisfy your need.
Any other thirst may be quenched temporarily, but it will not last for long.
Please do not waste your time thirsting for things of this world.
Friday night at the prison, we sat around a table with a group of women dressed in orange jumpsuits who are ready to change their lives.  They each had Bibles and lots and lots of questions.  They are thirsting for righteousness, and I know God is with them.  As we closed in prayer, arms wrapped around each other, you could feel God's presence in a mighty way.  He is leading these women from darkness to light.
He longs to lead us too.
Today, as you venture into the week of Thanksgiving, I'm praying for you.
Praying that you can feel God's presence in every step of your day.
It's time to get ready for school.  Today I interview at Mitch Albom at 1:20.  Please say a prayer.  I'm nervous about speaking to him for some reason.  I want to ask the right questions about his book and the upcoming movie, "Have a Little Faith."  I want to interview him during my class time, so that the students can be a part of the experience, so please also pray that the students will be on their best behavior.
I love you all so much.
Remember these promises as you step out into another week of life on this planet.
I will instruct you and teach you in the way you should go;
I will counsel you with my eye upon you.
Psalm 32:8
And the Lord will guide you continually
and satisfy your desire in scorched places
and make your bones strong;
and you shall be like a watered garden,
like a spring of water,
whose waters do not fail.
Isaiah 58:11
Because of Him, When you hear the words "duct tape," you probably don't think of something as cute as a hair bow, but at the school where I teach girls are making cute fashion designs with assorted colors and styles of this heavy-duty hardware supply.
As I was looking at some of their creations the other day, I thought to myself, "If humans can take something like duct-tape and create something cute and useful, why are we surprised when the Bible says that God makes all things beautiful in His time?"
God longs to take every practical part of us and use it for His glory.
Yesterday, Olivia had a good first day at my school. The girls welcomed her with open arms and the teachers embraced her with love. It was a hard day in some ways. She was nervous about the new schedule, the new work. Shew……….what a journey this has been.
By the end of the day, she had made some new little friends that I know will be a blessing for these last six weeks of school.
God is going to turn a duct-tape kind-of spring into a beautiful hair bow for Olivia, and I am thankful.
Ecclesiastes 3:11
He has made everything beautiful in its time. He has also set eternity in the human heart; yet no one can fathom what God has done from beginning to end.
If you feel like you are in a duct-tape season, remember this promise.
We are waiting, trusting, and learning as we continue to cling to Him for our daily strength.
Praying for you today as you do the same.
Thank you again for every prayer.
I love you all so much,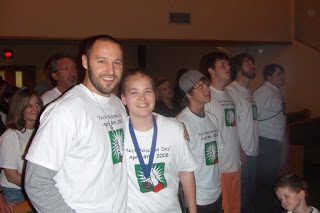 I don't think I can write about anything more pressing on my mind than what happened in my family's life on Friday night.
For those who don't know, our youngest son has cancer. Just typing that is painful. However, I have learned in the past nearly 6 years of living with this reality that God is bigger than anything…..even cancer. He has proven time and time again that He can bring good out of the most difficult situations, and Friday night will always stand out as one of those "good" memories that never would have happened without the ugliness of the illness Nick faces every day.
Several months ago, a couple of young ladies from our church decided to have a celebration night for Nick and were able to have April 4, 2008, declared "Nick Nischan Day" in our small town in Kentucky. Shirts were made and commercials were played on the radio, in the newspaper, and on our local TV channel.
Friday night as I entered the church with Nick, I had no idea how amazing the evening was going to be!
On top of being supported by at least 200 prayer warriors, we shared an evening of praise and worship that literally reminded me of how awesome Heaven is going to be!! Kentucky Christian University students led worship followed by University of Kentucky students in concert! I didn't want the singing and praising to end.
And that's not all……….Nick was totally surprised when, after watching a short video clip from Mike Furrey (wide receiver with the Detroit Lions) and his wife telling Nick that they wished they could be there to support him, Mike Furrey actually walked onto the stage from a side door! It was amazing!!!!!!!!! Mike spoke to everyone about his and Nick's favorite verse Joshua 1:9, and he spoke directly to Nick about how Nick has become his hero. Through tears, Mike shared that because of Nick's bravery and ability to stay positive in spite of his cancer, he has personally became a more committed Christian and a more determined role model who wants nothing more than to use his position as an NFL player to share Jesus with the world.
Wow!
It is difficult in some ways to step down from this memory and simply keep pressing on. I want to sit and savor the feelings from Friday night forever. But the reality of what is ahead of me keeps me pushing onward. Nick has an MRI on Thursday, and until then, we must keep focused on all of Nick's medicines, treatments, etc.
I am reminded of Paul's words to "press on toward the prize…." and that is what keeps me going. I know it is what keeps Nick going too!
I am so thankful for everyone who had a part in Friday night! And I just want to say to anyone who reads my blog………………THERE IS NOTHING YOU WILL FACE IN THIS LIFE THAT IS BIGGER THAN WHAT GOD CAN HANDLE! And when we allow God to handle things, He has a way of transforming them into beautiful memories!
My prayer for you today is that you will let go of whatever is holding you back, and step forward in God's loving arms! He wants to carry you through it all!