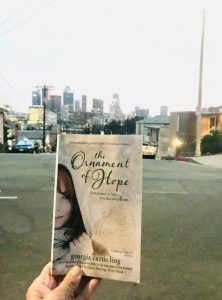 This past weekend, Tim and I had the opportunity to visit our son who lives in California.
While traveling, I had the pleasure of reading my friend, Georgia's, recently – released Christmas novel entitled,
I don't know about you, but I occasionally need an escape from reality and this weekend I had both a physical and mental one.
Slipping away into the pages of Georgia's book while flying across the country was therapy in and of itself.
I found myself drawn into the hearts and lives of each of the characters, and I loved knowing the main character's niece, Paige, was inspired by our curly-headed Gingersnap and also that the date of our son's death was incorporated so surprisingly and beautifully into Georgia's message of Hope.
As I turned the pages, I felt as if a Hallmark Christmas movie was playing in my mind and what I loved most about the storyline was the way Georgia weaved together Scriptures and characters who believed in the power of prayer.
At some level, we all walk the road of grief.  Aching for what once was, it is difficult to think about a tomorrow that could bring any sense of joy and peace.
Georgia gently leads her readers down this painful road while opening up the possibility of a new chapter filled not only with joy and peace but also with love.
If you're longing for an escape from an often-noisy world as the holiday season quickly approaches, I encourage you to order her book and find a place to tuck yourself away for a few hours with a blanket and a cup of coffee or hot tea.  You'll find the characters heartwarming, and in many ways, relatable to friends and family in your own life.  You'll appreciate how Georgia incorporates the skill of "praying without ceasing" into her character's daily routines and you'll love how the Word of God is sprinkled throughout every chapter.
If you love cooking, this book is the perfect spice to add to your holiday recipe.
If you love art, this book is the perfect color to add to your palette.
If you love baseball, this book is a homerun.
And if you love football, this book is a touchdown.
I finished the book several days ago but still find myself thinking about Christmas in the little Appalachian community where grief and love unite, becoming ornaments of hope.
As you think about your own holiday season, consider adding Georgia Curtis Lings' book, The Ornament of Hope, to your shopping list.  Because every tree should be decorated with The Ornament of Hope.
Written while listening to David Nevue's A Winter Walk.
You can order her book by clicking here:
http://bit.ly/TheOrnamentOfHope