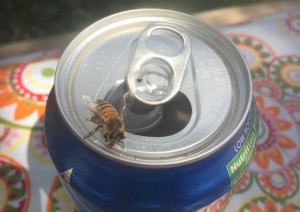 The sugary scent of Sprite must have lured him to the can.
Unaware of how close he was to a fatal swat,
he lingered, soaking up every bit of sweetness he could find.
I had no reason to hurt him.
I was really in his world anyway.
Outside, I feel a bee has a few more rights than I do.
Inside may be another story.
As I watched him move around the rim of what to him was a metal flower,
I couldn't help but think of how close I was to also being hurt.
One sip from the can without looking,
and I would have had a nice big bee sting right on the top of my lip.
So there we were.
A bee and me…..
both hovering over a sweet but dangerous drink on an otherwise beautiful, sunny day.
I'm starting to see life a little more like this moment.
One sip and everything changes.
________________
Words
Actions
Places
__________________
Choose wisely, reap the benefit.
Choose carelessly, reap the cost.
___________________
I've been careless along the way.
I've missed the bee on my Sprite can of life,
and I've felt the sting.
___________________
I've also seen the bee on my Sprite can of life,
and turned the other way.
And it's made all the difference.
___________________
Choose carefully today.
"Bee" careful.
Avoid the sting.
____________________
The tongue has the power of life and death,
and those who love it will eat its fruit.
Proverbs 18:21
Walk with the wise and become wise,
for a companion of fools suffers harm.
Proverbs 13:20
Submit yourselves, then, to God.  
Resist the devil, and he will flee from you.
James 4:7