I remember playing this game when I was a little girl where my friends and I would take turns saying,
"If I had one wish………….."
and then fill in the blanks with whatever we wanted most at that moment in our life.
Our wishes were usually very silly, but there was always someone who would think quickly and say,
"If I had one wish, I would wish for three more wishes."
That would usually end the game, but we would all laugh and think, "Why didn't I think of that?!"
Don't we sometimes "wish" we could have just one thing.
A chance to do something over.
A way to save our marriage.
A cure for an illness.
The return of someone we have lost.
The list goes on and on.
Recently, I was cleaning in my kitchen when something fell from a cupboard and knocked one of my Willow Tree angels off my shelf.
I tried to grab her quickly, but before my hand could scoop her up, she slammed into my kitchen counter and literally 'lost her head.'
I stood in disbelief as I realized I had beheaded my angel of prayer.
There she lay.
Headless and  Broken.
And there I stood,
Wondering if even in this moment God was trying to show me something.
I placed her (and her head) back on the shelf where they still wait for glue.
And it wasn't until the other night when I went to take a picture of her to send to a friend in Ohio who I found out also had several beheaded Willow Tree figurines that I noticed that I had completely forgotten about b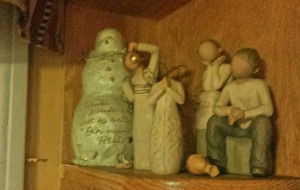 reaking the hand off of my "Angel of Wonder" months ago!
What are the chances these two angels were on the same shelf and I had missed it??
As I snapped the photo to send Laurie's way,
I was overcome with the reality that in many ways these two angels represent who I am.
Broken and separated from all I should be yet too busy to even fix myself.
I'm so thankful God doesn't place me on a shelf and go on His merry way.
I'm so thankful He "holds me together" and is my glue even when I know I look broken to most of the world most of the time.
But if I had one wish, I don't think it would be to "fix" my brokenness.
I don't think I would ever want to go back to who I was before pain.
Before loss.
Before I needed God so desperately that I was incapable of functioning without His constant presence in my life.
I think my wish would be for something more meaningful today.
It would be a wish that changed every second of my past, present, and future.
My wish would be to never again miss messages from God.
No matter how small.
No matter how insignificant to anyone around me.
It would be to see Him in the tiniest moments of life, the moments of beheading angels of prayer and breaking the hands off my angel of wonder.
I want my eyes wide open to every possible way He wants to show Himself to me,
but if I'm really honest an even bigger wish is for that same awareness of His presence to be in the heart of all my kids.
I want God's splendor to scream to them every day whether they are standing in the middle of a beautiful part of His created world or walking down a busy street filled with people they've never met.
I want God to reveal Himself every day to my children.
That's my biggest wish.
And honestly, it's my daily prayer.
I want their eyes wide open to His purpose and plan for their lives,
and I want them to not be easily swayed by the day-to-day disappointments of this imperfect world.
We serve a mighty God.
He offers more than a chance to wish for things.
And I'm so thankful.
I'm going to fix my angels soon.
But for a while I'm going to leave them.
My broken angel of prayer and angel of wonder.
I'm going to leave them right there in my kitchen as a reminder of just how much I'm praying for the wonder and splendor of God to show up every single day in the lives of each of my kids.
That's my wish.
But more than that…..
it's my daily prayer.
Psalm 90:16
May your deeds be shown to your servants,
your splendor to their children.
I'm praying the same for you and your children this morning………………..
that God's deeds will be made very clear to you and His splendor shown to your children.