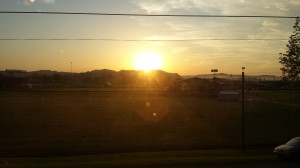 I've found myself in lots of hard places in life –
as a wife
as a mom
and even
as a friend.
But I've never found a place too hard for God to handle.
When I'm struggling, I can talk and talk and talk about a situation but until I stop and look up, I'm simply spinning my wheels with no real solution in sight.
There's something powerful about lifting your eyes to God and admitting that "you've got nothing" when it comes to solving a problem.
There's something freeing about imagining yourself laying everything down on the lap of God and saying,
"Here you go.  I trust you no matter what."
God's lap is big enough for anything you're trying to carry.
If you need help, He's waiting on His throne with open arms and an open lap.
Believe me when I say, He's the answer to anything you're facing today or tomorrow or the next day.
Psalm 121
I lift up my eyes to the mountains—
where does my help come from?
My help comes from the Lord,
the Maker of heaven and earth.
He will not let your foot slip—
he who watches over you will not slumber;
indeed, he who watches over Israel
will neither slumber nor sleep.
 The Lord watches over you—
the Lord is your shade at your right hand;
the sun will not harm you by day,
nor the moon by night.
 The Lord will keep you from all harm-
he will watch over your life;
the Lord will watch over your coming and going
both now and forevermore. (NIV)