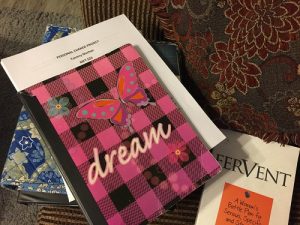 It's funny how God works.
I remember playing "teacher" as a little girl,
and I remember the day my sister and I created our own school library by gluing notebook-paper pockets in the front
of all of our books so they could have their very own "library card."
I eventually became a real teacher and fell in love with my students every single year.
But after Nick died……………
I was a different person.
I couldn't handle many of the things I had dove into wholeheartedly before he passed away.
And even though I tried a different kind of role in the world of academics,
I knew something had to give or I was going to crumble.
So off to college I went (again) in search of a new chapter…………….
and wouldn't you know?
God took the very world I had walked away from and gave it right back to me…………..
in a whole new way.
I now spend my weekdays in schools as a therapist instead of a teacher,
and I couldn't be more thankful.
But as I walk the halls and see so many of my friends
who are still in the teaching field
dealing with so many different kinds of stressful things every single day,
my heart is overwhelmed with thankfulness for each of them.
They are heroes to me.
And this morning I just want them to know.
You are noticed.
You are loved.
You are appreciated.
You are needed.
You are changing the world…………..
one classroom at a time.
Thank you for your daily smiles………………
you amaze and inspire me!!!
This is for you……………from me.
________________________________________________
"Praise to the Teacher"
Praise to the teacher 
who doesn't feel imprisoned by words like "early duty," 
"lunch duty," or "after school bus duty,"
but instead rises above her duties
and see the souls encircling her
and smiles anyway…………
Because she knows her job 
transcends her own lifetime,
isn't truly measured by data or
limited to core content.
And in many cases extends far beyond teacher to
mentor
coach
nurse
counselor
and most of all
friend.
Praise to the teacher who keeps on giving when she has nothing left to give
and who inspires her students to do the same.
Praise to the teacher 
who never stops learning because she creates a classroom
full of young instructors 
who teach her new things every single day.
Praise to the teacher who is pulled in a hundred different directions 
but smiles anyway.
You are so loved.