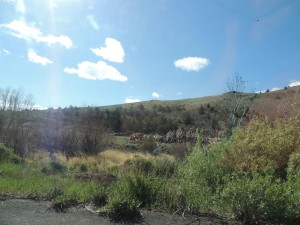 He flashes through my mind at the most unexpected times.
A funny memory.
His smile.
The way he would lightly touch my shoulder in the car if he could tell I was feeling stressed.
The way he would sit at the computer meticulously creating something new on WordArt or sit with a sketch pad drawing yet another funny-faced character wearing a football jersey.
The way he would curl up with a Hardy Boys' book and read for hours on end.
His absence from our house and our lives seems to vibrate off every wall most every single day………….still……………six years later, and I try so hard to keep pressing on.
But sometimes I really want to say out loud,
"I miss Nick, and I want him back."
I may text a friend and ask them to pray for me if I'm having a particularly hard day.
I may sigh and tell Tim I'm feeling sad, and he understands why because he carries the same weight, the same grief, the same hole in his own heart.
But sometimes in the middle of laughter and fun with family or friends, I really want to just say out loud, "I wish Nick were here in this moment, in this picture I'm taking."
I want to scream those words really, and maybe that's why I just close my heart and keep smiling and laughing, because I know that I'm protecting the world from my pain by just being quiet.
I don't want to be the reason a happy moment suddenly gets awkward.
I don't want to ruin everyone else's day by pulling them into my hurt.
So, grief becomes a secret I carry with me.
I've mastered carrying it in my back pocket most of the time.
I've learned to tuck it away so the world gets a better me.
And I've learned that people who are grieving deeply don't quite ever fit in again, so I take a deep breath before entering a room.
I look in the mirror, say a prayer, and ask God for strength to join a conversation.
Sometimes grief can make me feel crazy still today.
I second-guess my faith, my ability to believe in more than this life, because sometimes this life seems so long and Heaven seems so very far away……………..and Nick's smile seems to be fading as more and more photographs appear without him in them.
And I panic inside at the thought of all the memories we're making without him, and I wonder if my kids remember the sound of his voice and the strength of his laugh when he was in the middle of something so fun he could barely stand it.
I'm a mess this week, and I'm realizing more and more that the holiday season is just plain hard when someone you love deeply isn't here anymore.
Friends want to help me, and I feel bad because there's really no secret remedy for a grieving mom.
I know I'm a lot of work.
I know I'm complicated.
I wish I could see me without grief.
I wonder many times what I would look like today if Adrienne were 22 and Nick were 19.
It takes my breath away to even imagine that world.
Maybe I would be more self-absorbed.
Maybe I wouldn't even like that person.
I know I wouldn't be blogging this morning, because this all started when Nick was sick.
I know I wouldn't be up early every single morning reading my Bible because grief is what drew me to God in such a deep, "I-can't-survive-without-Him" way.
I know the news of yet another mom losing a child wouldn't cut straight to my soul like it does today as I think of Miranda's mom in Olive Hill and how today she will walk into her daughter's funeral and then walk out into a world that will never, ever be the same.
I remember when Adrienne died.
I remember fearing that my friends and family would never want to see me walking up their sidewalk again.
That somehow my sadness would change me into a miserable person who was easier to avoid.
So, I made a decision to not be the difficult friend or daughter or sister or aunt or cousin, the person who was too much effort.
When Nick died, I had to make this decision all over again.
And I try.
I really do.
But sometimes I really want to say out loud,
"I miss Nick so much, and I want him back………today."