I really didn't want to go.
I texted my associate minister early yesterday morning to see if he would send me notes from his Sunday School lesson and explained that I just didn't think I was up for being around people but I hated to miss his last lesson on the power of the Holy Spirit.
After a brief texting conversation, though, I decided being in church was exactly what I needed.
Tim, on the other hand, needed some time at home……………….alone…………………grief speaks differently to different people, and I do think it's so important to listen.
I slipped into the service at the last minute and tucked myself between two friends.
Life is safer between friends who walk the road of grief with you, and I felt safe.
As worship began, I could feel my lip begin to quiver and tears begin to fall.
Singing songs with the lyrics,
I'll stand
With arms high and heart abandoned
In awe of the one who gave it all
I'll stand
My soul Lord to you surrendered
All I am is yours
reminded me that this thing called "life" really isn't about me.
Dana passed me a pack of Kleenex, and I felt I had been given permission to abandon more than my life.
Tears flowed freely now.
Our children's minister led the elementary kids in the reciting of the Beatitudes.
It was so sweet, and I kept thinking,
"Nick would have been right there at that age…………….saying each verse with the biggest grin."
 Really, all my kids would have………………where has the time gone?
The sermon began, and I could tell this was right where I was supposed to be.
Living Generationally was the title of his message.
Four church members from different generations of life joined our minister up front.
The beauty of this visual overwhelmed me.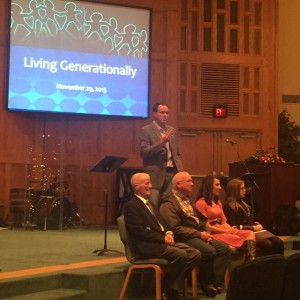 God longs for us to pass down to the next generation the things we have learned about Him, about life, about love…………….and he longs for us to reach out to those who've walked this life ahead of us in order to learn more about what it means to follow Him.
I felt God whispering that Nick, even in his death, is still passing things on to those who walk this road of life after him.
During the sermon, my phone buzzed, and I looked down to see a message from one of Nick's childhood friends.
It simply said,
"Love and miss you! Praying for you all today! I hope you know that Nick is still in my heart and is still my hero."
I felt a smile begin to form on my face.
"Still my hero……"
Yes,
Nick still matters.
He lives generationally even in his death……………and shouldn't we all have this kind of life goal?
As the service ended, I could feel myself longing for special prayer.
I made my way to Ben, and the next few moments I can't really remember except that I felt free to weep…………….to let it all out…………….
I do remember feeling arms come around me from the back and hearing the words, "I love you, Tammy Nischan." Looking back, I saw Leslie, our children's minister holding on to me, crying too.  I felt enveloped in all kinds of love and support in that moment.  I knew I would be okay.
And then Ben's prayer washed peace over my soul.
Returning to my seat, Vicki and Dana slipped the Kleenex pack back to me.  My friends have a way of making me laugh even when I'm crying.
As I sat there watching a young man get baptized, I looked down at my Kleenex and realized they were being held in a Spiderman package.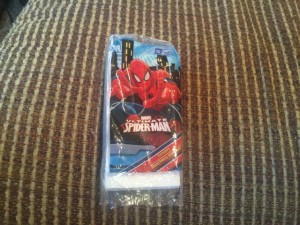 Spiderman.
A hero.
Nick.
A hero.
Don't we all need some sort of hero?????
When I pulled back into our driveway, I stayed in the car a while to reply to some messages.  I messaged Melissa to her know how much it meant to hear from her and how I smiled when I read that Nick was still her hero.  I told her I was holding a Spiderman Kleenex package in my hand at the very same time and didn't even realize it in that moment.
She immediately replied, "Oh my gosh! I"m wearing a Spiderman t-shirt right now!!!"
Here I sat in Grayson, Kentucky, in my car as Melissa sat in a cafeteria at Campbellsville University and somehow God was using a Kleenex package and Facebook message to remind us both that He sees us, He knows our hearts, He knows what we need……………………….
Why wouldn't He pour this much specific love on His children?
I asked Melissa to please send me a picture and asked for permission to share it here: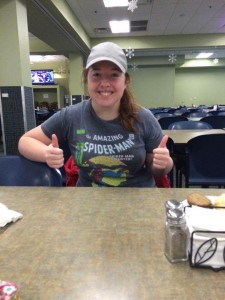 Of course she added two thumbs up!!
I have been such a mess for a while now, but yesterday God brought together so many little things (a powerful sermon, a loving children's minister, contents of a friend's purse, the choice of words in a Facebook message and a t-shirt) to remind me that there is not one detail of life in which He is not intimately involved.
He knows our needs and He cares.
Today, I want to thank you all for praying for our family.
Please don't stop.
But I also want you to walk through life with your eyes wide open………………………..
God may be using the things in your purse or pocket, the words you speak, or the clothes you are wearing to bless another person's life today………………..or He may be using someone else's to bless yours.
Don't miss Him.
He's there.
Even in the deepest valley.
He is there.
Nick's favorite verse seems so appropriate today,
"Have I not commanded you? Be strong and courageous.
Do not be afraid; do not be discouraged,
for the Lord your God will be with you wherever you go."
Joshua 1:9