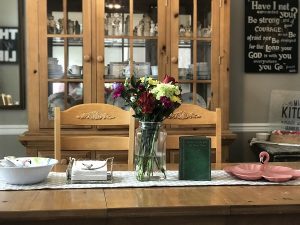 An old copy of "Singing in the Rain," found by my son-in-law as we were packing our Grayson home late one night,
became a place for all of us to take a break
and practice what is called in literature as "black-out poetry."
We had so much fun,
we decided to keep the book out and start a new tradition.
Now everyone who enters our new home is handed this book and "assigned" a page.
I usually read their creations aloud right after they finish,
but this guest had been gone for two hours before I had a chance to open the book.
 As I did, I saw her beautiful poem created by leaving only the words that spoke to her that evening.
Reading the seven words she had left uncovered, I was struck by the power in them.
"The threads wrote their names in circles."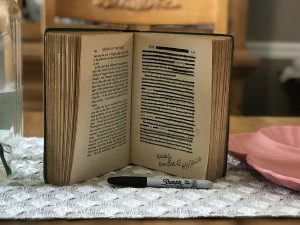 From a page filled with nouns, verbs, prepositions, conjunctions, and every other part of speech,
those were the words she chose to leave.
And they were enough.
I read them over and over.
And I begin to visualize the sentence these words had formed.
Threads weaving in and out of fabric,
encircling the cloth as they wrote their name.
One stitch at a time.
And I thought about her.
A young mom,
carrying every sort of baby accessory in and out of the house so her children had everything they needed for a good evening.
And how, at one point, she had even driven home for a bottle and formula.
She is the thread weaving her children's lives together.
Encircling them stitch by stitch.
And as she does……
she leaves her name,
her legacy,
written in the circles.
She leaves His name in their lives too,
as she weaves His love in and out of their story.
And the more I thought  about her and the words she left on the page of our book,
I thought about life.
And how all of us are doing the very same thing in our own special ways.
Making circles around the things that matter most to us
and leaving a name for all to see.
So today, I'm wondering….
What is my thread?
and
What do I encircle the most?
and
Whose name am I writing?
With every word,
every deed,
every thought,
I'm weaving something.
And in the end,
leaving something.
Maybe that's what life is all about.
Weaving and leaving.
Making every day count as our thread moves in and out of people's lives,
writing a name in the circles as we move from place to place. 
And whatever you do, in word or deed,
do everything in the name of the Lord Jesus,
giving thanks to God the Father through him.
Colossians 3:17
This world feels a little chaotic these days.
And it doesn't take long to feel overwhelmed when you turn on the news or leave your home.
But even in the midst of all the things that seem upside down,
I don't ever want to forget,
the thread of Jesus' love longs to go with me,
encircling everything and everyone I encounter,
writing His name as I go.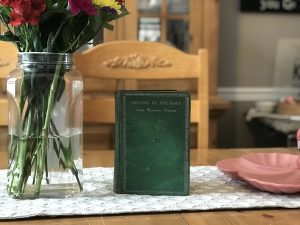 "The threads wrote their names in circles."
Let's weave a story of love today,
writing His name in the circles.
Deed by deed.
Word by word.
Stitch by stitch.
And when we finally get to see the complete tapestry of our lives,
holding even the most painful, chaotic, and difficult of days,
may it be stitched with story after story of Him.
Phil. 3:14
I press on toward the goal to win the prize for which God has called me heavenward in Christ Jesus.
Thank you, Missy, for the beautiful poem left in our copy of "Singing in the Rain." 
I will cherish it forever.
This post was written with David Nevue's beautiful piano music "Winter Walk" playing in the background.
Click on song title to listen as you read.
Love you all so much.