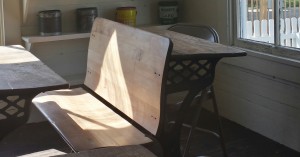 Something changes when you go into the day with a teachable heart.
Your ears become more important than your mouth.
Your questions search for deeper answers.
Your eyes scan the world for more than the "right there" kind-of sights.
You look deeply into landscapes, situations, souls.
I want to be a lifelong learner –
not just of academic-kind-of things, but of spiritual things.
I love that one of the many words that described Jesus was Teacher.
I love that when I read about His time on this planet – His very brief but life-altering 33 years –
I can learn about how to live, how to love, and how to serve.
Today, I want to be a good student.
I want to sit in the desk of life and soak up all God longs to teach me about His love, about the world, and about myself.
Teach me today, Lord.
This is my Monday prayer.
Help me remember that only when I'm teachable can I become more like You.
The student is not above the teacher,
but everyone who is fully trained will be like their teacher.
Luke 6:40