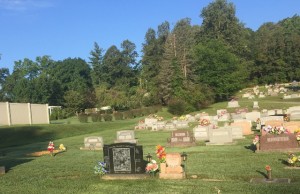 Dinner was finished,
and Tim had headed out to mow.
I needed to get out, too.
Just enjoy some fresh air.
Move a bit.
Get my heart pumping.
As I made my way up the hill near our home, I decided to call a friend and see about her day.
We hadn't been chatting long when I reached the cemetery that holds Adrienne and Nick's graves.
I always look.
Doesn't a mom always check on her kids when she has the chance?
A group of people were decorating headstones,  and I noticed one elderly lady and gentleman standing in front of Nick's.
I could tell they were reading every word, gazing at every picture.
They moved to the back side of his stone, and I watched as they made the connection between the two markers reading "Nischan".
I asked my friend if I could call her back.
I had to meet these people.
I had to introduce my kids.
As I approached the tombstones, I almost turned around.
What if they think I'm crazy?
I couldn't stop myself, though.
When someone takes time to admire my children (here or in Heaven), I have to say "thank you."
I saw some of the other people who were standing nearby look towards me as I grew closer to the couple.
I hesitated for a second and then said,
"Those are my children."
Without hesitation, the elderly lady said, "Oh, I'm so sorry," as if she thought I found her presence there intruding.
I quickly said, "Oh, it's okay!  I just wanted to say thank you for taking time to stop and look.  You just made my night!"
I went on to tell her a little about Nick.
About his sweet smile and spirit.
About his amazing love for life.
I then shared about Adrienne, and we both began to cry.
I gave her a big hug and told her to have a good evening and left to finish my walk.
I don't know who she was or where she was from.
I'll probably never see her again in my life.
All I know is this:
I fell in love with a stranger in the cemetery last night,
because she cared enough about my life to shed a tear with me.
_____________________________________________
Isn't that all we really need in this world?
People who are willing to cry with us when we're hurting,
laugh with us when we're happy,
celebrate with us when we're triumphant,
grieve with us when we're mourning.
I went for a walk to get my heart pumping.
I had no idea I was going to fall in love……………….
in a cemetery.
Whoever you are, sweet lady, know you blessed my heart last night.
You comforted me, and I hope in some small way I comforted you.
I want you to know I love you.
I don't think I told you that.
II Cor. 1:3-5
Praise be to the God and Father of our Lord Jesus Christ,
the Father of compassion and the God of all comfort,
 who comforts us in all our troubles,
so that we can comfort those in any trouble with the comfort we ourselves receive from God.
For just as we share abundantly in the sufferings of Christ,
so also our comfort abounds through Christ.