I noticed his arms every time we sat down in the library to work on math.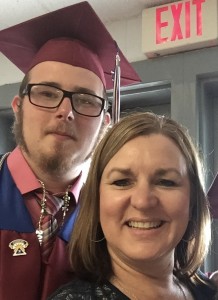 It's not often you see a teenage boy with Betty Boop permanently etched into one arm and  Charlie Brown's friend Lucy etched into the other.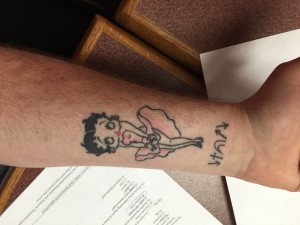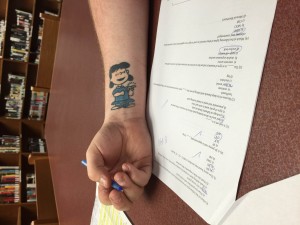 One day, not long before the school year ended, I decided I just had to know why this senior in high school chose to carry two female cartoon characters with him wherever he went.
There had to be a meaning behind these two tattoos, so on one particular day I decided it was time to find out.
I took a risk, because you never know what you'll hear when you inquire about a tattoo……………….
"Jacob, I have to know," I said.
"Why are Lucy and Betty Boop on your arms?"
"There's surely a story."
Without missing a beat, Jacob pointed to one of them and said,
"Oh there is, Miss Nischan!  See, this one here is for my granny.  She loved Betty Boop.  And this one here is for my great granny.  Her name is Lucille, but everyone calls her Lucy."
I smiled as he went on with his story, because suddenly these etchings in Jacob's arm seemed to come to life.
His tattoos were talking and the story was so sweet.
His great grandma was his best friend.
"She was always there for me.  She even paid for my eighth grade trip.  And she was the best cook.  No one could make chicken and dumplings like her!"
He grinned and said, "She had an attitude too, though.  When she snapped her finger, everyone listened."
He continued without hesitating,
"She use to smoke and one day I came in and said, 'Granny, you're gonna have to stop.  I have asthma.' She said, 'Okay,' and put out the one right there in her hand that very minute and she never touched one again."
"My other granny is my rock.   I'm her big grand baby."
I asked Jacob if he had any advice for grandmas, and if I could write about him on my blog.
He said, "Yes, Miss Nischan, I would love that."
And then he gave these words of wisdom to all grandmas……………
"No one can take your place.  It's an honor to be someone's grandma.  Don't ever forget that."
I'll never forget the day I sat in the high school library in Olive Hill, Kentucky, and had the joy of listening to tattoos talk.
 I hope I can be the kind-of grandma that causes a high school senior to perk up, smile, and start sharing stories………..
One thing I know for sure…………..
I need to get to work on my cooking skills!
I guess the question for all of us today is this,
"What are we doing today that will be remembered tomorrow?"
Thank you, Jacob, for sharing your heart with this teacher…………….
I'll never forget you, and I'm confident God has great big plans for your life!!!
Keep sharing your granny's stories!!
They are priceless!