II Chron. 7:14
If my people,
who are called by my name,
will humble themselves and pray and seek my face
and turn from their wicked ways,
then I will hear from heaven,
and I will forgive their sin and will heal their land.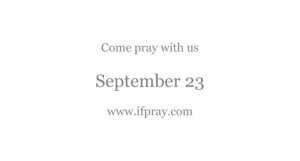 Wherever you're at tonight from 6:30 t o 8:30 p.m.,
join God's people worldwide in prayer.
Let's see what happens when the whole world prayers together!