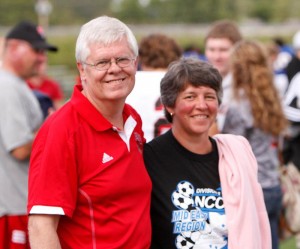 I've tried since Friday night to find a way to express in words what I'm feeling deep inside.
I've opened Facebook several times and read what others have written.
I've agreed with every word of thanks and honor and high esteem for this man,
but when I've gone to my own wall and clicked on "status" and tried to start writing words that somehow share my heart,
I haven't been able to type past the words, "Tim and I are…."
I haven't been able to find the right words to describe our sadness, our shock, our anguish over the loss of a friend with whom we have shared 25 years of our lives.
We've shared birthday parties and yard sales.
We've gone pumpkin-picking, corn-picking, farm hunting, and the list goes on and on……..
We raised our families together.
I was out of town when I received the news, and I called Tim thinking he had already heard.
He had not.
It was one of the hardest things I've ever had to tell him.
They had just been texting hours before.
Tim sent me Bill's last text to him.
It read,
"Waiting for test results.  It's been a rough week. 🙁  But God is in control! :)"
Such a testimony to Bill's philosophy of life.
Tim will never delete that message.
He lost one of his very best friends Friday.
A confidante.
An encourager.
A God-fearing believer in the best about every situation and every person.
A model husband.
A model father.
A model employee.
A genuine friend to the core.
Bill could be listed in the dictionary as a synonym for these words and so many more.
Selfless.
Optimistic.
Humble.
Gentle.
Joy-filled.
Courageous.
Believer in all things good and right.
When I read about the fruit of the Spirit, I am confident that Bill was Spirit-filled because he produced every fruit daily.
Love.
Joy.
Peace
Long-suffering.
Kindness.
Goodness.
Faithfulness.
Gentleness.
Self-control.
Tim and I walked around KCU late Saturday night, and Bill's absence could be felt in a way I can't even communicate in human language.
It's as if the brightness of the sun and the glow of the moon have forever been dimmed over our heads in Grayson, Kentucky.
Life will never, ever be the same for us.
At the same time, I am deeply aware that Donnette's life and the lives of her children and extended family are the ones that will most significantly be changed in ways we will never know or totally be able to understand.
My heart aches for them, and I want to do something more than take paper products and food.
Yet deep inside I know through my texts with Donnette and the messages she has shared in her testimony at Oak Grove yesterday and her post on her blog this morning (http://mommadonnette.blogspot.com/) that she is going to carry on Bill's legacy by her own example of what it means to cling to God in the best of  times and the worst of times.
Donnette was the first person to get me out of the house after we lost our daughter to SIDS twenty-two years ago.
She walked through Nick's cancer journey with me on a day-to-day basis.
 She spoke peace into my chaos many days.
Her hugs always included a prayer, and I would often lean in twice so I could get an extra one for the road.
Since Nick has gone Home, Donnette often sends me pictures of pennies she finds while on walks or in stores.
She still reminds me of God's presence on the darkest days time and time again.
Her silent presence on my saddest days has always been enough.
She's never needed lots of words to make me feel better.
She's just been there even when there were no words to offer.
And she's prayed for me and my family faithfully.
For all of us who are brokenhearted at the loss of Bill Bondurant,
I know Donnette well enough to know this.
She believes in the power of prayer, and she is leaning on God for the strength to make it through each new day.
If you're lifting a prayer for her, her kids, and Bill's siblings and mom,
 you're doing exactly what she would want if you were to ask,
"What can I do for you?"
And I know that even in her heartache she is somehow finding the strength to pray for all of us who are hurting too.
I love you so much, Donnette.
In the same way the Spirit also helps our weakness; for we do not know how to pray as we should, but the Spirit Himself intercedes for us with groanings too deep for words; and He who searches the hearts knows what the mind of the Spirit is, because He intercedes for the saints according to the will of God. 
Romans 8:26-27