It was dark when Olivia and I pulled into the driveway after church one evening several years ago.
I remember it like it was yesterday, though, because the car became more than a vehicle in that moment.
Suddenly, it was transformed into the perfect place for a powerful and very unexpected conversation.
As I put the car in park, I noticed Olivia was very quiet.
She didn't reach for the door to head inside.
She looked straight ahead; and as I reached for my purse, I heard her say in a very timid voice,
"I need to tell you something."
I could hear the shakiness in her voice and fear ran right through me.
We sat in silence for a few minutes as all kinds of horrible thoughts raced through my mind.
"Is it about you?" I nervously asked.
"No," she whispered under her breath, and I felt overwhelming relief flow through my entire body.
Looking back, I realize how selfish this feeling of relief was.
No news that causes Olivia to cry should make me feel any less anxious.
Leaving out that moment in our conversation, though, would paint a picture that takes away the very reason I'm writing this post today.
Olivia tried to talk, but as she began to speak she burst into tears.
Finally, she got it out.
One of her friends had had sex.
Sad, angry, scared…………..she released every kind of emotion from the passenger seat of the car.
The truth is, Olivia had just started a serious relationship with a boy several months before; and she knew this was a line she was committed to not crossing.
At the same time, she knew it was a line that could be so easy to dance right across…………..
when two people felt like they were in love………………
and it was scary……………….
so we talked and we talked.
We talked about regrets and forgiveness and grace.
We talked about how boundaries have to be set in advance if this is a direction a person chooses not to go before marriage.
I've spent a lot of time with other girls before and after that evening in the car with Olivia.
From middle-school-aged girls to college-aged-girls to young adult women,
the conversation is always the same.
Where do we draw the line?
What is okay and what is not okay?
Everyone else is doing it.
I want him to love me.
I don't want him to break up with me.
The list goes on and on, and the heart-wrenching stories keep piling up.
Sex.
Three little letters that can turn a world upside down in just a few minutes.
Believe me, I'm far from perfect.
I was young once too; and while I stood up to some pressure along the way, I caved to some too.
Somehow, I kept the "one thing" sacred while sacrificing a few other things along the way.
I'll just say this, dancing way too close to the boundary line leaves its own kind of scars.
I stood at a soccer game last night with a dear friend of mine,
and we talked about homecoming weekend and our girls.
We talked about their boyfriends, and we talked about the three-letter word that we know every single young adult faces day in and day out in a world that screams,
"Be happy.  Do what you want."
Our hearts ache for our kids, because it's a lonely road to travel when you decide that being happy doesn't always mean doing what you want.
Late last night, Olivia and I had a chance to talk about this little but oh-so-powerful word again.
This word the world throws around so carelessly while God longs for us to cradle so delicately.
I shared a book with Olivia that I'm reading right now.
I really want her and her boyfriend to read it too.
Honestly, I think every human being should read it.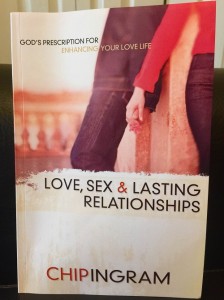 We talked about the difference between love and sex.
We talked about three points the author makes:
sex is sacred
sex is serious
sex is an awesome responsibility
I read some powerful sentences from the book out loud to her:
"If you stay sexually pure, then you can expect to have better sex in your marriage."
"If you stay sexually pure, then you can expect the possibility of divorce to go down by 50 percent."
"If you stay sexually pure, then you can expect your relationship to last."
"If you stay sexually pure, then you can expect to avoid sexually transmitted diseases."
"If you stay sexually pure and accept someone as a potential mate who lives by the same values, then you can expect that when you marry, each of you will remain faithful to the other."
I showed her some illustrations that really spoke to me:
God's plan for building a relationship: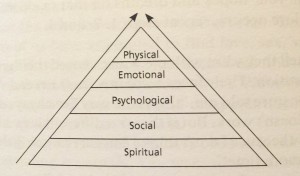 Hollywood's plan for building a relationship: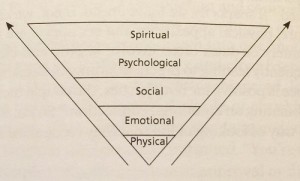 I showed her these formulas: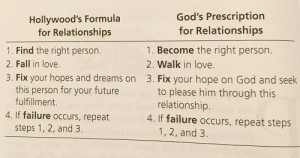 We don't have to watch very many movies to realize the bedroom is a normal part of the dating process to many…..
and we all know our kids watch plenty of movies.
So why aren't we balancing out this message with our own?
——————————–
I've wrestled with whether or not to share my thoughts on the subject of sex for a long, long time.
The world can so quickly call you judgmental if you have an opinion that contradicts their's.
I wasn't sure if my blog was the place for such a conversation, but lately I've been burdened by some heavy conversations with precious girls who have crossed the line or been very tempted to.
I've heard so many stories of regret and guilt and shame, and I just can't be quiet any more.
I've looked into the eyes of thirteen-year-old girls who've only heard the world's opinion on the matter, and my heart breaks as I listen to them talk…………..
because I know where their road is leading if someone doesn't speak up.
So I'm speaking today about sex, because homecoming is tomorrow in our little town and girls and boys will be hopping into cars and heading out on dates dressed like princes and princesses and deserving to be treated like them too.
—————————————-
Here's what I have to say:
If you've already crossed the line, consider stepping back over to the other side.
God longs to restore and make all things new.
That's His specialty.
Save yourself from this point on for the day you walk down the aisle.
Make pleasing Him your first priority and the pressure you feel on this planet will begin to fade away, because His love has no strings attached, no pressure, no expectations.
His love is free and unconditional.
If you've walked close to the line but haven't crossed it yet, beware.
The point of no return can catch you by surprise.
Choose to dance far from the line so that on the day you say, "I do,"
you'll have some room reserved on both sides of the dance floor just for that moment.
Find accountability partners for times when you feel weak or just need to be reminded of how happy you will be if you stay strong.
Luke and Olivia have close friends in their late twenties who are already married and have walked the road of dating ahead of them.
They text them often for encouragement and support.
Thank you, Josh and Katelyn, there are some things parents just can't do.
If the line hasn't even entered your mind or your child's mind,
know it will one day and plan ahead.
Make decisions now that will protect your tomorrows.
Who will you date?
Where will you go?
What will your boundaries be?
These are things you need to consider now even if you're in middle school.
Talk to someone if you're struggling.
Don't let shame keep you in a cycle that can easily be broken.
Don't let regret keep you from feeling worthy of God's love.
We've all made mistakes.
We've all done things we wish we could take back.
And there's always good news!
God promises to cast our sin as far as the east is from the west.
He says that in Him we are a new creation.
Brides wear white because it symbolizes purity.
Determine today that you will wear white on that special day……………
no matter what you did yesterday.
I've had Olivia imagine her wedding day…………….
and how it will feel when the man she is about to marry watches her walk down the aisle as she holds onto Tim's arm.
_________________________________
I want her to understand the power she has right this minute.
The power to wait.
The power to choose.
The power to save herself for him and him alone.
I also want her to understand how wonderful it will feel if she chooses a man who has waited for her too.
__________________________________
The world wants teens to believe that people aren't waiting.
I don't believe this is true.
I believe there are plenty of teens and young adults longing for lives where love comes first and sex comes later………………
I still believe true love waits.
If you're reading this and don't know where to go from here because the pressure of this life has taken you down a road you wish you weren't on,
please don't feel any less worthy of God's love.
He needs your story.
He needs your voice.
Share your struggles with someone and find friends who will help you find your way to a road that brings you peace.
Let God use your past to help others who walk behind you.
The beauty of the new you will outshine any memories you wish you could erase.
God has a special plan and purpose just for you.
Let Him be your first love…………….and watch everything else fall beautifully into place in His time.
———————————————————————————————————————
I've never had so much hesitation about pushing the "publish" button on a post, because the last thing I want to do is cause anyone to feel shame.
We've all made mistakes; and believe me, I've made my fair share.
As a teen and as an adult, I have so many regrets.
My only purpose is to open the door for conversations between boys and girls and moms and dads and youth ministers and youth groups.
The world isn't being quiet about their views on the topic of sex, and I don't think we can be quiet either.
When Olivia said she had something to tell me several years ago and I was relieved that it wasn't about her, God convicted me in that moment.
It has taken me this long to muster the courage to speak up……………….
and I'm still afraid.
Posting this with every ounce of love I have in my body.
Flee from sexual immorality………. do you not know that your body is a temple of the Holy Spirit within you, whom you have from God? You are not your own, for you were bought with a price. So glorify God in your body.
 I Cor. 6:18-20
Create in me a pure heart, O God, and renew a steadfast spirit within me.
Psalms 51:10
Don't let anyone look down on you because you are young, but set an example for the believers in speech, in life, in love, in faith and in purity. 
I Timothy 4:12
But just as he who called you is holy, so be holy in all you do; for it is written: "Be holy, because I am holy." 
I Peter 1:15-16
Blessed are those who wash their robes, that they may have the right to the tree of life and may go through the gates into the city. 
Revelation 22:14
If a man cleanses himself from the latter, he will be an instrument for noble purposes, made holy, useful to the Master and prepared to do any good work.
II Timothy 2:21