 Dear Prayer Warriors,
I thought you'd like to know that I am sitting here at the computer with hair color all over my head……doing three or four things at once seems to be the only way I am functioning right now…
I just wanted to send a quick note to let you know that Nick had a super day yesterday! He was our "old Nick" again. I had to laugh yesterday afternoon when he was sitting at the computer downloading songs on his new Ipod Touch from Mike Furrey (I still have to tell you all about that visit and his surprise birthday party and his room)- ANYWAY- he was sitting at the computer and as I walked by I could here him softly singing, "Oh, Oh, Livin' on a Prayer." Oh, if he only knew how true that was! Maybe deep inside he really does know more than I could ever imagine.
Wow. Tim and I were talking about Monday for the first time last night and just reflecting on it from our different perspectives. We both keep having flashbacks of Nick, and it is so hard to shake them from our mind. We are just so thankful for all of you, for all of our friends who were here for us in person or on the phone, for Bellfonte Hospital, for Dr. Pearl and Dr. Cook, for the ICU Team that came from Columbus, for our doctors in Columbus, and the list goes on and on!!!
I'll email tonight and tell you about our day today.
Please keep Olivia in your prayers. Today I take her to Lexington to Shriners. Please also pray for my friend's teenage daughter who is really struggling spiritually.
Love, Tammy
This was the KLove verse today, and I couldn't help but think of Nick!
The Lord is my strength and my song; he has become my victory. This is my God, and I will praise him; My father's God, and I will exalt him!
~ Exodus 15:2, NLT
www.nick7-11.zoomshare.com
www.tammynischan.blogspot.com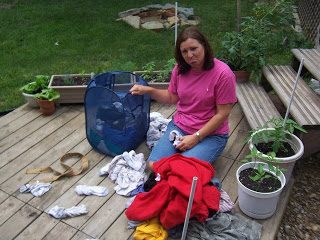 I had to laugh when I ran across this picture tonight while updating Nick's website!
About three weeks ago, our two oldest sons came home from college for the summer! Of course, along with them came all of their dirty, sour, nasty laundry! This doesn't look like much…..but this was just the first of many, many mounds of wet, stinky socks, underwear, bedding, etc.!
For three days straight our washer and dryer ran practically 24/7! At the time, I was exhausted! (Thankful to have my big boys back home, yet overwhelmed at what they had dumped at my feet!)
Tonight, I sit on my couch thankful…..thankful that the laundry is all caught up! Thankful that my oldest boys have each completed another year of college! thankful that Nick is doing so well! But mostly thankful for a Father who allows me to literally "dump everything at His feet" year round and yet He never becomes exhausted!
Is. 40:28 Do you not know? Have you not heard? The LORD is the everlasting God, the Creator of the ends of the earth. He will not grow tired or weary, and his understanding no one can fathom. 29 He gives strength to the weary and increases the power of the weak. Just a very quick note to say "we're home!" Nick is doing much better! He is on two medicines (one for seizures and one for swelling) temporarily!
Thanks for every prayer lifted on his behalf.
Pray for us as we make our next big decisions in this journey with Nick. We have so much to learn! Susan, I have got to sit and take time to figure out how to post to the pediatric brain tumor group. I will do that soon.
Love you all so much!
My heart is filled with so many different emotions right now……thankfulness, praise, gratitude, joy, fear, uncertainty, anxiousness, and yet peace and hope!
Thankful for a Risen Savior!
Tammy Everything seems better when the sun is up, doesn't it? The neurosurgeon on-call came to see Nick this morning and explained that post-op seizures are not "shocking" to them like they are to us. He was very calm. He asked Nick what his phone number was and where he was and Nick could answer both questions easily. Nick does have a fever of 101.4, so they want to take a look at this for a day or so. He still isn't what I would call "my old Nick," but they have him on two medicines which can cause him to be a little sluggish and we think that may be part of the reason. I did ask him what he would say if I shared a "shout out" in an email, and all he said was, "I WANT TO GO HOME!" That made us all smile! Thank you to everyone who has sent encouraging emails and words of prayer. Scriptures always mean the world to me too! They always come at the perfect time! Thank you to everyone who is helping out with Todd and Olivia! Thank you so much!- Ignored: I am heading back up to Nick's room, but I wanted to send a quick update while I was out. Thankful, Tammy and Tim www.nick7-11.zoomshare.com Nick suddenly became unresponsive this afternoon on our deck. It was like he was looking around but could not hear me. We took him to the ER in Ashland and then he was to be airlifted to Columbus but due to the weather, they had to send a special neuro team down to Ashland to pick him up.
His catscan showed no bleeding. We are not sure what is going on. They think it could be a post-operative seizure. Please pray. I will write again later.
Much love.
Tammy
When I am afraid, I will trust in Him….In God whose Word I praise…In God I will trust…I will not be afraid, what can mortal man do to me? (One of my favorite verses in Psalm) Just wanted to post a quick note to let you know that we are home!!! Nick is puffy in the eyes and cheeks, but he is very glad to be home!
I'll write more tomorrow.
Love, tammy Dear, Dear Prayer Warriors,
We awoke this morning after a very nice night of sleep to the blood-curdling screaming of the little boy next door to us. Oh my. It went on and on and on and on. I was almost to cry laying here in the darkness of our room. Then I heard him screaming, "I want my daddy." I just about lost it. I was envisioning nurses all around him trying to put in an IV or something horrible. Finally, when I could take it no longer, I got up, brushed my hair, put on my parent name tag and glasses, and walked to their doorway. I had looked all around our room for something to take him, but I had nothing that I thought a little guy would like. Anyway, I got to their door and it was open. The mom was in the bed with the litte boy, and I said, "Are you okay?" She actually smiled and said, "He wants ice cream." I guess they had woke him up to give him medicine and then he couldn't have anything to eat for a certain amount of time. I smiled and said, "Just checking…I was worried." THen I came back to tell Nick, because he was awake and wondering what was going on too. Shew…….reminds me to be thankful for all of the mornings I wake up at home with the biggest stress being "what should I wear today" or "what's for breakfast."
My mind has been racing this morning with so many things I wanted to share from this week and haven't had time.
First, I have to tell you about Monday morning. See, I had made a list of ALL things I needed to do before we came to Columbus. Adding Nick's room makeover to the list added even more things. And then there were things I needed to do for our dogs, too (go to the vet for frontline, get peppy's hair cut, etc.) Why would anyone with 5 kids have 2 dogs? I'm still wondering about that….just kidding, my kids love our dogs. Anyway, my mind was spinning as I backed out of our driveway, and as usual, I was trying to do two things at once. I had called Robin Waggoner to find out what time I was suppose to be at Olive Hill Christian Church to speak that night for their ladies' banquet (I had already made the commitment and just couldn't let them down) and as I was on hold at Prichard waiting for her to answer in her classroom, I continued backing up and the next thing I knew I heard the horrible sound of "CRUNCH" as I backed right into our son, Evan's, car. I looked into my rearview mirror and there it was…..the top of his white car smack dab behind me. I pulled forward a bit and just leaned my head on the van seat and thought, "I am going to have a nervous break down." When Robin answered, I blurted out, "I just hit my son's car" before I even told her who was on the phone. When she realized it was me, she was so sweet and said, "You just have too much on our mind." We talked for a minute, because I was so upset I had started to cry. Then I asked if she would stay on the phone with me while I looked at the cars. As I got out of the van, I could hear Robin praying on the phone. I walked to the back of the van and I couldn't believe it! There was not even a scratch on Evan's car or my van. I heard the crunch but I couldn't see any signs of even dust being moved. I was in shock. Robin was so happy! Maybe when I pulled forward the fender bounced right back into place, or maybe God pulled out the dent, I don't know. All I know is that I was spared from a day of insurance and car repairs. I told Robin one of my favorite verses was in Isaiah where is says, "he makes the rough places smooth" and now I was going to think of that with my car!!!! I drove to wal-mart with shaking hands but a thankful heart..I felt so covered in grace. Then as things unfolded with Nick this week……things like some email confusion with getting the gene-testing done and the realization of Nick's tumor having spread out a bit….I kept thinking back to God making the rough places smooth for me in a very real way in our driveway. I have thought so many times this week of how thankful I am that I backed into Evan's car. I believe that that was no accident. I believe that God was showing me in a very literal sense just how amazing it is to serve a God who can make the rough places smooth. He was preparing me in an earthly way for the message I needed to hear in a spiritual way. I guess I tell you that to say that if things aren't perfect in your life, it may be that God is going to use the earthly trouble to speak to you about spiritual things, so listen as you wait! Listen and learn! I believe our God is bigger, wiser, and more purposeful than we could ever imagine! He didn't just create us and then leave the world to spiral out of control. Yes, things are not so good on this planet, but this planet is not a forever thing. The end is coming, and in the end, it is just our relationship with Him that will last. So, I pray for you that you will seek Him and find Him with all of your heart.
Second, I have had several people ask about Olivia, because I haven't sent any updates on her. I took her to Shriners in Lexington last week (the day after Nick's MRI). Brenda Newland drove us, and that helped me so much. I really didn't want to go, but I knew I needed to keep the appointment. Anyway, her spine looked better, so the doctor didn't want to check her scoliosis again for 9 months. However, her bloodwork was positive (ANA) and her wrist continues to be puffy and extremely sore from time to time, so I take her back to Shriners a week from yesterday to see their pediatric rheumatologist. I feel silly asking for prayer about so many things, because I start feeling like everyone is going to think our family is crazy or something. The truth is, "Our family is under attack by the devil." I pray and I need to pray even more that God would be a hedge of protection around our family. In many ways, He has, so I never want to seem like I am complaining. I am very thankful for so much. But please remember Olivia in your prayers too when you can.
Third, yesterday afternoon Tim drove back to Grayson to watch Olivia and Todd in the choir/band concert. He videotaped it for us. He also was suppose to go to an awards ceremony on MainStreet because Olivia had written a letter about why he should be "father of the year" and she was in the top five finalists! They couldn't make it to the ceremony, though, because it was at the exact time that Olivia was singing in the debut of the Carter Co. Children's Choir. Later in the night, Tim texted me and said, "Call Olivia and see how she did." When I called and asked, she told me that dad had WON Father of the Year!!!!!!!!!!!! I was so excited for him and for her. But then Olivia said, "You don't know how mad I am." She really wanted to be at the awards ceremony. She said, "Everyone would have been so proud of me." I tried to explain and so did my mom that we WERE proud of her, and then she cracked me up when her next comment, in a very grumpy voice, was, "Don't even try to make me feel better." I told her she needed to go bed! She sounded so grumpy. Anyway, I say all that to say this………..Feeling better is a choice, isn't it? Olivia was determined to be mad and stay mad. I just felt in my heart that I needed to share that thought with anyone who is struggling with anger or bitterness or jealousy or whatever…….if we get to the point where we are saying, "Don't even try to make me feel better" we probably need to do some serious soul-searching. I am praying for all who read this and need help in that area. I have been there….it is not fun.
Fourth, please pray for Nick's swelling. He has a special visitor coming around 9 and I want him to be able to see them. I'll email after the visit happens.
I love you all so much. Thanks for allowing me to release my thoughts. It helps me.
Your prayers are getting us through!
Thankful,
Tammy
Is. 42:16
I will lead the blind by ways they have not known, along unfamiliar paths I will guide them; I will turn the darkness into light before them and make the rough places smooth. These are the things I will do; I will not forsake them. Dear Prayer Warriors,
Thank you for your prayers and all of your emails of encouragment….I am sorry I can't reply to all of them right now. I slip out to send an update and use a computer that can only be used for a limited time, but I read EVERY email that is sent and they make me smile!
We don't feel alone!
Nick has slept all morning. After our trauma this morning with Nick's IVS, I am thrilled to report that his antibiotic continued to go in smoothly with the heating pad and slower pace. When Dr. Kosnik (Nick's brain surgeon) stopped by, I asked him about Nick's IVs and he told the nurse, "Pull them out." I love that man!!!!!!!!!!!!!!!!!!!!!!!!!!!!!!!!!!!!! I also love our nurse! Super Donna is back from last night, and she is hilarious! She has kept us laughing.
Earlier another doctor came in while Nick was sleeping and saw our little signs hanging on Nick's bed that said, "Nick is 13!" AND "Happy birthday, Nick!" She made a sad face and said, "It's his birthday." I just nodded. Then I kind-of grinned and whispered, "Not really…we just did that for sympathy." And then told her I was kidding. She started laughing, and mom said we should have a basket for gifts. She thought that was so funny and told Donna to get a bed pan! Donna went and got the oldest bed pan style she could find and the doctor taped Nick's sign to it and Tim threw in a couple of dollars. Then Donna went and got a dollar to put in it! It was so funny!
As the doctor left, she said, "Can I get you anything?" I just said, "An audience!"
Oh, what a nice break from all of the tears yesterday!
Nick now has one IV out and as I left to send this the other was getting ready to come out. We ordered breakfast and after he eats we will go down to 3TS. I'll let you know the room number when I find out. Last night, Nick was eating a bowl of cereal and said, "I don't mind being here with the free food…it's good." We cracked up. Dr. Kosnik said that Nick looks good!
He is pleased!
I need to get back up to the room. Keep praying!
Keep those thumbs up! We love you all so much!
Those who wait upon the Lord shall renew their strength! We just keep waiting! First of all, THANK YOU to everyone who posted such encouraging notes to me. I was blessed as I read each one! When things slow down I will visit with you more. I am in the ICU waiting room and wanted to post a quick note to let you know that Nick's surgery took 5 hours and 15 minutes, but he did great!
The doctor was able to remove the entire tumor as well as another tumor that had grown under his scalp just beyond the internal tumor. Whew! His head has stitches from one ear up over his head and down to the other again…. it just breaks my heart.
However, NICK IS AMAZING!!!
Only five hours after the surgery was complete, he had eaten an entire chicken and cheese quesidilla! We can't believe it! He keeps slowly lifting his head and turning it from right to left to show us how strong he is! It is precious.
As we face the next few days, it is certainly a faith walk. We just don't know what the future holds….but then again,
WHO DOES!?!?!? I have to keep reminding myself that today is all ANY of us are promised and that we must cherish each day and live it for God! Yes, I have cried…A LOT….today, but I know deep within my heart that God loves Nick and He loves me.
Oh, thank you for your prayers! Thank you so much!!
Please continue to pray for our little man!
Blessings, Tammy
I love this quote someone gave me on a little pillow – "Faith begins where reason ends." Our ability to reason through this ended LONG AGO!!!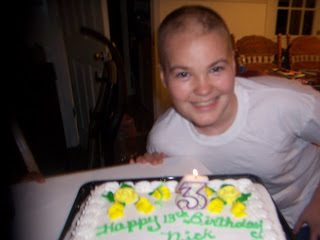 It's hard to believe that my baby boy will be 13 on Thursday!
Almost half of Nick's life has been spent fighting cancer, but the smile you see in this picture is the same one he has carried all along the way!
We celebrated his birthday a little early and had such a great day!
Nearly 100 people came to share in a surprise birthday party for Nick out at the farm where some friends and I have planted a garden (see earlier blog about this). We laughed and hugged and talked the afternoon away! It was such a great way to start a week that is sending us back to the hospital for another surgery on Wednesday.
I just wanted to post a photo of my son who needs your prayers and to show you how he faces the days ahead…with a huge smile and a positive spirit!
Thanks for your prayers! Thanks for checking in!
Love, Tammy