If you've ever sat with someone trying to make sense of life or found yourself trying to make sense of your own,
you know the feeling of helplessness all too well.
Words fall short.
Silence screams into the space all around you.
And darkness, for at least a season, seems to be the only light available.
Depression
Grief
Loneliness
Anxiety
The last few years have intensified these painful emotional states.
I've experienced them in my own life,
and I've sat with at least one hundred men, women, children, couples, and/or families who have experienced them too.
If you've come across this blog post at a time when you're feeling sad, lonely, confused, depressed, anxious, or some other unsettled way of being,
please keep reading.
I want you to know what I'm still slowly learning.
I want you to feel Hope.
I want you to experience peace.
I want you to find the strength to put one foot in front of the other even if the path in front of you seems dark and frightening.
I've come to realize, there are really just two ways to walk through this one life we're given.
One is with God.
One is without.
If you feel so hurt by life that the thought of a Higher power who really cares for you seems like a cruel joke,
you are not alone.
I have felt that same burning anguish.
I have looked up at the sky and screamed.
I have been so angry my heart has felt as if it could beat right out of my chest.
I have cried so hard I could no longer stand up.
I have wanted to convince myself that surely if there is a Creator of this place called Earth,
He has checked out and given up on us all.
Because what kind of Father is okay with His children living in a world filled with so much sadness and pain.
But every single time I reach a place of almost walking away from it all,
I am struck with the reality that without Him on my path my pain would be unbearable.
And leaving Him could never remove my sorrow, ease my heartache, or take away my losses.
There's a passage in John chapter 6 that tells of a time when many of Jesus' followers began to find His teachings too hard.
Because of this, they began to walk away.
The path without Him seemed easier to walk than the One He was on.
Jesus realizes what was happening and in His own humanness felt the weight of man's rejection.
Turning to his closest disciples, He asked a very honest and vulnerable question,
"You do not want to leave too, do you?" 
Silence surely filled the air for a few seconds before Simon Peter piped up and said,
 "Lord, to whom shall we go? You have the words of eternal life.  We have come to believe and to know that you are the Holy One of God."
I like to think that in my darkest hours, I am standing in that sliver of silence between Jesus' question and my answer to it.
"Tammy, you do not want to leave too, do you?"
—————————————————-silence, darkness, doubt, anguish, loneliness, fear——————————————————-
"Lord, to whom else would I go? You have the words of eternal life. I have come to believe and know that you are the Holy One of God."
Last night my husband and I talked for a long time about my writing.
I've found myself wordless many days of the past two years.
I've poured myself into reading books and meeting people and spending time with family and working on our new home.
I've been a sponge in need of a good soaking and I've realized it is impossible to pour from an empty cup.
But in this season of wordlessness, I've also seen God show up time and time again.
As I woke up this morning, I had this recurring image of someone climbing out of a pit.
I feel as if the world is trying to climb out of one right now,
and most people who sit in my office are longing for an extended arm to help them climb out of their own.
But here's what I know.
The pit is a desperate attempt of the enemy to keep us from moving forward in the life God has called us to faithfully live.
I am so thankful for the promise in I John 4:4 "Greater is He who lives IN us than he who lives in this world."
I am so thankful for the promise in Psalm 3:3, "But you, Lord, are a shield around me, my glory, the One who lifts my head high."
I stepped outside with a cup of coffee and noticed the sun rising behind the trees in our backyard.
I could only see a sliver of light…….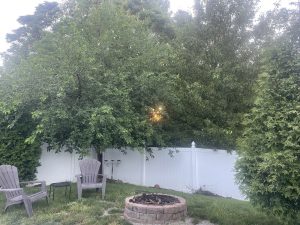 until I lifted my head a little higher.
I knew God was showing me something that needed to be experienced not just by me but also by others who may need their heads lifted too.
He is with you.
Always.
On the lonely days.
In the anxious moments.
During seasons of depression and grief.
He is there.
And He longs to lift your head above the pit and over the branches.
There is a life to be lived that only YOU can live.
There are things to be done that only YOU can do.
There are memories to be made that only YOU can create.
There are people to be loved in ways only YOU can love them.
Take your heartache and questions and pain to Him.
Scream if you have to.
Cry if you need to.
But after you've finished, give Him a chance to lift your head.
And see what the enemy has been trying to block from your view.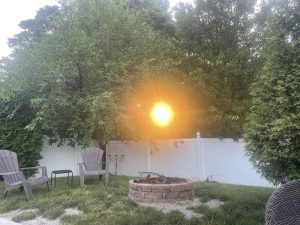 If you find yourself looking for a sliver of Hope,
be prepared for more than you could ever ask or imagine.