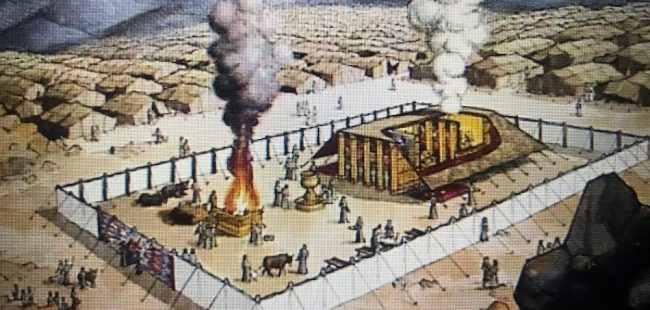 Phil LeMaster was my minister for years.
He walked many wonderful and many painful roads with our family.
Preached funerals for us no preacher ever wants to preach.
Welcomed each new son we brought into the world after we moved to Kentucky.
And introduced our newly-adopted daughter to the congregation just days after she arrived from India.
He was also with us in the sudden death of our infant daughter.
And right beside us as we walked the road of cancer with Nick.
Then stood behind the pulpit again as our family came to grips with the fact that Nick, too, had been taken from us.
All through these years of highs and lows,
we asked a lot of Phil.
I often sat in his office crying,
trying to sort through my life.
Make sense of my pain.
Phil was a great listener.
But Phil was also a challenger.
Every January he would try to motivate our entire congregation to do one thing.
"Read through the Bible this year,"
he would say.
"It will change your life."
And every year, I would try.
With the best of intentions,
I would dig in to Genesis in January.
And then plow through Exodus the following month.
Adam, Eve, Noah, Abraham, Isaac, Jacob, Joseph –
their stories were captivating.
I could see something of myself in each of them –
when it came to their flaws and God's grace.
But every year, for many years,
I would get to Leviticus and find myself gagging.
The God of Leviticus never felt like a God of mercy and love.
Words like "slaughter," "splatter," "twist," and "drain,"
associated with animals and their blood,
felt wrong.
I'm not a vegetarian,
but Leviticus made me want to be.
So year after year,
I would stop.
Close the Bible.
And pick up a devotional.
I wanted to read about pleasant things like "the fruit of the spirit,"
or "the joy of the Lord."
The year Nick died, though,
I wasn't feeling very fruitful or joyful.
I remembered my grief with Adrienne,
and honestly, I was terrified.
I couldn't slip backward.
Shut myself off.
Become bitter.
I had been clinging to Scripture all through his cancer journey,
and deep inside I knew this was the only way I had made it this far.
So when January of 2009 rolled around,
I remembered Phil's challenge.
"Read through the Bible this year.  It will change your life."
My life needed something.
Two children gone and four others watching how I would handle this reality,
while needing me to help them handle their own reality at the same time,
was more than I could handle alone.
Sadly, I don't think I did enough for my surviving children in the next couple of years.
I wish I could go back and live that chapter again….
with them and for them.
But I did do one thing I'll never regret.
And I hope my kids have watched from the distance.
I pushed through Leviticus for the very first time.
And made a vow to do this very same thing every single year until I hug my children who have been taken out of arm's reach.
So this morning before I even crawled out of bed,
I remembered Leviticus 1 – 4 was waiting for me.
And I remembered this is the year I made a second vow.
To blog through the Bible as I read.
What was I thinking?
It's one thing to gag in private.
Question God's way of handling Old Testament sin.
Wonder if the Israelite priests ever got a break from standing at the altar.
I mean, even unintentional sin required the sacrifice of a female goat.
Honestly, wouldn't every farm animal be extinct today if things hadn't changed?
So I asked my husband to pray for me.
The last few days I've had an awkward feeling as I've written.
As if I'm trying too hard to come up with words so I can keep this self-inflicted promise to blog through my Bible reading.
 I never want my time with God to feel forced.
I don't want Him to think I'm asking Him to show up just so I can have something to say.
There's plenty of people who need His presence much more than I do this morning as I sit in my warm, dry home, listening to the rain falling just outside my window.
Even as I type these words, though, I realize something.
God WANTS to be here even more than I need Him to be.
He wants to be with each of us.
Whether we're rushing around trying to get kids ready for school,
or sitting by a hospital bed wondering what's next,
or waking up alone after years of waking up next to someone we loved with all our heart and soul,
God wants to be right here with us.
In our happy moments and our sad.
And maybe the continual sacrificing in the third book of the Bible
was God's way of keeping a wandering nation aware
of just how much He wanted to be with them too.
The constant smell of burning meat surely spread through the camp
as rolling smoke from the fire was carried through the air.
Every sense was activated as the Israelites faced their shortcomings in the presence of the One who had none.
They had to feel such peace knowing God was right there in the middle of their wilderness.
And even though it had to make them cringe at times,
their imperfections required something in order for Him to stay.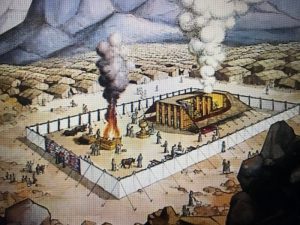 By the time Jesus arrived on the scene,
religious leaders had begun wearing Scripture on their foreheads.
They had also added so many new laws to God's original commands
that now even healing someone on the wrong day of the week was considered a sin.
God knew it was time.
A sacrifice had to be offered once and for all.
A flawless firstborn bull or sheep wouldn't do.
No.
Mankind needed more.
They needed a priest, higher than any who had ever lived,
to offer a sacrifice greater than any ever been laid on an altar.
It's funny though.
In spite of how clear it seems to me this morning,
I don't think they got it.
They needed a priest and a sacrifice,
but they were longing for a king.
So God did what any loving Father would do in that moment.
He gave them everything they longed for even though it cost Him everything He had.
He gave them His one and only son.
The ultimate sacrifice.
The highest priest.
And the greatest King.
He gave them Jesus.
Sometime I don't get it either.
He did the very same thing for me.
So this morning,
I started my morning in a different book.
Leviticus was too much too fast.
I turned to Sarah Young's book Jesus Always.
"Delight yourself in Me, this will draw you irresistibly into communion with me…..I love you with a perfect, everlasting love, and I take great delight in you……I never reject you because the penalty for your sins has been paid in full – with My blood.  Trust Me enough to pour out your heart to me, for I am your Refuge."
(February 20th's reading)
And God was faithful.
He showed up in the bloody verses of Leviticus, reminding me of the blood He willingly shed.
For me.
And for you.
Thank goodness for Hebrews 10 this morning.
I can get ready for work, knowing the Old Testament had a purpose but that purpose has been fulfilled.
Once and for all.
"The law is only a shadow of the good things that are coming—not the realities themselves. For this reason it can never, by the same sacrifices repeated endlessly year after year, make perfect those who draw near to worship.  Otherwise, would they not have stopped being offered? For the worshipers would have been cleansed once for all, and would no longer have felt guilty for their sins. 3 But those sacrifices are an annual reminder of sins. It is impossible for the blood of bulls and goats to take away sins.
Therefore, when Christ came into the world, he said:
"Sacrifice and offering you did not desire,
    but a body you prepared for me;
 with burnt offerings and sin offerings
    you were not pleased.
 Then I said, 'Here I am—it is written about me in the scroll—
    I have come to do your will, my God.'"
First he said, "Sacrifices and offerings, burnt offerings and sin offerings you did not desire, nor were you pleased with them"—though they were offered in accordance with the law.  Then he said, "Here I am, I have come to do your will." He sets aside the first to establish the second.  And by that will, we have been made holy through the sacrifice of the body of Jesus Christ once for all.
 Day after day every priest stands and performs his religious duties; again and again he offers the same sacrifices, which can never take away sins. But when this priest had offered for all time one sacrifice for sins, he sat down at the right hand of God, and since that time he waits for his enemies to be made his footstool. For by one sacrifice he has made perfect forever those who are being made holy.
The Holy Spirit also testifies to us about this. First he says:
"This is the covenant I will make with them
after that time, says the Lord.
I will put my laws in their hearts,
and I will write them on their minds." Then he adds:
"Their sins and lawless acts
I will remember no more." 
And where these have been forgiven, sacrifice for sin is no longer necessary.
 Therefore, brothers and sisters, since we have confidence to enter the Most Holy Place by the blood of Jesus,  by a new and living way opened for us through the curtain, that is, his body,  and since we have a great priest over the house of God,  let us draw near to God with a sincere heart and with the full assurance that faith brings, having our hearts sprinkled to cleanse us from a guilty conscience and having our bodies washed with pure water.  Let us hold unswervingly to the hope we profess, for he who promised is faithful. And let us consider how we may spur one another on toward love and good deeds, not giving up meeting together, as some are in the habit of doing, but encouraging one another—and all the more as you see the Day approaching.
If we deliberately keep on sinning after we have received the knowledge of the truth, no sacrifice for sins is left,  but only a fearful expectation of judgment and of raging fire that will consume the enemies of God.  Anyone who rejected the law of Moses died without mercy on the testimony of two or three witnesses. How much more severely do you think someone deserves to be punished who has trampled the Son of God underfoot, who has treated as an unholy thing the blood of the covenant that sanctified them, and who has insulted the Spirit of grace? For we know him who said, "It is mine to avenge; I will repay," and again, "The Lord will judge his people." It is a dreadful thing to fall into the hands of the living God. Remember those earlier days after you had received the light, when you endured in a great conflict full of suffering. Sometimes you were publicly exposed to insult and persecution; at other times you stood side by side with those who were so treated. You suffered along with those in prison and joyfully accepted the confiscation of your property, because you knew that you yourselves had better and lasting possessions.  So do not throw away your confidence; it will be richly rewarded.
You need to persevere so that when you have done the will of God, you will receive what he has promised. For,
"In just a little while,
    he who is coming will come
    and will not delay."
And,
"But my righteous one will live by faith.
    And I take no pleasure
    in the one who shrinks back." 
But we do not belong to those who shrink back and are destroyed,
but to those who have faith and are saved."
Today, don't shrink back from the things the world hurls your way.
Have faith.
Persevere.
He is coming.
If you've accepted Him as your Savior,
you've already been saved.
And if you haven't,
why not accept Him today?
If you need to know more about Him,
please reach out to someone.
Or send me an email,
and I'll help you or find someone near you who can.
I'm thankful this morning for Phil,
a minister who helped me grow closer to the One who still carries me today,
in a season when He felt so far away.
I'm praying you have a Phil in your life, too,
who answers the question,
"Do I really have to read Leviticus?"
with a very calm and loving,
"Yes."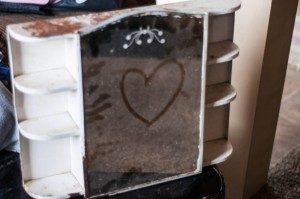 God created the world in just six days.
Yet took forty days to explain the creation of the tabernacle to Moses.
One chapter in Genesis transforms vast darkness into a world filled with all kinds living creatures.
Yet six chapters in Exodus are needed for laying out the specifics of God's dwelling place with the Israelites.
The tabernacle mattered to God,
and He wanted the Israelites to get it right.
For the first time since walking with Adam and Even,
God was making a way for His presence to become part of daily life in the wilderness.
He wants to be part of my daily life too.
Not just a God who sits on His throne saying,
"Do this but don't do that,"
but a God who feels what I feel and
goes where I go.
So what can I learn from Exodus this morning?
I'm not planning to chop down acacia wood to build an ark of the testimony.
Or form a mercy seat out of pure gold.
The details of the tabernacle go on and on.
Specific measurements.
All kinds of utensils.
The building of the tabernacle was no small task.
God's presence required effort.
And here I sit,
sipping hot tea.
Hoping to encounter Him.
Longing to feel His presence.
Who do I think I am?
I read the verses in these chapters again,
researching online commentaries along the way,
wanting to understand why the tabernacle was so elaborate and what it all meant.
But no amount of study can ever come close
to the work done by Bezalel and his helpers
as they shaped and formed this Old Testament home for the Almighty.
So what am I doing today to prepare myself for God's presence?
There seemed to be a pattern for reaching Him back then.
First the altar, then the basin, then the Holy of Holies.
Sacrifice
Cleanse
Encounter
Every single time.
There was no way to meet with Him without following these steps.
Maybe that's it.
Maybe that's what God is saying to me this morning.
Do you want to meet with Me?
If so, lay down your life.
Place your all on the altar.
Give your life to me.
Then examine it closely.
What needs to be washed?
The basin the priests used to cleanse themselves was made from the bronze of a mirror of all things.
He made the bronze basin and its stand from the bronze mirrors of the women
who served at the entrance to the tent of meeting.
Exodus 38:8
Not many things are mentioned so specifically in the creation of this holy place.
So I pause and think.
Why is this verse here?
Why is the former use of a material mentioned and why are the ones who donated it mentioned too??
Mirrors were the only way to see what others saw.
These women must have cared about what the world saw in them.
Yet they visited the tent of meeting enough to know there were something that mattered even more.
Their reflection only matter when it led to cleansing.
Is this what happens when we spend enough time near God?
We learn what matters.
We come to realize what can be traded in for something even better.
We seek holiness over acceptance.
We begin to wash away every part of us that is flawed instead of holding on to something that just reminds us of what's there.
A basin trumps a mirror every day.
Better to wash something off then just examine it and walk away.
Do not merely listen to the word, and so deceive yourselves.
Do what it says.
Anyone who listens to the word but does not do what it says
is like someone who looks at his face in a mirror and,
after looking at himself,
goes away and immediately forgets what he looks like.
  James 1:22-24
I wonder if the priests ever caught a glimpse of their reflection in the basin as they washed their hands.
I think they did.
I think God wanted to remind them of their imperfect humanity before they stepped into His perfect presence.
I need to be reminded of mine too.
So I lay down my imperfect life this morning,
trusting God to do the rest.
Cleanse me, O God.
Then I step into His presence.
I didn't need to wait for Him to arrive.
He was patiently waiting for me all along.
I just had to lay down my mirror.
And turn to my basin.
________________________________________________________
He took six days to create the world
and He's taken 53 years to work on me……….
but He's still not finished.
(Today's reading was Exodus 37 – 40)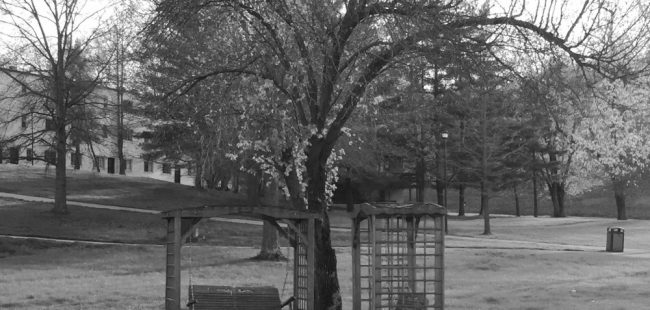 Imagine the relief Moses felt when he heard these words,
And the Lord relented from the disaster that he had spoken of bringing on his people.
Exodus 32:14
Just a few verses earlier, God was ready to destroy the entire Israelite nation.
Their worship of a golden calf had crossed the line.
Pushed God to a breaking point.
Like the days of Noah,
He was ready for a fresh start.
"Now leave me alone so that my anger can burn against them and I can destroy them. 
Then I will make you into a great nation."
Exodus 32:10
Would man ever learn?
Surely they had heard of the flood?
They had definitely seen the plagues.
And walked through dry land as the Red Sea parted.
What more did they need?
Thankfully, Moses loved these short-sighted people.
He could have joined God in His judgment of the Israelites
and been part of a new beginning.
Instead, he pleaded for them.
Reminded God of His promise
to Abraham, Isaac, and Jacob.
And God listened,
sending a plague instead.
This time punishment came without destruction.
But it didn't come without frustration.
God wanted to keep His promise to His people.
But He no longer wanted to join them on the journey to it.
In Chapter 33 of Exodus,
God tells Moses to take the people and go to the promised land.
He even says He'll send an angel ahead of them.
But He adds words no Israelite wanted to hear.
He says,
"But I will not go with you."
(Ex. 33:3)
God takes a step back from the chosen people.
as if to say,
"I love you, but I need a boundary too. 
And being too close to you right now is toxic."
This time the people don't turn to someone else for help.
They don't cry out to Aaron for another golden calf,
throwing their jewelry in a pile as a way to help with its construction.
This time, they simply take their jewelry off and mourn the thought of not having God with them on their journey.
They stay in their tents.
Only approaching their flapping doors when Moses walks outside the camp to meet with God privately…
in the tent of meeting.
They're able to see the cloud in the distance.
hovering over this sacred place just outside their camp.
But God is no longer with them.
It must have looked like the nation had placed themselves in a long time-out.
Thousands of tents scattered over the wilderness
with families safely tucked inside.
Waiting for moments when Moses would go to meet with God.
Peeking from the behind their walls of fabric, they were able to catch a glimpse of Him too.
I'm not sure how long this went on,
but eventually Moses had the courage to ask God for more.
He, along with all the Israelite people,
needed God in their midst.
Not just beside them.
So He pleaded again.
Asked for more of God's presence.
And God listened…….
again.
He said,
"I will do the very thing you have asked,
because you have found favor with me,
and I know you by name." 
Exodus 33:17
God took Moses back to Mt Sinai.
Started over.
Not with new people.
but with a new set of commandments,
forgetting the shattered stones of days gone by.
Even Moses had to learn there's more power in laying down stones than in throwing them.
When he returned this time,
I wonder what he expected.
As he held the new commandments,
was there any part of him that also held a grudge?
I'm sure his face lit up with both God's presence and pure joy as he realized the people weren't throwing another party.
There was no golden calf to be found among them.
The time-out had worked.
When they saw the radiance shining from Moses' face,
they knew he had been with God.
And they were finally ready to listen.
God had more than commandments to share this time.
This time He also had instructions.
A detailed plan for building a place where He would dwell.
Emmanuel.
God is with us.
Talent jumped into action as resources began to pile up.
Some gave gifts of jewels and fine linen
while others used their gifts to sculpt and sew.
I can't imagine the excitement that must have spread through the wilderness as they realized God was there too.
Making a way for them to approach Him.
No more watching from their tent doors.
Their self-inflicted time-out had ended.
God now had their full attention.
What does it take to get my attention today?
——————————————-
I spent the weekend with my two-year-old granddaughter.
When she's upset or doesn't get her way,
she likes to put herself in a time-out.
Step away.
Take a break.
Peek from her cupped hands
until she's ready to face the world again.
I'm really no different.
I, like Elaine and the Israelites,
often need time-outs too –
before I'm ready to listen.
I'm so thankful for a God who never leaves.
But patiently waits for me.
(Today's reading was  Exodus 33 – 36)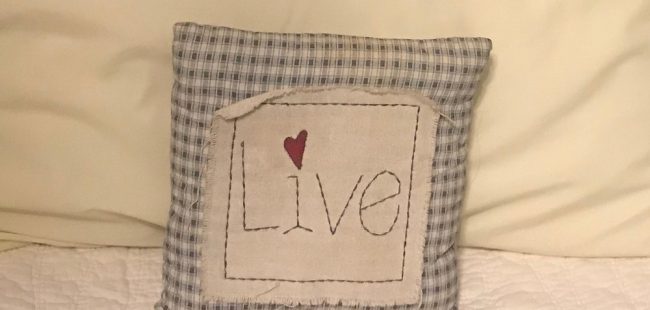 I knew this would get difficult.
How could I forget?
So many verses in the Old Testament cause me to cringe.
And today's reading includes some of them.
I'd love to stop reading.
Change the subject.
Talk about a sunrise or the coming of spring.
But here I sit,
having made a commitment to write through every chapter,
I push through the instructions for sacrificing a ram.
More details about what to do with blood than I'd ever want to know.
My Cheerios feel safe this morning.
That's about it.
The God of the Old Testament scares me.
 So I have to pause.
Remind myself.
This wasn't a new thing.
Something God had created.
Old Testament people were already offering sacrifices all across the land.
Cain and Abel had done it first.
So God just borrowed something they already understood and turned it toward Himself.
Invited His presence into a ritual practiced by other nations,
consecrated the Israelites' altar,
and brought His glory into their midst.
So when the people panicked,
thinking Moses wasn't coming back down the mountain,
they should have remembered something else I can easily forget.
Moses was gone, but God was still there.
Removing a man doesn't remove a Redeemer.
Aaron must have forgotten too.
As the people cried out for Moses,
they gathered around his brother.
And doesn't it feel good to be needed?
So doing what I may have done myself,
Aaron tries to solve their problem.
But instead of looking to the mountain and crying out for God,
he looks at the people and cries out for their gold.
In their distress, they listen.
Handing over precious belongings,
they trust Aaron to create something they can see.
A golden calf.
A new altar.
An unconsecrated place.
The very thing God had commanded them not to do,
"You shall not make for yourself any idol, nor bow down to it or worship it."
Only six weeks have passed since they first heard these words,
but here they stand.
Bowing to a golden calf just inches from Mt. Sinai.
So close to God and yet so far away.
I'm no different when I feel far from God.
It's so easy to turn to friends.
Or family.
Take their advice.
Create my own plan.
Chisel a way forward.
And forget I'm just inches from Mt. Sinai.
What if the Israelites would have looked up?
Called out to God instead of Moses?
Gathered around the mountain instead of gathering around Aaron?
It seems easy to see where they went wrong,
reading their story over 2000 years later.
But how different do the pages of my story really look?
How often do I turn the wrong direction in hopes of finding Him?
Avoid a messy sacrifice by tossing gold instead.
God didn't need the Israelites' "stuff."
And He doesn't need mine.
He wanted their hearts.
And He wants mine.
But like a ram,
I'm generally a mess.
Spilled out on the altar.
A living sacrifice.
Cheerios were so much easier to swallow this morning.
Maybe I cringe when I read about sacrifices,
because I know how often I avoid them today.
Not the placing of animals on an altar.
But the placing of me.
Dying to myself so that He can live instead.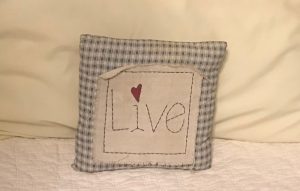 Therefore, I urge you, brothers and sisters, in view of God's mercy,
to offer your bodies as a living sacrifice,
holy and pleasing to God–
this is your true and proper worship.
Romans 12:1
(Today reading: Exodus 29-32)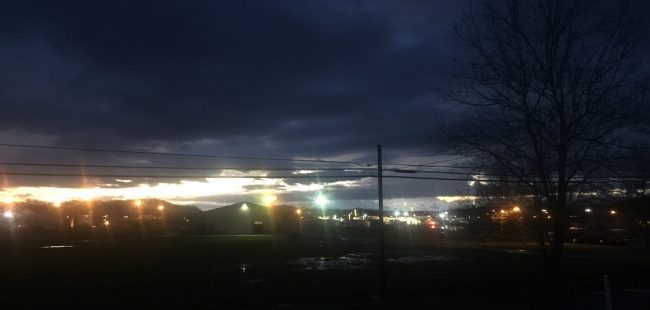 As the Israelites moved from one camp site to the next,
they followed a pillar of cloud by day and a pillar of fire by night.
God's presence was always out before them,
leading the way.
When the pillar moved,
the mass of several hundred thousand people
packed up their belongings,
took down their tents,
and herded their animals right along with it.
At some point though,
God wanted more.
Leading the people was critical.
But He wanted to dwell with them too.
I think He wanted more than an occasional mountaintop experience with Moses.
He wanted daily fellowship with a group of people He loved.
The transition from a consecrated mountain to a portable tent had to involve more than a few walls of fabric though.
There were plenty of every-day tents sprinkled across the desert.
This one had to stand out.
Be set apart.
Create a holy atmosphere for a holy God.
How do you do an extreme makeover on a tent pitched in the middle of the wilderness??
There was only one way.
Gather treasures from anyone willing to share.
Gold
Silver
Bronze
Scarlet yarn
Fine linen and leather
Oil for light
Spices for fragrant incense
along with gemstones of all shapes and sizes.
God could have done this alone.
He could have spoken the words,
"Move that bus!"
and blown all the Israelites' minds with the most extravagant tent they had ever seen.
But I think He knew what the Israelites needed.
Just like He knows what we need today.
He knew that in order for the temple to be cherished,
the people who would enjoy it needed to do the work.
Sacrifice something.
Give up things they loved in exchange for His presence.
So He asked for help.
Took up offerings of all kinds.
Then gave very specific instructions as to how they would be used.
As the people gathered their resources
and watched the artisans do their work,
excitement must have filled the air.
As sweat poured from their heads as they chiseled stone and wove fabric,
they surely felt the thrill of being participants in creating a home for the great "I AM."
When He asked for the purest crushed olives so that the lamps could burn all day and all night,
they must have felt great Hope,
knowing His light would never burn out.
His presence was moving from a mountaintop to the tent next door.
And life had to feel great!
_______________________________
Can you imagine how excited they would have been if they had know what we know today?
That the curtain of their tent would one day be torn.
From the top to the bottom.
Removing the last barrier between the people of the earth and the Holy of Holies.
God was beginning to move closer in the wilderness.
From Creator.
To Guide.
To Neighbor.
But as time passed He wanted more.
And He needed help again.
He's never forced His way into anything.
And He won't force His way into us today.
He wants to be our guest.
Take up residence in us.
Make us His dwelling place.
His temple.
But today, the work is in our hands.
Preparing ourselves for His presence is a personal journey.
Taking care of our temple is a daily choice.
Keeping our light burning takes tending.
God can't do all of this for us.
But He's not afraid to ask for our help.
And this takes courage.
I'm so thankful God wasn't afraid to model every aspect of humanity.
Even the willingness to let go of control…….
and say,
"I want to be near you…..can you help prepare a perfect place?"
We clean our homes before company arrives,
scrubbing bathrooms and changing sheets.
What do we need to do to prepare our temples and our hearts for the presence of the Holy Spirit?
I Cor. 6:19-20
Do you not know that your bodies are temples of the Holy Spirit,
who is in you, whom you have received from God?
you were bought at a price.
Therefore honor God with your bodies.
II Cor. 13:5
Or do you not realize about yourselves that Jesus Christ is in you?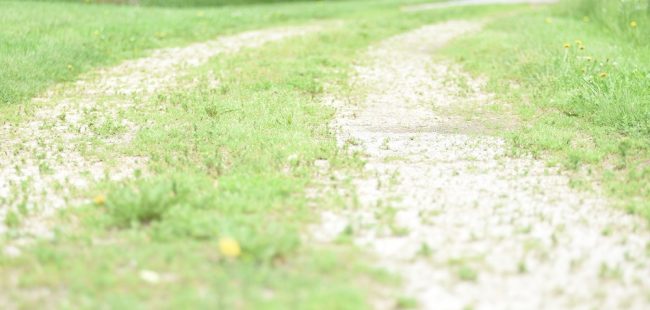 He appeared for the very first time in Old Testament history a few chapters ago.
Seemingly out of nowhere,
Moses calls Joshua to battle saying,
"Select some men for us and go fight against Amalek.
Tomorrow I will stand on the hilltop with God's staff in my hand."
Without hesitation,
"Joshua did as Moses had told him….while Moses, Aaron, and Hur went up to the top of the hill."
Fast forward seven chapters,
and this same man is in an entirely position in Bible history.
Aaron and Hur, along with seventy elders,
are told to stay at the base of the mountain to settle disputes
while Joshua joins Moses on the journey to the mountain of God.
Scripture doesn't make it clear if Joshua entered the cloud filled with God's presence,
but it does say he went further than anyone else was allowed to go on that particular day.
I'm not sure why Joshua's story stands out to me this morning.
He appears in only a few verses in both Exodus 17 and 24.
No backstory is given about his life before the battle with the Amalekites.
And no conversation between him and Moses is included to explain his new assignment as Moses' assistant.
He just shows up.
Fights.
And then receives an invitation to join Moses on Mt. Sinai.
A place not even Moses' brother has been invited to go.
Rule and after rule has been delivered to the Israelites.
Now God wants them on display –
So the people can see with their very own eyes what they can and cannot do.
The Ten Commandments are soon to be etched into both tablets of stone and human history.
And Joshua is chosen to be part of this big day.
Maybe that's how God works.
Calling us to a life of spiritual warfare,
He makes it very clear.
We are in a battle.
From the minute we wake up until the minute we fall to sleep,
the enemy is against us.
And sometimes he even shows up in the dark,
filling our minds with fear and doubt.
The devil has one goal.
Take us down.
Wipe us out.
Remove us from the front line.
So God, like Moses, looks at us and says,
"Go fight."
_________________________________
"Put on the whole armor of God,
that you may be able to stand against the schemes of the devil.
For we do not wrestle against flesh and blood,
but against the rulers, against the authorities,
against the cosmic powers over this present darkness,
against the spiritual forces of evil in the heavenly places."
Ephesians 6:11-12
At the same time, like Moses,
He invites us to intimate places with Him.
Exodus 33:14
"And he said, "My presence will go with you, and I will give you rest."
Hebrews 10:19-22
"Therefore, brothers and sisters, since we have confidence to enter the Most Holy Place by the blood of Jesus… 
let us draw near to God with a sincere heart and with the full assurance that faith brings,
having our hearts sprinkled to cleanse us from a guilty conscience and having our bodies washed with pure water.
As Christians, don't we long for God's presence?
An invitation to find rest in His arms?
A way to draw near to Him with confidence?
I know I do.
But this morning, as I look back at Joshua's first appearance in Bible history,
I realize something.
Joshua wasn't asked to go to the mountain until after he faced the war.
A battle preceded an invitation.
And I think it still does today.
Over and over again,
we face spiritual warfare.
Sometimes it's as personal as self-doubt or discouragement.
Other times it's unknown medical results
or resurfacing waves of crushing grief.
War is waged.
Day after day.
In some fashion or another.
And it's only after pushing through enemy lines that we reach the next place with God.
Intimacy follows war.
So today, I don't know which side of the equation you're on.
I hope you're resting in His arms,
having faced the one who longs to destroy you,
and made it to the other side.
But if you're not there yet,
please know this.
The battle you're in will pass.
And He's on the other side.
Waiting at the mountain.
You'll get there in time.
When you arrive,
His presence will wash away the battle scars,
healing your heart and soul long enough to strengthen you for the next attack.
And with each mountaintop experience,
you'll grow a little stronger.
Just never forget….
A battle will precede an invitation
but intimacy always follows a war.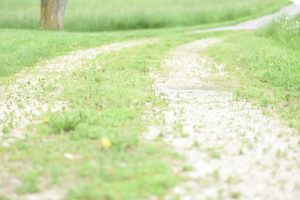 Ephesians 6:13
"Therefore put on the full armor of God, so that when the day of evil comes,
you may be able to stand your ground, and after you have done everything, to stand."
(Today's reading:  Exodus 22-25)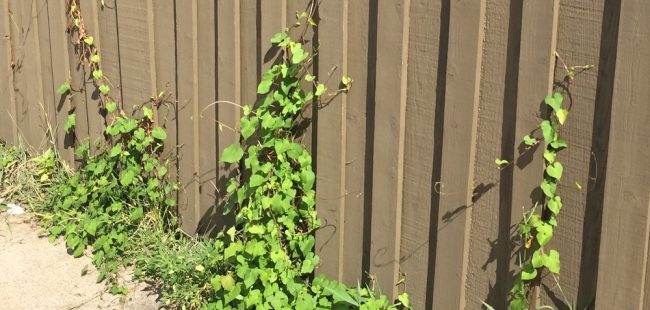 Fences are part of my family's story.
My great grandma's garden was enclosed by one.
My grandma's chickens were protected by one.
My grandpa's horses and cattle were all kept safe by one.
One of the first things I wanted when we moved into each of our homes was a fence.
Not so much as a way of keeping people out,
but more as a way of keeping children in.
Safe.
Protected.
Aware of how far they could go and still be "home."
I'll never forget the day my doorbell rang and our neighbor,
Bill Leamon,
was standing on my porch.
Our two sons stood beside him, along with two other children I was babysitting that day.
I had been doing dishes while they safely played in our backyard,
or so I thought.
What I didn't know was our gate was unlocked and open.
Bill had found the four children in the middle of our street,
with Erich trying to carry Evan back to safety.
The horror I felt in that moment is indescribable.
To think I was unaware of the danger just outside my back door.
Because a gate was open.
—————————————–
Fences protect.
Boundaries do the same.
_________________________
I've struggled through the years with the word, "No,"
fearing I would disappoint someone.
In some way let them down.
The older I get, though, the more I realize my weak, "Yes,"
is much like a yard with no fence……
or at least with an open gate.
No one is safe when boundary lines are crossed.
_______________________________
When I read this morning about God talking to Moses on top of Mt. Sinai, saying,
"Go down and warn the people not to break through to see the Lord;
otherwise many of them will die,"
I thought this sounded extreme.
How could a loving God, who longs to be near us, ever say,
"Only come this close"?
But then I thought of my yard and my grandparent's farm.
And the many fences that had been built to protect them.
Not to bring harm.
Were God's boundaries any different?
He knew the limit of what the Israelites could handle.
How far they could walk before crossing the line……
into a place of holiness too sacred for human feet.
If God wasn't set apart first,
how would His people ever understand what "holy" meant?
Holiness, which literally means "set apart," is sacred.
The Israelites, like children,
were learning about this for the very first time.
And the only way to understand what "set apart" looked like would have been by showing them.
Because God knew what they didn't know.
They would one day BE the mountain.
Filled with His presence.
Holy.
"For I am Yahweh your God,
so you must consecrate yourselves
and be holy because I am holy."
Lev. 11:44
Would these words ever make sense had they not experienced Exodus 19 and 20?
Children come to understand the true danger of fire when they get too close one.
Feel the heat.
Fear the burn.
Mountains were everywhere in the wilderness,
but God's presence was on only one of them…….
and He needed them to know.
This place is different.
Special.
Set apart.
Holy.
So what did He do to teach them?
He set up a boundary.
Then He said,
"The people cannot come up here."
With much fear and trembling,
the Israelites quickly learned to honor this place –
This most sacred place –
filled with the presence of Him who loved them most.
How easy is it for us to forget?
God is Holy,
and His children are too.
How different would today look if we saw ourselves as the mountain filled with His presence?
Fenced in from all that dare cross the line.
Consecrated by the King of Kings.
Set apart for His work.
___________________________
What conversations would we avoid?
What places would we see as unsafe?
What sites would we not visit?
What relationships would we view as dangerous?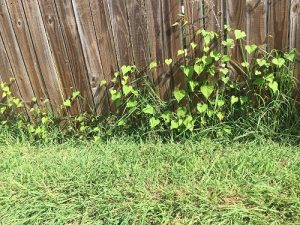 Fences keep us safe.
Boundaries do too.
Sometimes the only way to learn
is by seeing just how dangerous it is
to live with an open gate.
___________________
Close your gate today.
Protect yourself.
Be okay with being set apart.
He is Holy.
And you are too.
(Today's reading was from Exodus 19-21.)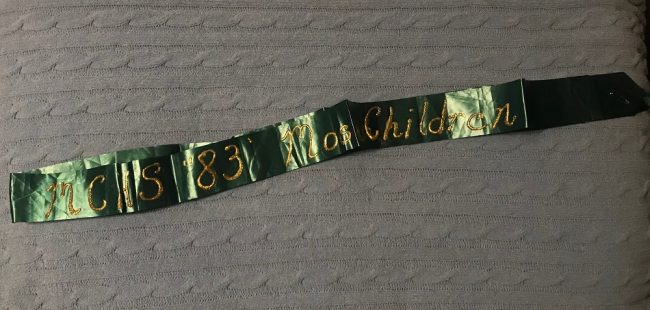 Sometimes when I read the Bible,
I try to imagine what it would have been like to be an Israelite in the days of Moses.
Following a pillar of cloud or fire,
hearing the voice of God rumble from them.
I feel like that would have been enough.
Enough for me to know how blessed I was.
Saved from the bondage of slavery.
Rescued by the parting of a sea,
Being led to a land flowing with milk and honey.
But I know the truth.
I know I'm no different than the ones who grumbled,
"I'm thirsty."
I'm no different than the ones who longed to sit by their old
"pots of meat and piles of bread."
It's so easy for me to second-guess God's presence.
Doubt His power.
Become discouraged.
I can cheer everyone on but myself.
And as much as I hate to admit it,
there would have been days when I,
just like the Israelites,
would have sat in my tent feeling as if the Red Sea wasn't enough.
I remember being at a writers and speakers conference the summer after Nick died.
I had already paid for my registration fee,
so my husband convinced me I should go.
"It was meant to be," he said, "God wants you there."
As I sat in my small group,
listening to everyone introduce themselves and tell a little of their story,
I became discouraged.
One woman was a former state pageant winner who now coaches teen girls toward the same goal.
She was beautiful.
Vibrant.
Her story was powerful.
And the more she talked,
the less I wanted to.
I was a grieving mom.
That was my story.
No more.  No less.
We were given our first assignment.
Prepare a devotion to share at the next session.
I left our small group feeling empty.
Why was I here?
All I really wanted was to go back home.
This conference felt like the wilderness to me.
And I just couldn't imagine finding words to share.
Later in the day, I visited the prayer room open to all attendees.
I needed help.
And this seemed like the one place I might find it.
As I entered the candlelit room,
soft music was playing.
I saw tables decorated with easels and candles lining each wall
and beanbags filling the middle of the room,
offering a place for attendees to sit and be still.
As I walked closer, I realized different names of God were framed and sitting on each stand.
And below them, scattered on the table were slips of paper with our names.
The conference staff had prayed over each of us and then laid our name under the name of God they felt we needed most in our lives at that time.
I walked around the room and read each name for God,
looking for my name below one of them.
I reached the end and hadn't found mine.
I almost left, thinking maybe my name had been overlooked on their list.
Doesn't discouragement trickle over into every aspect of life?
Something inside me decided to look once more.
Maybe Hope really is more persistent than despair.
This time I saw it.
Tammy Nischan
My name was there.
What name of God had they placed me under?
I couldn't wait to see.
Sometimes it's hard to know what aspect of God we need most….
until someone shows us.
Today was one of those days.
I wish I could explain how I felt when I saw it.
Jehovah-Nissi.
The Lord is My Banner.
Suddenly, I thought of the pageant winner from my small group.
The only banner I had ever won was for "Most Children" at my twenty-year high school reunion.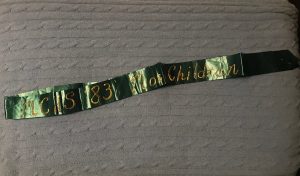 But today,
God was reminding me of something.
He was the only banner I needed.
And just as Moses had led the Israelites in defeating the Amalekites,
He was lead me in defeating my grief….
my self-doubt,
and my discouraging way of thinking.
_______________________
I'd love to say this moment transformed me forever.
But I still have days.
And weekends.
And weeks.
When I sink into my tent.
Forgetting the Red Sea.
Forgetting the banner.
Focusing on the past.
Longing for yesterday.
And on those days,
I'm so thankful for a God who isn't just my banner.
He's my Comforter, too,
a Father who patiently loves me through my not-so-pretty days.
Then leads me out again.
Pushing me forward on my journey.
Milk and honey are coming.
They're just not quite here yet.
But manna is.
And isn't that all I really need?
I'm so thankful for a God who doesn't give me everything at once.
My daily need for Him is what keeps me stepping forward.
I want to be where He is……
and He is always on the move,
leaving a trail of nourishment along the way.
I just have to step out of my tent to find it.
On the days when the Red Sea doesn't feel like enough,
manna still is.
And for that I'm forever thankful.
Jehovah-Nissi
The Lord is My Banner.
And one day He will be my crown.
(Today's Reading was Exodus 14 – 18)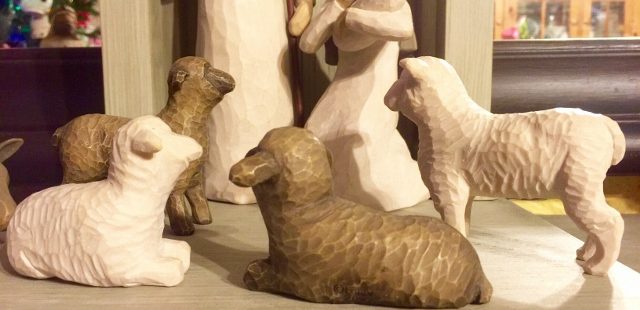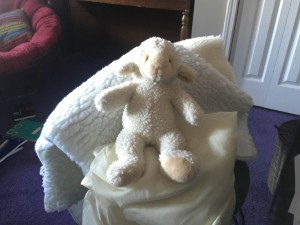 If you ever wanted a reason NOT to believe in a loving God,
you might consider reading Exodus 12.
But if you ever wanted a reason TO believe in Him,
you might want to read this very same chapter……again.
I'll never understand His ways.
Scripture confirms this in Isaiah 55:8-9.
So when I read in Exodus 12:30 that
"There was a loud wailing throughout Egypt because there wasn't a house without someone dead,"
I'm confused.
How does perfect love cause anyone to wail?
If I stopped here,
I'd be done.
I'd walk away from this Book, this Story, and this God.
But an image still haunts me from a decade ago.
I didn't snap a picture.
It would have been rude.
Inappropriate.
Heartless.
But I did allow what I witnessed to sink deep into my heart and soul.
I never wanted to forget what I saw.
A wailing mom in India,
bending low with her tiny baby,
letting his little head touch the concrete statue.
"That is the god of death,"
I was told by the one leading our group.
Only five short months had gone by since losing Nick
and in that moment,
I felt my whole grieving body ache along with hers.
He must have been a very sick baby,
and she must have been a very desperate mommy.
I remembered this feeling all too well myself.
I, like her, had tried everything I could to save my son.
I wanted to reach out and touch her that day.
I wanted to wrap my arms around her and speak her language.
I wanted to tell her there was Hope.
Hope for her baby even in death.
But a concrete god wasn't going to lead her there.
Only a Living God could offer Hope.
That's what I'm believing the Israelites were able to tell the wailing Egyptians.
Having marked their own doors with blood dripping from a hyssop branch,
an everyday plant that symbolized faith,
the Israelites had been spared.
Literally "passed over."
Death had not been allowed into their homes.
But the sound of wailing had surely shaken their walls,
sent them running with hugs and tears to a people whom they had grown to love.
430 years is too long to be neighbors without getting somewhat emotionally attached.
So I read this story both as someone who has wailed
and as someone who has sat with others in the same depth of pain.
I read this story as a mom who has felt the agony of what felt like unanswered prayer.
But I also read this story as a mom who has chosen to believe I don't always know what "answered prayer" means.
I believe the Israelites did for the Egyptians the exact thing I longed to do for the woman in India.
I believe they ran to them with Hope.
Offered the hyssop branch of faith as a peace offering.
Shared the story of Abraham, Isaac, and Jacob.
Introduced hurting moms and dads to more than a statue.
Somehow broke through their pain and helped them see that while none of us are exempt from death,
all of us are offered Hope.
Because later in the same chapter it says,
The Israelites journeyed from Rameses to Sukkoth.
There were about six hundred thousand men on foot, besides women and children.
A mi
xed crowd also went up with them, and also large droves of livestock, both flocks and herds.
Exodus 12:37-38
______________________________________
"A mixed crowd also went up with them."
 _______________________________________________________________
This sentence tells me something I needed to know as I stumbled through this chapter.
The Israelites didn't leave Egypt alone!!
I love to imagine the chosen people of God,
spared the death of their firstborn children,
choosing to wrap their arms around the broken Egyptians
and saying,
"Come with us."
Is there anything more beautiful than the love and forgiveness in this moment?
Beaten-down slaves, suddenly released,
then offering Hope to the very ones who had oppressed them.
Death has a way of leveling the playing field.
And Hope has a way of leveling it too.
I wish I could go back to India.
Find that woman and hug her.
Somehow offer her Hope.
I've thought about her so many times.
Wondered where she is
and what happened to her baby boy.
I'm choosing to believe someone helped her.
But I'll never know.
And I don't ever want to feel this way again.
I don't ever want to leave another person hopeless.
I want everyone with me.
On the road to the Promised Land.
A road filled with Hope.
Exodus 12 is not easy to read.
Death sweeping through a town seems drastic.
But I'm so thankful for the rest of the story.
I'm so thankful the Israelites didn't choose to leave Egypt alone.
Hope drew a crowd that day.
And I believe it still does.
As you encounter those who are hurting,
extend your own kind of hyssop branch.
 Put your faith to work.
Don't leave Egypt alone.
I Thess. 4:13-18
Brothers and sisters, we do not want you to be uninformed about those who sleep in death, 
so that you do not grieve like the rest of mankind, who have no hope.
For we believe that Jesus died and rose again, 
and so we believe that God will bring with Jesus those who have fallen asleep in him.
According to the Lord's word, we tell you that we who are still alive,
who are left until the coming of the Lord, 
will certainly not precede those who have fallen asleep.
For the Lord himself will come down from heaven, with a loud command,
with the voice of the archangel and with the trumpet call of God, 
and the dead in Christ will rise first.
After that, we who are still alive and are left 
will be caught up together with them in the clouds
 to meet the Lord in the air.
And so we will be with the Lord forever.
Therefore encourage one another with these words.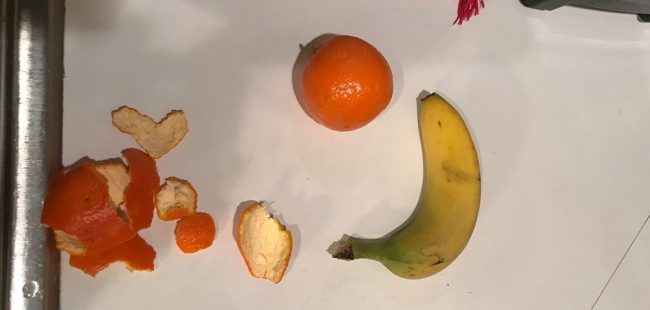 Standing before Pharoah had to be terrifying.
Like Dorothy approaching the "great and powerful Oz,"
I'm sure Moses' legs trembled and his voice cracked as he came closer and closer to the throne.
Who wouldn't find it difficult to smoothly connect words when placed in front of such a leader –
A man with enough power to have someone killed in a moment's notice if he didn't like what they had to say?
Sometimes God calls us to the very edge of our human abilities,
and then pushes us a little more.
As if spiritual growth isn't complete until we walk the plank…….
to the very end.
Stepping just beyond the security of the splintered board beneath us,
our survival is suddenly placed in the hands of the One who will later call Peter to walk upon the water.
That's where we find Moses in the early chapters of Exodus.
Walking by faith before faith was even a word.
And Moses knew it wasn't going to be easy.
God had warned him of Pharoah's negative response,
"I will harden his heart so that he won't my people go."
But I wonder if Moses was prepared for what would happen next –
After he made his request for the release of the Israelites?
In his anger, Pharoah turned to his overseers and foremen and commanded them,
"Don't continue to supply the people with straw for making bricks, as before. 
They must go and gather straw for themselves. 
But require the same quota of bricks from as they were making before;
do not reduce it. 
For they are slackers – that is why they are crying out,
"Let us go and sacrifice to our God."
Exodus 5:6-9
If Moses thought standing up to Pharoah was frightening,
I can't imagine how he felt when he had to stand before his family –
beaten down, exhausted, at the end of their ropes –
and convince them that God had somehow remembered His covenant.
And this was the result.
Exodus 6:9 says,
"They did not listen to him because of their broken spirit and hard labor."
Can we really blame them?
Moses had been pushed out of his comfort zone,
but the Israelites had been shoved out of theirs.
It's one thing to encounter God through a burning bush,
hear a voice in the wilderness,
have a direct link to Heaven.
It's a whole other thing to know someone else has experienced this……
while you've been forced to make bricks……….
with little to no supplies.
And that's where the Israelites are today.
Bewildered.
Confused.
Discouraged.
Overwhelmed.
Angry.
Hopeless.
And I'm wondering this morning if the coming plagues were more than a way for God to scare Pharoah.
I wonder if they were a way for God to show the people of Israel what Moses was able to see long before them.
They needed to see His power before they could trust in His strength.
They needed to feel His protection before they could run into His arms.
Crossing the Red Sea would require more than just hearing of Moses' experience with God.
These people were in their own kind of wilderness
And they needed their own burning bush.
So God sent gnats and frogs and blood-filled rivers…………….
sparing His people so that they would finally believe.
He had really come to save them.
I'm not sure where you're at today in your life journey.
Maybe your heart has hardened.
Or you feel forgotten.
Maybe you're wondering if God is real.
Or why life feels so hard.
Maybe you've longed for your own burning bush.
A sign that He is with you.
Even on the toughest days.
I've been in all of those places.
And if I live long enough,
I'll probably visit them all again from time to time.
The journey to the Promised Land was not an easy one.
And I don't think our journey there is any easier.
But I do believe God's with us.
And I do believe He still shows up.
Right in the middle of our wilderness.
Or our early-morning, before-a-long-day-of-work routine.
It may not be a burning bush,
but I think He's desperately trying to get our attention.
Snap us out of reality.
Into His presence.
So how do we find Him?
When we hunger and thirst for Him,
how does He feed us?
Maybe it's in the very things we would normally toss aside –
The orange peel we almost scraped into the trash can.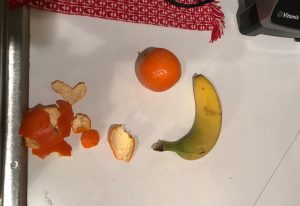 It's amazing what we we'll see when we're looking for it.
Love truly is here.
Right here in our kitchens.
Right here in our orange peels.
And God truly is too.
And He wants us to know –
and believe –
Our Promised Land is coming.
If we'll just keep walking towards Him.
Even when it feels as if the next step may be the last one on sturdy ground.
He's waiting to catch us.
And He's faithful.
There's nothing your day will hold that He can't handle.
And just as Moses approached Pharoah's throne,
we can approach God's too.
Let us then approach God's throne of grace with confidence,
so that we may receive mercy and find grace to help us in our time of need.
Hebrews 4:16