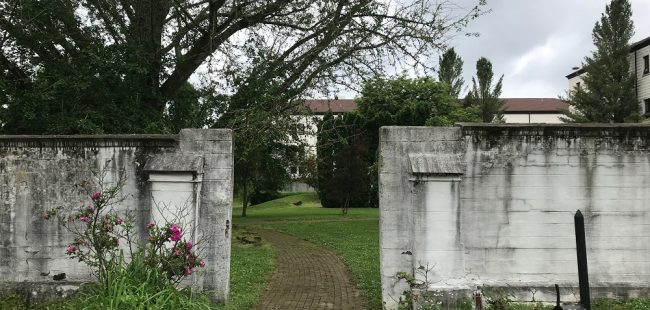 I wonder if God realized something as He watched the Israelites journey through the wilderness.
Did He sense fatigue in their eyes?
Notice irritability in their conversations?
Remember His own need for a break after creating the world?
I'm not sure what happens between Leviticus chapters 22 and 23,
but the conversation takes a turn.
No more talk of sprinkling blood here and there.
Or laying animal organs on an altar to be consumed by holy fire.
Thank goodness.
I wasn't sure I could handle one more morning of breakfast mixed with that kind of reading.
And maybe that's what happened as the page turned in the Israelite story.
Maybe God knew His people could not take one more day of sacrificial rules.
They needed a break.
And in true God-fashion,
He spends the next few chapters talking about an entirely different subject.
Because in the midst of sacrificial living,
the Israelites also had to eat.
And according to the Bible,
if we want food,
we need to work.
So God decided to bring some clarity even to this part of their daily life.
He takes time to address the topic of when and where the people are allowed to work.
And when and where they aren't.
When the Creator of time talks about how it should be used,
I think it matters to Him.
After all, He truly does hold time in His hands.
So here's what He says to the dusty, tired tent dwellers:
Work for six days.
Rest for one.
Every single week.
And every seven years,
take a whole year off.
Don't touch your fields.
Eat from what grows wild,
but don't you dare pick up a farming tool.
God honored hard work.
But He also valued rest.
Why do we push ourselves so hard today –
as if there's a destination we may not reach if we pause?
Take a breath.
Regroup.
It may look different to each of us,
but I think we know when we're pushing the limit.
I've pushed it often.
But I'm learning something.
Slowly.
If I don't value rest,
my health may force it.
With a cold or the flu,
I feel the brakes.
as if every part of my body is screaming,
"I need a break."
Last week my body said,
"No more."
And I spent several days in bed,
sleeping often,
the thought of even lifting my arms was more than I could bear.
I'm better now.
Mostly.
But I can still feel the lingering symptoms of a sore throat and dull headache.
I even gargled with hot salt water this morning before heading upstairs.
My body is still whispering,
"Don't push it, Tammy."
And I don't want to.
How can I pace myself without letting someone down?
As my fingers type that question, though,
my head already knows the answer.
Pace yourself or let everyone down.
So this morning,
Leviticus is all about "appointed times," "Sabbath days," "festivals," and "years of Jubilee,"
and I think God is asking me a figurative question.
"Is a week at the beach really enough?"
And I know the answer is, "No."
God may demand a life of sacrifice,
but He just as equally demands times of rest.
Quality down time.
On a regular basis.
Patterns of solitude.
I tasted this kind of living last spring when I spent the weekend at an Abbey.
No talking for nearly three days.
No cell phone.
No computer.
Just me and God,
with a small group of mostly strangers
and a large group of Monks.
It took almost 24 hours for my mind to settle down.
Feel the rhythm of the rituals of God-focused breathing.
Get in step with silence.
Release my mind from its normal thought patterns.
Embrace the lyrics to one of my granddaughter's favorite songs,
"Let it go!"
All of it.
But in true Lucy-fashion,
I managed to stroll the wrong direction after a walk one morning.
Circling the Abbey from a hiking trail after a walk on a prayer trail,
I reentered the Abbey  at the end of the long brick wall you can see to the left in the picture below,
just beyond this sign that said,
"Monastic Area. Do not enter."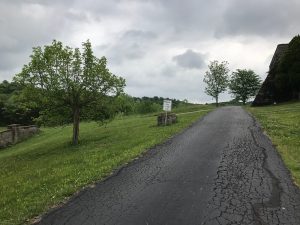 I didn't find anything strange about my stroll until a monk passed me on a bicycle……..
and then saw an open gate into a prayer garden that was clearly marked,
"Private,"
on the other side of the property where all visitors were supposed to be.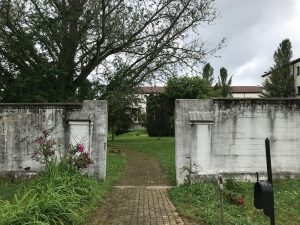 Suddenly, I knew I had crossed over into what suddenly felt like
"the Holy of Holies."
Walking back (a little more quickly than I had arrived),
I noticed that even there,
in the place where monks "hang out,"
there were reminders.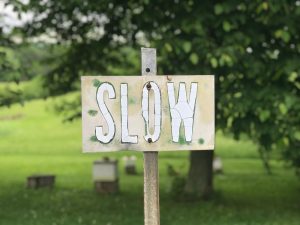 Right in the middle of a world where it truly feels as if time stands still,
the monks walk by this daily.
"Slow."
Do monks struggle too?
Can we, as humans, create a fast-paced world out of anywhere?
There were even places where the sign was tucked into the hillside.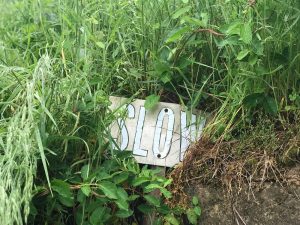 These men didn't want to forget what I often do.
The only race we're in is not a competition.
It's only a destination.
Not that I have already obtained this or am already perfect, but I press on to make it my own, because Christ Jesus has made me his own. Brothers, I do not consider that I have made it my own. But one thing I do: forgetting what lies behind and straining forward to what lies ahead, I press on toward the goal for the prize of the upward call of God in Christ Jesus. Let those of us who are mature think this way, and if in anything you think otherwise, God will reveal that also to you.
Phil. 3:12-15
God wanted the Israelites to know this same thing.
The journey to the Promised Land wasn't a race filled with continual moments at the altar.
There was time to rest.
And time to celebrate.
All along the way.
_____________________________________
We'll all walk into today with a choice to make.
Will we pace ourselves and be fully present with each person we encounter along the way?
Or will we push through,
checking off the things on our to-do list
while missing the reasons we have a list in the first place?
I believe the Israelites are cheering us all on this morning.
I believe our loved ones who have gone before us our too.
There's a cloud of witnesses just on the other side of a thin veil separating this life from the next.
Therefore, since we are surrounded by so great a cloud of witnesses, let us also lay aside every weight, and sin which clings so closely, and let us run with endurance the race that is set before us…
Hebrews 12:1
Eternity is peeking through.
And they know something we often struggle to grasp.
Clocks mean nothing there.
____________________________________
I think Jesus remembered this as He walked on the Earth.
His times in the Garden were a way of going back to the timeless center of all He was.
Jesus knew a week at the beach would never be enough.
Even He, the only Son of God, needed breaks from the crowds and the miracles.
Jesus pushed pause often.
Slowed down.
Sought solitude.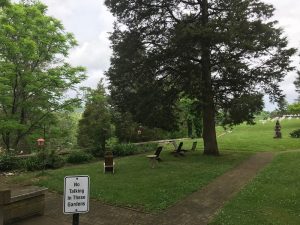 Entered a garden where the only communication He had was with His Father.
I hope you'll find time today to do just that.
Lean back.
Take a few deep breaths.
Slow down.
Have a little talk with God.
Because a week at the beach will never be enough to re-energize your soul.
The Lord will fight for you;
you need only to be still.
Exodus 14:14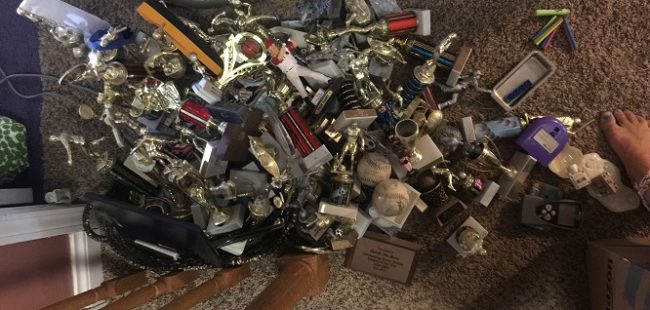 I'm not a fan of fancy places.
I've often said that when I am required to dress up,
attempting to wear a heel that exceeds an inch,
I look and walk like Mrs. Doubtfire.
If you don't know who that is,
please feel free to Google her name.
The reality is, I've just never been comfortable in situations where the way I look on the outside
determines how I'm treated BY the outside.
But if the occasion arises, and sometimes it does,
I will do my best to play the part.
Hoping no one knows I bought my dress on clearance or borrowed my jewelry from a friend,
(as if that matters)
I'll show up.
And smile.
But just below the surface,
I know the truth.
I don't fit in.
There's something unnerving about this feeling.
As if the next word or action will call me out,
I stay low and hope for the best.
Then slip away as quickly as possible.
Being out of my comfort zone socially is something I try to avoid.
Leviticus lists quality after quality that push the Israelites away from the altar,
making the comfort zone very small,
seeming to squeezing out the people who fall short.
But there was a difference between God's expectations and man's.
God wasn't looking for a jacket and tie.
Or an evening gown.
He was looking for a heart,
adorned only with affection for Him.
Later in the Bible,
we read of Samuel being sent to find a king for the people.
In human fashion,
Samuel begins his search with the tallest and the strongest.
The ones who stand up and captivate an audience with their physical prowess.
But the Lord said to Samuel,
"Do not consider his appearance or his height,
for I have rejected him.
The Lord does not look at the things people look at.
People look at the outward appearance, 
but the Lord looks at the heart."
If the Bible is the Bread of Life,
then Leviticus is the book where we begin to cut our teeth.
And cutting teeth is rarely fun.
Maybe the New Testament is like Orajel this morning,
taking away the pain of all the ways Leviticus hurts.
God's Holiness can only be understood by first grasping how unholy we are.
And it doesn't take long to see that the list of things that lead to unholiness is long,
detailed, and serious.
Even in this book, though,
Hope rises.
In the midst of all the do's and don't's,
God keeps saying something over and over,
"Be holy as I am holy."
He never says,
"Stop trying. Take off the heels. Face the truth. You'll never fit in."
He says,
"Be holy."
That's right.
Be something you're really not.
Why?
"Because I am."
How?
By fitting out in a world filled with anything but holiness.
Separate yourself.
Stop laughing at things that aren't funny.
Feel uncomfortable when conversations turn the wrong direction.
Stop yourself from speaking if the words you say will be regretted later.
Think twice before acting because every action points the world one way or the other.
And if today were your last day to walk on this earth,
what direction would you want your last actions to point?
My son-in-law wrote a poem when he was a senior in high school and made it into a spoken word video.
He called it,
"Fitting Out."
It entered my mind this morning as I read the next few chapters in Leviticus.
As I watched his recording again this morning after nearly five years,
I was struck again by these words,
"To have been accepted would have been a prize,
but that's when I came to realize,
fitting in would be nice,
but later on I'd pay the price."
The Israelites were learning very quickly that the call was great.
But the price for ignoring the call was high.
Today, what price are you willing to pay to fit in?
I want to walk into today as a spiritual Mrs. Doubtfire,
uncomfortable in this world,
because it's truly not my Home.
I want to fit out.
Not in.
Because the cost of fitting in is just too high.
And there's no clearance rack to make it any cheaper.
Friends, this world is not your home, so don't make yourselves cozy in it.
Don't indulge your ego at the expense of your soul. 
Live 
an exemplary life among the natives so that your actions will refute their prejudices.
Then they'll be won over to God's side and be there to join in the celebration when he arrives.
I Peter 2:11-12 MSG
Maybe God was never pushing the Israelites away from the altar.
Maybe He was simply teaching them what it would cost to draw close……
Because "fitting in" with God also comes with a price.
 But there's good news this morning!
Jesus paid it for us!!
If you want to push pause on my blog music, you can listen to Luke's words as a high school senior in 2014.)
(Today's reading was from Leviticus 19-22.)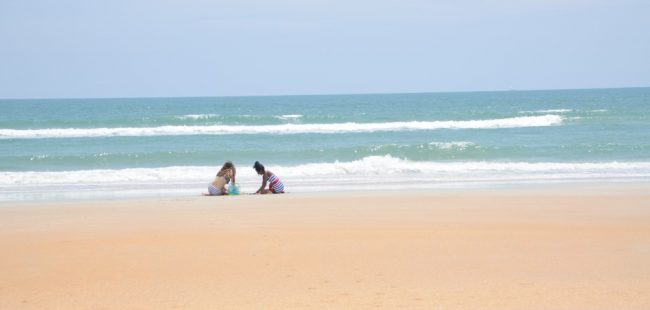 We've all seen signs that list
"Our House Rules."
Things are included like,
"If you open it, close it.
and
If you turn it on, turn it off."
Or
"In this house,
we forgive often,
like to have fun,
say we're sorry,
love each other no matter what."
House rules today make great wall hangings.
And often make us smile as we read them.
_____________________________________________
So as I began to read in Leviticus this morning,
I was pretty overwhelmed for the Israelites.
I'm not sure if "smiling" was their first response to the "house rules" given to them.
If printed, they would have required all the trees from the nearest forest.
Wouldn't Hobby Lobby have looked different in those days?
And I'm not really sure how anyone could artistically display rules about
boils,
infected hairs,
unclean discharge,
or the spreading of mildew.
But God was starting from scratch (no pun intended) with these people.
They had no idea what could lead to a plague.
So like a teacher who doesn't smile before Christmas,
God had to lay down the law.
Literally
and
Figuratively.
________________________________________________
Holiness was a big deal.
And big deals require more than generic rituals like,
"Sing all the way through the 'Happy Birthday' song as you wash your hands. 
And always use soap."
Leviticus is anything but easy to read.
Even while eating oatmeal.
But maybe it should be this hard to imagine living a life separated from what God sees as good…..
and bad.
Maybe it should turn our stomach to watch certain shows and use certain words in conversations.
Maybe we should get a little nauseous when we look in the mirror and realize our clothes are pointing people in the wrong direction.
Purity
Holiness
Do these words even matter anymore?
I saw a news story this week about a so-called female pastor melting a mass number of purity rings into the shape of a women's most treasured body part and then having it made into a trophy, declaring "freedom" for girls who have been shamed into staying pure until marriage.
Just when we thought the days of melting gold into false gods was over.
_______________________________
Leviticus is meticulous.
It's tempting to skip over all the things the priests had to examine in those days.
We're not priests, after all, so it's not like we'll be looking closely at anyone's skin to determine if it's clean or unclean.
But that's not why this book is included in the Bible.
It has nothing to do with me understanding the exact way to know if the Israelites were allowed in their camp.
But it has everything to do with me understanding
 what it takes to stay within my own.
God still has rules.
Whether I like it or not.
We've taken the word "freedom" too far these days.
As a result, it's hard to know what's truly right and what's incredibly wrong.
And since "judging others" is none of our business,
we've fallen into the trap of turning our heads,
quietly nodding as we do.
And whether we want to admit it or not,
we're sending a loud message to the next generation.
It's as if we're saying,
"I'm not looking so surely God isn't either.
Whatever makes you happy,
makes me happy too."
When the Israelites chose not to follow the rules,
things didn't go well.
And I'm afraid they're not going well today either.
Anxiety
Depression
Anger Issues
They're all on the rise.
Children are losing in this era of "rights and freedoms."
Not knowing where to draw the line is scary,
because it also makes it hard to know where to stand.
The Psalmist says,
 "

Lord

, you alone are my portion and my cup;
you make my lot secure.
The boundary lines have fallen for me in pleasant places;
surely I have a delightful inheritance."
Boundaries aren't bad things.
And the laws in Leviticus weren't either.
 I think the Israelites got it.
They knew it was in their best interest to follow the guidelines
for things as small as a white dot on their skin that might be spreading.
And the act of purifying themselves had to feel great.
Who doesn't like the feeling of a hot shower after being sick for several days?
Regardless of how hard it is for us to stomach all the rules and regulations in this book,
I love that even Mary and Joseph obeyed them.
When the time came for the purification rites required by the Law of Moses,
Joseph and Mary took him to Jerusalem to present him to the Lord 
(as it is written in the Law of the Lord, "Every firstborn male is to be consecrated to the Lord" ), 
and to offer a sacrifice in keeping with what is said in the Law of the Lord:
"a pair of doves or two young pigeons.
After being visited by angels and told their Son would be the Messiah,
it would have been easy to think these rules somehow didn't apply to their miraculous baby.
How could a child who was visited by shepherds and announced by a Heavenly choir require any kind of earthly sacrifice?
But maybe that's exactly why they were chosen to be Jesus' parents.
Mary and Joseph knew it was critical to do whatever it took to
"keep what is said in the Law of the Lord."
They realized even the Son of God had to be consecrated to His Father.
If this couple wasn't above the law,
should we be?
So what are we doing today as parents and grandparents to "keep what is said in the Law of the Lord?"
Not the Old one.
But the New.
Does anything matter more in this life
than the direction in which we point our children's feet?
Yes, they can choose to veer off the path as they become adults.
God never forced anyone to keep His laws.
We shouldn't either.
But let's at least give them a path to veer from.
____________________________________
When things get tough,
I know they'll look back.
They'll remember the straight path they started on.
And God promises that in time,
they will return to it.
Direct your children onto the right path, and when they are older, they will not leave it.
So let's give our kids a road to return to.
It may feel narrow at times,
but we know where it ultimately leads.
Enter through the narrow gate. 
For wide is the gate and broad is the road that leads to destruction,
and many enter through it.
But small is the gate and narrow the road that leads to life,
God loved the Israelites enough to say things like,
 "No," and "Don't do that."
How much do we really love our children today?
(Today's reading was Leviticus 11-18)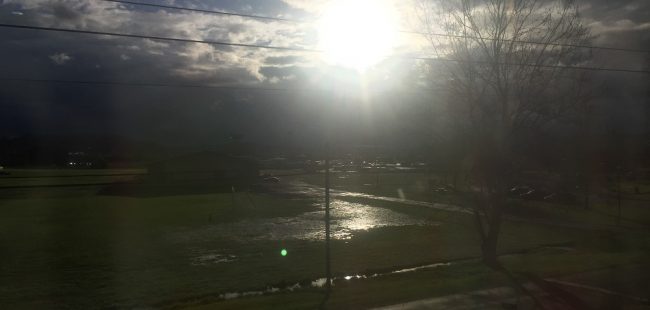 As God gave instructions about the tabernacle,
one thing was clear.
Sin had consequences.
There was no "slipping by" or "squeaking through" when it came to falling short.
Holiness wasn't a condition of "almost," or "I did my best," or "I'm only human."
Holiness demanded a sacrifice.
A laying down and burning up of something.
God was willing to wipe the slate clean ONLY when the slate holder was willing to hand Him the eraser.
Give Him the power to say,
"This has to go,
and only this can stay."
That's the focus of Leviticus so far.
A constant awareness of the gap between who the Israelites wanted to be and who they really were.
"The fire on the altar is to be kept burning;
must not go out." 
Three times in chapter six God repeats these words.
Do not let the fire go out.
Keep it burning.
Sacrifice has to be continual.
Because the need for My grace is too.
________________________________
I try to imagine life back then.
Every campsite surely had its own fire.
A place for cooking meals,
staying warm,
telling stories.
And oh, the stories they could share.
These fires sustained the people.
Glowing embers fading to cool ashes as they headed to their tents only meant one thing.
A new fire would be started in the morning.
But there was one fire in the camp that was different.
God would start it once,
sending flames from Heaven.
And it was there job to keep it going.
This fire was Holy.
And everything about it was set apart.
When they heard the instructions about this fire,
were the people reminded of Mt. Sinai and the warning not to come too close?
Go down and warn the people,
lest they break through to the Lord to look and many of them perish.
Also let the priests who come near to the Lord consecrate themselves, lest the Lord  break out against them.
God's presence wasn't something to take lightly.
And His fire wasn't either.
So when Aaron's sons decided to bring their own pans of fire into this most holy place,
burning incense as they came,
things didn't end well.
More flames came from Heaven,
but these were different.
These flames didn't just consume a sacrifice.
They consumed Nadab and Abihu.
Holiness costs something.
And on this day,
it cost Aaron's sons their lives.
Aaron stood silent,
fully aware of God's power
and his sons' mistake.
I'm sure the news spread quickly throughout the camp.
Aaron's sons had crossed the line.
And they had died.
Later that day, Aaron was supposed to eat the sin offering but he didn't.
By now, I'm sure everyone was trembling at the thought of getting anything wrong.
Slipping up.
Enraging God.
Causing Him to send yet another consuming fire.
So Moses goes to him, questioning his decision not to follow the rules.
And I love Aaron's answer.
"Since these things have happened to me,
if I had eaten the sin offering today,
would it have been acceptable in the Lord's sight?" (Ex. 10:19)
See, Aaron remembered something Moses may have forgotten.
"And there you shall eat before the LORD your God, and you shall rejoice in all to which you have put your hand, you and your households, in which the LORD your God has blessed you" (Deuteronomy 12:7).
Aaron was heartbroken.
How could he eat before the Lord with rejoicing?
Just as his sons' fires had been unacceptable,
his eating of the offering while mourning would have been too.
I love that Moses understood this.
Scripture says,
"When Moses heard this, it was acceptable to him."
(Ex. 10:20)
The chapter ends with these words.
____________________________________________
Leviticus is filled with many things.
A holy fire.
A series of very specific rules and regulations.
A jealous God capable of consuming anyone who tried to do things another way.
And a story that reminds us that grief changes everything.
As if God Himself could already taste the death of His own Son,
He held back.
Gave Aaron permission to be overwhelmed with his losses.
And still removed the sins of the people.
I'm so thankful for a God who asks for everything but understands when everything feels like too much.
Keep the fire burning, Tammy.
Don't let it go out.
But on the days when you can't swallow everything God has asked of you,
lay down your fork.
It's okay.
The fear of the Lord may be the beginning of wisdom,
but grasping just how close God is to the brokenhearted is another step toward toward knowing Him fully.
Today, your fire may need flamed.
That's okay.
Don't try to reignite it on your own like Aaron's sons did.
Just ask God to breathe His life back into your soul.
You may find yourself so devastated by life as you're reading this that the thought of lifting your hands in worship feels wrong.
That's okay too.
God understands.
And He's patient.
If anyone knows the pain of sacrifice,
God does.
And if anyone gets your grief,
He does too.
 For God so loved the world that he gave his one and only Son,
 that whoever believes in him shall not perish but have eternal life.
(Today's reading was Leviticus 5 – 10)
Push pause on my blog music in the bottom left corner of this screen if your fire needs flamed today.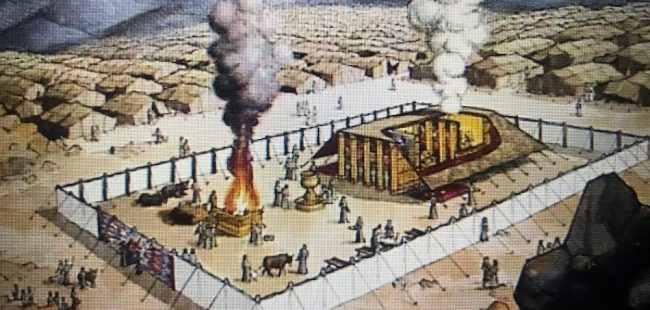 Phil LeMaster was my minister for years.
He walked many wonderful and many painful roads with our family.
Preached funerals for us no preacher ever wants to preach.
Welcomed each new son we brought into the world after we moved to Kentucky.
And introduced our newly-adopted daughter to the congregation just days after she arrived from India.
He was also with us in the sudden death of our infant daughter.
And right beside us as we walked the road of cancer with Nick.
Then stood behind the pulpit again as our family came to grips with the fact that Nick, too, had been taken from us.
All through these years of highs and lows,
we asked a lot of Phil.
I often sat in his office crying,
trying to sort through my life.
Make sense of my pain.
Phil was a great listener.
But Phil was also a challenger.
Every January he would try to motivate our entire congregation to do one thing.
"Read through the Bible this year,"
he would say.
"It will change your life."
And every year, I would try.
With the best of intentions,
I would dig in to Genesis in January.
And then plow through Exodus the following month.
Adam, Eve, Noah, Abraham, Isaac, Jacob, Joseph –
their stories were captivating.
I could see something of myself in each of them –
when it came to their flaws and God's grace.
But every year, for many years,
I would get to Leviticus and find myself gagging.
The God of Leviticus never felt like a God of mercy and love.
Words like "slaughter," "splatter," "twist," and "drain,"
associated with animals and their blood,
felt wrong.
I'm not a vegetarian,
but Leviticus made me want to be.
So year after year,
I would stop.
Close the Bible.
And pick up a devotional.
I wanted to read about pleasant things like "the fruit of the spirit,"
or "the joy of the Lord."
The year Nick died, though,
I wasn't feeling very fruitful or joyful.
I remembered my grief with Adrienne,
and honestly, I was terrified.
I couldn't slip backward.
Shut myself off.
Become bitter.
I had been clinging to Scripture all through his cancer journey,
and deep inside I knew this was the only way I had made it this far.
So when January of 2009 rolled around,
I remembered Phil's challenge.
"Read through the Bible this year.  It will change your life."
My life needed something.
Two children gone and four others watching how I would handle this reality,
while needing me to help them handle their own reality at the same time,
was more than I could handle alone.
Sadly, I don't think I did enough for my surviving children in the next couple of years.
I wish I could go back and live that chapter again….
with them and for them.
But I did do one thing I'll never regret.
And I hope my kids have watched from the distance.
I pushed through Leviticus for the very first time.
And made a vow to do this very same thing every single year until I hug my children who have been taken out of arm's reach.
So this morning before I even crawled out of bed,
I remembered Leviticus 1 – 4 was waiting for me.
And I remembered this is the year I made a second vow.
To blog through the Bible as I read.
What was I thinking?
It's one thing to gag in private.
Question God's way of handling Old Testament sin.
Wonder if the Israelite priests ever got a break from standing at the altar.
I mean, even unintentional sin required the sacrifice of a female goat.
Honestly, wouldn't every farm animal be extinct today if things hadn't changed?
So I asked my husband to pray for me.
The last few days I've had an awkward feeling as I've written.
As if I'm trying too hard to come up with words so I can keep this self-inflicted promise to blog through my Bible reading.
 I never want my time with God to feel forced.
I don't want Him to think I'm asking Him to show up just so I can have something to say.
There's plenty of people who need His presence much more than I do this morning as I sit in my warm, dry home, listening to the rain falling just outside my window.
Even as I type these words, though, I realize something.
God WANTS to be here even more than I need Him to be.
He wants to be with each of us.
Whether we're rushing around trying to get kids ready for school,
or sitting by a hospital bed wondering what's next,
or waking up alone after years of waking up next to someone we loved with all our heart and soul,
God wants to be right here with us.
In our happy moments and our sad.
And maybe the continual sacrificing in the third book of the Bible
was God's way of keeping a wandering nation aware
of just how much He wanted to be with them too.
The constant smell of burning meat surely spread through the camp
as rolling smoke from the fire was carried through the air.
Every sense was activated as the Israelites faced their shortcomings in the presence of the One who had none.
They had to feel such peace knowing God was right there in the middle of their wilderness.
And even though it had to make them cringe at times,
their imperfections required something in order for Him to stay.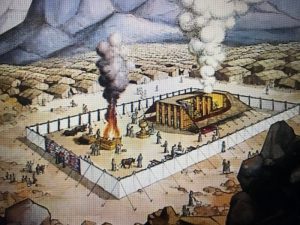 By the time Jesus arrived on the scene,
religious leaders had begun wearing Scripture on their foreheads.
They had also added so many new laws to God's original commands
that now even healing someone on the wrong day of the week was considered a sin.
God knew it was time.
A sacrifice had to be offered once and for all.
A flawless firstborn bull or sheep wouldn't do.
No.
Mankind needed more.
They needed a priest, higher than any who had ever lived,
to offer a sacrifice greater than any ever been laid on an altar.
It's funny though.
In spite of how clear it seems to me this morning,
I don't think they got it.
They needed a priest and a sacrifice,
but they were longing for a king.
So God did what any loving Father would do in that moment.
He gave them everything they longed for even though it cost Him everything He had.
He gave them His one and only son.
The ultimate sacrifice.
The highest priest.
And the greatest King.
He gave them Jesus.
Sometime I don't get it either.
He did the very same thing for me.
So this morning,
I started my morning in a different book.
Leviticus was too much too fast.
I turned to Sarah Young's book Jesus Always.
"Delight yourself in Me, this will draw you irresistibly into communion with me…..I love you with a perfect, everlasting love, and I take great delight in you……I never reject you because the penalty for your sins has been paid in full – with My blood.  Trust Me enough to pour out your heart to me, for I am your Refuge."
(February 20th's reading)
And God was faithful.
He showed up in the bloody verses of Leviticus, reminding me of the blood He willingly shed.
For me.
And for you.
Thank goodness for Hebrews 10 this morning.
I can get ready for work, knowing the Old Testament had a purpose but that purpose has been fulfilled.
Once and for all.
"The law is only a shadow of the good things that are coming—not the realities themselves. For this reason it can never, by the same sacrifices repeated endlessly year after year, make perfect those who draw near to worship.  Otherwise, would they not have stopped being offered? For the worshipers would have been cleansed once for all, and would no longer have felt guilty for their sins. 3 But those sacrifices are an annual reminder of sins. It is impossible for the blood of bulls and goats to take away sins.
Therefore, when Christ came into the world, he said:
"Sacrifice and offering you did not desire,
    but a body you prepared for me;
 with burnt offerings and sin offerings
    you were not pleased.
 Then I said, 'Here I am—it is written about me in the scroll—
    I have come to do your will, my God.'"
First he said, "Sacrifices and offerings, burnt offerings and sin offerings you did not desire, nor were you pleased with them"—though they were offered in accordance with the law.  Then he said, "Here I am, I have come to do your will." He sets aside the first to establish the second.  And by that will, we have been made holy through the sacrifice of the body of Jesus Christ once for all.
 Day after day every priest stands and performs his religious duties; again and again he offers the same sacrifices, which can never take away sins. But when this priest had offered for all time one sacrifice for sins, he sat down at the right hand of God, and since that time he waits for his enemies to be made his footstool. For by one sacrifice he has made perfect forever those who are being made holy.
The Holy Spirit also testifies to us about this. First he says:
"This is the covenant I will make with them
after that time, says the Lord.
I will put my laws in their hearts,
and I will write them on their minds." Then he adds:
"Their sins and lawless acts
I will remember no more." 
And where these have been forgiven, sacrifice for sin is no longer necessary.
 Therefore, brothers and sisters, since we have confidence to enter the Most Holy Place by the blood of Jesus,  by a new and living way opened for us through the curtain, that is, his body,  and since we have a great priest over the house of God,  let us draw near to God with a sincere heart and with the full assurance that faith brings, having our hearts sprinkled to cleanse us from a guilty conscience and having our bodies washed with pure water.  Let us hold unswervingly to the hope we profess, for he who promised is faithful. And let us consider how we may spur one another on toward love and good deeds, not giving up meeting together, as some are in the habit of doing, but encouraging one another—and all the more as you see the Day approaching.
If we deliberately keep on sinning after we have received the knowledge of the truth, no sacrifice for sins is left,  but only a fearful expectation of judgment and of raging fire that will consume the enemies of God.  Anyone who rejected the law of Moses died without mercy on the testimony of two or three witnesses. How much more severely do you think someone deserves to be punished who has trampled the Son of God underfoot, who has treated as an unholy thing the blood of the covenant that sanctified them, and who has insulted the Spirit of grace? For we know him who said, "It is mine to avenge; I will repay," and again, "The Lord will judge his people." It is a dreadful thing to fall into the hands of the living God. Remember those earlier days after you had received the light, when you endured in a great conflict full of suffering. Sometimes you were publicly exposed to insult and persecution; at other times you stood side by side with those who were so treated. You suffered along with those in prison and joyfully accepted the confiscation of your property, because you knew that you yourselves had better and lasting possessions.  So do not throw away your confidence; it will be richly rewarded.
You need to persevere so that when you have done the will of God, you will receive what he has promised. For,
"In just a little while,
    he who is coming will come
    and will not delay."
And,
"But my righteous one will live by faith.
    And I take no pleasure
    in the one who shrinks back." 
But we do not belong to those who shrink back and are destroyed,
but to those who have faith and are saved."
Today, don't shrink back from the things the world hurls your way.
Have faith.
Persevere.
He is coming.
If you've accepted Him as your Savior,
you've already been saved.
And if you haven't,
why not accept Him today?
If you need to know more about Him,
please reach out to someone.
Or send me an email,
and I'll help you or find someone near you who can.
I'm thankful this morning for Phil,
a minister who helped me grow closer to the One who still carries me today,
in a season when He felt so far away.
I'm praying you have a Phil in your life, too,
who answers the question,
"Do I really have to read Leviticus?"
with a very calm and loving,
"Yes."
(Today's reading was Leviticus 1-4)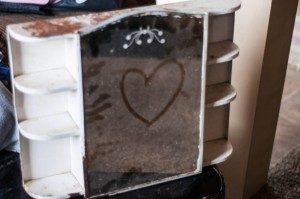 God created the world in just six days.
Yet took forty days to explain the creation of the tabernacle to Moses.
One chapter in Genesis transforms vast darkness into a world filled with all kinds living creatures.
Yet six chapters in Exodus are needed for laying out the specifics of God's dwelling place with the Israelites.
The tabernacle mattered to God,
and He wanted the Israelites to get it right.
For the first time since walking with Adam and Even,
God was making a way for His presence to become part of daily life in the wilderness.
He wants to be part of my daily life too.
Not just a God who sits on His throne saying,
"Do this but don't do that,"
but a God who feels what I feel and
goes where I go.
So what can I learn from Exodus this morning?
I'm not planning to chop down acacia wood to build an ark of the testimony.
Or form a mercy seat out of pure gold.
The details of the tabernacle go on and on.
Specific measurements.
All kinds of utensils.
The building of the tabernacle was no small task.
God's presence required effort.
And here I sit,
sipping hot tea.
Hoping to encounter Him.
Longing to feel His presence.
Who do I think I am?
I read the verses in these chapters again,
researching online commentaries along the way,
wanting to understand why the tabernacle was so elaborate and what it all meant.
But no amount of study can ever come close
to the work done by Bezalel and his helpers
as they shaped and formed this Old Testament home for the Almighty.
So what am I doing today to prepare myself for God's presence?
There seemed to be a pattern for reaching Him back then.
First the altar, then the basin, then the Holy of Holies.
Sacrifice
Cleanse
Encounter
Every single time.
There was no way to meet with Him without following these steps.
Maybe that's it.
Maybe that's what God is saying to me this morning.
Do you want to meet with Me?
If so, lay down your life.
Place your all on the altar.
Give your life to me.
Then examine it closely.
What needs to be washed?
The basin the priests used to cleanse themselves was made from the bronze of a mirror of all things.
He made the bronze basin and its stand from the bronze mirrors of the women
who served at the entrance to the tent of meeting.
Exodus 38:8
Not many things are mentioned so specifically in the creation of this holy place.
So I pause and think.
Why is this verse here?
Why is the former use of a material mentioned and why are the ones who donated it mentioned too??
Mirrors were the only way to see what others saw.
These women must have cared about what the world saw in them.
Yet they visited the tent of meeting enough to know there were something that mattered even more.
Their reflection only matter when it led to cleansing.
Is this what happens when we spend enough time near God?
We learn what matters.
We come to realize what can be traded in for something even better.
We seek holiness over acceptance.
We begin to wash away every part of us that is flawed instead of holding on to something that just reminds us of what's there.
A basin trumps a mirror every day.
Better to wash something off then just examine it and walk away.
Do not merely listen to the word, and so deceive yourselves.
Do what it says.
Anyone who listens to the word but does not do what it says
is like someone who looks at his face in a mirror and,
after looking at himself,
goes away and immediately forgets what he looks like.
  James 1:22-24
I wonder if the priests ever caught a glimpse of their reflection in the basin as they washed their hands.
I think they did.
I think God wanted to remind them of their imperfect humanity before they stepped into His perfect presence.
I need to be reminded of mine too.
So I lay down my imperfect life this morning,
trusting God to do the rest.
Cleanse me, O God.
Then I step into His presence.
I didn't need to wait for Him to arrive.
He was patiently waiting for me all along.
I just had to lay down my mirror.
And turn to my basin.
________________________________________________________
He took six days to create the world
and He's taken 53 years to work on me……….
but He's still not finished.
(Today's reading was Exodus 37 – 40)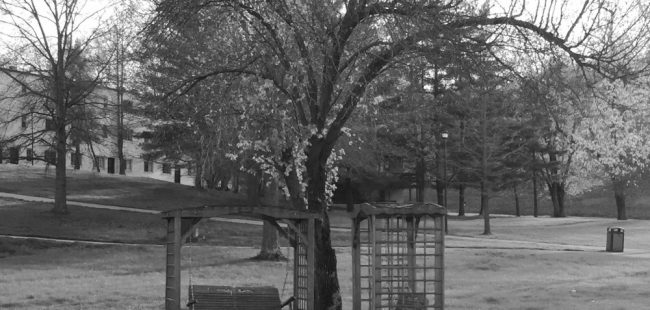 Imagine the relief Moses felt when he heard these words,
And the Lord relented from the disaster that he had spoken of bringing on his people.
Exodus 32:14
Just a few verses earlier, God was ready to destroy the entire Israelite nation.
Their worship of a golden calf had crossed the line.
Pushed God to a breaking point.
Like the days of Noah,
He was ready for a fresh start.
"Now leave me alone so that my anger can burn against them and I can destroy them. 
Then I will make you into a great nation."
Exodus 32:10
Would man ever learn?
Surely they had heard of the flood?
They had definitely seen the plagues.
And walked through dry land as the Red Sea parted.
What more did they need?
Thankfully, Moses loved these short-sighted people.
He could have joined God in His judgment of the Israelites
and been part of a new beginning.
Instead, he pleaded for them.
Reminded God of His promise
to Abraham, Isaac, and Jacob.
And God listened,
sending a plague instead.
This time punishment came without destruction.
But it didn't come without frustration.
God wanted to keep His promise to His people.
But He no longer wanted to join them on the journey to it.
In Chapter 33 of Exodus,
God tells Moses to take the people and go to the promised land.
He even says He'll send an angel ahead of them.
But He adds words no Israelite wanted to hear.
He says,
"But I will not go with you."
(Ex. 33:3)
God takes a step back from the chosen people.
as if to say,
"I love you, but I need a boundary too. 
And being too close to you right now is toxic."
This time the people don't turn to someone else for help.
They don't cry out to Aaron for another golden calf,
throwing their jewelry in a pile as a way to help with its construction.
This time, they simply take their jewelry off and mourn the thought of not having God with them on their journey.
They stay in their tents.
Only approaching their flapping doors when Moses walks outside the camp to meet with God privately…
in the tent of meeting.
They're able to see the cloud in the distance.
hovering over this sacred place just outside their camp.
But God is no longer with them.
It must have looked like the nation had placed themselves in a long time-out.
Thousands of tents scattered over the wilderness
with families safely tucked inside.
Waiting for moments when Moses would go to meet with God.
Peeking from the behind their walls of fabric, they were able to catch a glimpse of Him too.
I'm not sure how long this went on,
but eventually Moses had the courage to ask God for more.
He, along with all the Israelite people,
needed God in their midst.
Not just beside them.
So He pleaded again.
Asked for more of God's presence.
And God listened…….
again.
He said,
"I will do the very thing you have asked,
because you have found favor with me,
and I know you by name." 
Exodus 33:17
God took Moses back to Mt Sinai.
Started over.
Not with new people.
but with a new set of commandments,
forgetting the shattered stones of days gone by.
Even Moses had to learn there's more power in laying down stones than in throwing them.
When he returned this time,
I wonder what he expected.
As he held the new commandments,
was there any part of him that also held a grudge?
I'm sure his face lit up with both God's presence and pure joy as he realized the people weren't throwing another party.
There was no golden calf to be found among them.
The time-out had worked.
When they saw the radiance shining from Moses' face,
they knew he had been with God.
And they were finally ready to listen.
God had more than commandments to share this time.
This time He also had instructions.
A detailed plan for building a place where He would dwell.
Emmanuel.
God is with us.
Talent jumped into action as resources began to pile up.
Some gave gifts of jewels and fine linen
while others used their gifts to sculpt and sew.
I can't imagine the excitement that must have spread through the wilderness as they realized God was there too.
Making a way for them to approach Him.
No more watching from their tent doors.
Their self-inflicted time-out had ended.
God now had their full attention.
What does it take to get my attention today?
——————————————-
I spent the weekend with my two-year-old granddaughter.
When she's upset or doesn't get her way,
she likes to put herself in a time-out.
Step away.
Take a break.
Peek from her cupped hands
until she's ready to face the world again.
I'm really no different.
I, like Elaine and the Israelites,
often need time-outs too –
before I'm ready to listen.
I'm so thankful for a God who never leaves.
But patiently waits for me.
(Today's reading was  Exodus 33 – 36)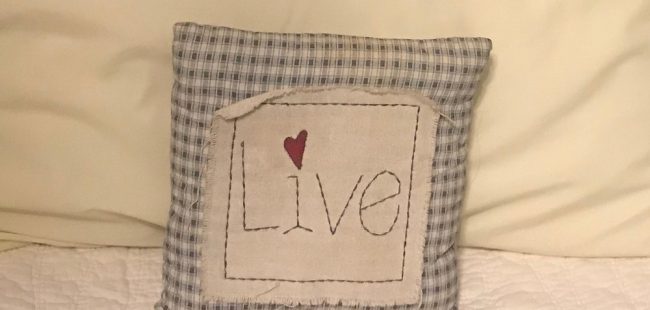 I knew this would get difficult.
How could I forget?
So many verses in the Old Testament cause me to cringe.
And today's reading includes some of them.
I'd love to stop reading.
Change the subject.
Talk about a sunrise or the coming of spring.
But here I sit,
having made a commitment to write through every chapter,
I push through the instructions for sacrificing a ram.
More details about what to do with blood than I'd ever want to know.
My Cheerios feel safe this morning.
That's about it.
The God of the Old Testament scares me.
 So I have to pause.
Remind myself.
This wasn't a new thing.
Something God had created.
Old Testament people were already offering sacrifices all across the land.
Cain and Abel had done it first.
So God just borrowed something they already understood and turned it toward Himself.
Invited His presence into a ritual practiced by other nations,
consecrated the Israelites' altar,
and brought His glory into their midst.
So when the people panicked,
thinking Moses wasn't coming back down the mountain,
they should have remembered something else I can easily forget.
Moses was gone, but God was still there.
Removing a man doesn't remove a Redeemer.
Aaron must have forgotten too.
As the people cried out for Moses,
they gathered around his brother.
And doesn't it feel good to be needed?
So doing what I may have done myself,
Aaron tries to solve their problem.
But instead of looking to the mountain and crying out for God,
he looks at the people and cries out for their gold.
In their distress, they listen.
Handing over precious belongings,
they trust Aaron to create something they can see.
A golden calf.
A new altar.
An unconsecrated place.
The very thing God had commanded them not to do,
"You shall not make for yourself any idol, nor bow down to it or worship it."
Only six weeks have passed since they first heard these words,
but here they stand.
Bowing to a golden calf just inches from Mt. Sinai.
So close to God and yet so far away.
I'm no different when I feel far from God.
It's so easy to turn to friends.
Or family.
Take their advice.
Create my own plan.
Chisel a way forward.
And forget I'm just inches from Mt. Sinai.
What if the Israelites would have looked up?
Called out to God instead of Moses?
Gathered around the mountain instead of gathering around Aaron?
It seems easy to see where they went wrong,
reading their story over 2000 years later.
But how different do the pages of my story really look?
How often do I turn the wrong direction in hopes of finding Him?
Avoid a messy sacrifice by tossing gold instead.
God didn't need the Israelites' "stuff."
And He doesn't need mine.
He wanted their hearts.
And He wants mine.
But like a ram,
I'm generally a mess.
Spilled out on the altar.
A living sacrifice.
Cheerios were so much easier to swallow this morning.
Maybe I cringe when I read about sacrifices,
because I know how often I avoid them today.
Not the placing of animals on an altar.
But the placing of me.
Dying to myself so that He can live instead.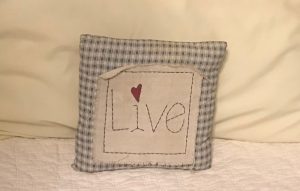 Therefore, I urge you, brothers and sisters, in view of God's mercy,
to offer your bodies as a living sacrifice,
holy and pleasing to God–
this is your true and proper worship.
Romans 12:1
(Today reading: Exodus 29-32)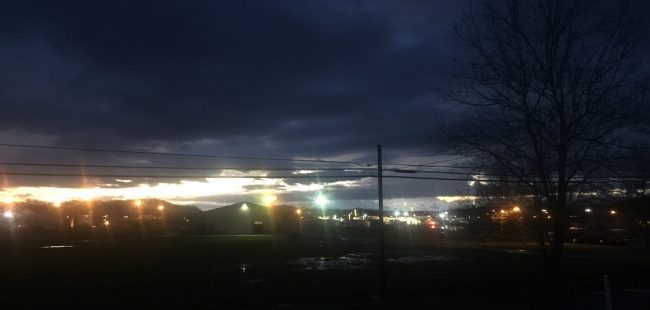 As the Israelites moved from one camp site to the next,
they followed a pillar of cloud by day and a pillar of fire by night.
God's presence was always out before them,
leading the way.
When the pillar moved,
the mass of several hundred thousand people
packed up their belongings,
took down their tents,
and herded their animals right along with it.
At some point though,
God wanted more.
Leading the people was critical.
But He wanted to dwell with them too.
I think He wanted more than an occasional mountaintop experience with Moses.
He wanted daily fellowship with a group of people He loved.
The transition from a consecrated mountain to a portable tent had to involve more than a few walls of fabric though.
There were plenty of every-day tents sprinkled across the desert.
This one had to stand out.
Be set apart.
Create a holy atmosphere for a holy God.
How do you do an extreme makeover on a tent pitched in the middle of the wilderness??
There was only one way.
Gather treasures from anyone willing to share.
Gold
Silver
Bronze
Scarlet yarn
Fine linen and leather
Oil for light
Spices for fragrant incense
along with gemstones of all shapes and sizes.
God could have done this alone.
He could have spoken the words,
"Move that bus!"
and blown all the Israelites' minds with the most extravagant tent they had ever seen.
But I think He knew what the Israelites needed.
Just like He knows what we need today.
He knew that in order for the temple to be cherished,
the people who would enjoy it needed to do the work.
Sacrifice something.
Give up things they loved in exchange for His presence.
So He asked for help.
Took up offerings of all kinds.
Then gave very specific instructions as to how they would be used.
As the people gathered their resources
and watched the artisans do their work,
excitement must have filled the air.
As sweat poured from their heads as they chiseled stone and wove fabric,
they surely felt the thrill of being participants in creating a home for the great "I AM."
When He asked for the purest crushed olives so that the lamps could burn all day and all night,
they must have felt great Hope,
knowing His light would never burn out.
His presence was moving from a mountaintop to the tent next door.
And life had to feel great!
_______________________________
Can you imagine how excited they would have been if they had know what we know today?
That the curtain of their tent would one day be torn.
From the top to the bottom.
Removing the last barrier between the people of the earth and the Holy of Holies.
God was beginning to move closer in the wilderness.
From Creator.
To Guide.
To Neighbor.
But as time passed He wanted more.
And He needed help again.
He's never forced His way into anything.
And He won't force His way into us today.
He wants to be our guest.
Take up residence in us.
Make us His dwelling place.
His temple.
But today, the work is in our hands.
Preparing ourselves for His presence is a personal journey.
Taking care of our temple is a daily choice.
Keeping our light burning takes tending.
God can't do all of this for us.
But He's not afraid to ask for our help.
And this takes courage.
I'm so thankful God wasn't afraid to model every aspect of humanity.
Even the willingness to let go of control…….
and say,
"I want to be near you…..can you help prepare a perfect place?"
We clean our homes before company arrives,
scrubbing bathrooms and changing sheets.
What do we need to do to prepare our temples and our hearts for the presence of the Holy Spirit?
I Cor. 6:19-20
Do you not know that your bodies are temples of the Holy Spirit,
who is in you, whom you have received from God?
you were bought at a price.
Therefore honor God with your bodies.
II Cor. 13:5
Or do you not realize about yourselves that Jesus Christ is in you?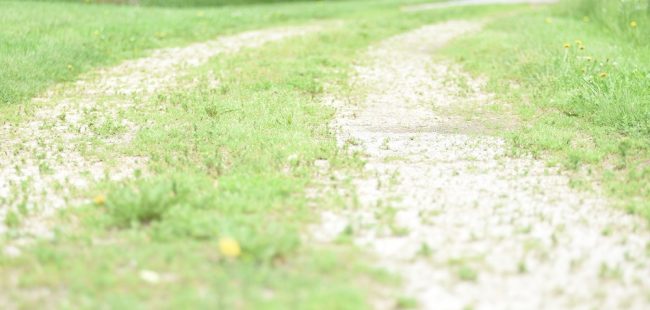 He appeared for the very first time in Old Testament history a few chapters ago.
Seemingly out of nowhere,
Moses calls Joshua to battle saying,
"Select some men for us and go fight against Amalek.
Tomorrow I will stand on the hilltop with God's staff in my hand."
Without hesitation,
"Joshua did as Moses had told him….while Moses, Aaron, and Hur went up to the top of the hill."
Fast forward seven chapters,
and this same man is in an entirely position in Bible history.
Aaron and Hur, along with seventy elders,
are told to stay at the base of the mountain to settle disputes
while Joshua joins Moses on the journey to the mountain of God.
Scripture doesn't make it clear if Joshua entered the cloud filled with God's presence,
but it does say he went further than anyone else was allowed to go on that particular day.
I'm not sure why Joshua's story stands out to me this morning.
He appears in only a few verses in both Exodus 17 and 24.
No backstory is given about his life before the battle with the Amalekites.
And no conversation between him and Moses is included to explain his new assignment as Moses' assistant.
He just shows up.
Fights.
And then receives an invitation to join Moses on Mt. Sinai.
A place not even Moses' brother has been invited to go.
Rule and after rule has been delivered to the Israelites.
Now God wants them on display –
So the people can see with their very own eyes what they can and cannot do.
The Ten Commandments are soon to be etched into both tablets of stone and human history.
And Joshua is chosen to be part of this big day.
Maybe that's how God works.
Calling us to a life of spiritual warfare,
He makes it very clear.
We are in a battle.
From the minute we wake up until the minute we fall to sleep,
the enemy is against us.
And sometimes he even shows up in the dark,
filling our minds with fear and doubt.
The devil has one goal.
Take us down.
Wipe us out.
Remove us from the front line.
So God, like Moses, looks at us and says,
"Go fight."
_________________________________
"Put on the whole armor of God,
that you may be able to stand against the schemes of the devil.
For we do not wrestle against flesh and blood,
but against the rulers, against the authorities,
against the cosmic powers over this present darkness,
against the spiritual forces of evil in the heavenly places."
Ephesians 6:11-12
At the same time, like Moses,
He invites us to intimate places with Him.
Exodus 33:14
"And he said, "My presence will go with you, and I will give you rest."
Hebrews 10:19-22
"Therefore, brothers and sisters, since we have confidence to enter the Most Holy Place by the blood of Jesus… 
let us draw near to God with a sincere heart and with the full assurance that faith brings,
having our hearts sprinkled to cleanse us from a guilty conscience and having our bodies washed with pure water.
As Christians, don't we long for God's presence?
An invitation to find rest in His arms?
A way to draw near to Him with confidence?
I know I do.
But this morning, as I look back at Joshua's first appearance in Bible history,
I realize something.
Joshua wasn't asked to go to the mountain until after he faced the war.
A battle preceded an invitation.
And I think it still does today.
Over and over again,
we face spiritual warfare.
Sometimes it's as personal as self-doubt or discouragement.
Other times it's unknown medical results
or resurfacing waves of crushing grief.
War is waged.
Day after day.
In some fashion or another.
And it's only after pushing through enemy lines that we reach the next place with God.
Intimacy follows war.
So today, I don't know which side of the equation you're on.
I hope you're resting in His arms,
having faced the one who longs to destroy you,
and made it to the other side.
But if you're not there yet,
please know this.
The battle you're in will pass.
And He's on the other side.
Waiting at the mountain.
You'll get there in time.
When you arrive,
His presence will wash away the battle scars,
healing your heart and soul long enough to strengthen you for the next attack.
And with each mountaintop experience,
you'll grow a little stronger.
Just never forget….
A battle will precede an invitation
but intimacy always follows a war.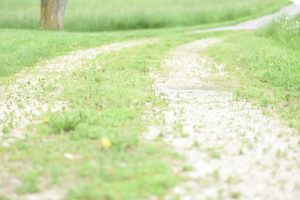 Ephesians 6:13
"Therefore put on the full armor of God, so that when the day of evil comes,
you may be able to stand your ground, and after you have done everything, to stand."
(Today's reading:  Exodus 22-25)