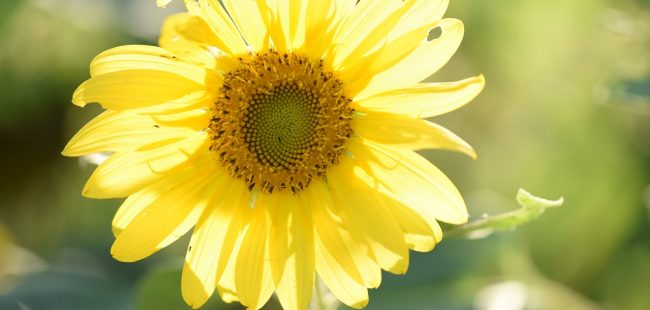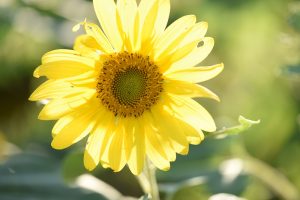 I'm not sure what's going on outside this morning,
but the birds seem extra determined to wake up the sun.
I see hints of daybreak.
A silhouette of the trees begins to form against a pale blue sky.
I never doubt this daily transition.
Never wonder if night will end.
I trust the sun to rise as much as I trust my lungs to take their next breath.
And if I'm honest, I give little thought to thanking either of them.
How many other miracles of life do I take for granted?
And what would life look like if the sun decided to stay just below the horizon?
Stumbling around in the dark, I guess we'd never know.
___________________________
Maybe that's what Daniel's visions are all about.
Being able to see……………….beyond the sunrise.
His angel visits were exclusively for him.
Scripture says the men with him were so overwhelmed with terror they "fled and hid themselves."
God chooses some dramatic ways to gain an audience of one.
What if every morning He's trying to grab ours?
Ushering out all distractions and pulling our faces up toward His.
This morning He used the birds to grab mine.
Their cawing and chirping seemed louder than ever,
causing me to notice the darkness in a way I don't normally do.
This awareness of the absence of light made me watch for its coming more closely.
I witnessed my back yard waking up this morning.
Little by little,
everything outside began to take shape as the sun quietly did what it does….
every single morning.
Our porch was there all the time.
So was our deck and the clubhouse on the hill.
Darkness didn't take them away.
It just hid them from view.
I read from Daniel in the dark this morning.
But now the sun is up.
His visions lay quietly on the pages of my Bible
as I look at my clock (and the sky) and realize it's way past time to get moving.
Life is like that.
Visions come and go.
Sunrises too.
And yet the miracle of them never loses its power.
It's us.
We're the ones who turn the pages too quickly
or drink our coffee in a rush.
Or choose to stumble in the darkness,
unaware of the power of the sun.
Or the power of His Son.
Maybe this is your moment.
Maybe this small break in your day is just what God needed in order to speak directly to you.
He has your attention.
You alone are His audience.
Soak in this moment.
There's no angel here.
No extraordinary vision.
But there's God…….
and you.
And that's enough.
Soak it in.
Listen to what He has to say.
The Son has risen.
Darkness is no more.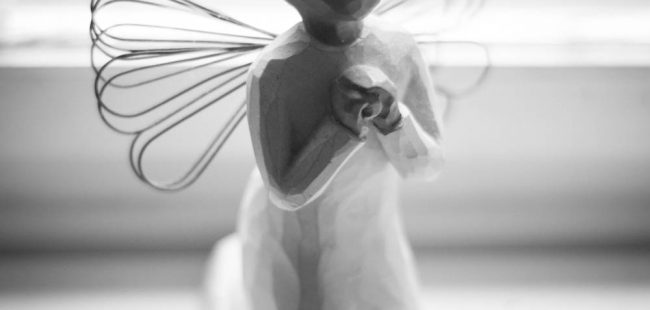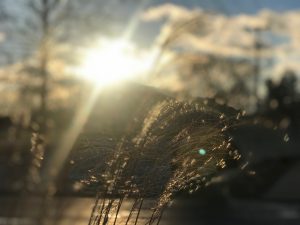 I've reached the end of Job once again.
I'm not sure why God's instructions to Job surprise me every time I read this last chapter.
God is not happy with the words of advice from Job's friends.
As a matter of fact,
he tells these men to gather animals for burnt offerings…..
for themselves.
"I'm angry with you," God says.
"You have not spoken of me what is right."
God has listened to these men ramble on long enough,
trying to make sense of Job's suffering as if they had the inside
scoop on the meaning behind earthly pain.
 But they have reached their word limit with God.
He's heard enough.
That's not the part of this chapter that gets me though.
It's what God commands Job to do that stops me in my tracks –
every single time.
"My servant Job will pray for you."
That's right.
Job –
the one sitting in ashes,
the one who has lost all of his children,
the one who has lost all his earthly belongings,
the one who has been covered in boils,
is told to pray for his misguided friends.
And Job does.
—————————
I'm trying to picture this scene.
I'm trying to imagine the look on his friends' faces as Job rises up from the ashes and begins praying for them.
Is there anything more humbling than being prayed for by someone who is in desperate need of prayer themselves?
But that's what happens.
God tells Job to pray for this small group of men,
and Job obeys.
Job 42:10 says,
"After Job had prayed for his friends,
the Lord made him prosperous again
and gave him as much as he had before."
I wonder what Job says as he lifted these men up to God.
Does he ask God to forgive them?
Does he offer a prayer of thanks for these men who had faithfully stayed by his side,
even though the things they said while they stood there felt a little like a knife?
I've always told other moms who are grieving,
"Be patient with your friends. 
They love you.
They just don't know what to say."
And when emotions are raw, it doesn't take a lot to cut to the quick.
 Job, in the midst of his earthly suffering, has been hurt deeply.
But God, in true God-fashion, uses even this difficult part of Job's pain to teach him one more thing.
God wants Job to step out of his own heartache and notice someone else's.
He places Job right in front of his sacrifice-bearing friends who have fallen short in God's eyes and says,
"Pray for them."
He calls Job out of his own darkness and shines a bright light on friends who need God too.
Sometimes we can't see the world clearly because we're too deep in our own pit.
God gave Job an entire book of the Bible to wrestle with his suffering,
but the time has come for Job to climb out and do something.
And God knew exactly what the first thing needed to be on Job's to-do list.
Prayer.
Not for himself.
Not for his wife.
Not for his future.
But for his friends.
I'm a better person when I pray for others first.
God knew Job would be too.
If you find yourself in a pit this morning,
or if you feel discouraged or sad,
God has the answer.
But He says, "first things first."
Pray for others.
Forgive those who have hurt you or left you feeling disappointed and lonely.
Pray for their souls.
Then watch what happens deep inside your heart as your own darkness begins to melt away.
There's nothing quite like opening a mini-blind in the morning and watching the sunrise peek through.
Perspective is Everything Podcast Episode 12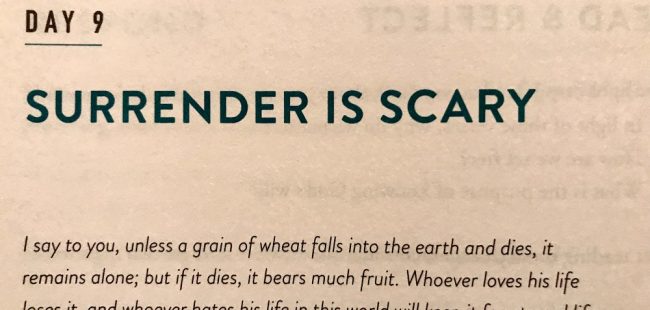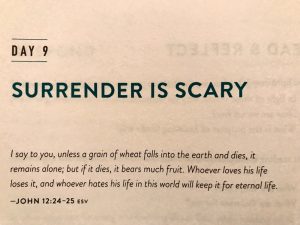 Oh, Job, you've never sounded quite so pitiful.
This is the first time I've read this particular book in the Bible and actually felt a little compassion for his friends.
Job begs for pity as if no one in the world has ever suffered quite like him.
He looks around at the ones he calls "the wicked" and can't understand why their lives seem so easy.
It becomes more and more obvious –
Job believes his attempt at a righteous life should result in a life filled with blessings,
as if God owes him some sort of reward for good behavior.
Job would have been a great member of a health-and-wealth congregation.
Not that God is unable to bring blessings into Job's life,
but to believe he has somehow earned an easy life is a whole other thing.
_________
Years ago, I read a book by Jill Briscoe entitled Eight Choices that Can Change a Woman's Life.
In this book she says that when faced with a difficult situation in life,  Christian women should not ask the question, "Why me?"
but rather, "Why not me?"
Life isn't fair.
Why should all the fairness go to those who walk with a living Hope?
How can God show His faithfulness unless the world sees His children facing times (just like them) of wondering where in the world He is?
Job is in a "Why me?" state this morning,
and I'm finding him a little unnerving.
No wonder his friends seem a little annoyed.
I've gotten in a funk before, too, though.
I've reached this same state of self-pity.
And I'm sure my friends have found my company anything but uplifting.
I can remember times when I looked around and wondered why so-and-so seemed to have everything go their way
or how a mom who didn't take care of herself during pregnancy could give birth to a healthy child.
Self-pity is never attractive.
And would I really want anyone else to suffer?
The truth is "the rain falls on the just and the unjust." (Matt. 5:45)
And that's just the way it is.
I'm on Day Nine in Jennie Allen's book, Made for This.
"Surrender is Scary"
It really is.
Because loving God and living for Him doesn't guarantee an easy life.
For a seed to bear fruit, it must first die.
And living for God means dying to ourselves every single morning.
In Matthew 16, Jesus says,
"If anyone would come after me,
let him deny himself and take up his cross and follow me. 
 For whoever would save his life will lose it,
but whoever loses his life for my sake will find it."
I'm not sure what God is calling you to let go of this morning.
I'm not sure what He's asking you to trust Him with.
But I do know this.
If you let go and trust Him,
He promises to make all things beautiful in His time.
I don't love everything about my life story,
but I do love Him.
And even when I fight Him tooth and nail,
I do believe I was somehow and for some reason "Made for This,"
and I am thankful.
Surrender is scary,
but not surrendering is too.
Job is going to learn that lesson,
just like I did,
very soon.
Surrender your life to Him today –
every part of it –
and watch what happens next.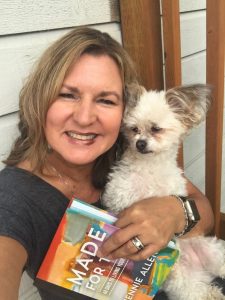 Listen in today on iHeartRadio for Episode 12 of the My Heart His Words podcast
and hear how the Holy Spirit and a changed perspective
truly can change everything about your life.
https://www.iheart.com/podcast/256-my-heart-his-words-30945210/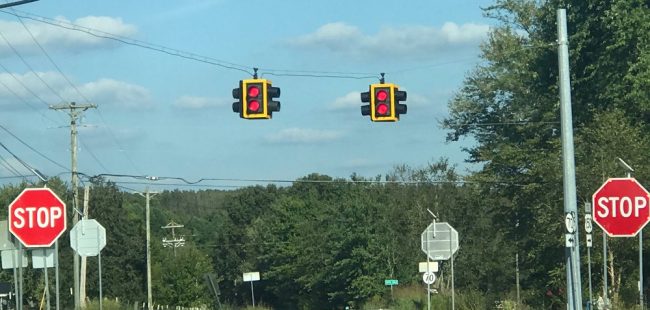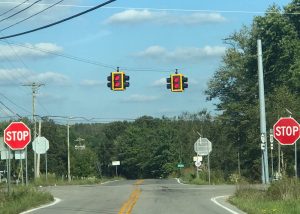 I knew when I saw this combination of stoplights and stop signs they were more than a message to me as a driver.
Two red flashing lights hung over me and stop signs faced me –
on each side of the road.
This was not a normal intersection.
I didn't really understand the importance of such a warning until I was passing through this same crossing of roads on my way home.
As I stopped and then began to go again,
a car flew by in front of me on the crossing road.
That's when I realized there was no stop sign for people traveling the other way.
Stopping, for me, was critical.
Getting the attention of drivers at this intersection was the difference between life and death.
God got Job's attention in a similar way.
Placed him at a crossroads with double flashing lights and two stop signs.
Sat him down.
Made him think.
Facing his own stuff wasn't easy.
Job's friends had not trouble rambling on, though,
barely taking a breath between their many words of advice.
Job realized he would be just like them if he hadn't been stopped right in his tracks.
In Job 16:1-6, he says,
I have heard many things like these;
    you are miserable comforters, all of you!
 Will your long-winded speeches never end?
    What ails you that you keep on arguing?
 I also could speak like you,
    if you were in my place;
I could make fine speeches against you
    and shake my head at you.
But my mouth would encourage you;
    comfort from my lips would bring you relief.
There's something about facing pain head – on that changes how you react to someone else's heartache.
 Job knew if he hadn't been placed in the ashes his words would have been no different than his friends.
But since his life had come to a crashing halt and grief was now one of his closest friends,
he knew his words would be different if a friend were forced onto this same road.
"Comfort from my lips would bring you relief."
Job could only learn about pain by facing it.
And I think I can only learn about mine by facing it too.
Jennie Allen asked this question in my morning reading of her book,
"What if we just stop?"
"What if we wake up?"
And my other morning reading
(Wherever You Go There You Are)
included the statement,
"A good way to stop all the "doing" is to shift into the "being" mode for a moment."
Maybe that's why my granddaughter loved our tea party so much last night.
Delayed passports and visas have kept them at our home two extra weeks.
Saturday we say goodbye until Christmas and she and her parents head to France.
So last night we stopped.
She and my two daughter-in-laws and I sat around the table and drank hot pumpkin tea and ate homemade scones.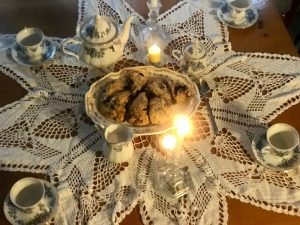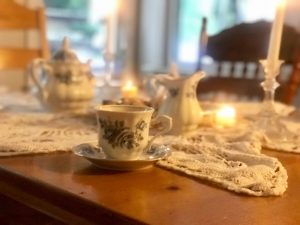 We used real china and I pulled out a hand – knitted table covering made by own grandmother.
A woman in my life story who never had trouble stopping anything to spend time with me.
She taught me how much family matters,
and I always knew her ear had time for my words.
I want to be the same kind of MiMi to my little Elaine.
I never want to be too busy for her.
Ever.
As I was thinking this morning about the art of "stopping,"
I remembered a therapy session with a little girl a few days ago.
We took a short walk,
found a few rocks,
and brought them in to the school to paint.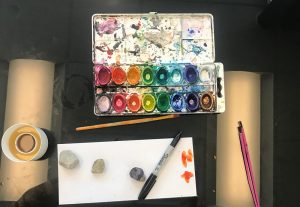 As we sat there talking,
all of the stuff in her life that is not-so-good melted away as she happily chose her favorite colors and even asked about mine.
Life stopped long enough for her to just "be."
 I think that's what we need every day too.
Time to stop and just "be."
Maybe that's why I love taking photographs so much.
There's something about pulling myself out of a moment long enough to capture it that helps me "be" in the moment in a deeper way.
Today, I hope each of you who read this have time to simply stop.
Lean back in your chair.
Close your eyes for a few seconds or minutes.
And just "be."
Breathe in slowly and exhale even more slowly.
Soak up the feeling of knowing who you are and whose you are.
"Be still and know that I am God."
Psalm 46:10
That's what He was talking about.
Stopping long enough to know.
You are His.
And He is here.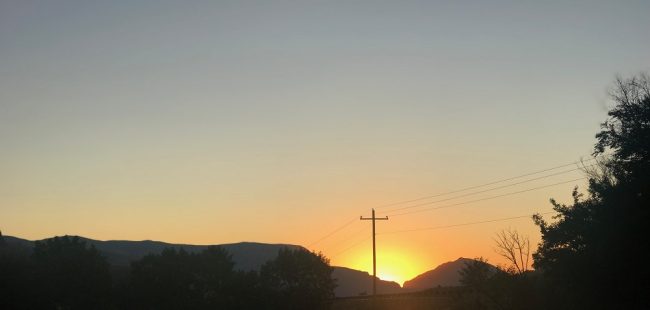 My husband has said it often,
"Things could be so much worse."
Even as Nick fought cancer,
we celebrated his lack of intense pain,
his joyful spirit,
his constant smile,
our friends and family who surrounded us with prayer and love 24/7.
In the midst of suffering,
there was always so much good.
—————-
This morning as I read Job 11-14,
it was very clear.
Job was in a rut.
Having a pity party.
Feeling as if God had hidden His face…..
forever.
"Man born of woman if of few days and full of trouble." Job 14:1
There was no indication that Job felt things could get any worse.
His friend Zophar wasn't much help.
"Put away the sin in your hand.  Allow no evil to dwell in your tent…….
THEN you will surely forget your trouble."
There's nothing like a friend who thinks you must be doing something wrong for your life to be so hard.
—————————
I've been where Job is this morning.
I've gone to bed sad and woken up even sadder.
I've felt as if the world was against me.
I've wondered where God is in my day-to-day life.
Life hasn't always been easy.
But I've also gone to bed sad and woken up thankful.
I've heard my husband's words,
"Life could be so much worse,"
and believed them.
I've taken the things in my life that are the most difficult to face
and I've somehow seen them as blessings.
I don't know how.
But I do know it's happened.
Time and time again.
Maybe that's why I fight so hard when something else is coming my way that I really don't want to face.
Deep inside I know I'll be okay.
Deep inside I know everything will work out for good.
In His time.
Like a toddler put to bed against his or her own wishes,
I've eventually fallen into a peaceful sleep.
—————————–
I'm not sure when this moment happens.
But it eventually does………
every single time.
When I face something tough,
I have to make a choice.
A choice I find difficult.
But a choice I never regret.
Ever.
I have to surrender.
I have to pry my fingers off of whatever part of my life I'm gripping so tightly my knuckles are white and my hands ache.
I have to let go.
And trust the One who holds everything in His hands,
more tightly and more securely than I ever could.
In January I chose the word "surrender" as my word for the year.
What was I thinking?!?
Arms open,
I gave God my entire life as 2019 began.
But if I'm 100%  honest,
I've spent the past 8 1/2 months fighting to get it back.
This morning as I read the words of Job and then read the next chapter in "Made for This,"
the book my Sunday school class is studying right now,
I was struck by a phrase Jennie Allen recalled hearing from a professor in seminary school,
"embrace the tension."
I've been sitting here for a while this morning thinking about those three words.
I am a "peace at all costs" kind of person,
so tension is something I avoid………..
whatever it takes.
Even if is means personal agony.
So embracing tension sounds dreadful.
But Jennie talks about the fact that no matter how difficult life may be,
God has given us enough to handle it.
Allowing the mystery of His will to run up against our own desires requires being okay with the struggle to make sense of it all.
I'm reading through another book right now on mindfulness called,
"Wherever You Go There You Are."
This book is all about paying attention to your heart and being still enough and brave enough to listen to it.
And maybe that's where everything intersects.
Job's still here.
Sitting in ashes.
Embracing the tension.
Fully being right where he is.
And that's where I want to be today.
A lot has changed in my life this year.
More change than I thought possible in a few short months.
I've fought a lot of it internally all along the way.
But day-by-day,
God has been doing His work while I've tried to stop Him.
And I'm finally reaching a place of peace again.
A peace that truly does pass understanding.
I'm not sure why I'm surprised.
One of my favorite passages is Philippians 4:6-7,
Do not be anxious about anything,
but in every situation,
by prayer and petition,
with thanksgiving,
present your requests to God. 
And the peace of God,
which transcends all understanding,
will guard your hearts and your minds in Christ Jesus.
How can I love a verse and not live by it?
I'm thankful this morning.
I see the cross in the Wyoming sunrise….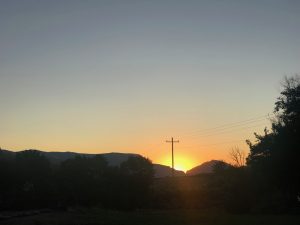 even when it's an electric pole positioned perfectly between two hills.
Perspective truly is everything.
I have so much to be thankful for even on the most difficult of days.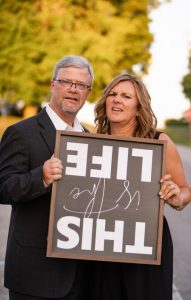 A little over a month before Nick passed away he was lying on the couch between me and my mom,
holding a cup of coffee and petting my mom's dog.
As we sat there in the quiet,
Nick rubbed Amber's head and said,
"Amber, this is the life."
It truly is.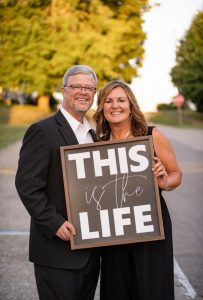 Don't waste one more minute.
Embrace the tension.
Sit in the ashes for as long as you need to.
And be fully present wherever you are,
giving thanks way before it makes sense.
Surrender it all.
And I promise,
 you will feel a peace that passes human understanding…..
in His time.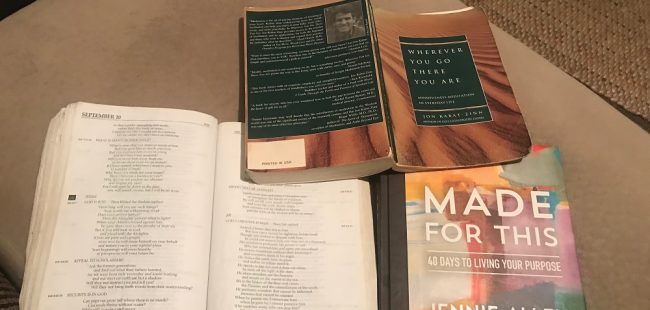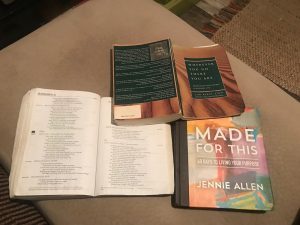 Here I sit again with Job,
listening to Bildad ramble on and on.
Don't people love to talk when someone else is struggling?
Like Charlie Brown's teacher,
Bildad's voice fills the air.
I can almost see Job using his hand as a puppet
to mimic the endless talking.
But did Job pause like I did when he heard these words……….
The one who forgets God relies on a spider web.
——————————
A frail string of webs
may stop a bug in mid-flight
but it will never support the weight of man.
—————————–
Help me, Lord, to trust in You,
not fragile things I can see and touch.
"Now faith is confidence in what we hope for and assurance about what we do not see."
Hebrews 11:1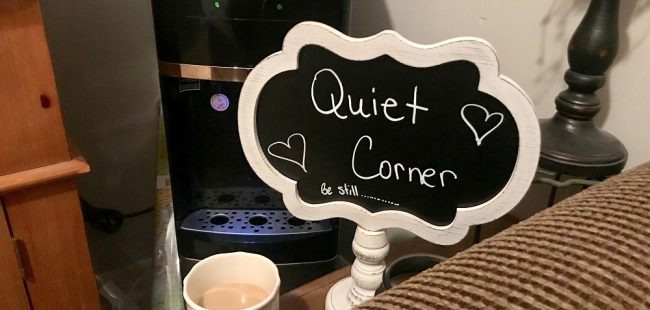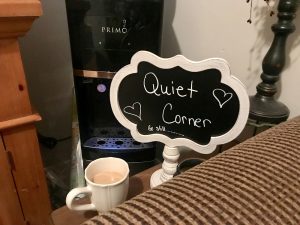 The sign reads,
"Quiet Corner"
and sits on the end table in our back room.
It has sat here all summer,
patiently waiting for me,
while my life has been anything but quiet.
From the loss of my dad
to the wedding of Todd and Jessalyn
to the temporary move-in of Erich, Mallory, and Elaine before they leave for France
to the moving far away of Luke and Olivia,
the past three months have swept my family up into a whirlwind and kept us spinning –
round and round.
Many things have settled down into a new, not-always-easy, kind of normal.
Some are still spinning.
But I knew my heart could spin no longer.
It was time to face the one spot I've avoided all summer long –
for fear of what my heart might say.
Because sometimes when you wonder what just happened,
you honestly don't want to know.
So much is different these days.
So many times I want to send a text then remember all over again –
the person who should answer isn't able to anymore.
The silence is deafening.
The packing and unpacking of boxes,
the shifting of rooms,
my house has been a turn-style door of change.
In the back of my mind I've wondered what was happening in the Bible
to men like David and Solomon,
but sometimes life is just too busy to care.
And if I'm really honest,
I haven't missed the battles of the Israelites.
My life has had enough battles of its own.
Old Testament sacrifices don't hold a candle to the letting go of a child called to ministry many miles from home.
I'd put a cow on an altar any day.
So it took a determination deeper than any I thought possible to set my alarm for 5 a.m. this morning…..
and have the courage to sit down next to this sign,
"Quiet Corner……Be Still."
Running is so much easier.
——————
I pulled out my old chronological Bible last night…….
the one with dates marking each day.
Like every other aspect of my life,
I knew my morning routine needed a change in order to get back on track.
And wouldn't you know,
I get to visit Job all over again.
Of course.
I'm convinced God has a sense of humor.
And sometimes it seems kind-of dark.
September 9th is one of those days.
But I read it anyway.
God also has a way of making His point.
——————
Headings like "Expectancy of Hardship,"
"Everyone Has Trouble,"
and
"Bitterness of Pain"
weren't on my list of inspirational hopes this morning.
But here I sit –
wondering what just happened to Job
and what just happened to me.
———————–
Job wrestled with God a long time before life made sense again.
Why do I think I deserve a short cut?
King's Island may sell a fast pass for those who don't want to wait in line,
but life doesn't come with the same kind of offer.
And quiet corners don't either.
They also don't come with remote controls that fast forward past the pain.
They just come with space to feel it.
And I think that's what I've been trying to avoid.
So this morning, like my good friend Job,
I'll sit for a while in the ashes.
And tomorrow I will too.
As a matter of fact,
I'll sit here as long as I need to.
Because when you wonder what just happened,
you need time to figure it out.
And if there's one thing God offers freely every morning,
it's just that.
TIME
Jacob, just like Job, wrestled with his life too.
And he didn't stop until he received a blessing.
I'm finally feeling strong enough to wrestle that long myself.
So if you pass by me today as I venture back to work
and I seem a little preoccupied,
just know a big part of my heart is at home –
in my quiet corner,
sitting in ashes,
wrestling with God.
Because when you wonder what just happened,
it's okay to take your time coming up with an answer.
(Today's reading was from Job 4:1-21; Job 5:1-27; Job 6:1-30; and Job 7:1-21.)