 Everything seems better when the sun is up, doesn't it? The neurosurgeon on-call came to see Nick this morning and explained that post-op seizures are not "shocking" to them like they are to us. He was very calm. He asked Nick what his phone number was and where he was and Nick could answer both questions easily. Nick does have a fever of 101.4, so they want to take a look at this for a day or so. He still isn't what I would call "my old Nick," but they have him on two medicines which can cause him to be a little sluggish and we think that may be part of the reason. I did ask him what he would say if I shared a "shout out" in an email, and all he said was, "I WANT TO GO HOME!" That made us all smile! Thank you to everyone who has sent encouraging emails and words of prayer. Scriptures always mean the world to me too! They always come at the perfect time! Thank you to everyone who is helping out with Todd and Olivia! Thank you so much!- Ignored: I am heading back up to Nick's room, but I wanted to send a quick update while I was out. Thankful, Tammy and Tim www.nick7-11.zoomshare.com Dear Prayer Warriors,
Thank you for your prayers and all of your emails of encouragment….I am sorry I can't reply to all of them right now. I slip out to send an update and use a computer that can only be used for a limited time, but I read EVERY email that is sent and they make me smile!
We don't feel alone!
Nick has slept all morning. After our trauma this morning with Nick's IVS, I am thrilled to report that his antibiotic continued to go in smoothly with the heating pad and slower pace. When Dr. Kosnik (Nick's brain surgeon) stopped by, I asked him about Nick's IVs and he told the nurse, "Pull them out." I love that man!!!!!!!!!!!!!!!!!!!!!!!!!!!!!!!!!!!!! I also love our nurse! Super Donna is back from last night, and she is hilarious! She has kept us laughing.
Earlier another doctor came in while Nick was sleeping and saw our little signs hanging on Nick's bed that said, "Nick is 13!" AND "Happy birthday, Nick!" She made a sad face and said, "It's his birthday." I just nodded. Then I kind-of grinned and whispered, "Not really…we just did that for sympathy." And then told her I was kidding. She started laughing, and mom said we should have a basket for gifts. She thought that was so funny and told Donna to get a bed pan! Donna went and got the oldest bed pan style she could find and the doctor taped Nick's sign to it and Tim threw in a couple of dollars. Then Donna went and got a dollar to put in it! It was so funny!
As the doctor left, she said, "Can I get you anything?" I just said, "An audience!"
Oh, what a nice break from all of the tears yesterday!
Nick now has one IV out and as I left to send this the other was getting ready to come out. We ordered breakfast and after he eats we will go down to 3TS. I'll let you know the room number when I find out. Last night, Nick was eating a bowl of cereal and said, "I don't mind being here with the free food…it's good." We cracked up. Dr. Kosnik said that Nick looks good!
He is pleased!
I need to get back up to the room. Keep praying!
Keep those thumbs up! We love you all so much!
Those who wait upon the Lord shall renew their strength! We just keep waiting! First of all, THANK YOU to everyone who posted such encouraging notes to me. I was blessed as I read each one! When things slow down I will visit with you more. I am in the ICU waiting room and wanted to post a quick note to let you know that Nick's surgery took 5 hours and 15 minutes, but he did great!
The doctor was able to remove the entire tumor as well as another tumor that had grown under his scalp just beyond the internal tumor. Whew! His head has stitches from one ear up over his head and down to the other again…. it just breaks my heart.
However, NICK IS AMAZING!!!
Only five hours after the surgery was complete, he had eaten an entire chicken and cheese quesidilla! We can't believe it! He keeps slowly lifting his head and turning it from right to left to show us how strong he is! It is precious.
As we face the next few days, it is certainly a faith walk. We just don't know what the future holds….but then again,
WHO DOES!?!?!? I have to keep reminding myself that today is all ANY of us are promised and that we must cherish each day and live it for God! Yes, I have cried…A LOT….today, but I know deep within my heart that God loves Nick and He loves me.
Oh, thank you for your prayers! Thank you so much!!
Please continue to pray for our little man!
Blessings, Tammy
I love this quote someone gave me on a little pillow – "Faith begins where reason ends." Our ability to reason through this ended LONG AGO!!!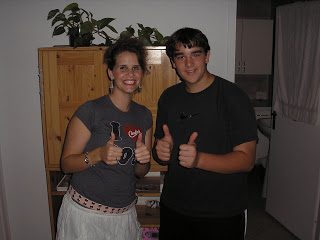 Thumbs up!
This picture was sent to me all the way from Hungary where my dear friend Donnette's daughter is doing a one-year internship with her husband David. This picture is actually Deborah and her brother-in-law, Aaron. They are showing their love, support, and prayers for Nick all the way from the other side of the world!
This journey with Nick as had so many moments just like this one. Times when God reminded me that we are not fighting this battle alone. To see more about Nick's story, you can go to his website, www.nick7-11.zoomshare.com, and see many, many amazing pictures of God's people showing their love to Nick.
Be sure to look for the picture of the cloud my mother saw while driving to our house to begin Nick's radiation! It is a perfect thumbs up! Also, look for Sarah's ultrasound picture where her new little baby sends an amazing thumbs up from within the womb!
This list goes on and on………
God is with us. For tonight, that's all I need to know. Living with a child who has cancer is not always easy, but living with a God who promises to meet our every need is ALWAYS EASY!
I hope that you live a life with God right in the middle of it! If not, please email me. I want to help you find your way to Him! In the end, that's ALL that matters!!!!!!!!!