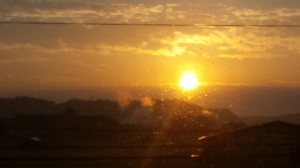 I have a lot of friends who are struggling this morning.
Friends who are facing loss, disappointment, regret, fear, and loneliness.
As I watched the sun come up over the clouds just beyond our house, I couldn't help but think of each of them and how difficult it is in life to face a new day when so many things seem so unbearable.
It occurred to me that if I could not see the sun rising, it would be nearly impossible to experience the wonder and beauty of the sunrise.
In our spiritual lives, the same principle applies.
Facing dawn and seeing the beauty in it becomes easier when we have a good view of the Son.
If you're struggling to find the beauty in today, turn to Him for help and hope.
His mercy and love are new every morning. He is faithful.
The steadfast love of the Lord never ceases;
his mercies never come to an end;
they are new every morning;
great is your faithfulness.
Lam. 3:22-23
Praying for so many this morning who are hurting and wondering what is next in life.
Comforted with the knowledge of God's love and faithfulness and His desire to work good in all things