Stepping into an elevator full of people I'd never met,
I wondered how I'd ended up here.
A new job.
A new training.
A new world full of rules and expectations.
I smiled at the faces standing all around me and wondered,
"Are they thinking these very same thoughts?"
As the day passed by,
I learned a few names and heard a few stories,
but deep inside I felt all alone.
It's hard to face new beginnings in the middle stage of life.
___________________
Driving back to training on the second day,
I had KLove playing on the radio.
A song began to play that I had never heard before in my life.
I could feel every part of my heart warming up as I listened to Micah Tyler sing these lyrics,
I don't wanna hear anymore
Teach me to listen
I don't wanna see anymore
Give me a vision
That you could move this heart, to be set apart
I don't need to recognize the man in the mirror
And I don't wanna trade Your plan for something familiar
I can't waste a day
I can't stay the same
I wanna be different
I wanna be changed
'Til all of me is gone
And all that remains
Is a fire so bright
The whole world can see
That there's something different
So come and be different
In me
And I don't wanna spend my life stuck in a pattern
And I don't wanna gain this world but lose what matters
And so I'm giving up everything because
I know, that I am far from perfect
But through You, the cross still says I'm worth it
So take this beating in my heart and
Come and finish what You started
When they see me, let them see You
'Cause I just wanna be different
I just wanna be different
So could You be different
In me
_______________________
This morning my daily Bible reading was from Esther……….of all books.
"And who knows but that you have come to your position for such a time as this?"
Esther 4:14
Did Esther ever toss and turn at night?
Did she ever wonder if she had bit off more than she could chew?
Did she ever second-guess her footing?
Did the path she had chosen ever hurt her feet?
______________________
I'm so thankful Esther kept walking.
I'm so glad she didn't run from the mission God assigned her.
And I'm so humbled that the Creator of our entire universe takes time to send song lyrics and Bible stories just when I need them…………….
Whether you turn to the right or to the left,
your ears will hear a voice behind you, saying,
"This is the way;
walk in it."
Isaiah 30:21
_______________
When Nick was sick, I leaned on so many verses to carry me through all the things I was forced to watch Nick face……….
MRIs
Chemo treatments
Transfusions
Surgery after surgery
But when Nick passed away,  Isaiah 42:16 rose to the top……….
I will lead the blind by ways they have not known,
along unfamiliar paths I will guide them;
I will turn the darkness into light before them and make the rough places smooth.
These are the things I will do;
I will not forsake them.
_____________________
I'm slowly learning that life is a series of unfamiliar roads,
but God is always just ahead.
Leading
Guiding
Sometimes pushing
Sometimes pulling
But always………..
Comforting
Shaping
Stretching
Transforming
And if I lean in to these scary, rough, uncomfortable paths
and fully embrace the mystery of the journey………..
And if I take a good, long look at the rocky road under my bare and often aching feet,
Love is there too.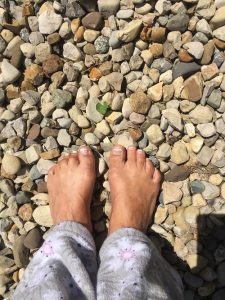 So this morning as I head to day four of new information and new faces on this wild ride called "life,"
I'm sure this is the direction God has pointed my life for now.
And He's saying,
"Walk confidently.  I am with you.  Every step of every day."
If you're finding yourself on a rough road this morning,
and so many in this world are on the rockiest of roads right this minute…………
listen for His voice,
look for His love,
"let the whole world see that there's something different in you"
And who knows?
You may be on this rocky road for such a time as this.