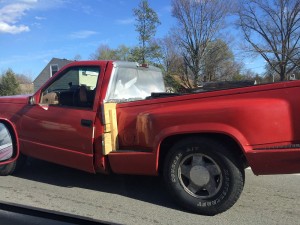 Who drives a vehicle in this kind of shape in city traffic and doesn't expect to be noticed?
Bent to the point of breaking.
Held together by materials not normally found in a vehicle-manufacturing assembly line.
Rear view blocked by plastic and duct tape.
An accident waiting to happen………………again…………….
because there's no hiding the pain of past accidents when you hold on to something like this.
And then there's me.
Often this bent………….
this haphazardly held together…………
unable to look back clearly…………
an accident waiting to happen…………
because I'm holding on to something.
Something that needs to be released.
Pried from my grip.
———————————
Hurtful words
Unkind actions
Disappointment
Grudges
Regret
Control
——————————-
The list goes on and on of all the things I've been guilty of "holding on to" much longer than I should –
as if holding on to them makes them safe.
The truth is,
I'm dangerous when I hold on to feelings of dislike or anger or any other negative emotion.
I'm like a truck held together by screws and wood.
I'm like a truck with no back window.
There's no hiding the ugliness of clinging to things that make me feel so broken.
Thoughts creep up and words spew out and before I know it,
 I'm the one causing the pain.
I'm the one forgetting the past and how I've been the one who was so wrong…………….
time and time again.
Maybe humility comes from looking in the mirror and seeing the bent and broken side of my own life.
Maybe it's my own "selfie" I need to critique.
Maybe it's finally seeing all that needs to be released from my own grip that makes me realize I'd better only be holding on to things that are carrying me in the direction I want to go.
When I wrap my mind around just how messed up I am,
I'm finally able to love more deeply and forgive more quickly.
I'm able to see the brokenness in others not as a fault but as a common bond.
Because we are all so broken.
And maybe, just maybe, the desire to take a picture of someone else's vehicle that seems so out of place on a city street turns into shame as I realize someone could easily be taking a picture of me………………
and pointing out my flaws.
It's a complicated world we live in.
We get hurt by the actions and words of others
then turn around and hurt someone else by the very things we do and say.
We are disappointed by the decisions others make
then walk away and make poor decisions ourselves.
The tightrope of expectations I put on others
becomes the very balancing act I hate in my own life.
I'm so glad Jesus sees the broken-to-the-point-of-breaking side of me and says,
"I love you………. still."
I'm so thankful His mercy holds me together when my boards break and my screws fly.
I'm so thankful He sees my past and says,
"Don't look back any more………….."
I've got a long way to go in becoming the person I want to be,
and I'm so thankful today for broken trucks still barreling down roads…………………..
and how they remind me of my own brokenness and the truth that I need to be sure I let go of every single thing that is keeping me from moving toward the person I want to become.
Close your eyes for a minute.
Think about the people in your day-to-day life.
Are there people who have hurt you?
disappointed you?
let you down?
Release the hurt and pain today.
And in that release,
release them to be loved by you.
After all, we can only be loved and forgiven and understood at the level
to which we are able to love and forgive and understand others.
Stop taking pictures of the brokenness around you
and begin noticing all the places where you need to be restored.
Look in not out.
First clean the inside of the cup and dish…..
Matt. 23:26
I knew the minute we passed this truck that God had something to say to me………………
I just wasn't sure what it was until I started writing.
Forgive me, Lord.
I am so very broken.
Help me let go of all the things that are unable to carry me in the direction I want to go.