Well, today's the day!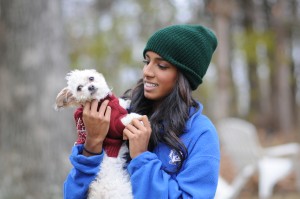 Seventeen is Olivia's new sixteen, and the age of  legal "adulthood" is only one year away for our youngest child!
I remember this birthday very clearly in my own life, and I remember feeling, for the first time ever, like I was getting "old."
I also remember churning inside with both excitement and fear.
The reality of a life outside the safety of my parents loomed closer than ever before,
and "what I was going to be" or "where I was going to go to college" seemed to be questions that came up often in conversations.
Olivia and I talk a lot about what she wants to "be" and where she'll go to college.
These are life-changing decisions.
But, we also spend a lot of time talking about who she is right now.
And maybe, just maybe, that question is more important than any other question in her seventeenth year of life.
So, today, as I think about Olivia blowing out candles on her birthday cake and making a birthday wish, I think about what I would whisper as a wish for her if my wish would count.
When I think about whispering wishes as her candles flicker away, I also think about the many girls I work with at church and school as well as all of Olivia's friends; and I realize that my wishes for them would be exactly the same.
I wish for Olivia (and all other teenage girls) a year of figuring out exactly who they are-
a year of developing a deep awareness of all that is stored deep inside them that God longs to develop and use to make this world a better place.
Can you write?
WRITE!
Can you encourage?
ENCOURAGE!
Can you sing?
SING!
Can you play an instrument?
PLAY!
Can you dance?
DANCE
Can you paint?
PAINT!
Can you draw?
DRAW!
Can you listen?
LISTEN!
The list goes on an on…………………..
I wish for you a year of deep, unending joy.
I wish for you a year of laughter.
I wish for you a year of love .
I wish for you a year of looking in the mirror and knowing that who you see is perfect and beautiful in the eyes of God…..and that's really all that matters.
I wish for you a year of seeing life through the eyes of others and being filled with compassion for them because of what their view of the world might be.
I wish for you a year of knowing that life is short, fragile, and precious.
Make every minute count.
Spend quality time with friends.
Create memories that are fun and pure and innocent.
Reach out to others who may need a friend just like you.
Live every day in such a way that people will be drawn to Jesus by what they see in you.
I wish for a you a year in which you are fully present in every moment, not looking back with regret or ahead with fear.
I wish for you a year of kindness and contentment.
Girls can be mean.
Working with teenage girls and being a mom, I see it and hear about it in some fashion almost every single day.
Don't be a mean girl.
Don't exclude.
Don't ignore.
Don't judge.
Don't put up walls.
Don't elevate yourself in order to lower someone else-it truly only lowers you.
Don't compare.
Don't over-analyze.
Don't assume.
Don't dwell on the words and actions of others.
Don't try to fix anyone but you.
Don't control.
Don't complain.
Don't be sarcastic.
Don't tear others down thinking that in some way this builds you up………it doesn't.
Don't rush today in order to get to tomorrow.
Put others first, and you'll never feel last.
BE NICE.
BE SWEET.
BE REAL.
BE AUTHENTIC.
BE TRANSPARENT.
BE WILLING.
AND ALL THE WHILE,
BE STRONG!
BE BRAVE!
BE CONFIDENT!
BE DARING!
BE ADVENTUROUS!
Never forget that you are living a life today that will become a legacy in the future.
What do you want your legacy to look like?
How do you want to be remembered?
What mark do you want to make on this world?
To Olivia and all teenage girls who may read this post,
Be the best version of you that you can possibly be, and everything else in life will fall beautifully into place…..in His time.
I thank my God every time I remember you.
 In all my prayers for all of you,
I always pray with joy ………… being confident of this,
that he who began a good work in you will carry it on to completion until the day of Christ Jesus.
Phil. 1:3-6
Happy 17th birthday, Olivia Faith-Pallavi Nischan!
I hope this is your best year ever!!
I love you!