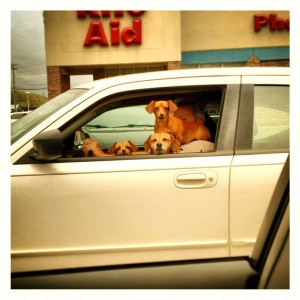 I'll never forget the day I pulled up next to this car  on my way home from work.
Glancing to my right at a stop light, I saw these little guys looking my way.
I couldn't resist rolling down my window and asking the gentlemen behind the wheel if I could please take a picture.
I heard a muffled, "Yes," from somewhere behind the pups.
A muffled "yes," because the very thing he loved kept him from speaking clearly.
No eye contact.
No connection.
Just a muffled, "Yes."
When I look at this picture, I see myself hidden behind those pups,
driving through life with a limited view.
I wonder sometimes what's propped up on my shoulder, "wallering" in my lap, keeping me from seeing.
Really seeing.
Sometimes it's things as cute as these pups.
Other times it's things not quite so cute.
All I know is this,
I want to see.
I want my eyes wide open.
I don't want to miss the person to my left or my right who may need me.
I don't want to live my life looking straight ahead or straight down.
I want my head up, my peripheral vision free from blinders.
I don't want to miss today.
I don't want to miss the people right next to me.
I'm asking God to remove anything that blocks my view from hurting eyes, lonely faces, broken hearts.
I'm asking God to help me see clearly what He sees.
I don't want to get to the end of everything and learn that I drove through life but missed the world.
When asked to be the hands and feet of Jesus,
I want to reply with more than a  muffled, "Yes."
I John 3:17
If anyone has material possessions and sees a brother or sister in need but has no pity on them,
how can the love of God be in that person?