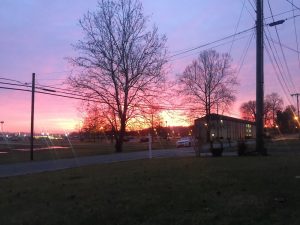 "Teach me and I will be silent.
  Help me understand what I did wrong."
Job 6:24
I love Job's honesty.
I guess because I've felt the very same way.
Had the same requests.
Longing to understand where I slipped up.
Beating myself up for every shortcoming.
Convinced my pain was deserved.
____________________________
Grief has a way of playing games with your mind.
Sending you backward  to every little decision before the day of your most painful loss.
Surely a good God wouldn't have led me here?
And if He did, there had to be a reason.
So it's easy to go to the exact same place as Job.
Owning it all.
As a result of our own actions or lack of actions.
Because the only other option seems to make God look bad.
And who wants that?
It took me a long time to come to the place where I removed the blame from myself…..
and finally from God.
The giver of good gifts surely doesn't choose to take them all away.
I'm slowly making peace with my pain.
Trying to see the big picture.
And even though the loss of my daughter…
and then my son….
still takes my breath away,
I'm trying to look beyond my heartache.
To the enemy.
The one is alive and well
and against me,
just as he was against Job.
He's the one who steals, kills, and destroys.
"Whatever it takes."
This must be his motto.
I'm so glad Job, a man who served God with every inch of his heart and soul,
forgot about him for a while too.
It's easy to forget about the enemy when he's not knocking on your own front door.
I'm also thankful God wasn't afraid to keep this emotional struggle in the pages of Bible history.
He didn't need to "clean up the story" so we would always feel good.
Christianity isn't about feeling "safe" or "off the enemy's radar."
Christianity is about choosing God –
no matter what.
Job has a lot more wrestling to do in his grief journey before his story comes to an end.
And honestly, I do too.
But that's what I love about God.
He's okay with that.
He's not afraid of our fists waving in the air.
Or our feelings of separation from His love.
He's big enough to handle our darkest thoughts.
And He's brave enough to stay close –
even on the days we do everything within our power to push Him away.
The LORD is close to the brokenhearted and saves those who are crushed in spirit.
Ps. 34:18
Today, if you're feeling crushed by the pain of loss,
He understands.
And He's right there.
Ready to lift the burden.
But not before you're ready.
So don't rush grief.
But don't run from it either.