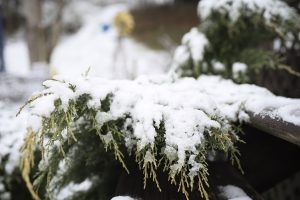 Being anointed doesn't always mean you're loved,
and David learned the hard way that becoming king would take much more than the words,
"God chose me."
The entire first half of First Samuel tells of David's attempts to run from Saul,
who wanted him dead………
not crowned.
Even after Saul's life ends,
David finds himself in great danger.
His very own son, Absalom,
tries to overtake the throne,
and David finds himself on the run again –
hiding in caves all along the way.
Yes, David was the king,
but much like people in high profile positions today,
he needed body guards –
men who would risk their own lives to save his.
Benaiah had made a name for himself as a great warrior;
and because of this,
he was chosen to lead all the men who had been selected to keep their king safe.
Such were the exploits of Benaiah son of Jehoiada…………………..He was held in greater honor than any of the Thirty…….And David put him in charge of his bodyguard.
II Sam. 23:22-23
What did Benaiah do to stand out in such a mighty way?
What set him apart from the other men in the very same chapter who had done great things?
Josheb had killed eight hundred men in one battle. (vs. 8).
Abishai took the lives of three hundred men just by lifting his spear. (vs. 18).
When David became thirsty,
one group of men risked their own lives sneaking into enemy camp for a glass of water (vs. 16).
Yet out of all of these men,
David chose Benaiah to lead.
Maybe that's why there is such a vivid description of what he had done.
After all, any of the men above could have surely killed a lion after all they had done.
But right before Benaiah is selected for this honorable position, Scripture says,
"Then Benaiah the son of Jehoiada,
the son of a valiant man of Kabzeel, who had done mighty deeds,
killed the two sons of Ariel of Moab.
 He also went down and killed a lion in the middle of a pit on a snowy day."
2 Samuel 23:20
In the King James Version, this verse has more meaning.
And Benaiah the son of Jehoiada, the son of a valiant man, of Kabzeel, who had done many acts, he slew two lion-like men of Moab: he went down also and slew a lion in the midst of a pit in time of snow."  KJV
The Hebrew word for "men" (ariyel) used in this verse is only used one other time in the whole Bible,
and it is in I Chron. 11:22 when the same story is retold.
This word literally means "lion-like."
Benaiah, after killing two men who were literally like lions,
was able to go into a pit on a snowy day and actually take down this very kind of animal…….
all by himself.
Pits are scary.
Getting out is nearly impossible,
and a lion that has fallen into one is probably not the happiest animal to join.
Add cold weather, slippery conditions, and low visibility from snow,
and this pit experience was a challenge not many would be willing to accept.
But Benaiah, who had already been successful when up against two lion-like men,
entered the pit
and faced a lion
on a snowy day.
One tiny verse holds such a big message.
There will be days, maybe even weeks or years,
where we feel as if we are in a pit on a snowy day.
Trapped.
Alone.
No way out.
Cold.
Feet on slippery ground,
with a distorted view of God because of all the things
falling down around us like snow.
In these seasons of life,
it's easy to forget we're not alone
because a pit seems like quite enough to handle,
but Peter warns us,
"Be alert and of sober mind.
Your enemy the devil prowls around
like a roaring lion looking for someone to devour."
I Peter 5:8
Isn't this the way it goes?
Just when we think we've reached our limit,
the last straw,
the end of our rope,
we turn around to find ourselves up against even more.
Doesn't the devil love to attack when we're in our most vulnerable position,
trying to face already-dark days?
Maybe we're grieving and the wrong words are said by a friend or family member.
Or we're at the end of a long day at work,
and an email arrives that pushes every button in our soul.
Or we're feeling incredibly lonely just as we scroll through photos of an event we weren't invited to attend.
The list goes on and on.
The enemy works from a low-grass perspective.
Why go after our head when he only needs to reach our heel?
There are all kinds of pits we can fall into as we walk through life.
The pit of fatigue.
Despair.
Rejection.
Disappointment.
Fear.
And Benaiah reminds me this morning of something I don't ever want to forget.
I will sometimes have to face even more in these pits than the darkness,
because I have an enemy who loves to meet me in these very places
where my power feels limited,
my footing is unsteady,
and my view of God is blurred.
In these moments,
I want to remember what Benaiah knew.
Even at my weakest,
I can successfully face the strongest spiritual attacks.
You, dear children, are from God and have overcome them,
because the one who is in you is greater than the one who is in the world.
I John 4:4
And I have the only weapon I will ever need………….
no matter the depth of the pit or the conditions in it.
"For the word of God is alive and exerts power and is sharper than any two-edged sword and pierces even to the dividing of soul and spirit, and of joints from the marrow, and is able to discern thoughts and intentions of the heart."
Hebrews 4:12.
"Take the helmet of salvation and the sword of the Spirit, which is the word of God."
Eph. 6:17
(Today's reading was from II Sam. 5:1-10; I Chron. 11-12;  and Psalm 133.)