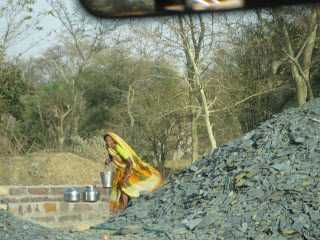 And this same God who takes care of me will supply all your needs from his glorious riches, which have been given to us in Christ Jesus.
~ Philippians 4:19, NLT
If I could say anything to the people of India, this verse probably sums it up.
When I witnessed this precious woman standing literally on the brink of a very, very deep well lifting bucket after bucket of water to fill her pots, I couldn't help but think of the time when Jesus met the woman at the well and offered so much more than water……
I just thought of her today and wondered what she was doing…..
Wondered if she will ever know about the Living Water…….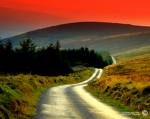 Therefore, we who have fled to him for refuge can have great confidence as we hold to the hope that lies before us.
~ Hebrews 6:18, NLT
I read this verse yesterday and WOW! I just kept reading it over and over and over……
"We who have fled to Him for refuge"….that would be me and you! Any of us who have turned to God in our times of fear, grief, anxiety, loneliness, betrayal……"WE WHO HAVE FLED TO HIM FOR REFUGE"…..
"Can have great confidence"…..not just confidence but GREAT confidence….not the thought that "maybe God will be there for us "but the knowledge that HE is there for us….not wondering but KNOWING…..not even "hoping" as we often use the word hope….like when we say, "I hope He comes through for me or I hope God answers my prayer"……."WE WHO HAVE FLED TO HIM FOR REFUGE CAN HAVE GREAT CONFIDENCE"….
"As we hold to the hope that lies before us…." So we're holding on. That's where our great confidence comes from……the fact that we KNOW that there is something that lies before us that is amazing, wonderful, worthy…….THE HOPE….
And then Hebrews6 goes on to say.
19 This hope is a strong and trustworthy anchor for our souls. It leads us through the curtain into God's inner sanctuary. 20 Jesus has already gone in there for us. He has become our eternal High Priest in the order of Melchizedek.

Even the Hindu religion uses a curtain to separate the worshipers from the high priest. We attended a Hindu worship service and I was amazed to see the curtain drawn until the service began and then the opening of the curtain so that the people could watch a Hindu priest perform a ritual of smoke and fire on the Hindu god. It was very sad to see so many Indian people clamoring for just a glimpse into this shrine that represented one of thousands of their gods. A god that offers no hope.

And yet we have the blessing of KNOWING JESUS, the author and perfecter of our faith, THE HOPE……and the curtain has been torn that once separated us from the throne of grace…which we are told in yet another passage can be approached with….

YOU GUESSED IT!!
CONFIDENCE!!!!!!!!!!!!!!!!!!!
So I recalled a couple other verses that are so packed with power as I thought about "the hope that lies before us!"
Romans 5:1-8

1Therefore, since we have been justified through faith, we have peace with God through our Lord Jesus Christ, 2through whom we have gained access by faith into this grace in which we now stand. And we rejoice in the hope of the glory of God. 3Not only so, but we also rejoice in our sufferings, because we know that suffering produces perseverance; 4perseverance, character; and character, hope. 5And hope does not disappoint us, because God has poured out his love into our hearts by the Holy Spirit, whom he has given us. 6You see, at just the right time, when we were still powerless, Christ died for the ungodly. 7Very rarely will anyone die for a righteous man, though for a good man someone might possibly dare to die. 8But God demonstrates his own love for us in this: While we were still sinners, Christ died for us.
Isaiah 49:23
Then you will know that I am the LORD;
those who hope in me will not be disappointed.
And after reading these I just sit back and think WOW! all over again.
For some reason, God has called me to a life of "disappointing circumstances," but I feel He has "appointed" me to share THE HOPE that does not disappoint.
So, today, as we celebrate Tim's 44th birthday and reflect on the 17th anniversary of the loss of our daughter (she died of SIDS on the morning of Tim's 27th birthday) and as we enter the month of May tomorrow and head towards Nick's 14th birthday on the 22nd……knowing he will celebrate it with Adrienne and with Jesus, I can't help but feel a sense of earthly disappointment….
BUT,
Believe me when I say that the hope that comes from God does not disappoint!!
I am able to write to you today because of this deep-rooted confidence in
"the hope that lies before us!!"
Jesus will return or I will go to Him one day – I just don't know which will come first – We all will!
And immediately we will understand and KNOW and EMBRACE Jesus Christ…
THE HOPE!!!!!!!!!!!!!!!!!!!!!
Praying for all of those who do not have THE HOPE,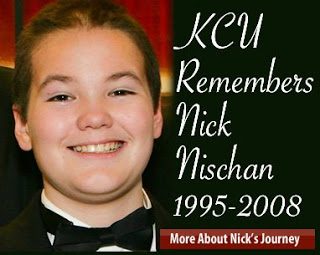 THE FOLLOWING ARTICLE WAS WRITTEN BY LARRY MARSHALL, THE ALUMNI DIRECTOR AT Kentucky Christian University where my husband is a professor.
I read it recently and it touched me so deeply that I had to share it…
I WISH I HAD KNOWN
NICK NISCHAN
From the title, I assume you know from the outset that I never actually met Nick Nischan. His family arrived at my alma mater just after I graduated, and I only casually met his dad on random visits back to the university. But where the title of my thoughts tonight might mislead a bit is that I feel like I know Nick Nischan, especially after the events of the past few days.
Nick's funeral celebration was this afternoon in a crowded church of family and friends. His battle with brain cancer for the past 6 years of his life has been well documented in this little corner of the the world, though his influence has gone far beyond Eastern Kentucky.
For the past several years before I arrived back at my alma mater to assume employment, I had heard about this kid named Nick. What set him apart was not that he was dealing with a sickness that was robbing him of being, in a physical sense anyway, what any 13-year-old boy wanted to be. But words that I had always heard were "courageous," "inspirational," "brave."
After the events of the past few days, I can only assume that was all true. As I sat through the funeral – which was actually more of a celebration service – I heard those descriptive words used over & over again by the several who spoke at the service. I can't imagine the funeral service for one of my own children. But to actually get up and speak…..remarkable. And yet, both Dad & Mom took their turn. I wish I could script out for you their words….it was beautiful, well-said, and very touching. I'm beginning to sense that this remarkable little boy was one of those "apples that didn't fall far from the tree" as they say. Nick's mom, Tammy, is a prolific blogger, and has been documenting this 6-year journey at http://www.tammynischan.blogspot.com/and it wouldn't surprise me if she posts the manuscripts of both her talk and Tim's. If you get a chance to read some of her posts, it won't be a waste of your time.
The service itself was as unique as the life it commemorated. The four-piece band did an instrumental version of Audio Adrenaline's 'Big House' as a prelude. I didn't put two and two together at first. But if you know the song, the lyrics refer to the "big, big house, with lots & lots of room…with a big, big yard, where we can play football." Nick was a huge football fan, and reference was made later in the service to Nick playing football in that big, big yard at his father's house. I don't know if the Audio A guys ever dreamed that song, or any of theirs, would be used at a funeral. But it was perfect. In fact, it was used as an invitation song at the end. Again, this won't show up in any handbook on how to perform a funeral (neither would the video tribute to Nick sent from Chuck Norris!). But Nick's life was celebrated tonight much like it was lived. Full of life. Taking advantage of every opportunity and every moment. Pointing to Jesus all along the way.
I never knew Nick Nischan. But in a whole lot of ways, I feel like I know him now. I just wonder if any of us will leave a legacy after we're gone like this 13-year-old inspirational young man.
Below is a link to a very good article written by our college president about Nick and his family's journey. (You may have to copy and paste the web address below into your web address line in order to get to the story.)
http://www.kcu.edu/template.php?area=&page=nick_nischan&PHPSESSID=aba4f6c64604653a26af35f71a685fb8 1 Samuel 15:21-23 (New International Version)
21 The soldiers took sheep and cattle from the plunder, the best of what was devoted to God, in order to sacrifice them to the LORD your God at Gilgal."
22 But Samuel replied:
"Does the LORD delight in burnt offerings and sacrifices
as much as in obeying the voice of the LORD ?
To obey is better than sacrifice,
and to heed is better than the fat of rams.
23 For rebellion is like the sin of divination,
and arrogance like the evil of idolatry.
Because you have rejected the word of the LORD,
he has rejected you as king."
This verse jumped out at me this morning as I was making my way through the Old Testament……………
I guess because I long to give God my life, my praise, my everything…….
But then I read verses like the ones above and think, "It's not just about giving Him my life. It's about obeying His commands."
See, God had specifically told Saul to destroy everything in this city. Saul had decided to keep "the best of what was devoted to God." And when Saul was questioned about this decision, he insisted that they had only done this in order to present these "prizes" as sacrifices to God.
I don't know if Saul really meant that or if he just made it up under the pressure. I don't know if Saul really understood what it meant to OBEY God fully. He seemed very comfortable with listening to God's orders and then changing them around a bit.
Whatever the case, God told Saul one thing and he chose to do another.
And Samuel let Saul know that God longed to be obeyed much more than He longed to be the receiver of burnt offerings and sacrifices.
If you notice, the time that I started writing this particular blog was Monday morning. The day was filled with cleaning, running errands, a tennis match, and other normal "mom stuff."
So, I decided to finish my blog post later in the day.
Well, I guess God really wanted to drive home the truth that He longs for obedience much more than sacrifices before I finished writing on these verses, because after school I had one of those "not-going-to-listen-to-you-defiant" moments with Olivia that just made my blood boil.
It wasn't even that big of a deal…….(the situation)
It was just her spirit that got to me……
That "I'm not listening to you, I'm walking away from you, I don't care what you say kind-of attitudes."
EWWWWWWWWWWWWWWW!!!!!!!!!!!!!!!!!!!!!!!
I even said to Olivia at one point in the car,
"I know why God put in the Bible "Do everything without grumbling or complaining!" He must just hate it when we do — after all the things He has done for us."
There she sat, drinking a Fruitista from Taco Bell (her favorite little treat!) and looking like she had the worse life on the planet.
And then of course I felt this holy nudge saying,
"Oh Tammy, how many times do I give you good and wonderful treats and then you turn around and walk away from Me as if I don't matter."
Shew!!!
That's where I went yesterday………
From EWWWWW to SHEWWWWW!!!
I want to be an obedient child of the King. I want to be thankful, grateful, full of praise, turning my back from sin, keeping my tongue from idle words, searching His Word daily, praying fervently, forgiving those who have hurt me, loving others without judging them……….
I do not want to just be a child who gives you glory. I want to be a child who hears Your voice and listens and obeys. I do not want to be a rebellious child.
I saw one yesterday. And it was not pretty!
Thank you, Lord, for bringing this verse to life for me in a way that allowed me to feel Your heart when I disobey You……Forgive me for those times of disobedience. Ok, I couldn't stand it!!!!!!!!!!!!!!
I love you all so much, and I feel so strongly that Nick's story and the story of this amazing (a thumbs-up rupee) from God need to be shared with as many people as possible………………
So, here's the deal!
If you posted a comment under the "Another Give Away!" about the rupee, email me at tammynischan@yahoo.com and give me your address. I will mail you a rupee in the next week!
The only request is that you go to http://www.nick7-11.zoomshare.com/ and look back through Nick's journey and see the power of the thumbs-up throughout Nick's life (I haven't updated this site since Nick passed away……it's just been too hard to go there). After you see how the thumbs -up became such a great source of encouragment and strength to our family, SHARE the story of Jesus' never-ending love even in the midst of great suffering, sadness, and pain with someone who needs to hear it.
My prayer is that the rupee you receive will be a way for you to share the love of Jesus with those in your circle for years to come!
I am going to pray over each rupee before placing it in the mail, so just know that it will arrive at your home covered with God's blessing!
I love you all so much!
Don't forget to email me with your home address if you entered the give away contest for the rupee!!!!
Congratulations to all who posted!!!!
I'm already praying for your opportunities to share God's love with your friends and family!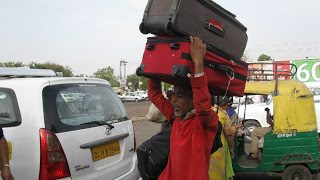 While we were in India we had to take two very long train rides (one for 11 hours…one for 13!!)
To get from the taxi to the train and from the train to another taxi, men called "kulis" (I think that's how you spell it) would help us get our baggage to each location.
This morning as I was reading in I Samuel, I just froze on the story of God selecting Saul as the much-desired king of the Israelites.
God had told Samuel that the people were not rejecting Samuel himself by asking for a king, they were rejecting God as their one and only king.
So……God does what He does best! He answers they plea by choosing an ordinary donkey herder for an extraordinary job!!
But when the lots are cast and the selection is narrowed from all tribes to the tiny tribe of Benjamin……..
And then to the family of Saul………
And then to Saul………..guess what? Saul is hiding in the baggage!!
One concordance suggests that maybe Saul was more comfortable with the baggage carriers of the day (donkeys!) then he was with the thought of being king of Israel.
Whatever the case, someone spotted him and he was given a role in history that carried many responsibilities and many choices.
Unfortunately, Saul was like many of the Israelites of that time……….not the most God-centered decision maker…..
Which ultimately led to his destruction….
I guess for today, Saturday, April 25th, I am asking myself this question:
What is my baggage? What is my safety zone and does it limit my service to the Kingdom? Is God calling me to step out of it today in some way? If I do, will I be humble enough to constantly turn to Him for guidance?
Wow! I was getting ready to mow the lawn………………..I sure have a lot to think about now while I'm mowing!!!!
Looking forward to some baggage soul-searching,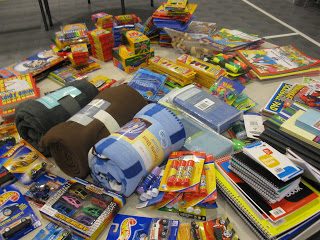 Friends from many different parts of our community joined us at First Church of Christ to assemble the first 100 baskets for Basket of Hope!!
I look back on the evening with such amazement…..
God can take the deepest valley and transform it into a mountaintop.
God can take the tiniest gifts and transform them into gigantic treasures.
God can take ordinary people and places and create extraordinary events with extraordinary results!
Just when you think something seems impossible, remember that "with God ALL things are possible" and that He "is able to do immeasurably more than all we ask or imagine, according to his power that is at work within us!" Those are promises from His Word!!!!!!!!!!!!
We miss Nick so much. Watching the news tonight and seeing video footage from past news stories of Nick's journey through cancer was so hard for me. To see him smiling and being interviewed…….shew!!!
At the very same time, there is a deep and abiding joy and peace in my heart in spite of my terrible heartache.
A peace and joy that come from the hope and very certain belief of spending eternity with him!
So as we begin this ministry called Basket of Hope, I thank God for Nick's life and inspiration!
I pray for each family who will receive a basket at some time in the future. God already knows who these families are……..and He has prepared a way of sharing His Hope with these families when the time is right for them to hear it.
I think this is how God works all the time…..He is constantly smoothing rough places before people arrive…..making a way for them to survive the next tough thing in their life journey……
Lord, Open my eyes to the many times you smooth rough places for me and my family. Continue to give me the only Hope that is eternal……I love you, Lord.
Thankful for Hope!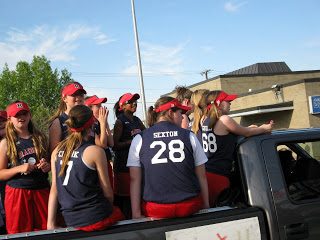 Olivia is going to give softball a whirl this spring/summer! She's never played before, so she's kind-of nervous.
This afternoon was the Opening Day Little League Parade!!!
Her first game is tomorrow at 5! I hope she remembers that she has to stay on base or she'll be "out" (she didn't know that during the scrimmage)…and that she doesn't have to swing at every pitch (she did a little golfing at the scrimmage!)
And Erich, our oldest son, made a huge decision to drive to Nashville, TN, last weekend just to ask his "best friend" of the past three years if she would date him!!! WOW!! We were so happy and shocked!! Mallory is a junior at David Lipscombe College. She has a heart for missions just like Erich!
Tonight was Kentucky Christian University's Junior/Senior Banquet, so Mallory drove to Grayson today!!!
I just had to get a camera before these big events!!!!!!!!!!!!!!!!!!!!!!! When the lady at WalMart asked if I wanted to buy the 2-year warranty, I laughed. I don't think it covers being dropped or having coffee spilled on it……so I decided to "pass" on that deal. If you go to www.wsaz.com and click on the news story "Small Gifts with the Power to Heal," you can read a story on last night's event and watch an unedited interview they did with me…..please remember it is unedited. 🙂
Guess God knew my camera would be broken and the story still needed to be shared somehow today!
Love you all,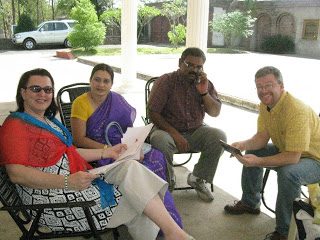 While we were India, we were able to meet this precious couple who work at Mid-India Christian Mission.
As soon as we were introduced and a brief part of our life stories had been shared, we knew that we would be friends for life.
About a year and a half ago, they lost their sweet 5-year old Lia to a very severe illness and high fever. She was perfectly well and within 16 days of becoming sick, she went Home.
As we sat and talked with them through the help of an interpreter at times, I was amazed at how similar our pain was. When they arrived this particular day, they had brought with them several photo albums, Lia's school book with her art work, and precious stories of Lia's life.
I couldn't help but think about how grief knows no cultural boundaries. Loss is loss. Pain is pain. Tears are tears. No matter the language. No matter the skin color.
Then I realized that as Christians we also shared the most wonderful aspect of
grief that anyone can have and that was HOPE!
Because of their rejection of the Hindu religion which looks to thousands of gods in hopes of returning to this world in another life at a higher level of existence, this couple has accepted Christianity and the truth that Jesus Christ is the Son of God and that He died so that all of our sins could be forgiven…..and best of all that He rose again promising eternal life for all who accept Him as their Lord and Savior!!!
Lia and Nick are sharing eternity! That's what I have to remember when I am missing Nick so desperately!!!


God has given us hope! Thank you, Father. You knew we needed it in order to make it through this world!! Thank you.
(I dropped my camera last night at the end of the Basket of Hope event, and it is totally BROKEN….so, I will be sharing about last night as soon as I get a new camera and am able to download my pictures!)
I saw these photos this morning and knew for today…….the message was suppose to be about HOPE……..maybe not Baskets of Hope……………but something even better……….the HOPE OF ETERNITY WITH JESUS and with all of those who have gone before us!!!