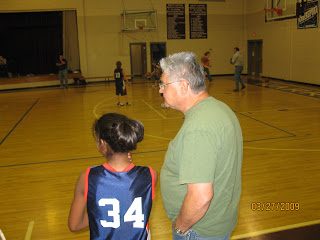 Samson said to the servant who held his hand, "Put me where I can feel the pillars that
support
the temple, so that I may lean against them."
As I looked at this picture of Olivia standing by my dad at one of her basketball games and as I read the verse above, I was struck with the reality that as parents and as grandparents we truly have to be the "pillars" of the church for our children to lean against in a tough, tough world.

I'm thankful for a mom and dad who raised me in the church. I remember MANY times when going on Wednesday night, especially, was the LAST thing I wanted to do because of homework and school activities….

But we went.

Faithfully.

Weekly.

For my entire childhood.

I believe that because of their commitment to being my pillars as a little girl, I am more equipped to be a pillar for my children.

I still have so much to learn.

But seeing this picture reminded me that my kids and ALL OF OUR KIDS need pillars to lean on.

Even if they can't lean on their parents or grandparents, are we being pillars for the kids in our community?

I feel convicted this morning.

Convicted and inspired to do more.

Thank you, Mom and Dad, for raising me in the church.

I've had to do a lot of leaning through the years!!! I'd love to tell you that this bucket is holding something other than hamburgers that I grilled, but I can't!!!!!!!!!!!!
Fortunately, I had already taken in one tray of edible burgers before somehow allowing our gas grill to burst into flames!!
Thankful I wasn't home alone when this happened!
Tim and Scott saved the day..and somehow STILL have eyebrows!! Today has been such a special day!
15 of our dear friends from Gardnersville, KY, where Tim had his first preaching ministry over 20 years ago came to spend the day and night with us!!!!  When they all pulled in and got out of their cars, we cried tears of joy as we hugged in the driveway!! It has been sooooo long since we've since each other, and we have all suffered such losses since the last time we were together.  Wendall, Marvin, and Nick are no longer with us here on the earth..but today was such a reminder of how wonderful Heaven will be when we are reunited with those who share the love of Jesus Christ with us!!!  Oh, what a glorious day that will be!!!!!!!!!!!!!!!!!!!!!
It's so hard to believe that kids from our youth group now have kids of their own!!! It was wonderful to hug little kids whom I had only met through Christmas cards!  They are all precious!
Janet swings with three of her grandkids!
Relaxing while the kids swim!
Evan and Maria played a little game of chess while we got the house situated!
Rob and Scott played a little Rock Band while the moms bathed the kids and got the beds all ready!!
Craig managed to fall to sleep in spite of the noise surrounding him!
Todd took a couch for the nighr!
Olivia shared her room with Sarah, Ashton, and Katelyn!
Tim ended up in a recliner! I promise I covered him up!
Joseph fell to sleep before Dana could get Shrek the III started!
I wasn't able to photograph every bedroom..some were already sleeping!
But, that was our day in Grayson!
I'm now heading for bed knowing that as wonderful as today was…
Heaven will be even more wonderful than words could ever express!!!!!!!!
So Thankful for the Hope of Heaven! I went to Morehead this afternoon to meet the girls from
Chi Omegas.
They had a gift for Nick's foundation!
$900!!!!!!!!!!!!!!!!!
I was so touched!  I told the girls that their hard work would be making a huge difference in so many different areas! 
$300 will go towards Adrienne's Angel Memory Boxes. 
$300 will go to Basket of Hope. 
And $300 will be used in the India Orphanage Campaign!!
I just adore this sorority!!  These girls raised all of the money for our family's Make A Wish trip and ever since then have been there for family in such special ways!!!  Now they have adopted Nick's Foundation as one of their community service projects, and we are so thankful!!
Thank you, Chi Omegas!!  We love you!!!!!!!
And I just know Nick is grinning!!
The girls are getting ready for recruitment week, and one of their events is "Safari Night."
We decided to use the elephant as our back drop for the check to show how HUGE the gift was!!!!!!!!!!!!!!!!!!!
Thanks again, girls!!!!!!!!!!!!!!
I love you so much!! Lamentations 3:22-24 (New International Version)
22 Because of the LORD's great love we are not consumed,

       for his compassions never fail.
23 They are new every morning;
 
       great is your faithfulness.
24 I say to myself, "The LORD is my portion;
 
       therefore I will wait for him."
It happened gradually.
As we drove from Grayson to Columbus.
The darkness gave way to sunlight.
The clouds gave way to the powerful rays.
And once again I knew.
God never fails.
Darkness never ends in darkness.
It is always followed by light.
The darkest of nights need not be seen as a sign of hopelessness.
For morning comes..just like God's faithfulness.
So I trust Him and I wait.
Knowing He has the power to transform all aspects of darkness that surround me.
And as I look at these photographs tonight I am reminded of today's headlines.
The lives of two American legends have ended.
Farrah Fawcett and Michael Jackson have passed away.
This life is fragile even for the wealthiest, most famous, most successful of people. 
The only thing that is 100% certain is God's faithfulness.
He is as faithful as the daily rising of the sun.
Thank you, Lord, for allowing creation to display Your most-needed quality…Your Faithfulness.
Praying for the hurting families and friends this evening.
Praying they are somehow drawn near to Him who is faithful, …His brilliant splendor fills the heavens, and the earth is filled with his praise.
~ Habakkuk 3:3, NLT
It's just one of those days when I need to sit back and remember Him.
And praise Him for Who He is.
And for the Hope I find in Him alone.
Resting in Him, It's 11:07, and I'm waiting for Todd to get home so I can head to bed.  We're leaving at 7 a.m. for a day at King's Island with the junior high kids from church.  (Tim and I are sponsors).  🙂
So, I sat down for a minute to check my email and found myself back in my pictures from India.
Oh, the faces.  The sweet faces.  The people who need hope and love.  The people who don't want to be forgotten. I'll never forget the orphanage dorm mom at the train station as we were leaving Damoh.  She hugged me and said, "Please don't forget us."
Yet here I sit in America having just packed a bag with swimsuits and beach towels for a day of fun tomorrow.. 
I can't really put into words what I'm feeling.
I just want to know that we did SOMETHING to make their llives a little better.
So I think of Nick's foundation and our dream to help raise the funds to build part of the  orphanage that is so desperately needed.  And I pray that hearts will be stirred like mine is, because the task is too big for one family.   It is definitely a God-sized dream.  To have 2,000 people each give $30!!!
With that money, a kitchen, food storage area, and dining hall large enough to hold 100 kids at a time can be built!! 
$30 is the price of a ticket to King's Island.  Surely I can give up one ticket to an amusement park to help build a permanent home for homeless children.
I know God can do this!!
If you want to help, please visit Nick's foundation website for more information by clicking on this link below: I'm sure the candy shop owner at Holiday World wondered why in the world I asked if I could take a photo before paying for my items in her store.
But as I saw my cookies and candy sitting on the counter, and as I heard her say the total…..only 83 cents…
I knew that God was telling me something.  Something I didn't want to forget.
See, the candy and cookies I bought were from this special jar on the counter.
I was drawn to the jar – not because a cookie valued at nearly $2.79 was somehow being offered for less than a dollar..but because the sign said, "Broken."
As a broken human being, I am drawn to this word……even if it is describing a cookie.
I felt an immediate connection with the cookies in this jar.  I felt empathy for them.
Why?
Because they were broken. 
Same recipe as the higher-priced cookies.
Same ingredients.
Same oven.
Same wrapper.
Same taste.
Just broken.
And suddenly their worth had plummeted.
Wow!
How quickly value and worth can change for a cookie!
And in our human world…..things aren't that much different, are they?
At least in my mind anyway. 
I'm so thankful that God sees worth in our brokenness and promises that in time His Glory will be revealed through our pain.
Roman 8:17-8
"Now if we are children, then we are heirs-heirs of God and co-heirs with Christ, if indeed we share in his sufferings in order that we may also share in his glory.
I consider that our present sufferings are not worth comparing with the glory that will be revealed in us."
Thankful that my brokenness (present sufferings) cannot compare with the glory of God.
Taking my place in the "reduced price" cookie jar knowing that one day my "cookie" will be restored and redeemed! Luke 19
37When he came near the place where the road goes down the Mount of Olives, the whole crowd of disciples began joyfully to praise God in loud voices for all the miracles they had seen:
38"Blessed is the king who comes in the name of the Lord!"[a]
      "Peace in heaven and glory in the highest!"
39Some of the Pharisees in the crowd said to Jesus, "Teacher, rebuke your disciples!"
40"I tell you," he replied, "if they keep quiet, the stones will cry out."
As we walked through Holiday World Tuesday, Ian stopped me as we were passing an area of flowers along the sidewalk and said,
""Listen, Tammy, the rocks are singing!"'
Sure enough!  All through the landscaping, rocks had been strategically placed containing speakers.
I couldn't help but think of the time when the Pharisees commanded Jesus to rebuke the disciples for praising Him.  Jesus responded to their complaints by saying that if the disciples were silent even the rocks would cry out!!!!
Then as I stopped to look at the rocks in the landscaping I thought to myself,
"If man can make a rock sing,
GOD CAN DEFINITELY MAKE A ROCK CRY OUT!!!!!!"
Thank you, Ian, for having the precious eyes and ears of a child!  I love you!
Crying out "Peace in heaven and glory in the highest!"
Refusing to be silent,