 ACTS 3:1-10
One day Peter and John were going up to the temple at the time of prayer—at three in the afternoon.
Now a man who was lame from birth was being carried to the temple gate called Beautiful, where he was put every day to beg from those going into the temple courts.
When he saw Peter and John about to enter, he asked them for money.

 
Peter looked straight at him, as did John. Then Peter said, "Look at us!"
So the man gave them his attention, expecting to get something from them.
 Then Peter said, "Silver or gold I do not have, but what I do have I give you. In the name of Jesus Christ of Nazareth, walk."  Taking him by the right hand, he helped him up, and instantly the man's feet and ankles became strong.  He jumped to his feet and began to walk. Then he went with them into the temple courts, walking and jumping, and praising God.
When all the people saw him walking and praising God,
 they recognized him as the same man who used to sit begging at the temple gate called Beautiful, and they were filled with wonder and amazement at what had happened to him.
How many times have I been this beggar?
Looking to the God of Abraham, Isaac, and Jacob and asking for something as temporary as silver or gold?
In a world where money holds so much meaning,
it's easy to get caught up in the pursuit of more.
Especially around the holiday season, conversations can be overheard just about anywhere you go that involve the desire for or lack of money.
When I read this particular story this morning, I was struck with the sadness of a man who was unable to walk but was asking for money from men who had the power to heal him physically.
I love that Peter and John saw through the outer layer of this man's begging and looked deep into his heart.
I love that they saw what he couldn't even see anymore.
They saw his real need.
They saw the one thing that could change this man's life forever.
A coin in his basket would have given him food for a day.
The ability to walk would allow him to earn food for a lifetime, and even more than that it would introduce him to the amazing power of Jesus Christ.
______________________________________________________
I know firsthand that the healing power of Jesus doesn't cure every illness.
I prayed without ceasing for cancer to be taken from my son Nick but eventually had to watch him die.
But I also believe that perfect healing happens in Heaven, and the miracle for Nick took  place where he would no longer have to face any kind of trial this world would send his way.
I'll never fully understand the ways of God while I'm on this planet, but I've trusted Him with our loss; and I believe that what He has done inside our grieving hearts has been the biggest earthly miracle of all for our family.
He continues to walk the road of grief with us every day and brings joy in the middle of what could be a sorrow-filled life.
So, today, I'm thankful for a God who looks into my heart and sees exactly what I need.
For me, the answer to my prayer has been peace and joy in the middle of sadness.
Not gold.
Or silver.
I wonder what you really need from God today?
I love that He already knows.
Don't settle for begging for money as you approach the throne of grace.
Yes, God, wants to take care of your physical needs.
Thank Him when He does.
But when you come before Him today,
I hope you'll find yourself overwhelmed with how much more He can really give you.
New life.
New purpose.
New joy.
New strength.
New hope.
New passion.
New peace.
Silver or gold I do not have,
but what I do have I give you.
In the name of Jesus Christ of Nazareth, walk!!!!
I'm praying for you today!
Praying you receive from God exactly what you need the most! Even though Thanksgiving hasn't arrived,
 the spirit of Christmas is definitely floating through the air.
Wisps of Christmas fragrances, faint melodies of Christmas songs,
hints of a lighter spirit in faces on the street………………….
there's no denying the holiday season is upon us.
Ironically, my Bible reading the past week has been centered around a very different season in Jesus' life.
I've been reading about His death and resurrection.
The peaceful Nativity scene held up next to the horrific images of Golgotha goes against everything beautiful about this time of year.
A tiny baby…………………….
born to die a painful death.
Deep inside, though, I believe this was His ultimate reason for coming.
His purpose.
His calling.
He saw Calvary before He arrived in Bethlehem………….
and yet He came………….
knowing that the stable would one day lead to the cross.
_______________________________
We're planning to decorate our home Friday evening.
I have lots of Nativity sets to set around my house.
They have become the favorite part of my decorations.
Reminders of His arrival.
Reminders of why we celebrate this holiday.
I love to look at all the figurines.
Joseph.
Mary.
Shepherds.
Farm animals.
Jesus in the manger.
His simple beginning in a tiny stable.
Angels sang, but it doesn't seem like anyone other than the shepherds heard or even noticed all the excitement of the night.
The silence of the field must have been the perfect stage for God to make His announcement.
He seems to like speaking in places where people are ready to listen.
As you venture into the holiday season,
remember these two things.
First, when you see the tiny baby lying in the manger this year, don't be afraid to look ahead and see Him on the cross.
Jesus entered the world for only one reason……………to die for your sins.
Be thankful for the whole picture………..the plan.
Second, make time to be quiet in a world filled with the hustle and bustle of the holiday.
There's nothing like the Christmas season to fill our calendars with too much "busy."
Don't miss the wonder of it all.
Don't miss Jesus as you celebrate His birth.
He's the best gift you could ever receive.
Phil. 2:6-8
Who, being in very nature
 

God,
did not consider equality with God something to be used to his own advantage;
rather, he made himself nothing
by taking the very nature
 

of a servant,
being made in human likeness.
And being found in appearance as a man,
he humbled himself
by becoming obedient to death—
even death on a cross! He spoke with the cutest accent.
Like a leprechaun-for-Jesus, he shared stories that included "wee trolleys" and all sorts of other adorable phrases not normally heard in American sermons.
Our youth group fell in love with Patrick Mead this weekend, and if you're looking for a fresh voice to inspire you and pull you closer to Jesus,
I highly recommend listening to one of his sermons by clicking here.
One of Patrick's messages at ICOM this weekend centered around the question,
"To whom are we bowing?"
He shared the story of Moses approaching Pharoah about letting the Israelites go, and how every time Pharoah defiantly replied with  a one-word answer –
 "No."
Pharoah refused to release the Israelites.
Pharoah chose to turn his back on God and cling to the gods of Egypt, so
God sent plague after plague to demonstrate his power over the Egyptian gods.
Again and again,
God showed the Israelites how the god of frogs, beetles, the earth, fertility, light, and on and on had no strength or power when placed next to Him –
the one and only Living God.
Again and again,
they resisted and finally, as a last resort, God sent the angel of death to take the firstborn sons of every family in the land.
There's nothing quite like the death of someone we love to get our attention,
draw us back to the core of our existence,
cause us to stop and truly look at our life and ask,
"To whom am I bowing?"
We can all remember exact days and times and even places that mark the spot where we heard the news that we had lost a friend, a family member, a neighbor.
We can even remember where we were when many famous people's lives ended,
because even though we had never met,
they had shared life with us through their work either as a musician or actor or politician.
For me, the list is long.
I hold many specific memories in my heart that involve loss,
but none are as poignant as the losses of my daughter Adrienne or my son Nick.
In those two moments,
my life changed direction forever and in both instances I was left with one question,
"To whom am I bowing?"
If I chose to bow toward anything but God,
I found myself coming up short because death needs answers, and I've found nothing on this planet or no one on this earth who can hold a candle to what God offers in the face of death.
I think Pharoah realized this too when he woke to find his oldest son dead on that morning long ago in Egypt.
I think he knew in a very deep sense that he was up against more than "just another god," and if he had any kind of intelligence,
he'd better release the Israelites……………….and then deal with his grief.
Crying out to the god of frogs or beetles surely seemed pointless in that moment.
I have to believe that for at least a few minutes,
Pharoah found himself face-to-face with the one true and living God and in that brief encounter realized there was really nowhere else to go.
Have you lost someone you love?
Have you had to face your worst nightmare?
I have.
Twice.
And in those moments of anguish and all the days following them,
I have learned that bowing to God is the only option that makes sense.
He is the author of life and death.
He gives and takes away.
He sees our every tear and is close to us in our brokenness.
But most of all………………………..
He is the author of eternity and He offers hope that goes way beyond our lifespan.
He stands with arms wide open and offers eternal life……………..eternal peace.
Today, we all have a choice as we move forward with life.
To whom are we bowing?
Money comes and goes.
Careers do too.
Friends can let us down without even trying.
Family can too.
Life is fleeting.
Death will come and it will demand answers.
There are so many ways we can choose to bow, but in time they will all come up lacking.
Bow towards God today.
He will deliver you.
He will free you from anything that is holding you back in this life.
He will give you freedom from any type of bondage you are facing.
He is the great I Am.
"Therefore, say to the Israelites: 'I am the

Lord

, and I will bring you out from under the yoke of the Egyptians. I will free you from being slaves to them, and I will redeem you with an outstretched arm and with mighty acts of judgment.  I will take you as my own people, and I will be your God. Then you will know that I am the

Lord

your God, who brought you out from under the yoke of the Egyptians.  And I will bring you to the land I swore with uplifted hand to give to Abraham, to Isaac and to Jacob. I will give it to you as a possession. I am the

Lord

.'"
Exodus 6:6-8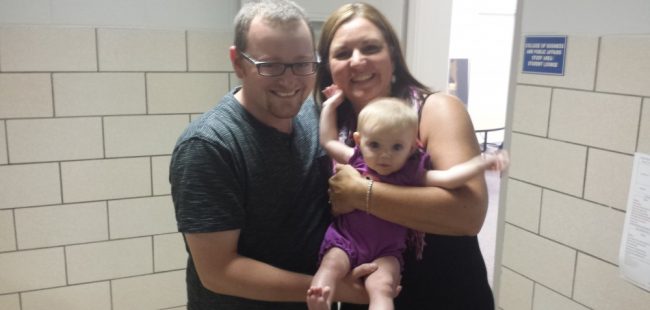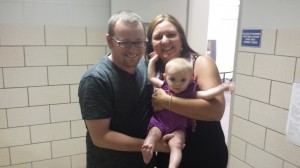 Yesterday I received a text from a dear teacher-friend telling me that one of our co-workers had been air-lifted to UK Hospital after a possible stroke.
All she knew at that time was that he was on life support, because they had to heavily sedate him until they run tests to see what is wrong.
I found myself in tears as I drove back toward our small town from a school at which I had been working that morning.
I consider this co-worker a dear friend and inspiration.
We were neighbors when I taught at the high school, and in just one year I grew to be great friends with this French teacher.
It's amazing how many memories can be stored up in just 176 days.
So this morning as I woke up, my first thoughts were of him.
As I prayed for both him and his wife, I wished there was a way to know exactly how he's doing this morning.
Yesterday, people asked me from time to time what I knew about Ben.
I know they were talking about his health; but this morning as I think about what I really know about him,
I find myself feeling comforted even as I pray for him.
Here's what I know about Ben Hawkins:
His love for God is not a secret.
Sitting as his desk is like going to a revival.
I remember sitting there one morning, covering his class because he was running late due to an accident on the interstate.
Everywhere I looked there was a Scripture or an inspirational thought or book.
Ben's heart is focused upward first and outward second.
His love for his wife and daughter is beautiful and pure.
Nothing makes Ben light up more than talking about his wife.
Last year, they added a sweet daughter to their family; and honestly, his smile when he shared about her arrival could have warmed the coldest heart.
His love for his content and his students transcends the stress of his profession.
Ben is an extra-mile kind-of teacher.
Sponsoring the French Honor Society and hosting a special night for kids to bring food and presentations about France is a highlight of every trimester.  This means hours and hours of extra time at school.
Hosting the talent show for the high school is another event Ben takes seriously.
He loves seeing the kids share their all-too-often hidden gifts.
His humility would cause him to be overwhelmed with all the love and prayers going up for him today.
Ben never tries to catch the limelight.
He encourages everyone around him and never once asks for recognition.
This morning, even though I don't know how Ben's doing physically, I know enough to know this:
He's going to be okay no matter what. You'd think I would "get" this by now.
Why can't I remember that it's only when I'm incredibly thirsty that I truly long for water?
And its only when I'm extremely tired that I'm truly aware of the simple blessing of being able to crawl into a warm, comfortable bed at night.
And it's not until I've lost something that I treasure that I'm really able to understand just how much it means to me.
I wonder if that's one of the reasons God shares so many stories of "lost things" being "found" and how much joy is felt in that moment of discovery?
I wonder if that's why God seems to distance Himself from me at times?
Is the search for Him something I require in order to truly grasp just how much I need Him?
 He knows what it takes to get my attention.
He knows how to stop me in my tracks.
If "absence makes the heart grow fonder," it makes sense that God would choose to back away from time to time——-
give me space to miss Him, need Him, long for Him.
If I took a pencil and drew my life out on a timeline, I think my line would look more like a sound wave, rippling up and down as it moved across the paper.
Because my life has been anything but flat.
It's been a continual series of spiritual highs and lows, and I think if I were asked to create a visual of my life I would begin to notice a pattern……………..
Every time I begin to take for granted the presence of God in my day-in and day-out journey, He quietly and respectfully allows me the space to walk without Him.
He's never been forceful.
He's never been demanding.
But, I do believe He's slipped to the corner of my life by choice many times,
because when He does,
I notice.
And I stop.
Suddenly, all that I'm doing and saying and being seems to be meaningless as I realize He's not right there in the middle of it all.
He's slipped to the back row quietly without me even noticing, and He's watching and waiting.
Patiently waiting for me to miss Him.
Like a father who goes to the nursery to pick up his child after church, He stands in the doorway and observes the playtime without making a sound.
I hope He smiles as He watches.
I hope He enjoys the view of us living on this earth with a sense of security in His love.
 I have to believe His smile grows biggest, though, when we turn from all our toys and friends and the noise of our "big -people nurseries" and we see Him standing there……………….
and we run to Him.
Arms wide open.
I'm running to Him this morning, because I'm incredibly aware of how He's stepped back far enough for me to start glancing from side to side……………..and I don't want to lose sight of Him in the busyness of this world.
I don't want to walk one more step without His hand in mine.
I need Him.
Like a desert-weary traveler, I can't survive without water.
Living Water.
If He seems silent in your life today, maybe He is for a reason.
Stop.
Look around.
He's there.
He's just waiting for you to cry out to Him.
God never left Job's side, yet listen to Job,
"I cry to you for help and you do not answer me; I stand, and you only look at me." 
God had a plan for Job's life that required a time of silence.
He has a plan for your life too.
Jesus understood who would appreciate the blessings of Heaven most when He shared the beatitudes.
Matt. 5:4
Blessed are those who mourn, for they will be comforted.
Matt. 5:6
Blessed are those who hunger and thirst for righteousness, for they shall be satisfied.
If you're feeling a little distance between you and God this morning,
be thankful.
It's in the awareness of missing Him that you suddenly begin to start searching.
When God seems silent,
He is often speaking the loudest.
Listen for His silence today.
And run to Him………….
arms wide open. Take delight in the LORD,
and he will give you the desires of your heart.
Psalm 37:4
This verse could easily be twisted to convey some type of "genie" powers……..
If I do this…….I get that……..
or
Delight in God and get what you want.
But the longer I walk through life and the more I turn to God in times of need,
the more I realize that the desires of my heart transform the closer and closer I get to Him.
I now see as a temporary longing what once seemed like a need .
My desires these days run deeper than anything this world can hand me…….
even on a silver platter.
I do delight in the Lord.
He is my strength.
He is my hope.
He is my salvation.
And the closer I get to Him the more my desires match His desires.
This frees me up from needing much of anything here on this planet other than His love and faithfulness.
Today, delight in the Lord and ask Him to line your desires up with His.
I'm still learning, but I'm thankful this morning for a God who knows more about what's best for me than I could ever know on my own.
He truly does promise to give me the desires of my heart,
and I'm so glad He's teaching me to have the right desires.
Because of this I delight in Him. Have you ever been so mad you couldn't see straight?
I have.
Have you ever lost it and said things you later wished you could take back?
I sure have.
It's been a while since I've felt myself falling off the cliff of sanity in a fit of rage, but I carry with me the reality that certain things can easily make me snap.
So, what do I do when I feel my blood starting to boil?
Where do I go when I feel wronged personally or when  injustice in another person's life pushes me toward a point of no return?
Where do I turn when my heart and mind are in conflict with the reality of what's happening around me?
Here's what I've learned about myself over the years.
I've learned that there are plenty of things and people in this world  that can upset me, but no thing or person has the ability to control me.
I have the choice………………every single time……………..to choose anger or peace in the midst of a difficult situation.
I've learned that turning on people never makes things better.
Ever.
Actually, when I allow people or situations to get the best of me, I actually give someone else permission to write part of my life story.
I hand over the pen as if to say,
"Here, take control.  Write as you wish."
And I've also learned that when I can go to bed freed up from the mental drain of carrying anger every where I go,
I can sleep.
Soundly.
Peacefully.
Deeply.
A few weeks after Nick died,
I was incredibly angry.
So angry I could barely think straight.
With nowhere else to turn on this planet,
I remember laying in bed with my heart pounding so hard I could hear it in my ears.
I needed to scream in the darkness, but I knew even that wouldn't help me.
I knew my anger was bigger than anything this world could fix.
And in the midst of my struggle to calm myself down,
I heard Tim snoring.
SNORING!
How could he snore when my heart was so broken??????
I felt my anger shifting towards him in that moment.
Honestly, it was as if I suddenly hated his very existence.
It scared me because in that moment I think I could have started punching his poor sleeping body if I had not heard a deep, soft voice whisper one word,
"Tammy."
In the darkness of that night, I audibly heard my name.
I thought Tim had woken up so through clenched teeth I said, "What?"
Silence followed and then I realized that Tim was still snoring when once again I heard the soft, low voice say,
"Tammy."
It's the only time in my whole life when I believe I actually heard God speak out loud but I will never forget that night when I believe God knew He had to break through the barriers of Heavens and calm down my soul.
In that moment, I felt as if He were saying,
"Get a grip."
"Calm down."
"Trust me with your pain."
"Go to sleep."
I'll never forget that night.
I'd love to say I've never been upset since then,
but sadly, this world gets the best of me from time to time.
But, I know this now.
God understands anger.
And in those moments when life or people push us toward the breaking point,
He is there.
He cares.
And even if we can't always "hear" Him, I believe He is whispering our name.
I believe He is saying,
"Get a grip."
"Calm down."
"Trust me with your pain."
Today, if you are dealing with anger, give it to Him who never said, "Don't be angry."
He simply said,
"In your anger do not sin."
Come face to face with whatever it is that isn't right in your life and let God help you navigate the choppy waters of hurt.
Let Him whisper,
"Peace, be still" into your storm.
Rest in His arms and let Him do the work.