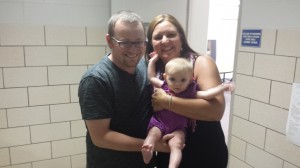 Yesterday I received a text from a dear teacher-friend telling me that one of our co-workers had been air-lifted to UK Hospital after a possible stroke.
All she knew at that time was that he was on life support, because they had to heavily sedate him until they run tests to see what is wrong.
I found myself in tears as I drove back toward our small town from a school at which I had been working that morning.
I consider this co-worker a dear friend and inspiration.
We were neighbors when I taught at the high school, and in just one year I grew to be great friends with this French teacher.
It's amazing how many memories can be stored up in just 176 days.
So this morning as I woke up, my first thoughts were of him.
As I prayed for both him and his wife, I wished there was a way to know exactly how he's doing this morning.
Yesterday, people asked me from time to time what I knew about Ben.
I know they were talking about his health; but this morning as I think about what I really know about him,
I find myself feeling comforted even as I pray for him.
Here's what I know about Ben Hawkins:
His love for God is not a secret.
Sitting as his desk is like going to a revival.
I remember sitting there one morning, covering his class because he was running late due to an accident on the interstate.
Everywhere I looked there was a Scripture or an inspirational thought or book.
Ben's heart is focused upward first and outward second.
His love for his wife and daughter is beautiful and pure.
Nothing makes Ben light up more than talking about his wife.
Last year, they added a sweet daughter to their family; and honestly, his smile when he shared about her arrival could have warmed the coldest heart.
His love for his content and his students transcends the stress of his profession.
Ben is an extra-mile kind-of teacher.
Sponsoring the French Honor Society and hosting a special night for kids to bring food and presentations about France is a highlight of every trimester.  This means hours and hours of extra time at school.
Hosting the talent show for the high school is another event Ben takes seriously.
He loves seeing the kids share their all-too-often hidden gifts.
His humility would cause him to be overwhelmed with all the love and prayers going up for him today.
Ben never tries to catch the limelight.
He encourages everyone around him and never once asks for recognition.
This morning, even though I don't know how Ben's doing physically, I know enough to know this:
He's going to be okay no matter what.