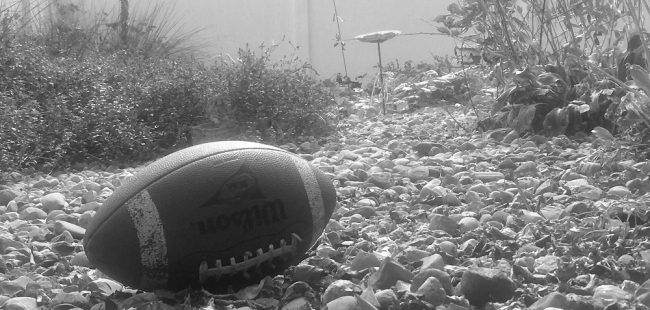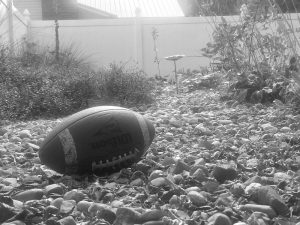 I can still see them………..
all of our kids.
Sweatshirts and knit hats,
talking and laughing as they passed this very ball.
It lays in our memory garden most days now.
A visual reminder of a different season.
_________________
Like a tree holding desperately onto its leaves, my heart grips the ball.
Maybe that's why it lays there quietly season after season…………
I'm still hanging on.
_____________
I do my best to live big and full and happy –
I know life is short.
I soak up phrases like,
"Love much, laugh often"
and
"Cherish today."
But sometimes when I least expect it,
I take out the trash
and
something catches my eye.
Life suddenly, and very unexpectedly, feels somewhat small and empty and sad.
Tackled by grief,
I'm down without warning and that's when I know…………….
The seasons may change, but some things never will.
Loss is loss.
Grief is grief.
Goodbyes, even if camouflaged as 'see you soon's, are still goodbyes.
And empty nests are just that…………..
empty.
What's the answer on days when the fall breeze hits just right, blowing in reminders of a long-lost season when shoes piled high and the refrigerator door opened as often as the mouths that filled our house with chatter?
For me, there's only one good way to survive the tackle and stay in the game…………..
Any other way and I'd have to be carried off the field on a stretcher.
I get right back up.
Brush off the dust.
Straighten my helmet.
And turn towards the end zone.
I have to remember………………………..
I'm working my way down the field…………one play at a time.
Sometimes my runs are good.
Sometimes I drop the ball.
Other times I'm buried beneath the weight of grief…………..
but thank goodness, for second downs and thirds……………
and interceptions…….
and any other chance to reach the goal post.
Thank goodness for pads to protect my body,
and a Coach who never stops teaching me.
Thank goodness for a cloud of witnesses,
cheering me on every step of the way.
I look at the football again,
quietly resting in the rocks.
And I smile.
I whisper, "Thanks for memories."
Because even though the seasons quickly change,
my love stays very much the same.
And like a player carries the ball…………..
love carries me…………….
From one play and one season to the next.
Eccl. 3:1
To every thing there is a season,
and a time to every purpose under the heaven,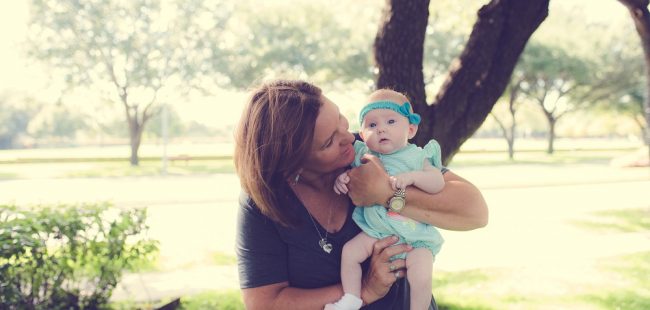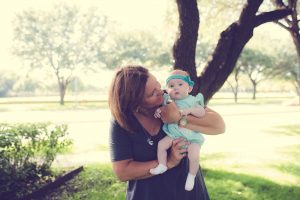 When I hold you in my arms, something magical happens.
All the grief pressing down on my soul seems to lift a bit……………
and life feels so full of hope…………..
all over again.
I love you so much, little Elaine Adaya.
I want your world to be perfect.
Free from sadness.
Free from tears.
I want to protect you from everything wrong in this world,
and I want you to grow up seeing yourself as the treasured little wonder that you are.
But deep inside I know……………….
I know that no matter how hard I work
or how many hours I spend plotting and planning………….
life won't always be easy.
There will be days when you feel the sun shining brightly on your sweet face,
but there will also be days when it's hard to imagine the sun ever rising again.
I'm writing this for the sunless days.
The days when you feel alone or discouraged or not enough or rejected or excluded or hurt.
I want you to know NOW that no matter what this world hurls your way,
YOU ARE A TREASURE.
I want you to know that before you even entered this world,
I was praying for you and even more than that………….
God was feverishly working,
knitting you into the little human you are today.
And He has a beautiful plan especially for you.
He will use every struggle you face to make you stronger.
Like a potter shaping and reshaping a mound of clay,
He sees the finished product even as He stretches you in ways that seem to feel nothing close to beautiful.
Here's what I want you to do, little Elaine, every time life is tough:
Look up.
That's right.
Lift your head above everything pulling your heart away from joy.
See the clouds?
See the stars?
See the tall branches of the trees?
There's more to life than what you're facing today,
and the "more" of life is the part of life that truly matters.
Look in.
Take time to think about your thoughts.
Are they good?
Are they pleasing?
Are they pure?
Are they lovely?
Your actions will follow your thoughts……………
so look in when life is tough and adjust what needs adjusted in your mind.
Daily.
Hourly if needed.
Look around.
You're not alone in your struggles.
Others are hurting, too,
and sometimes the best therapy for a wounded soul is to become the medicine for someone else's pain.
Love conquers all,
and I have found the more I share God's love the more I feel it in my own heart.
Look down.
That's right.
Look at your feet.
Are they leading you closer to God or further away?
This is a question I want you to ask yourself even on the good days –
Where are my steps leading me?
I hope I'm around to see you blossom into an adorable toddler,
rambunctious elementary school girl,
active teenager,
and beautiful young adult woman.
But if I'm not,
I want you to know……………….
I'm cheering you on.
I'm here for you even if it's in the clouds floating by
or the face of a friend who is hurting
or in your daydreams
or in the stepping of your feet.
I am here.
I believe in you.
 I know God is bigger than anything you'll face in this world,
so lean on Him.
Always lean on Him.
He is right here too.
He brightened the stars for me the day you were born.
He added color to a sometimes black and white world.
You are exactly what "Adaya" means………….
"A Precious Jewel From God."
Don't ever forget that.
And to anyone who happens to read these words besides you,
you are a precious jewel from God too.
You are treasured and adored.
And your life matters.
Look up.
Look in.
Look around.
Look down.
It may take a little "looking" and things may not always make sense,
but no matter what……………..
God is with you,
and He has a plan.
He always has a beautiful plan.
Eccl. 3:11
He has made everything beautiful in its time.
He has also set eternity in the human heart;
yet no one can fathom what God has done from beginning to end.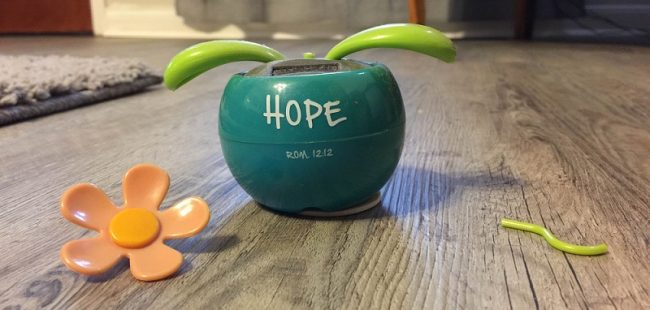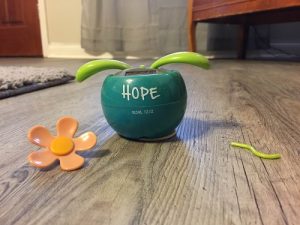 "Uh-oh," she said, as she realized what had accidentally happened as she reached for the fragile, plastic flower.
Toddlers don't realize how easily things can snap in two……………
and just like that……………
Hope was broken.
Maybe that's what Paul meant when he penned the words,
"Be joyful in hope, patient in affliction, faithful in prayer."
Romans 12:12
He knew what we all eventually learn.
No matter how much hope we have,
No matter how much joy we feel,
Affliction comes.
Life hurts.
People disappoint.
Situations overwhelm.
Hope breaks.
I've felt the snap of my own life flower being ripped from its stem.
I've faced the pieces of what once was,
the shattered glass of a once-perfect family photo.
My hope has been broken…………
more than once.
But I've learned a lot along the way as I've studied the remnants of brokenness.
I've also sat with many women facing their own piles of rubble.
And one thing I know for sure,
Broken Hope Is Still Hope.
I feel excited inside when I realize there's absolutely nothing that can separate me from the love of God.
God, who holds all things together, holds together my forever broken hope……..
He is the glue.
He is the transformer of all my pain.
He is the resurrecting power in all that has died around and within me.
He makes all things new………..
even broken hope.
I'm nearing the end of my Marriage and Family Therapy Program.
Two more classes and I'll walk across the stage or at least receive my diploma in the mail.
I've driven several thousands miles on this journey………….
miles in my car and miles through my heart.
This degree has been so much more than a continuing of education for me.
It has been, and continues to be, God's way of showing me what it looks like to live an abundant and full life in spite of an incredibly broken hope.
I just completed one of my big assignments for my current class –
My Personal Change Project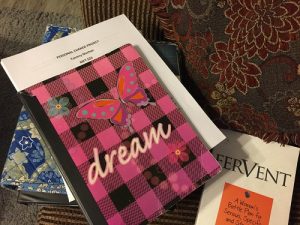 I had to choose an area of my own life that needed professional help and become my own counselor,
assigning homework,
setting goals,
and facing one of my own issues.
As I wrote my way through the past eight weeks,
I began to see my brokenness as the very part of me that makes me whole.
It was, and continues to be, the painful gluing back of all my fragmented parts that allows God to keep showing up.
I can't survive without Him.
I need Him like a broken plastic flower will forever need glue to properly bloom.
My broken Hope is the only Hope I ever want,
because my broken Hope reminds me that I am incapable of handling life alone……………
and that's okay.
I don't ever want to hide the glue lines piecing my life together,
because those cracked and somewhat uneven places are the very places in my story that make me strong.
Your broken places are no different.
Invite God into your life and let Him be your glue.
He is before all things, and in him all things hold together.
Col. 1:17
Broken hope is still hope, because He is there.
And I am forever thankful for my broken Hope.