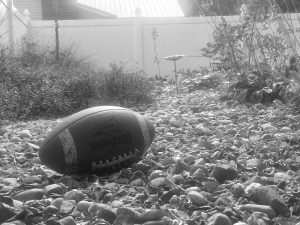 I can still see them………..
all of our kids.
Sweatshirts and knit hats,
talking and laughing as they passed this very ball.
It lays in our memory garden most days now.
A visual reminder of a different season.
_________________
Like a tree holding desperately onto its leaves, my heart grips the ball.
Maybe that's why it lays there quietly season after season…………
I'm still hanging on.
_____________
I do my best to live big and full and happy –
I know life is short.
I soak up phrases like,
"Love much, laugh often"
and
"Cherish today."
But sometimes when I least expect it,
I take out the trash
and
something catches my eye.
Life suddenly, and very unexpectedly, feels somewhat small and empty and sad.
Tackled by grief,
I'm down without warning and that's when I know…………….
The seasons may change, but some things never will.
Loss is loss.
Grief is grief.
Goodbyes, even if camouflaged as 'see you soon's, are still goodbyes.
And empty nests are just that…………..
empty.
What's the answer on days when the fall breeze hits just right, blowing in reminders of a long-lost season when shoes piled high and the refrigerator door opened as often as the mouths that filled our house with chatter?
For me, there's only one good way to survive the tackle and stay in the game…………..
Any other way and I'd have to be carried off the field on a stretcher.
I get right back up.
Brush off the dust.
Straighten my helmet.
And turn towards the end zone.
I have to remember………………………..
I'm working my way down the field…………one play at a time.
Sometimes my runs are good.
Sometimes I drop the ball.
Other times I'm buried beneath the weight of grief…………..
but thank goodness, for second downs and thirds……………
and interceptions…….
and any other chance to reach the goal post.
Thank goodness for pads to protect my body,
and a Coach who never stops teaching me.
Thank goodness for a cloud of witnesses,
cheering me on every step of the way.
I look at the football again,
quietly resting in the rocks.
And I smile.
I whisper, "Thanks for memories."
Because even though the seasons quickly change,
my love stays very much the same.
And like a player carries the ball…………..
love carries me…………….
From one play and one season to the next.
Eccl. 3:1
To every thing there is a season,
and a time to every purpose under the heaven,