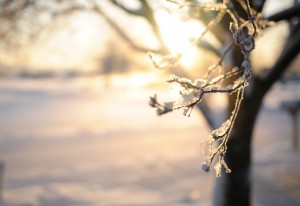 The stillness of it all.
The bitter winds and icy floor.
Hear the crunching as you move.
Feel the sting of the morning breeze on your cheeks.
Don't miss a walk through winter.
Because it's part of His plan.
He's setting the stage.
Almost as if the curtain is drawn in a blanket of snow,
Hiding all that is to come.
Holding us in anticipation of what lies beneath.
And then one day it will happen-
Boldly
Dramatically
Joyfully
Spring will arrive!
Warm sun
Green grass
Chirping birds
Budding trees and blooming flowers
There's beauty in the announcement of a new season, a new beginning.
But I know me well enough to know I would never grasp the beauty in the glorious arrival of spring had I not had the courage to take a good, long walk through winter.
Song of Solomon 2:11-13
See! The winter is past;
the rains are over and gone.
Flowers appear on the earth;
the season of singing has come,
the cooing of doves
is heard in our land.
The fig tree forms its early fruit;
the blossoming vines spread their fragrance.
Arise, come, my darling;
my beautiful one, come with me."