Perspective is powerful.
I know this is true.
One slight turn of my camera changes everything about what I see through my lens.
By choosing to sit on the ground rather than standing on a stool,
I capture an entirely different view of what's in front of me.
As I read about the Israelites this morning,
it was easy to see who would have been chosen to wear a
"Life is Good" t-shirt.
It's kind-of funny to think about a modern-day wilderness,
dressed in graphic tees representing their general outlook on life.
Who would have complained about manna?
Who would have been terrified at the thought of entering the Promised Land?
It's funny and frightening to let my mind go here,
because the truth is,
I'm not so sure where I would have stood on either matter.
My husband is a glass-half-full-kind-of guy,
and there have been many times through the years when this has gotten on my very last nerve.
When the tire on our van blew out on the way to my sister's house in Florida,
leaving us stranded on the side of a way-too-busy interstate,
I chose to be stressed.
Panicked.
Upset.
Bewildered.
Tim, on the other hand,
pulled out skateboards and allowed our boys to try them out in a concrete pipe far below the traffic.
I wasn't happy about this decision at the time,
but looking back,
seeing their faces in my mind and hearing them laugh,
I see the beauty in that little moment that I missed that day.
Making lemonade out of lemons is so much sweeter than eating them raw,
lips puckering as the sour juice runs down our face.
Finding a silver lining on the edge of a dark cloud changes everything about an approaching storm.
"Looking at the bright side" means there's a dark side –
but we're choosing not to focus there.
God had a low tolerance for glass half-empty, lemon-sucking, dark-side-of-life dwelling people.
Negativity wasn't on his list of "things to admire" about His children.
So why would we expect it to be any different today?
I remember seeing a little girl in Disney Land years ago,
crying just outside Sleeping Beauty's Castle.
Her parents looked exasperated,
and I have to admit,
I got a little tickled as the dad turned to his wife and said,
"We came here to have fun and this is NOT fun!"
At the time, I remember thinking the little girl looked exhausted
and wondering if the dad had forgotten that a trip to Disney Land wasn't really about him.
She needed a nap not a negative dad.
Maybe I'm sensitive to moments like that because we had to leave our trip to Disney early
because Nick got sick there.
We didn't know what was wrong at the time,
but a month later we heard the word "brain tumor"
and our world would turn upside down…..
forever.
I wanted to go back and find that dad.
Remind him that life is a gift –
even when our child gets tired and cries
in what should be a "Magic Kingdom."
The truth is,
amusement parks aren't always fun
and life isn't always good.
But people who live by the t-shirt motto regardless of life's circumstances
seem to have a more joy-filled life.
Numbers 11:4 says, 
"The riffraff among them had a strong craving for other food."
The same chapter ends with these people getting what they want…..
followed by death.
I don't want to be riffraff.
I don't want to crave what God has not freely given.
Paul, sitting in a prison cell, got this.
His glass was completely empty,
but he had figured out a way to simply be thankful for the glass.
Phil. 4:11-13
I am not saying this because I am in need, for I have learned to be content whatever the circumstances. 
I know what it is to be in need, and I know what it is to have plenty.
I have learned the secret of being content in any and every situation,
whether well fed or hungry, whether living in plenty or in want. 
I can do all this through Him who gives me strength. 
If only Paul could have preached to the Israelites.
He would have spared them a lot of fire raining down from Heaven.
Thank goodness he can preach to us today.
Remind us of where our strength comes from.
Pull us back on track when our thoughts derail.
Earlier in the same book Paul says,
Do everything without complaining and arguing, 
so that no one can criticize you. Live clean, innocent lives as children of God,
shining like bright lights in a world full of crooked and perverse people. 
Hold firmly to the word of life; then, on the day of Christ's return,
I will be proud that I did not run the race in vain and that my work was not useless.
Phil. 2:14-16
Do everything without grumbling or complaining –
not most things – 
or as many things as possible.
No.
Everything.
How do we do this?
How do we reach this place of constant gratitude?
How do we stop complaining about manna.
Or worrying about the Canaanites.
I think my reading this morning included the secret.
Today, my chronological Bible included Psalm 90.
Teach us to number our days carefully
so that we may develop wisdom in our hearts.
Psalm 90:12
Wisdom gets what our simple minds cannot grasp.
Life is short.
The most painful day is still a gift.
And an empty glass is still a glass.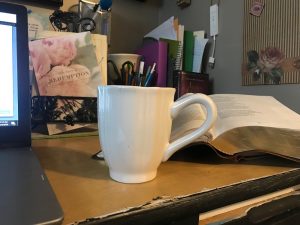 I would go back and live my hardest days over again just to hold my daughter Adrienne again
or have a conversation with my son Nick
or stand in the kitchen with my friend Martha and laugh about my cooking skills
or take a walk on our family farm in Oklahoma with my grandpa
or pick wild flowers for my grandma's table
and the list goes on and on…..
Psalm 90:14-17
Satisfy us in the morning with your unfailing love,
    that we may sing for joy and be glad all our days.
Make us glad for as many days as you have afflicted us,
   for as many years as we have seen trouble. 
May your deeds be shown to your servants,    
your splendor to their children.
 May the favor of the Lord our God rest on us;
establish the work of our hands for us—
    yes, establish the work of our hands.
____________________________________
Let me be satisfied this morning, Lord,
simply by grasping the gift of your unfailing love.
I want to sing for joy and be glad.
Even on the days my glass is empty.
Because the glass I grasp is a gift from you.
And I am forever thankful.
(Today's reading was from Numbers 10 – 13 and Psalm 90)